How to make and disinfect cloth masks
Wearing masks can give people some degree of protection from respiratory droplets containing coronavirus that is spread through sneezing or coughing around them. The Center for Disease Control and Prevention (CDC) has recommended how to make cloth masks and disinfect them. Keep in mind that these cloth masks can only provide some degree of protection against unintended transmission in case the wearer is an asymptotic carrier of the COVID-19. Nonetheless, it doesn't hurt to stay safe. Moreover, the disinfection guidelines are for cloth masks, not for surgical masks or N95 respirator masks.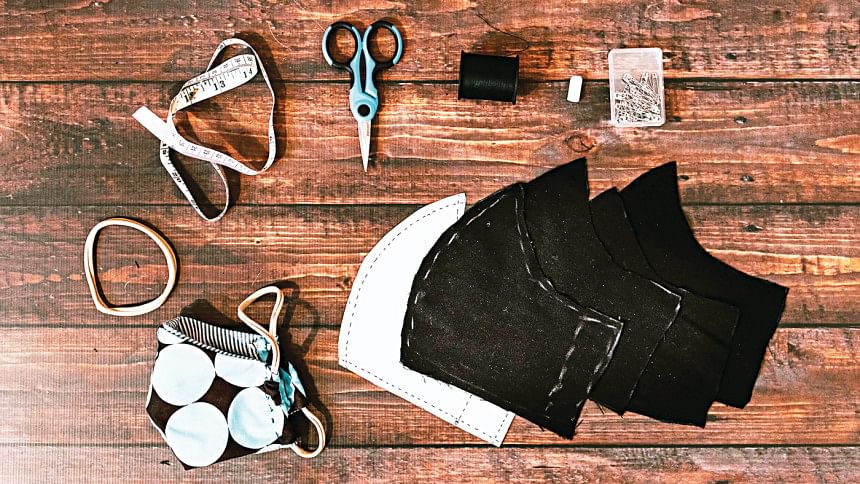 Sewn cloth masks
Stacking two 10"x6" rectangles of tightly woven cotton sheets like a T-shirt or a scarf, one needs to sew them as if it was a single fabric piece. Fold the 10-inch sides ¼ inch down and sew them at one place. And fold the shorter or 6-inch sides ½ inch over, and stitch at the edge, leaving a tiny space on each side for a plastic strip to loop in. Two 6-inch pieces of plastic strips, for example, rubber bands, hair ties or cloth strips are needed to make elastic cords of the face covering. Thread these through the small openings to complete the ear loops. Tuck the knots inside the hem. Gather the short sides and securely sew the elastic strips in place.
Non-sewn cloth masks
Take a 20"x20" square cotton cloth such as a bandana or old T-shirt and fold it in half. Fold the cloth piece from the top to the middle and from the bottom to the middle. Repeat it again. Loop a hair tie or rubber band leaving a few inches of cloth so that each side looks like a candy wrapper. Fold the excess fabric, with each side meeting in the middle point of the mask to add another layer to the face covering. Try it on your face and make sure that the mask snugly fits your face because the proper pressure will keep the mask's fabric and rubber bands in place.
Disinfect and safely reuse
To disinfect cloth masks, a bleach solution is needed. Prepare this solution by mixing 5 tablespoons household bleach per gallon or 4 tablespoons household bleach per quart of room temperature water to wash cloth masks by hand. Don't mix ammonia or any other cleanser with bleach solution. It won't make the bleach solution stronger rather it can create dangerous gases. Check the label of the bleach to ensure two things such as the bleach should be intended for disinfection. Some bleach solutions may be safe for coloured clothes, but not be suitable for disinfection. And assure that the solution has not exceeded its expiration date. Soak the face mask in the homemade bleach solution for 5 minutes, and rinse it thoroughly with room temperature water.
To wash masks in the washing machine, you can use any regular laundry detergent and the warm water suitable for the fabric that is used to make the cloth masks. Place the face-covering in direct sunlight and allow it to completely dry and use the mask again.