The Thundershin Man
IN CONVERSATION WITH MARTIAL ARTS AND SECURITY EXPERT MAK YUREE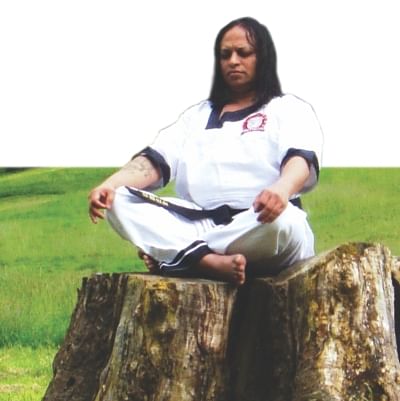 What were you like in Cadet College? Tell us some incidents.
I started martial arts at the age of 9 – I'd been interested in it since childhood. In cadet college, we had societies like physics society and hiking society, which we participated in during the weekends. I was the first cadet to start a new society, the martial arts society. Fortunately our Principal Sir and Adjutant Sir at the time – Col.  Nurul Anwar and Major Tareq Hamid – liked my idea and strongly supported me. At the annual athletics meet, cadets do a PT display, but the year I was graduating, we did a martial arts display - something that has happened only once in the history of my college.
How did your friends feel about you at the time?
Since I was into martial arts, I'd train any chance I'd get. I stopped using pillows, mattresses, blankets and even mosquito nets – I gave them away to my friends. I trained my body to resist from way back. Of course there were people who thought I was crazy and laughed at me and my training, but after all these years, I'm glad I went through with it all.
What was on your mind after cadet college? Where were you headed after that?
I'd always had a passion for the 'uniform', which was why I entered a cadet college. But I didn't like the idea of regimenting myself into the timetabled life of the army. I wanted to explore things my way. After my cadet college life, my interest in martial arts and self-defence  increased even more so I went on a lot of trips for research. I'd stumbled across in an American journal that martial arts came from the Indian sub-continent. This struck strange to me – how was it that South Asians were the first in the field, but we knew the Shaolin Temple in China as the birthplace of martial arts? I suddenly wanted to find out the history behind it and till today I have visited many historical sites across India, China, Myanmar, and other parts of the world to unearth the history of martial arts.
What did you study after cadet college?
I graduated in Security Management from the NSA (National Security Agency, USA) and went on to obtain over 16 professional certifications from different universities, most of which are in the UK and US. To mention a few, there is the USA Standard-Commissioned Officers Course of Security Management and Law under the Texas Board of Private Investigation and Security Agencies, and Fire Marshall, Bank Security, Aviation Security certifications..
What types of martial arts have you mastered?
After training for over 20 years year kicking trees trunks bound in ropes, I'm proud to say I have mastered 40 different types of martial arts.
What is Butthan?
Butthan is a Sanskrit word which originally meant 'defence with distinction' or 'spiritual defence'. People have a misconception about martial arts. They think of it only as physical prowess, a performance. But martial art is not just about physical skills; it requires a lot of meditation and spiritual consciousness.
Grandmaster Dr. Yuree is a living legend of martial arts and psychophysical training. He was a student of Jhenidah Cadet College. He is called the "Thundershin Man" because of his world record of breaking three baseball bats with one kick. He has been featured on the cover of Combat Magazine in 2010 and has received various awards for his achievements. He has a line of security training organizations, namely Rangers and Combat Self-Defence, as well as his very own sports organization, International Butthan Federation. Dr. Yuree provides security training around the world and has been making the country proud over the years with his world-class achievements and breakthroughs.
What have you been working on with the Butthan Foundation?
We are trying to revive this lost heritage of Southeast Asia. That is why we came up with the International Butthan Federation (IBUF). It's an NSA-approved organisation that provides psychophysical training to people. We are promoting Butthan it in Europe, America and South East Asia, and hope to participate in the SAARC Games and Asian Games.
What projects does IBUF conduct in Bangladesh?
We've done a lot of work on youth and women empowerment in Bangladesh at the upazilla level. We're also promoting Butthan psychophysical training and providing training to our national security forces like the police force, SSF, RAB, as well as private security organisations. Annually, we are looking at two to three national level championships to promote sports. On the 28th and 29th December last year, we held a national competition at the Shaheed Tajuddin Indoor Stadium, in which participants from 28 districts took part.
Why and how you were named a superhuman by the scientist team of Discovery Channel?
Discovery Channel tracks down people all over the world with extraordinary skills in five categories - arm power, lung power, sound power, abdomen power and leg power. The requirement to participate was  to have a world record in any of these categories. Primarily, 60 people were selected, from which 20 advanced to the semi-finals. The scientists interviewed us and conducted lab tests and research. Finally, they chose 5 people as 'superhumans' in the 5 areas. I was selected in the leg strength category. Following this, the Discovery Channel made a documentary on us named Superhuman Showdown.
Tell us a bit about your world records.
I have four world records. The first one is for breaking two baseball bats with one kick. The next one was for breaking three bats with one kick, after which I broke three baseball bats placed in a horizontal bundle (in a triangular position) with five kicks in 20 seconds. The fourth record is for having the highest neuro-engagement activity in the world.
So, can meditation help one in improving performance, even in academics? How does it work?
There is no replacement for focus and concentration. There are four frequency levels of our brain. Our brain functions best in the alpha-state. This state is very good for attaining learning skills, be it swimming, studies or even driving. We need to realise both our physical and mental compositions. We sometimes hear that saints and people who meditate often heal their internal organs via meditation. When I train, I can focus accurately on what I am doing and do it flawlessly. With enough practice, less deviation and patience, anyone can increase their concentration powers.
For the full interview, check out Next Step on The Daily Star website.