SPOTLIGHT
AN ENTREPRENEUR'S TALE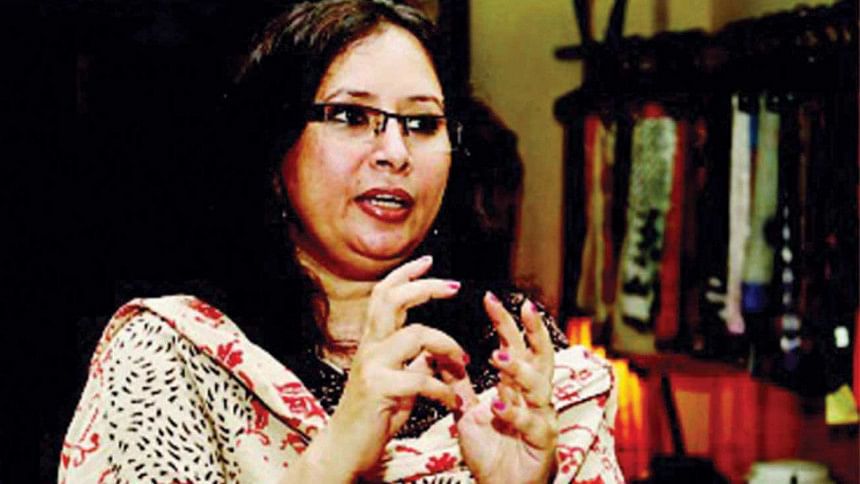 Ivy Hasan, an entrepreneur and artist, has gone out of her way to fulfill her promise of upholding the character of our culture and nation. She passionately discusses her ideas about designing outfits that represent our unique history and past.
Starting a business is always challenging and it was even more difficult for a woman living in Chittagong in the mid 90s. Her friends from indigenous cultures and tribes etched a different side of life in her eyes when she was a student at the Institute of Fine Arts, University of Chittagong. "I love the way they carry their cultural roots. Their clothes are different from ours. Their use of a variety of coloured fabrics and designs inspired me to look at things in a different way," she says. Her grandmother's interest and expertise in stitching Nakshikatha also inspired her to become a designer.
Instead of renting a shop, she found a new idea to present her designs to a larger audience. She arranged an exhibition under the banner of 'Doll's House' at the Alliance Francaise de Chittagong. "It was more of an installation work rather than a presentation of designs from a fashion house," she says. The unique exhibition gained huge popularity for the distinctive way in which Hasan styled clothes, ornaments and household objects that featured traditional motifs of Bangladeshi culture. Her brother-in-law Munir Hasan helped her to organise this exhibition, investing in it financially. "My family, Monowara Hakim Ali and many friends and relative supported me greatly, especially my husband, Khalid Hasan."
She has never had to look back after her first exhibition. Dr Muhammad Yunus was so impressed by her work that he took the initiative to promote her on different platforms both nationally and internationally.
In 1996, she was one of the few female entrepreneurs in the country. But she took a risk and is now a reputed name in the fashion industry. In fact, she even had the unique honour of designing a dress for Queen Sofia of Spain, who loved Hasan's designs, when she visited Bangladesh in 1997.
She is currently the vice president of the Chittagong Women's Chamber of Commerce and Industry (CWCCI) and the organisation Designers' Forum that promotes and trains women entrepreneurs. She believes we need more institutes and training courses on fashion designing, "The existing institutes only focus on western designs and styles. But we should teach future generations to uphold our cultural roots and tradition in more ways than just using fabrics that are indigenous to our own country."