THE DAWN OF THE NEW
Mainstream music in Bangladesh is seeing a change for the better
If our country is rich in heritage, its grandest legacy is music. But as with everything else, music feels stale when we are sold the same thing in different names. If one style of music becomes successful in a neighbouring country, it is quickly adopted by music labels, and wannabe musicians. Fortunately, the tides are changing. There is an interesting movement in music where the scene is not captured by a particular few. More and more musicians are striving to create something new, to offer something original. These are the innovators; the ones who can't stay still, the ones who have broken free from convention and predictability. Experimenting with new sounds they bring with them something fresh, original and enthralling.
What would have happened if Anusheh Anadil had not met Arnob at Shantinekatn, and then later agreed to have worked with him? We'd not  have Bangla, that's what would have happened! It's their collaborated efforts that led to the formation of a small band named Bangla. Think about it. There was no reason for this unhip-for-its-time band to find its way to the heart of thousands of Bangladeshis. They made their formal public appearance in 1999, a time when bubblegum pop music, imported tunes and crass, seemingly rustic tracks ruled the roost. There was no way that this experimental band could be popular. But Bangla did not just become popular when they released their first album Kingkortobbobimurho in 2002; they became legends. The members may have now gone their separate ways but the band will always be remembered for being the trailblazers, the first ones to popularise the blend of folk and Western music. And to remind us of the awesomeness of the original bauls.
Anusheh Anadil now sings independently or with her new band Bahok, comprising of Baul Shafi Mondol, Palki Ahmad, Nazrul Islam and Seth Panduranga Blumberg.  The band has already earned rave reviews for their performance at the Sounds of Freedom concert in New Delhi, featuring punk legend Bob Geldof, popular Indian fusion band Kailasa, and blues band Soulmate, among others. The band has adopted the baul philosophy into their songs, but their music is not just limited to mysticism. In songs like Ma, the band talks about embracing the feminine. In an interview, Anushesh has even said that the song is about "how we have kept her [femininity] behind the purdah and by doing that, we have denied half of ourselves." In another song, Dhik Dhik, written during the Shahbag movement, the band deals with religious intolerance while also expressing hope that things are changing for the better.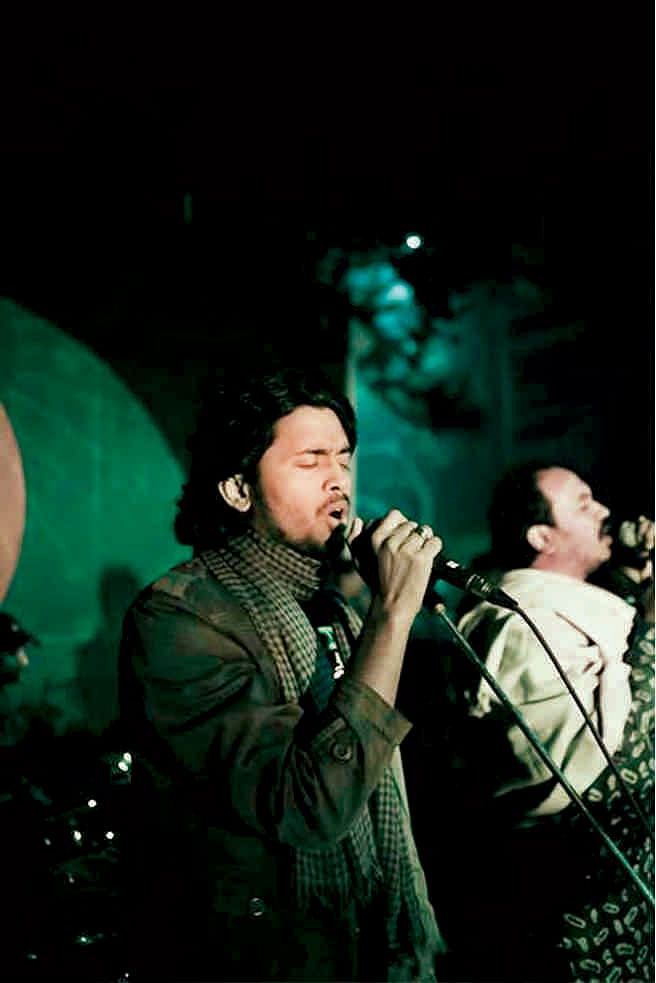 There is no end to Arnob's talent. If there is any chance of making music with the most mundane instrument, like a long clay pot with a narrow mouth perhaps, Arnob will have tried that at least once. Seeing him play a varied range of instruments with the same ease makes you wonder whether anything is impossible for this young virtuoso. It's probably this ease with instruments, this expertise at creation that makes Arnob identify himself more as a musician rather than a singer. Be it the somewhat trippy, haunting Dik Bidik from his third solo album Doob, the heavy, impactful orchestration of Tui Ki Janish Na from Hok Kolorob, or the overall softness of Shey Je Boshe Ache, the song that pushed him to the limelight, Arnob is never shy of experimenting with music.
In 2008, Arnob made a highly successful tour across the United States, and in Toronto and London with artists like Nazia Ahmed, Andrew Morris, Resalat, and Nazrul Islam. The show was so popular that the producers decided to release an album of the show Arnob &Friends Live the following year, featuring 12 tracks played during the tour. A tour resulted in an album which in turn resulted in the formation of a band. At present Arnob & Friends has Arnob, Pantha Kanai, Faizan R Ahmad, Buno, Md Shoeb, Nazrul Islam, Saadul Islam and Maruf Kamrul Hasan. Jewel Pantha Kanai says that the band identifies itself as an indie music group which presents both original compositions as well as modern renditions of old classics. "Even when we cover songs of Durbin Shah, Tagore or Lalon, we maintain the original tunes and music and only experiment with the use of instruments," says Kanai. You can look forward to the band's second album Arnob & Friends 2, a studio live album that will hopefully be released sometime this year.
Shironamhin took the country by storm with their first album Jahajee, released in 2004, eight years after the band was formed. The rock band's Hashimukh has become their signature song, gaining iconic stature almost overnight. Hear it once and it'll stay with you forever; its words, the music arrangement, composition, this is a song that comes from the soul, and reaches the soul. Like most rock  musicians, Shironamhin experiments with different sounds, instruments and styles, infusing classical instruments like the esraj with Western instruments like the trumpet. Be it Laal Neel Golpo from Jahajee or Chithi from their latest album Shironamhin Shironamhin, most of their original narrate a story. While some might tell the tale of an individual lost in the crowd, others tell the story of a city lost in its own magnitude and grandeur.
"A song is like a poem and words are the most important aspect of a poem. That's the reason why we pay so much attention to the lyrics of our songs," says Ziaur Rahman Zia, bassist, songwriter and founder of the band. Shironamhin has also made optimum use of the digital media, uploading their latest songs on app stores for free to avoid the risk of piracy. "Instead of letting other people make illegal money out of our hard work, we've decided to let our fans listen to our music for free before they buy the album. We work hard on our music and can't let all that go to waste, that's why we decided to release an online edition of our latest album before releasing it as an album in the market," Zia adds.
While Shironamhin might not see themselves as directly addressing social or political issues, their counterpart Meghdol makes no bones about terming their music as their "social responsibility." This band does not want to fall under any particular genre, and that free flowing nature is prevalent in their music as well. Chena O Chena from their first album Meghdol, released in 2005, could be a particular example as the song truly seems unrestricted from formal, structured music patterns. This experimentation with the unfamiliar can be seen in songs like Om and Byabochhed, which are not merely content and lyrics heavy but are filled with dramatic moments, aptly falling under the genre of theatrical rock.
"Both our albums, Meghdol and Shohorbondi, deal with everyday issues, but we've also tried to look at the bigger picture with songs like Om, which basically tells of the misuse and misinterpretation of the four main religions of the country. Our music is our way to remain culturally aware and active," says guitarist of the band Rasheed Sharif Shoaib. Five years after the release of their last album, fans can finally end their wait as Meghdol will be releasing Aluminumer Daana by the end of this year.
The last time we wrote about Chirkut, we predicted its rapid rise to popularity, and boy, were we right! Like Meghdol, Chirkut believes that they have a responsibility to represent society through their songs. With its rich vocals and raw energy, the edgy Khajna from their debut album Chirkutnama, released in 2010, is a representation of the bottled up anger in a common man, urging the enforcers to try all their might to break his spirit. In sharp contrast is the lively, grand ode to Dhaka, Jadur Shohor from their second album of the same name, which speaks of the essence of a city so homely and yet so magical. The band has truly acted on their belief that their song should be testaments to the variety of life; that's probably the reason why you will find the band which forced you to break into a jig with the quirky, effervescent Katakuti, serenading you with the soulful, melodious Kanamachi.
"Every person's life is different from the other and each person's life is defined by various aspects. We can't just limit ourselves by composing love songs. We want to explore the different facets of individuals and the society, alike. There are so many diverse issues to think about; why would we constraint ourselves by focussing on just particular theme?" says vocalist Sharmin Sultana Sumi in an interview with The Star.
Want to see a genuine group of artists who truly don't think beyond their music? Meet Joler Gaan, the quintessential mad artists, who eat, drink and breathe their music. Before they released their debut album Otol Joler Gaan in 2013, they would frequently be asked about releasing the audio tracks of their songs but their reply would always be the same, 'we will when we will.' They don't perform to earn money as proven by their lead vocalist Rahul Ananda who has rejected any talks of approaching or accepting offers of multinational companies to release their albums. They release their albums for a palsy Tk 35 and yet hopes that they will be able to lower the rates by cutting production costs.
Joler Gaan's experimentations are not limited to their compositions and lyrics; the band creates their own musical instruments according to their needs. They prefer to perform with acoustic instruments so that they can easily take these with them wherever they travel. "We have even used regular items like toys and tea cups as instruments so that people can relate to them, and a sense of nostalgia is created within them," says Rahul Ananda. They have recently released their second studio album Patalpurer Gaan but we have to admit, we love it when the band performs live. When they sing Bokul Phool, which resonates with the flavour of folk, the live audience joins in, repeating the lyrics, their heads swaying to the soft, rural energy of the song. But that does not detract from the genius of their first album which is filled with pleasant surprises like Aaina, introduced by a earthy female voice or Urchi Keno, a song which beautifully blends the dreamy sounds of the violin with the folksy notes of the flute.
If there is one new, young talent that you hear mentioned time and time again, it is Sandhi. Only in his early 20s, the musician has captured hearts through his voice as well as his compositions. Music is in his blood; his sisters Shagota and Shovvota are both trained singers, and Sandhi too was trained in classical Indian music, Rabindra Sangeet and Nazrul Geeti. Unbelievably, the prodigy's first stage performance was when he was a little over two in front of a full audience at Shishu Academy. He formed the alternative rock band Mohakal while he was still in school and their single even made it to the mixed album Shopnochura, featuring prominent bands like Black, Aurtohin and Yatri. What catapulted the talented musician to fame was the country's first radio musical project Bhalobashi Tomake composed by Sandhi. The songs, most of which were written by his close friend and another budding talent Urmi Noor Binte Giash, were interwoven into the narrative of the radio play, which involved conversations between a girl and a boy. The project aired on Radio Foorti, was an instant hit, youngsters loved the idea and were eager for more, resulting in an even more successful sequel. He had experimented with a range of genres starting from punk rock, romantic ballads, folk groove to classical in the musical and attributes its success to the blend of different music forms.
"I had to reject many offers to compose music for movies because I felt that I could not try out new ideas or forms. However, Animesh Aich's film Zero Degree, gave me the freedom to experiment and maintain my identity, and so I agreed to rearrange a Rabindra Sangeet and sing a duet with Nancy for the film," says Sandhi. The musician is currently composing the background score for BBC's drama Ujan Ganger Naiya, directed by Giasuddin Selim, and is also busy with his new album called Project Neon with fellow musicians Polok and Jonathan, where he brought together a number of artists to lend voice to his compositions.
Shohojia might be a new name in the music scene but the rock/fusion band has already carved a place for themselves in people's hearts. Their debut album Rangmistree, released in 2013, deals with complex ideas and psychoanalytical connotations of the modern life. They don't believe in using too may metaphors or heavy handed words and yet, their straightforward lyrics beautifully captures every emotion, be it love, hope or sorrow. Their Boka Pakhi, an evocative song on naivety and the attempted corruption of the innocent, mesmerises listeners with its soothing notes, and mellow drum beats. The band has been performing live for four years and already have a strong fan following.
"Even though our words may seem simple, every line we sing is laden with meaning. This basic belief of conveying a varied range of emotions through our music is what drives us," says lyricist and vocalist of the band Rajeeb Ahmed Raju.
Chitkar has still to release their debut album but the band is creating waves amongst music aficionados. They have been performing for ten years, since the members were mere teens. Whether it's the use of unique instruments like mandira or the wonderful use of different music forms like rock and roll in their number Hridoy Hulusthul, Chitkar knows how to hold an audience captive, and that's probably the reason why the youngsters that they play for are crazy about them, and don't hesitate to spread their word.
"We haven't yet released an album because a music album is basically a media through which our songs are supposed to reach a larger number of people. To be honest, we are our own media, we take our songs to our audience and thus, we can claim to be our own publishers. So that's what we've been doing; we've tried to create a fan base through our live performances before we can go for a full-fledged release," says the band's vocalist Poddo. The band's debut album Ekhon Bhangachurar Shomoy will hopefully be released within the year.
Be it vocals, lyrics, music or the arrangement, this generation of musicians are not scared to experiment. They don't need to copy from others, they reinvent the sounds of their own soil, fusing and blending the new and the old to make something extraordinary. Above everything else, they are passionate about their work. They love music, they love creating new music, and they are not shy to express that to all and sundry.