Working Woman Bangladesh hosts inaugural career workshop
Aims to bridge the gender gap in the workplace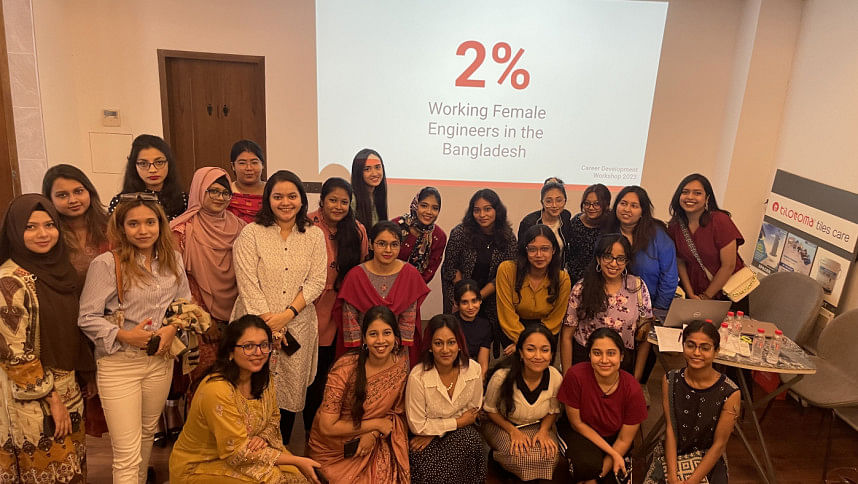 Founded in 2022 by entrepreneur Farhia Hoque, Working Women Bangladesh (WWB) held its first career development workshop on Saturday, 9th September. The event marks a significant milestone for the organisation that originated as a Facebook community, offering a safe space for women to discuss the distinct challenges they face in a predominantly male work environment.
WWB emerged as a response to the frustrations Farhia Hoque experienced in the male-dominated startup landscape. By 2023, the Facebook community had grown exponentially, inspiring Hoque to transition the virtual community into a real-world resource. The group offers women a platform to voice their concerns, lend mutual support, and work toward tangible solutions. The recent workshop serves as the first in a series of events aimed to elevate the advantages of this virtual community to a more impactful, offline sphere.
Participants in the workshop represented various career stages and sectors but shared a striking similarity: most were the only woman or among a few women in their respective teams. The women spoke candidly about having to work doubly hard to achieve the same recognition as their male colleagues. Data from an internal Hewlett-Packard (HP) report substantiates these accounts. According to the report, men apply for jobs even if they meet only 60% of the qualifications listed in the job description, whereas women tend to apply only if they satisfy 100% of the criteria.
Samiha Tahsin, co-founder and CEO of Bonton Connect Ltd., was a guest speaker and organiser. She emphasised the importance of overcoming limiting beliefs and seizing opportunities even when one doesn't feel fully qualified. Tahsin recommended the judicious use of internships and extra-curricular activities to gain experience and insights into desired career paths.
Numaya Shahriar, Senior Manager at the MD's office, foodpanda, who also initiated the workshop, highlighted the importance of networking, applying, and interviewing as the three key components of job hunting. The workshop underscored the potential of LinkedIn as more than just a digital CV. Participants were encouraged to utilise the platform for direct engagement with potential employers and industry professionals. Top recruiters recommend limiting resumes to two pages, focusing on action words, and prioritising the most recent experiences. Preparation is key for interviews. Candidates were advised to thoroughly research companies and prepare articulate answers to common interview questions.
The organising team, including Luana Nasir, Farhat Anan, and Ishrat Jahan Prachy, concluded the workshop with an interactive networking session. Farhia Hoque shared WWB's ambitious plans to become the largest resource network for women. "When you pool together talented individuals from different walks of life, something beautiful is bound to come out of it," said Hoque. 
For those interested in joining this transformative community, WWB is accessible through its Facebook group. The workshop was not just a one-off event but a bold step in the ongoing struggle for workplace equality. It represents a proactive approach to dismantling gender barriers, one workshop at a time.