The battle for foldables folds out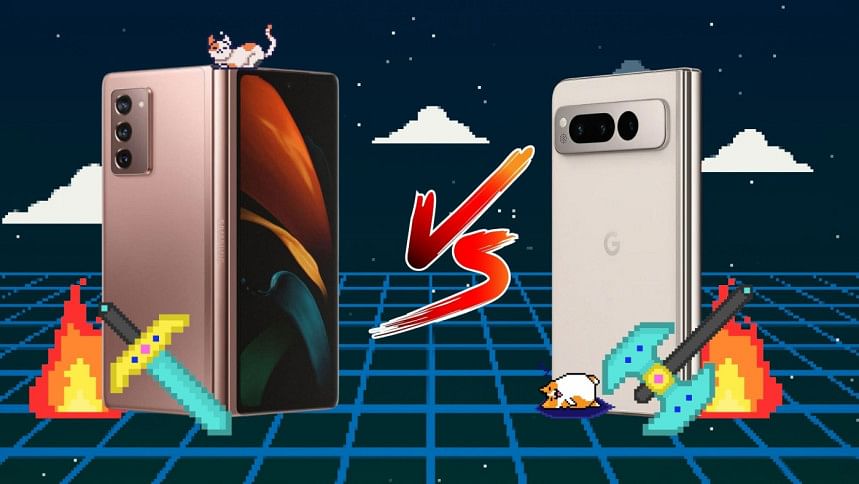 As technology continues to evolve at breakneck speed, the battle for the foldable phone market is heating up. While they may not be a common sight in pockets and purses just yet, foldable phones are generating a lot of buzz among tech enthusiasts and early adopters.
Samsung has been leading the charge in the foldable phone market, with its Galaxy Z Flip and Galaxy Fold devices. However, they now face stiff competition from Google, which recently launched its first foldable phone, the Pixel Fold. The device comes with a hefty price tag of £1,749, but it boasts impressive specs and features that could make it a compelling option for tech-savvy consumers.
The Galaxy Z Flip is a clamshell-style phone that folds vertically, while the Galaxy Fold is a larger device that folds horizontally like a book. Both devices have been well received by critics and early adopters, with many praising their innovative design and versatility.
The Pixel Fold can be opened like a book and is similar to the Samsung Galaxy Z Fold 4 in many ways. However, it has the distinctive design we've come to expect from the most recent Pixel line.
Foldable phones are designed to offer users the best of both worlds - the convenience of a compact device when closed and the immersive experience of a larger screen when opened. This could be a game-changer for those who consume a lot of media on their phones, such as movies, TV shows, and games. With foldable phones, users can enjoy a cinematic experience without sacrificing portability.
Despite the hype, however, foldable phones are still a niche product. They accounted for just 1% of the global smartphone market last year, according to IDC analysts. This could be due to their high price point, which puts them out of reach for many consumers. 
Starting at $1,000 to $2,000, the device's price point is quite high, making it difficult for it to compete with more affordable standard smartphones. Second, before the phones can be made widely available and appealing to the general public, new technological kinks must be ironed out. Consumers are also still dubious about how durable the devices are, and they haven't come up with any original uses for the foldable form factor. For foldable phones to become widely used, the average selling price needs to fall below $400, according to Runar Bjorhovde of Canalys.
However, as the technology improves and becomes more affordable, foldable phones could become more mainstream. Some experts predict that foldable devices will outperform non-foldable smartphones over the next five years. "Consumers need new motivation to go out and upgrade to something that can wow them," says IDC research director Nabila Popal. "Foldable devices currently bring that 'wow factor,' and I believe they will continue to grab more headlines."
One of the biggest challenges is the durability of these devices. Foldable phones rely on complex hinges and flexible displays, which can be prone to damage and wear over time. Samsung has had its fair share of issues with durability, with the Galaxy Fold experiencing multiple screen failures shortly after its release.
Another challenge is the software. Foldable phones require specialized software to take advantage of their unique form factor. However, app developers have been slow to adopt these new form factors, with many apps not optimized for foldable phones. This can lead to a less than ideal user experience and may discourage consumers from investing in these devices.
Nonetheless, Google and Samsung's entry into the foldable smartphone market is a significant development, as both companies are major players in the smartphone industry. Samsung is the world's largest smartphone manufacturer, while Google's Android operating system powers the majority of smartphones globally.
The two companies are expected to compete on several fronts, including price, design, and features. Samsung's device is rumored to have a larger foldable display than its previous models, while Google's device is expected to have a smaller, more compact design.
The entry of Google and Samsung into the foldable smartphone market puts pressure on Apple, which has yet to release a foldable device of its own. Apple has always been known for its innovation and trend-setting designs, but it now risks falling behind in the race for the latest smartphone technology.
Despite this, some experts believe that Apple is taking a cautious approach to the foldable smartphone market, waiting to see how the technology develops before committing to a design. Apple has been known to wait until a technology has matured before launching its own version, as it did with the iPhone, which was released several years after the first smartphones hit the market.
The foray of Google and Samsung into the foldable smartphone market is likely to have a significant impact on the larger smartphone industry. As more companies enter the market, competition is likely to intensify, leading to lower prices and increased innovation.
Moreover, the entry of these two major players is expected to increase consumer interest in foldable smartphones and accelerate the development of the technology. This could lead to a future where foldable smartphones become the norm, rather than a niche product.
As Samsung and Google battle it out for dominance in the foldable phone market, and with others vying for a piece of the pie in the near future, it remains to be seen whether these devices will become the gadgets of the future. However, one thing is for sure - foldable phones represent an exciting development in smartphone technology, and they are worth keeping an eye on as they continue to evolve and improve.