Jack Ma in Dhaka: What could his surprise trip mean for Bangladesh?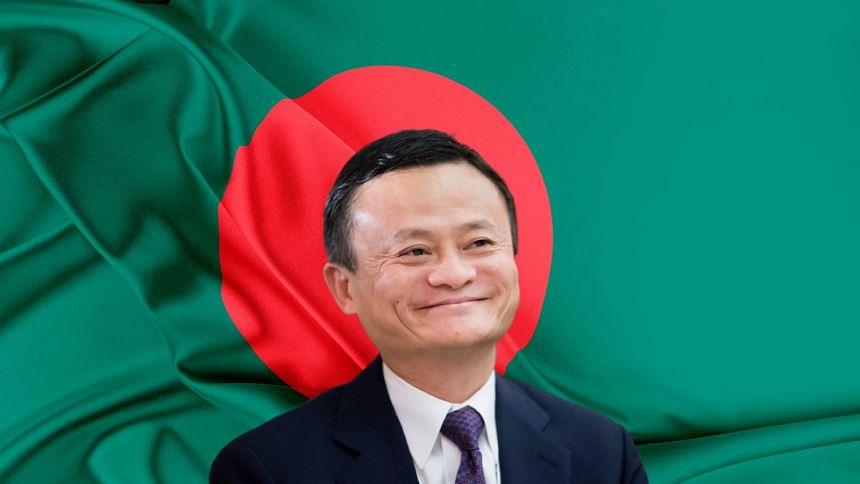 Renowned co-founder of Alibaba, Jack Ma, made an unexpected stopover in Dhaka, Bangladesh, leaving industry observers and enthusiasts alike speculating about the purpose and implications of his visit. With his track record of entrepreneurial success and influence in the technology and e-commerce sectors, Ma's presence in the country has sparked curiosity, especially given the recent series of swift visits he has made across South Asia.
Arriving in the bustling capital city before heading to Nepal on Tuesday, June 27, Jack Ma chose to stay at a prominent five-star hotel in the affluent Gulshan area, adding an air of intrigue to his already enigmatic visit. Despite claiming that these trips are personal in nature, the inclusion of notable figures in his entourage, including a delegation of seven businessmen comprising Chinese, Danish, and American nationals, has only fueled speculation about the true purpose behind his journey.
Moreover, during Ma's stopover in Pakistan, Muhammad Azfar Ahsan, the former Chairman of Pakistan's Board of Investment (BOI), took to Twitter to confirm Ma's presence in the country, leading many to believe that his travels across South Asia may indeed harbour significant business interests.
While Ahsan maintained that Ma's visits were personal in nature, the fact that the former Chairman publicly acknowledged the Chinese entrepreneur's presence raises eyebrows and suggests that there may be more to these encounters than initially claimed. This revelation adds a new layer of significance to Ma's visit to Dhaka, Bangladesh, and implies the possibility of a business-related agenda.
If Ma's visit to Pakistan had business implications, it stands to reason that his journey to Bangladesh would likely follow a similar vein.
While the exact motive for Ma's visit to Dhaka remains undisclosed, several industry insiders believe that Bangladesh's burgeoning business and startup landscape could be at the center of his interest. As the South Asian country continues to make significant strides in various sectors, particularly in technology and e-commerce, Jack Ma's presence suggests a potential collaboration or investment opportunity.
Bangladesh has been experiencing remarkable economic growth in recent years, with its burgeoning tech industry gaining recognition on a global scale. With a growing population, the country offers a vast consumer base hungry for innovative solutions. Moreover, a welcoming environment for startups and entrepreneurship has recently attracted significant international attention.
Ma's expertise and experience in building a technology-driven empire like Alibaba could prove invaluable for Bangladesh's emerging entrepreneurs. His visit may signify a desire to explore partnerships, mentorship programs, or even potential investment opportunities in the country's promising startup ecosystem.
Furthermore, Jack Ma's previous critical remarks about Chinese authorities, which led to a decrease in his public appearances, may have compelled him to seek new avenues outside of China to extend his influence and further his entrepreneurial goals. By exploring untapped markets such as Bangladesh, Ma could potentially diversify his business ventures and contribute to the growth and development of the local economy. However, if that proves to be true, Ma's involvement in Bangladeshi business landscape may also irk Beijing as China looks to embolden its bilateral relationship with Bangladesh across several sectors. 
As Ma's visit to Dhaka remains shrouded in secrecy, industry insiders eagerly await further information regarding the outcomes of his interactions with local business leaders, government officials, and aspiring entrepreneurs. His enigmatic journey across South Asia, encompassing Dhaka, Kathmandu, Pakistan, and Uzbekistan, only adds to the intrigue surrounding his activities.