Cover Story
Inside the 'School of Influencers'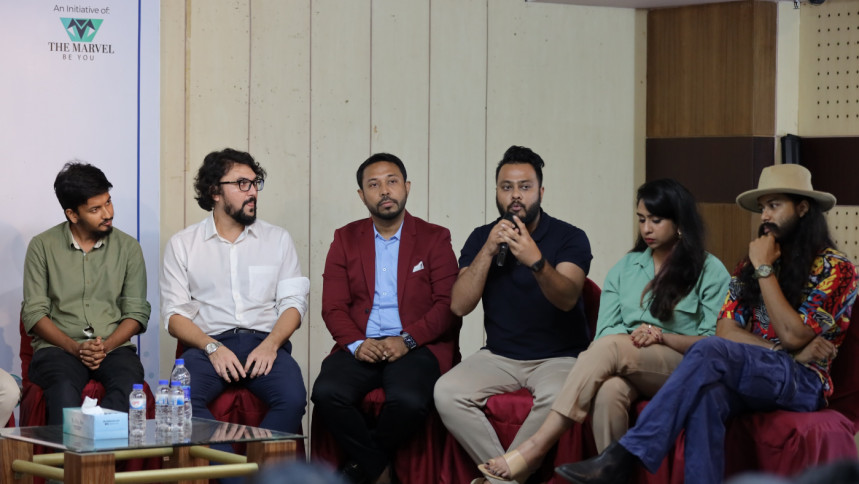 The influencer market industry of Bangladesh has seen accelerated growth in the past few years. To train this pool of content creators and social media influencers, the local talent management platform The Marvel - Be You hosted a panel discussion called 'School of Influencers (SOI)' in The Daily Star Centre on June 11 with the topic: "The rise and fall of influencer marketing and the game of positive ROI from brands and creators". 
Presented by Daraz Bangladesh and powered by Burger King Bangladesh and The Daily Star, the workshop addressed topics such as building your personal online brand, connecting with an audience in content creation and engaging with other creators in similar niches. Out of 300+ applications from all around Bangladesh, the first batch of SOI selected 74 eligible aspiring creators and community leaders for the workshop.
The event featured a number of prominent social media influencers and industry experts as trainers and panel members. The programme was hosted by the edutainment content creator Enayet Chowdhury and opened by Briety Sabrin Khan, Chief Executive Officer (CEO) of The Marvel - Be You. 
In her welcome speech, Sabrin pointed out that despite the exponential growth of the influencer market industry in Bangladesh, the industry still remains quite disorganised. Even though there is a variety of online content, local influencers have yet to discover a suitable approach to building a long-term career in this line of work. Thus, she believes that a panel discussion like SOI will play a key role in stimulating the growth of the industry by grooming the next generation of content creators.
The event was full of several high-voltage training and insightful panel discussions 
The first training module was conducted by Dot Lung, an international social media growth and branding expert who worked with multi-million-dollar companies like Meta, Wix and Motionographer. According to Lung, customers are most likely to buy from, recommend and do business with an established personal brand. So, it is crucial for content creators to develop their brand and build meaningful relationships with their audience.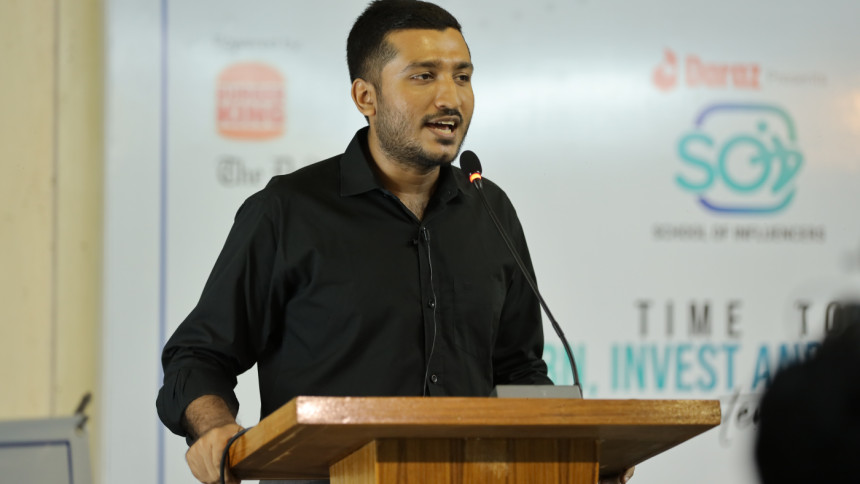 The second training module was conducted by Enayet Chowdhury, a local edutainment content creator. He provided core techniques on how Facebook and YouTube can be used as effective platforms to build an online persona. Enayet started the session by giving tips on how to design thumbnails to get more views and how much it can cost to hire a graphic designer. He also provided guidelines on submitting demonisation appeals, avoiding copyright infringement and charging sponsors depending on the subscriber base.
Following Enayet was Sameer Ahmed, a social media awareness content creator. He hosted an informative session on how to cater to an audience on Instagram and how an influencer's real-life personality should not merge with their online persona. "You cannot be 100% yourself online," said Sameer, and added that it is okay to try to experiment when starting out with content creation. If one genre doesn't fit, try the next, and as soon as the audience starts to address you with a specific type of content, go from there, stated Sameer.
Shihab Hasan Neyon, a content creator at TikTok, followed the next session and talked about how TikTok can be utilised effectively as the platform of the future. He said that short content is the future and that TikTok AI usually leads to a high conversion rate of reach. His preferred TikTok hacks were posting in a 9:16 aspect ratio, making videos no longer than 50 seconds, and using proper hashtags to push content in the algorithm. 
Salman Sadi, cinematographer and content creator, hosted a session on content creation and video editing, in which he discussed topics such as deciding on a niche, diversifying the selected genre and deciding the frequency of content posting. He talked about how important it is to maintain quantity and quality when making video content, and how brand deals, video monetisation and a side business can help with the overall revenue of a content creator. Sadi also held a brief training session on the video editing app CapCut.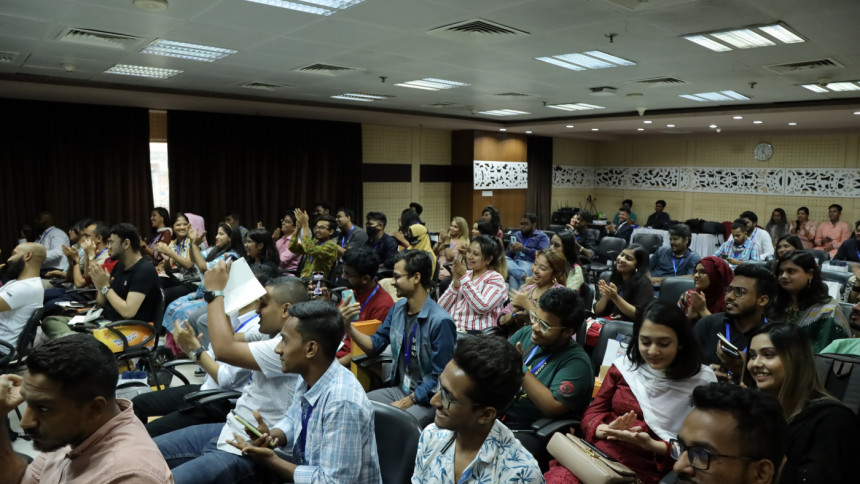 A session on storytelling was hosted by Rafeed Elahi Chowdhury, Lead, Content & Product Growth at The Business Standard. According to Elahi, storytelling is an articulated method of targeting audiences and inciting curiosity in their minds. He shared core fundamentals that all stories share, and included discussions on certain models that beginner story writers can follow, such as the Con Model (context, concept, content and convert) and the Crow Model (convenient, repeatable, organised, wondrous). 
Other sessions slated at the event were: 'How to measure your KPI with Analytics Magic' by Khan Muhammad Saqiful Alam, Analytics Advisor, Intelligent Machines Limited and 'Be the storyteller: content, story, scripting, caption (Bangla)' by Kingkor Ahsan, Writer & Creative Director, ADA.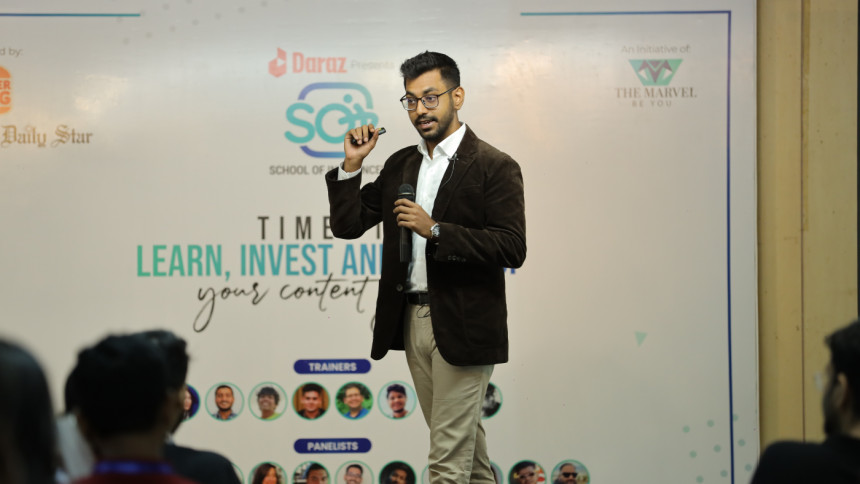 The event ended with a group panel discussion moderated by Monsurul Aziz, Head of Corporate Communications at Nagad. Panel members included Shuvasish Bhowmick (Country Director, ATEC Australia International Ltd.), Android ToTo Company (tech reviewer), Kamrun Nahar Dana (content creator), Shihab Hasan Neyon (content creator), Rafayat Rakib (content creator), Sabira Mehrin Saba (Founder and CEO, Wander Women), Rad Sharar Bin Kamal (Manager, Affiliate Programs, Daraz),  Mushroof Ahmed (GM, Burger King Bangladesh), Morshed Mishu (Cartoonist & Assistant Editor, Unmad) and Shahriar Rahman (Editor Toggle, The Daily Star).
Including the many topics discussed, Morshed Mishu brought up how content creators should be unique and original. Kamrun Nahar Daha, a content creator with many years of experience working with brands, said that content creators should only work with brands that go with their brand identity. She also mentioned that it is important to be respectful to the partnered brands and be wary of their guidelines and feedback.
The panel also addressed important guidelines, tips and tricks to building oneself as a dedicated content creator and how one can sustain themselves professionally and economically as a social media influencer in Bangladesh.