How teaching IELTS can be trickier than teaching General English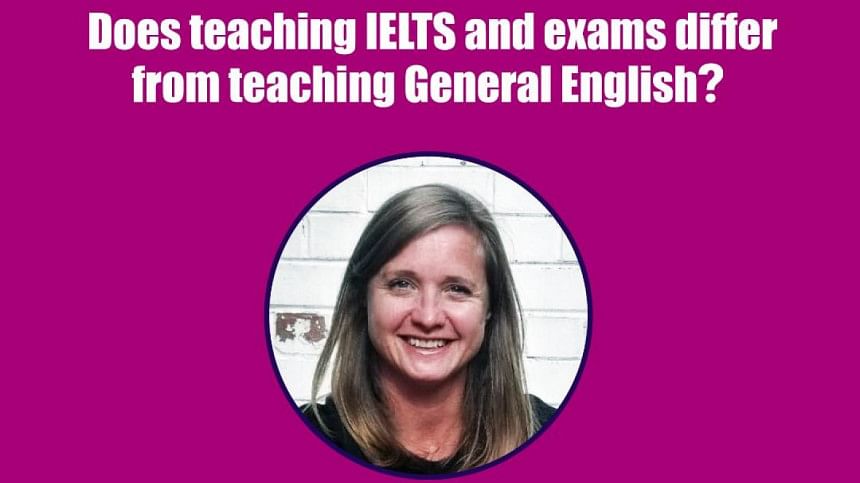 The International English Language Testing System (IELTS) test is for those who want to study abroad or seek professional registration. It is popularly known as a test that measures language proficiency for both studies and works in any university or organisation with English as the primary language. However, teaching or learning IELTS tests may not be the same as teaching or learning general English. A new episode of the LIVE webinar series of The Daily Star in collaboration with the British Council titled 'Does teaching IELTS and exams differ from teaching General English?' aired live on 4 October 2022. The webinar was led by Wendy Naylor, Consultant at The British Council, where she had an interactive discussion with the online audience regarding IELTS and General English.
IELTS is taken by those who want to demonstrate their level of English. This test has four parts: listening, reading, writing and speaking. Wendy said, "When we are teaching General English, we want our students to learn all these four skills so that there is a proper overlap. But when teaching IELTS, we structure our lessons and incorporate these skills to match the test. As an IELTS teacher, I need to ensure that my students understand how these skills will be tested in the exam." 'Take IELTS' is a British Council website that is a useful resource for teachers in guiding learners. You can access lesson plans and videos, as well as information about the test, available here.
According to Wendy, it is important to teach students about the types of questions in an IELTS exam. "In a listening test," she demonstrated, by explaining there are different types of questions, which test your language ability in different ways. Understanding how the different questions work helps to test takers achieve the best result they can. For the writing part, they need to use different words to show their knowledge regarding the language."
While talking about time management during the exam, Wendy advised, "In an IELTS reading test, you need to answer 40 questions within an hour of time. The questions get more and more difficult. So, learn to skim the questions to answer the easier ones quickly to save time."
To take an IELTS test, a student must have a good command of English, stated Wendy. If they do not have that, they should do a General English course before practising for the test. "The listening test can be tricky since you will listen to different speakers with different accents. To improve your listening, you can do fun activities like listening to music or watching YouTube videos or TED Talks, or try activities on the British Council's website."
In response to the question of whether practising Cambridge English is enough to have a good score on the IELTS test, Wendy said, "For the writing part, then you can obviously use the vast set of vocabularies that you learn in Cambridge English. But if you are studying for IELTS or teaching it, I highly recommend using IELTS-based materials, simply because Cambridge Exams are different." She added that the perfect IELTS course is going to have a balance between exam practice and general English. You can only demonstrate your level of English, so if you are not at the level of your desired score you won't achieve your goal. 
Students can be involved in self-study set by the teachers as well for better preparation, including providing access to different recordings to practise listening and papers to practise reading. "Make sure that your students practise reading instructions. Due to stress, they often forget to read the basic instructions or keywords that may lead them to make mistakes," advised Wendy. Some of her other advice included: practising correct spellings using Quizlet, speaking with other people in English to practise speaking, and learning more vocabulary and grammar for the writing part. In reply to how many hours one should spend towards IELTS preparation, she explained that to improve by one CEFR level, Cambridge recommends 200 hours. However, students whose level of English is aligned with the CEFR framework and desired IELTS score should spend around 20-30 hours preparing for the test.