Next Step
How to build a career as a social media influencer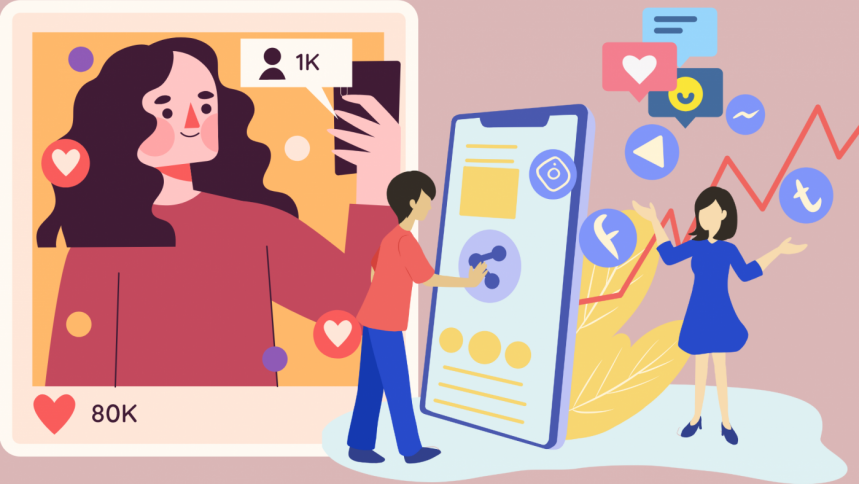 Nowadays, it is almost impossible to scroll through our newsfeed without seeing influencers putting out their viral content or vouching for their favourite brands. Influencers, to explain in simple terms, are trusted figures within a niche community who retain a loyal following. By virtue of their popularity, expertise and credibility, influencers can to affect their followers' purchasing decisions.
Brands are increasingly seeking partnerships with influencers in hopes of boosting sales and awareness. With the growing popularity of influencer marketing and branding activities, it is only natural that people are becoming ever more curious about how to become an influencer. However, many often fail to recognise that achieving the influencer status and making a living from it is not as easy as it seems. There is a lot more to being an influencer than sharing comedy skits that make viewers laugh out loud or transition videos that make you look like a diva with a hand-swipe.
Although there is no tried-and-true formula for becoming an influencer, there are certain steps that you can take to steer your efforts in the right direction. In this article, we outline eight such steps that can guide you through the course of turning your social media enthusiasm into a long-term career.
Select your niche
When you decide on building a career as a social media influencer, firstly, you have to choose from a myriad of niches. Fashion, food, travel, tech, entertainment, business, lifestyle — these are some of the options that you may consider. Remember that you will need to extensively research and share content regarding your chosen domain as a content creator who is striving to build influence. So it is crucial that you choose something that you are good at and passionate about.
Rasheduzzaman Rakib, creator of the popular entertainment YouTube channel, RnaR, believes that selecting an appropriate niche depends on personal preference. He recommends, "Aspiring influencers must identify their field of expertise and interest — what they can do better than everyone else and what they are genuinely interested in doing."
Understand your audience
Once you have selected your niche, you need to figure out who your target audience is and what kind of content they may need. Most social media platforms have built-in analytics section that can give you helpful insights into your current audience such as gender, geographic location, occupation, online behavior, etc. You can also learn about their demands and preferences by running polls and analysing the comments section.
Habiba Akter Shurovy, a prominent fashion influencer and entrepreneur, opines, "If content creators are looking to build long-term careers as influencers, they must understand their audience, foster meaningful relationships with them, tap into their needs, and deliver content based on that."
Choose your social media platforms
As an influencer, you need to have a dominant online presence. But that does not mean that you have to stay active on all social media platforms. You should consider the platforms that are best suited for your content and where your target audience is concentrated. Pick two or three platforms to start building your audience. However, keep in mind that you always need to use different strategies for different channels.
Renowned entertainer Nusrat Upoma, also known as Bengali Boin, advises new content creators to focus on Facebook, Instagram, and TikTok — which are arguably the most popular social media platforms in the country right now. "Aspiring influencers should leverage video content — both live streaming and short-form — in order to grab the attention of viewers and reach a larger audience within a short period of time," she shares.
Share valuable content on a consistent basis
The most vital step of your journey to becoming an influencer is to put out useful, relevant, and unique content that resonates with your viewers. You also need to create a schedule for yourself that allows you to regularly share content in order to retain your current audience base.
Rasheduzzaman Rakib adds, "Influencers have to stay abreast of whatever is happening in their surroundings and create relatable content revolving around the trending news." He thinks that such a content strategy can help your content get spread to people who do not already follow you.
Maintain a strong relationship with your followers
Many wannabe influencers mistakenly think that sharing valuable content is enough to be successful. But you have to establish a good relationship with your audience in order to survive the competition. You must respond and pay attention to your followers' comments, feedback, and suggestions; and tailor your content accordingly so as to build a rapport with them. In regards to this, Rasheduzzaman Rakib says, "Influencers always have to be honest and transparent with their audience, and they must never get involved in false or misleading product promotions."
Find steady sources of income
Maybe you have gained some traction on social media, and your content has got heads nodding and thumbs liking. But if you cannot make money from what you are doing, you are far from capitalising on this lucrative career option. Rasheduzzaman Rakib, Habiba Akter Shurovy, and Nusrat Upoma agree that there are two major ways to earn money as an influencer: brand collaboration and in-app content monetisation.
Brands often reach out to influencers directly or through influencer marketing agencies. Influencers are entrusted with the responsibility of promoting and recommending the brand's products to their audience. Their endorsements serve as a form of social proof and instantly improve consumer trust. In return, the brand incentivises them with free product samples or cash.  
Influencers can also monetise their own content on various social media platforms given that the content adheres to certain monetisation policies regarding video length, video view count, etc. On Facebook, for example, influencers can generate revenue from their video content by using in-stream ads. A similar monetisation system is available on YouTube. In case of TikTok, viewers can show appreciation for your content by sending 'gifts' in the form of in-app currency 'diamonds', which can then be redeemed for money. 
Remember that when you are earning enough from your job, you need to consider other options, such as launching your own brand, to create a more secure financial future.
Start collaborating with compatible brands
In order to reach the next level in your career, you have to start working with brands that strike a chord with your content and community. You can do this by writing in your bio that you are interested in collaborations and provide contact details for easy access. You can also contact brands directly or utilise influencer marketing agencies to land brand deals.
Habiba Akter Shurovy reveals the harsh reality that no brand wants to work with new content creators. She suggests, "In the beginning, influencers should make high-quality content with their own resources and efforts to build a name for themselves." She believes that when a content creator's video view count increases and audience reach expands, brands will reach out to them on their own.
Network with influencers within and beyond your niche
As you establish yourself as an influencer, develop great relationships with your peers by interacting with their content and requesting them for collaboration. You should not, however, neglect the importance of attending industry conferences and networking with them in-person.
Nusrat Upoma mentions that she started collaborating with others very recently and got a huge response from her audience. She remarks, "Collaborating with others gives influencers an opportunity to add a sense of variation to their content and introduce them to a new audience base."
With all these steps in mind, remember that being a social media influencer is a unique profession that requires a monumental amount of hard work to succeed in. Hopefully, these steps will help you launch your passion in online content creation into the career of your dreams.