DNCC launches 'Smart Parking' app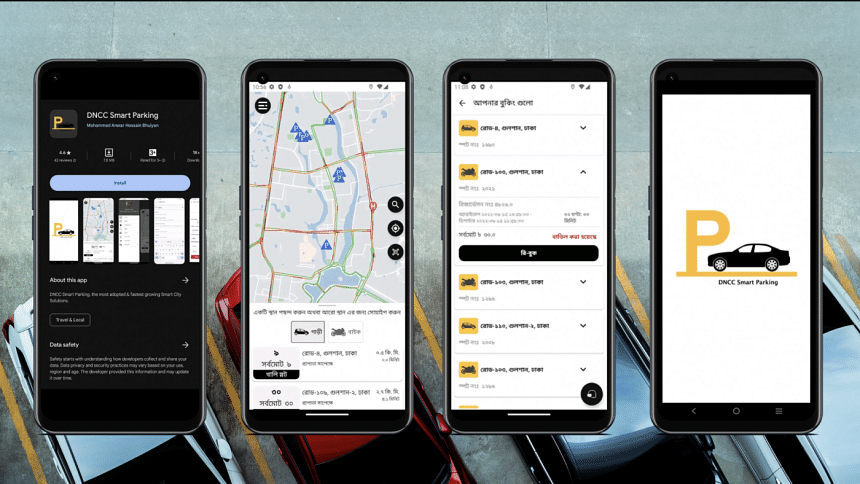 In an effort to address the persistent parking difficulties in Dhaka, the Dhaka North City Corporation (DNCC) has unveiled the 'DNCC Smart Parking' app. The inauguration of this pilot program took place on Wednesday at the DNCC's Nagar Bhaban in Gulshan 2.
According to the authorities, the smart on-street parking system will allow vehicle owners to effortlessly find, reserve, and pay for parking spots within the city. Through the app, users can identify available parking spaces nearby, secure a spot in advance, and handle payments with a few clicks on their device.
How the app works
Prospective users can download the app from the Google Play Store or Apple App Store. Upon opening the app, there is an option to 'Create an Account'. After filling in personal and vehicle information and verifying via OTP, users can access the service. Drivers must park their vehicles either parallel or at a 60-degree angle in designated white-marked spots on the sidewalk. To validate parking, users must use the app or a smart parking card.
Using the app
After registering, open the app and select the street. Tap on the 'Parking' button, choose how long you need to park, and the desired location. The app will then show the parking fees, payable through various online methods. Once payment is made, the parking service is activated.
Smart Parking Card method
Alternatively, users can opt for a 'Smart Parking Card'. These can be obtained from street wardens or at the Gulshan and Banani branches of Islami Bank. The card must be registered with the user's information at the bank and charged with credit. To use it, simply hand the card to a warden, indicate the parking duration, and the warden will deduct the fee using a POS machine and provide a receipt.
Speakers at the launch emphasised that the project aims to emulate modern parking management systems found in developed countries. Currently implemented on selected roads within the DNCC, the initiative welcomes user feedback to refine its services. Citizens are encouraged to share their thoughts via DNCC's email ([email protected]) and Facebook page.
Home Minister Asaduzzaman Khan Kamal and DNCC Mayor Atiqul Islam, among others, were present at the event.