Bangladesh's mobile internet 73% slower than India: Study
The country now ranks 82nd out of 121 nations in Digital Quality of Life Index 2023.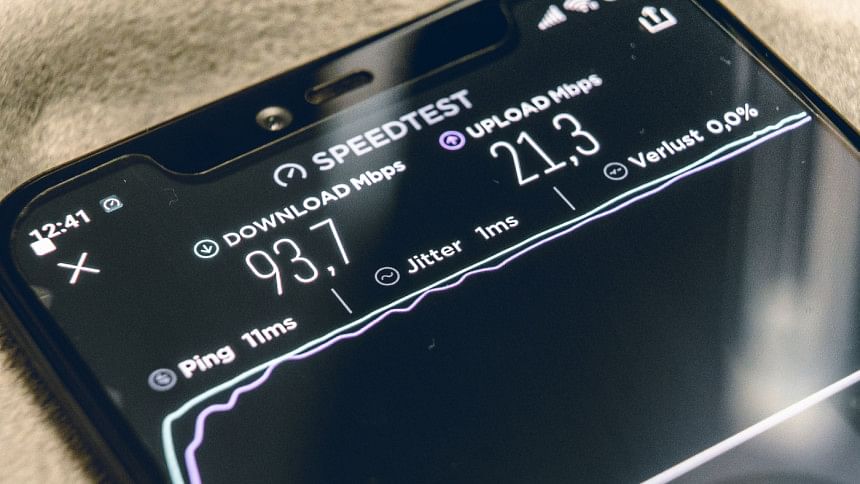 Bangladesh has witnessed a decline in its ranking in the Digital Quality of Life (DQL) Index. The country now ranks 82nd out of 121 nations in Surfshark's 5th annual DQL index, a slide of six positions from last year.
Fixed internet in the nation averages at a speed of 53 Mbps, markedly slower than Singapore's 300 Mbps - the fastest globally. Mobile internet fares somewhat better but still lags behind many countries with an average speed of 20 Mbps. For comparison, the UAE boasts the fastest mobile internet with an astounding 310 Mbps, whereas Venezuela trails at the bottom with just 10 Mbps. Bangladesh's internet quality remains 5% below the global average.
Against its neighbour, India, Bangladesh's mobile internet is 73% slower, and its fixed broadband lags behind by 31%. However, it's worth noting that Bangladesh has made strides since last year, with mobile internet speed improving by 41% and fixed broadband by 23%.
In terms of internet affordability, while Bangladeshis can access mobile internet, the effort required is significantly higher than in some other nations. Specifically, Bangladeshis need to work 1 hour 35 minutes and 28 seconds a month to afford it, a stark contrast to Luxembourg. In Luxembourg, which boasts the world's most affordable mobile internet, the effort is six times less.
The e-infrastructure, a crucial component for any country's digital future, sees Bangladesh at the 84th spot. This metric evaluates both the depth of internet usage (penetration) and the readiness of a country's network for the demands of modern information and communication technologies. Bangladesh's internet penetration stands at a moderate 77%, placing it 77th globally. However, the readiness of its network for future challenges is a tad concerning, ranking 87th.
E-security, a metric of paramount importance in the digital age, is another area where Bangladesh has witnessed a decline. Slipping by 10 places since the last index, Bangladesh now ranks 85th. E-security is a reflection of a country's ability to stave off cyber threats and the maturity of its data protection laws. Within South Asia, Bangladesh's e-security performance is sandwiched between its neighbours; it's behind India, which ranks 66th, but ahead of Pakistan at 101st.
The nation also ranks 73rd in e-government services, indicating a digital infrastructure that's below the global mean.
Regionally, Bangladesh's performance in the overall DQL Index falls behind India, which stands at 52nd but manages to surpass Pakistan, positioned at 93rd.
In Asia, Bangladesh is at the 25th place, whereas Singapore leads the charge.