Apple could soon bring out an iPhone that you can roll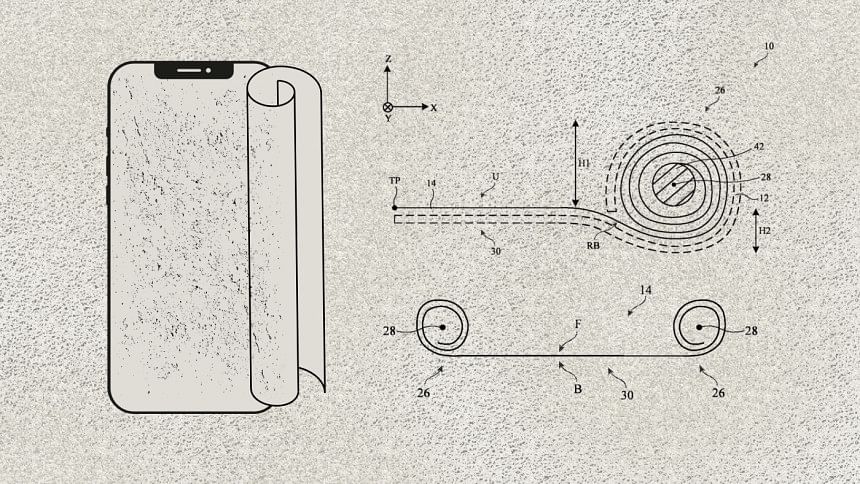 Apple Inc. has been awarded a patent for a rollable display, further fuelling speculation about the tech giant's foray into flexible screen technology, according to reports by the likes of Mashable and GizmoChina. The patent, filed in November 2022 and published recently, details an electronic device that seamlessly transitions between an unrolled state, where the display lies flat, and a rolled state, enabling easy storage.
Apple's patent, which encompasses various electronic devices, reportedly references portable gadgets such as smartphones, suggesting that the Cupertino-based company might be considering incorporating the innovative display technology into its iconic iPhone lineup. If successful, this breakthrough could revolutionise the smartphone industry and introduce new possibilities for user experience.
At the core of this development lies a "locally thinned" glass layer within the rollable portion of the display. This specialised glass, as described in the patent, plays a pivotal role in maintaining the structural integrity of the screen when it is bent. By strategically introducing compressive stress to the outwardly facing glass surface, Apple aims to prevent damage to the display, ensuring durability even in its flexible state.
This recent patent follows closely on the heels of another revelation from the tech behemoth earlier this year. In March, Apple unveiled a patent application titled "Self-Retracting Display Device And Techniques For Protecting Screen Using Drop Detection," which hinted at the company's efforts to develop technology that enables flexible-screen iPhones and iPads to detect drops and autonomously fold up to minimise damage. The patent suggested that Apple's envisioned display could detach or fold in a manner that safeguards the fragile screen without relying on traditional hinge mechanisms.
Whilst Apple remains tight-lipped about its plans and timelines for incorporating rollable displays into consumer products, industry analysts and enthusiasts are abuzz with anticipation. This technological advancement could pave the way for smartphones that seamlessly adapt to different form factors and potentially eliminate the need for multiple devices. A rollable smartphone, with its ability to transform from a compact form to a larger display size, could offer users enhanced portability without compromising on-screen real estate or overall usability.
If Apple successfully commercialises this technology, it could further solidify its position as an industry leader, setting new benchmarks for innovation in the fiercely competitive smartphone market. Moreover, it might stimulate rival companies to intensify their efforts in the pursuit of flexible display technology, ultimately benefiting consumers with a wider range of choices in the near future.
Whilst it remains unclear when exactly Apple will introduce a rollable smartphone to the market, these recent patent developments demonstrate the company's commitment to pushing the boundaries of display technology. As consumers eagerly await the next generation of iPhones, the prospect of sleek, rollable device beckons, promising a new era in smartphone design and functionality.
As with any patent, it is important to note that not all inventions eventually materialise into commercially available products. Nonetheless, Apple's latest patent win underscores the company's relentless pursuit of innovation and its determination to shape the future of mobile technology.