Tazreen factory fire victims prevented from reaching Gono Bhaban by police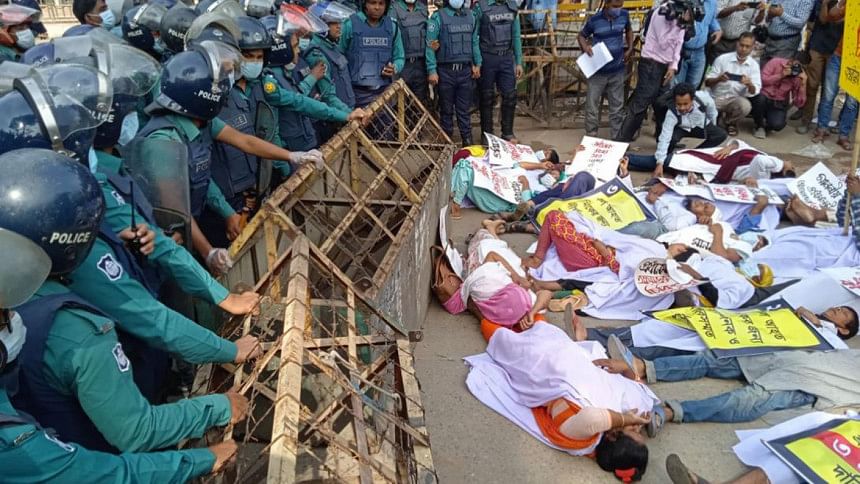 Police this morning barred the victims of the Tazreen Fashions factory fire when they tried to go to the capital's Gono Bhaban from Jatiya Press Club to press home their three-point demand.
The workers -- injured in the deadly fire eight years ago -- yesterday took the decision to march to Gono Bhaban.
The victims have been staging a sit-in in front of the press club in Dhaka for around two months, demanding three points including proper compensation and treatment.
They were barred by the law enforcers around 12:15pm, our photojournalist covering the event reported.
When they faced the barricade, they started to protest there and chanted slogans in favour of their demands, the photojournalist said.
Rehana Akhter, an injured worker, told reporters that four of her family members died in the Tazreen fire on November 24, 2012. She also had been working at the factory at that time. She is alive now as she jumped from the factory building when the fire broke out.
Another injured worker, Jarina, told The Daily Star, "I have been participating in the demonstration here for around two months. I jumped from the building's third floor when the fire broke out in the factory, Now I am living with a broken leg, with no compensation for it."
Meanwhile in Savar, survivors, family members and labour leaders today demanded capital punishment of the people responsible for the fire that left at least 112 people dead eight years ago.
They also urged the government build a hospital and a dormitory for the survivors on the land where the Tazreen factory is located.
This morning, they held a rally in Ashulia and demanded adequate compensation to dead victims' families and long term treatments for the survivors.
The victims placed wreaths in remembrance of those who lost their lives in the incident in 2012 after a rally organised in front of Tazreen Fashions factory in Ashulia around 6:00am.