Joint venture appointed for MRT-1 depot development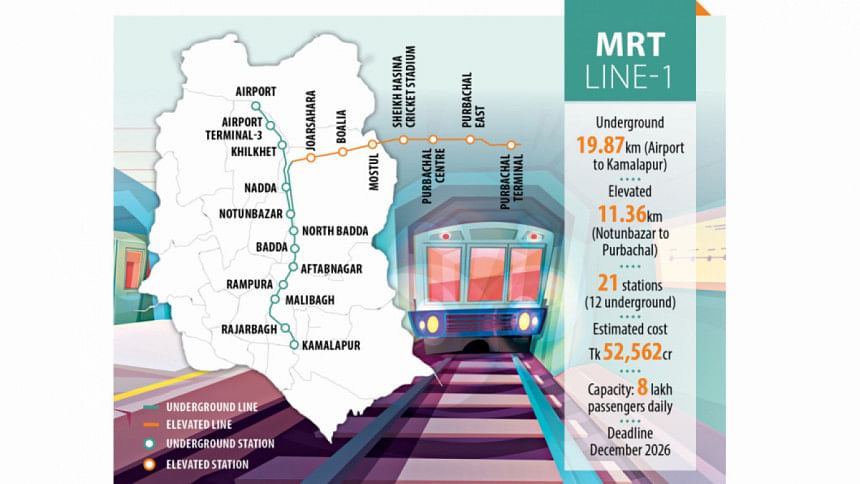 Metro rail authorities today appointed a Japan-Bangladesh joint-venture firm to develop the depot area for the country's first-ever underground metro rail, formally known as Mass Rapid Transit (MRT Line-1).
Dhaka Mass Transit Company Ltd (DMTCL), the implementing agency of all metro rail projects, today signed a contract with the firm at city hotel.
The companies are Tokyu Construction Co Ltd of Japan and Max Infrastructure Ltd of Bangladesh.
MAN Siddique, managing director of DMTCL, and Masakazu Konishi, executive officer and division manager of Tokyu Construction Ltd, signed the contract on behalf of their organisations.
Tokyu Construction was also involved with the development of the depot for the country's first metro rail (MRT Line-6) in the capital's Diabari, while Max Infrastructure is involved with several projects of Bangladesh Railway and Roads and Highways Department.
The joint venture will do the "soil improvement and land development" work at the depot in Narayanganj's Pitalganj at a cost of Tk 607.65 crore within 910 days.
Of the money, Tk 81.83 crore will come from government funds, while Tk 525.83 crore will come from Japanese loans, they said.
Works of the Tk 52,561.43-crore MRT Line-1, the biggest infrastructure project in the transport sector, will start with land development for the depot.
Earlier, the project authorities said the physical works of the depot will start in December this year.
But today, MAN Siddique said the contractor is expected to start the work either in the last week of January or early February next year.