Syria-linked jihadist held
Syria-linked jihadist held
Claim police; the Bangladeshi origin UK citizen remanded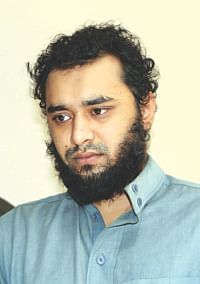 Detectives have arrested a UK citizen of Bangladeshi origin for recruiting jihadists for the Islamic State, also known as ISIS, acting on information from two of his recruits detained four days back, say police.
Samiun Rahman alias Ibn Hamdan was picked up from Kamalapur Railway Station around 11:30pm on Sunday. On September 24 night, detectives arrested two youths -- Asif Adnan and Fazle Elahi Tanzil -- who allegedly planned to go to Syria through Turkey with Samiun's help.
Samiun entered Bangladesh to recruit jihadists to fight in the war in Syria, Monirul Islam, joint commissioner of Dhaka Metropolitan Police, said at a press briefing yesterday.
"The UK national also had a mission to open branches in Bangladesh and Myanmar as per al-Qaeda supremo Ayman al-Zawahiri's recent announcement on the launching of al-Qaeda in Indian subcontinent (AQIS)," said Monirul.
According to police, Samiun fought against the forces of Syrian President Bashar al-Assad from September to December last year.
Samiun, who was placed on a three-day remand yesterday, denied being an IS member.
"I am not an IS member. I came to visit Bangladesh," he told The Daily Star at the DMP Media Centre where he was paraded before the media.
He suggested contacting the British High Commission in Dhaka to learn more about him.
Contacted, a spokesperson at the high commission said they knew about the arrest but refused to talk further on the matter.
The DMP joint commissioner trashed news reports that detectives had arrested the UK citizen several days ago but didn't disclose it.
He said Samiun was arrested on his arrival by a train at Kamalapur station.
Samiun, who was born in the UK in 1990, studied English and Arabic. His parents used to live in Habiganj before settling in the UK.
He visited Morocco and Mauritania last year but detectives couldn't say the reasons behind the trips.
Samiun had to spend a few days in a UK prison for his drunken behaviour. That incident had changed him, and he later decided to join jihadists fighting for Islam, said Monirul.
After entering Bangladesh on February 25, Samiun held meetings at Gulshan Azad Mosque and the shrine of Hazrat Shahjalal (RA) in Sylhet to motivate people to join jihad, said the DMP high-up.
"We have information that he travelled to different places in Dhaka, Sylhet and Habiganj over the last six months to recruit jihadists."
He, however, couldn't say whether anyone had already left the country to join the Syrian war.
"We don't want to say there are IS members in Bangladesh. What we are saying is that the outfit is trying to work here," he said in reply to a query.
Before travelling to Bangladesh, Samiun communicated with Asif, son of a former judge, on the social media. Asif then contacted Tanzil, son of a senior bureaucrat.
Detectives picked up Asif and Tanzil in the capital on September 24 night on information from seven Jama'atul Mujahideen Bangladesh men, including its acting chief Abdullah al-Tasneem alias Nahid, arrested from Ashulia on September 19.
Another suspected militant was also arrested in the capital's Paltan area on September 25.
Asif and Tanzil, who were among the 10 people planning to leave the country to fight in the war in Syria, told detectives that a UK citizen of Bangladeshi origin was in Dhaka to recruit fighters for the IS.
On condition of anonymity, a detective said Samiun, with the help of Asif and Tanzil, convinced 25 people to join the Syrian war. 
Of them, 10 have been arrested. They had planned to leave the country for Syria through Turkey after the Eid-ul-Azha, posing as members of Tabligh Jamaat, a peaceful movement for spreading Islamic values.
Samiun told them that he would take them to different parts of Syria where several militant groups, including Islamic State, al-Qaeda and al-Nusra Front, are fighting.
Detectives said Samiun is a rich man, and they are checking whether he transferred money to Bangladesh using his or anyone else's accounts.