Riding on the cutting edge
Innovations in Bangladesh motorcycle market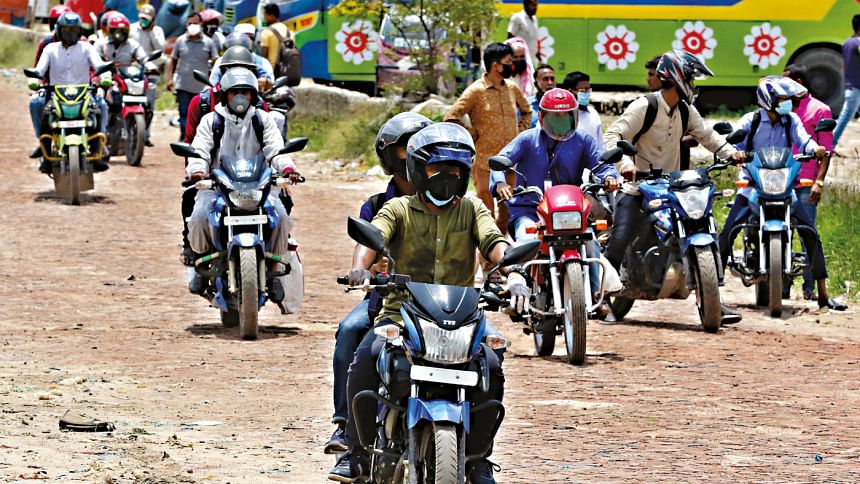 Dhaka is a city unlike any other. It is a city whose heritage, culture and people are vastly diverse, and with each passing day, this diversity continues to grow.
But as more and more people congregate to Dhaka to find their future, the city gets even more congested than it already is. As a result, the traffic in Dhaka seems to get worse every day. And even though the metro rail might be right around the corner, people still need a way to quickly get around the city.
As the standard of living of the middle-class segment of society increases, more of them will soon be buying a vehicle for their transport needs. Now, while many people see cars as that ideal form of transport, in today's traffic a motorcycle would be the more suitable option.
Just imagine it, you are zipping through traffic, manoeuvring between cars and buses that will still be here when you are halfway home. This is the power of a motorcycle.
Now, for those of you who, like me, like to plan things out in advance, the biggest question on your mind might be "how do I pick the right one?".
Well, while there is a wide range of bikes available from a variety of brands, in general, the key thing to look out for are what features they are offering through the many innovations now available in the motorcycle world.
Yamaha, for example, has continually focused on the cutting edge of motorcycle technology to ensure their customers continue to be served the best motorcycles that money can buy.
A representative from Yamaha told The Daily Star, "Our focus has been to ensure our customers' demands are being met through our bikes. That includes giving them the features they want from their motorcycles."
Two important innovations made by Yamaha include their BlueCore Engines and their Fuel Injection system, both of which increase fuel efficiency, making sure that customers are paying as little for gas as possible. The Blue Core Engine also is more environment friendly, as it also reduces carbon emissions. In 2016, Yamaha also created a device which can check the fuel injection system automatically. This device is available at Yamaha's service centres in Bangladesh. Similarly, the company also created the Yamaha Diagnostic Tool (YDT) which can diagnose a Yamaha bike to find its problems.
The Japanese brand was also the first to introduce ABS in Bangladesh. ABS stands for Anti-lock Brake System, and it helps adjust braking pressure to prevent the wheel from locking while also maintaining the bike's stability.
Best of all, Yamaha introduced the Y-Connect, their latest innovation, which lets riders download an app on their phone to better understand their bikes. The app helps track everything from your bike's RPM and temperature to the state of fuel consumption. Additionally, the app also lets users track their motorcycle's parking location.
But Yamaha is not the only player in town. There are plenty of other motorcycle brands that are also experimenting on the cutting edge. Bangladesh's own Runner has been working tirelessly to ensure its customers have the best a bike can offer.
In regards to their existing and future innovations, Hafizur Rahman Khan, chairman of Runner Group said, "Our focus is on innovating on the basis of our customers' needs. We have already introduced software-side features that let you track your motorcycle and also provide a warning when you need your engine oil changed, or if your bike is overheating."
"Without innovation, no one can survive in any profession or industry. Forget about success, without innovations, it is impossible to even sustain a business. In regards to the motorcycle industry, innovation is extremely important as well. Currently, our primary focus is to innovate with a major focus on safety. We are working with a2i to make our vision of a completely safe motorcycle a reality. It will give riders warnings when they are crossing speed limits and also aide them if they lose control of their bikes," Khan added.
As technology continues to advance, there is great potential for the motorcycle industry, particularly in Bangladesh. If you are someone who is thinking about buying a bike right now or in the near future, then it would be ideal to keep an eye on the state of innovation in the market.