Motorcycle industry regains sales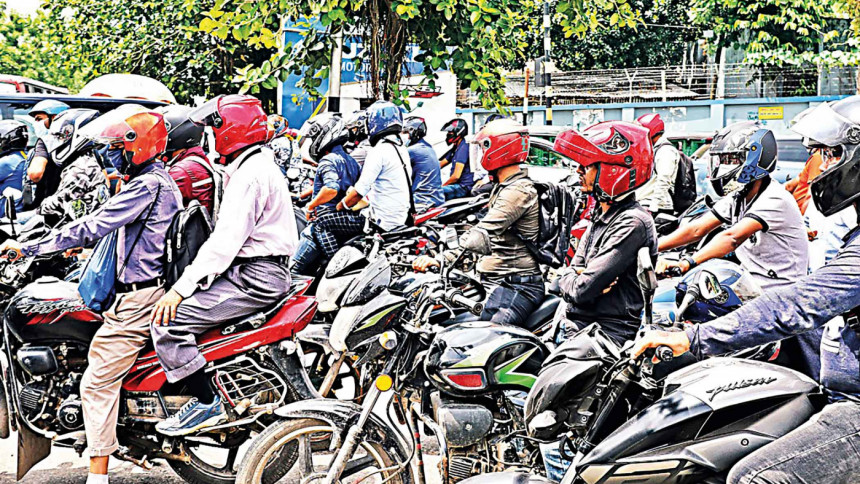 The market of motorcycles witnessed a slow pace in 2020 due to the impact of Covid-19, but it has seen an auspicious start in 2021.
According to registration data of Bangladesh Road Transport Authority (BRTA), on average sales stood at 33,329 units per month in January and February while it was 25,918 units per month in 2020.
Market players are expecting to re-gain the earlier pace, overcoming the challenges posed by the pandemic, as people prefer using motorcycles as personal or family transport and avoiding public transport on safety grounds.
At present, the sales of motorcycles in almost all districts, except some frontier districts such as Jashore, Satkhira and Chapainawabganj, are impressive compared to last year.
Market players said demand increased compared to last year and sales are at pre-pandemic levels.
Market insiders said around 5 lakh motorcycles were sold in 2019, up 25 percent from 4 lakh previous year, while sales reduced to 311,016 units in 2020 due to the impact of Covid-19.
"All brands of motorcycles are getting momentum in sales and we are hopeful about recovering business losses gradually," said Hafizur Rahman Khan, president of Motorcycle Manufacturers and Exporters Association.
The proposed budget is also favourable for the industry as the government did not impose new taxes, or value added tax, on the sector.
Moreover, the government has proposed to give 20 years' tax holiday for the automobile sector which will help the industry grow, he noted.
EXPANSION OF THE MARKET
The market began to expand rapidly from fiscal year 2016-17 when the government slashed the supplementary duty by 25 percentage points on the import of the two-wheeler's components to encourage domestic manufacturing.
Just after the decision the price of motorcycles dropped by Tk 30,000 to Tk 50,000 within half a year and distributors also introduced equal monthly installments and offers for different festivals.    
Besides, the government formulated the Motorcycle Industry Development Policy 2018 which aims to help the industry – although the industry faced numerous challenges due to Covid-19.
On the other hand, the purchasing capacity has also increased in line with price reduction which has helped boost demand for motorcycles.  
The government in early February brought some good news for the industry as the government slashed motorcycle registration fees by half, a demand long held by two-wheeler makers.
Now, motorcycles with engine capacity of up to 100cc cost Tk 2,000 to register, down 52 percent from Tk 4,200.
For those over 100cc, the fee cut has been 46 percent (from Tk 5,600 to Tk 3,000).
Rahman said both the government and users stand to benefit. Now everybody registers their motorcycles in rural and urban areas.
MOTORCYCLE ASSEMBLING AND MANUFACTURING
Nine firms – Japanese brands Honda, Suzuki and Yamaha, India's Bajaj, TVS and Hero, and Runner Automobiles of Bangladesh, Atlas Bangladesh Limited, and Grameen Motor – have made the country almost self-sufficient in motorcycle manufacturing or assembly in the fast-growing market.
Of them Runner Motors, Honda and Hero mainly manufacture motorcycles. 
Industry insiders think government policy support and continuation of concessionary duties on import of raw materials and component is helping the sector grow rapidly.
In this backdrop, market players feel encouraged to set up either manufacturing facilities or assembling plants with joint ventures to reduce prices and have a bigger share of the growing market.
HIGH-END MOTORCYCLE DEMAND
Some 500,000 units of motorcycles are sold in Bangladesh every year. Of them, 35,000 are high-end and this number is increasing by around 10 percent per year.
Meanwhile Ifad Autos signed a memorandum of understanding with British-bred Royal Enfield to import the famous two-wheelers.
Founded in 1955, Royal Enfield is one of the world's oldest two-wheeler brands still in operation. Since 1994, it has been owned by India's Eicher Group.
Royal Enfield makes motorbikes in the mid-segment market with a capacity of 250cc to 750cc, according to a news article of the BBC.
Ifad Autos is thinking of manufacturing high-capacity bikes to keep the price within the buying power of consumers. Royal Enfield bikes will cost Tk 3.5 lakh to Tk 4 lakh.
With a target of increasing the market share of their premium motorcycles, Runner Automobiles launched two models of the famed KTM bike in the Bangladesh market on Monday.
KTM unveiled the KTM 125 Duke and KTM RC 125.
Besides, Yamaha R15 V3, Suzuki Gixxer SF DD, Honda CBR 150R, Lifan KPR 165, and Taro GP1 of Kawasaki  are considered to be premier models of motorcycles in Bangladesh,
In 2018 the government gave the go-ahead to Runner Automobiles to import raw materials and components to make motorcycles of over 165cc to 500cc, widening export opportunities for the local company.
The manufacturer can produce the 500cc motorcycle for export and 165cc for the local market. The latter has been introduced to the local market.
GROWING BIKE INDUSTRY INSPIRES COMPONENT MAKERS
Buoyed by the government policy aimed at developing the motorcycle industry, local companies are gradually making a foray into the component manufacturing segment with a view to cutting the country's reliance on imports. 
The motorcycle industry needs more than 700 components to manufacture a bike. The local light engineering industry can make four components, namely drive chain, seat, stand and battery.
At first glance, the achievement might seem minimal compared to the vast requirements. But producing the components locally is a major stride compared to a decade ago when the industry had completely relied on imports to meet the demand.
At least four companies manufacture components in Bangladesh, and one of them is QVC Bangladesh.
Located in Sundarban union in Dinajpur Sadar Upazila, the company produces around 2.5 lakh drive chains every year against the capacity of about 5 lakh. The bike industry is inspiring component makers.
OBSTACLES FOR LOCAL VENDOR DEVELOPMENT
The government has extended tax facilities to encourage the bike industry to develop local vendors to create world-class products for the local and export markets and create jobs.
But not a single motorcycle company is working to develop local vendors to produce parts and components. Motorcycle assemblers import finished and semi-finished goods.
WHAT MOTORCYCLE MANUFACTURERS SAY
Khan of Runner Automobiles said policy support was needed to develop local vendors. "Runner is trying to develop local vendors."
Abdul Matlub Ahmad, chairman of Nitol Niloy Group, which assembles Hero-branded motorcycles, said all manufacturers should cooperate with local vendors in the greater interest of the industry.
Shah Muhammad Ashequr Rahman, head of finance and commercial at Bangladesh Honda Pvt Ltd, said manufacturing generates the most robust backward linkages for the industry through vendors across all sectors of the economy.
He noted the expansion of the motorcycle industry might encourage the growth of the components and supporting industries and technical consulting services.
He said technology transfer is highly required to develop local suppliers. Sound policies and facilities are needed for local suppliers and vendors to produce parts.
Rahman believes local manufacturers may be able to offer good quality products at a reasonable price.