Heart treatment still Dhaka-centric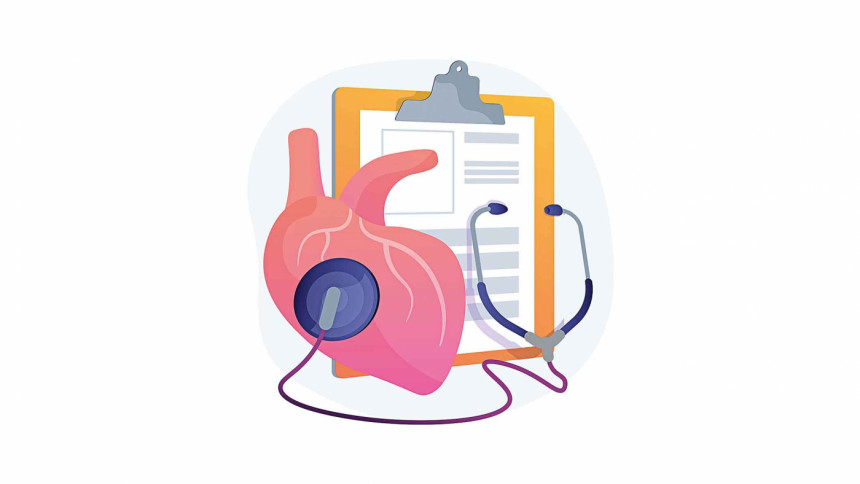 Seventy-year-old Abul Khaer, a resident of Nabinagar in Brahmanbaria, felt chest pain at midnight recently. His family waited till morning before taking him to a private hospital in Homna upazila of Cumilla, a two-hour drive from their home.
But the doctor at the facility referred the patient to the National Institute of Cardiovascular Institute (NICVD) in Dhaka as they did not have the necessary equipment to provide treatment. Khaer was then taken to NICVD in the afternoon and the doctors there started his treatment right away.
However, it was too late by then and the patient died that night.
"By the time we reached the heart institute [NICVD], we lost around 16 hours. I am so unfortunate that I could not save my father," Khaer's son Md Jamal told The Daily Star.
Almost half of the patients coming to the NICVD, the lone specialised hospital for heart patients with a 400-bed capacity, are from different distant districts as there is a lack of well-equipped heart disease treatment centres outside Dhaka city, according to doctors.
"The lives of many of them could have been saved if they had received proper treatment at their nearest hospital," the on-duty doctor at the NICVD emergency unit told this correspondent after approving the admission of Abul Khaer.
He said the treatment protocol for cardiac arrest patients is the same everywhere.
"But doctors cannot give treatment without the necessary supporting staff and equipment, which is absent in the district-level public hospitals," he said on condition of anonymity.
The coronary care units of divisional level hospitals are also not well-equipped and cannot even accommodate all patients due to an inadequate number of beds, he added.
DHAKA-CENTRIC TREATMENT FACILITY
Cardiovascular disease has become a cause of increasing concern for Bangladesh with a growing  number of patients suffering from it. An NICVD study in 2018 found that the prevalence of cardiovascular disease in Bangladeshis is 4.5 per cent regardless of the type.
On the contrary, the number of full-fledged cardiac treatment centres, cardiologists and cardiac surgeons is extremely inadequate, resulting in many preventable deaths, experts say.
The number of cardiac care units in both public and private facilities across the country increased to 43 from 42 last year.
However, just 29 hospitals are equipped to conduct cardiovascular surgery. Of those, 21 are in Dhaka city, four in Chattogram, two in Khulna, and one each in Sylhet and Sirajganj, according to the Cardiac Surgeons Society of Bangladesh (CSSB).
In Dhaka, 16 of these facilities are privately owned and carry out the majority of cardiac surgeries that number up to 12,000 on average each year.
In government facilities, the fees for cardiac surgery begin at Tk 1.10 lakh while the lowest fee that private hospitals take is around Tk 3.70 lakh.
In the past one year, the overall cost for cardiac surgery in private facilities has increased by around 25 per cent, according to officials.
In the past one year, the cardiac care centre in Sylhet run by the National Heart Foundation and the one in Imperial Hospital in Chattogram were closed down, this newspaper learnt.
On the other hand, three new ones were added to the list: one at Sir Salimullah Medical College Hospital in Dhaka, another at Evercare Hospital in Chattogram, and the third one was resumed at the Zia Heart Foundation in Dinajpur.
"Operating a cardiac surgery unit requires not only surgeons, but also at least 30 supporting staff to perform different tasks simultaneously. However, there is a huge shortage of human resources in this regard," said Dr Monzur Hossain, a cardiac surgeon at the NICVD.
Currently, there are 643 cardiologists and cardiac surgeons in the country, as per data from the Bangladesh Cardiac Society.
Of them, 230 are cardiac surgeons but only 45-50 are capable of conducting surgeries independently, according to the CSSB.
Of these independent surgeons, 32 work in Dhaka.
Hossain said that although the number of surgeons is inadequate compared to the number of patients, not everyone can work independently due to the absence of a full-fledged cardiac surgery unit.
Aside from surgery facilities, there are six public medical colleges in Rangpur, Rajshahi, Khulna, Sylhet, Mymensingh and Barishal that have coronary care units.
However, only angiograms and other related diagnostic facilities are available at these colleges. Besides, these services often remain unavailable due to a shortage of doctors, various sources said.
This newspaper spoke with a number of cardiac doctors and surgeons working in different government facilities, who said that although there are primary care facilities for heart disease at the district level, they are not up to the mark.
So, patients prefer rushing to the capital city for treatment, they added.
"If the district level hospitals had full-fledged cardiac units with doctors and skilled human resources, the heart attack patients would get proper care at the very beginning," said Prof Sohel Reza Choudhury, head of the department of epidemiology and research at the National Heart Foundation."So, the government needs to address this issue urgently," Choudhury added.
In 2020, the government approved the development of eight full-fledged cancer hospitals complete with well-equipped cardiac units in all divisional cities.
The issue of strengthening the existing cardiac care units in the medical college hospitals and the district level hospitals has been much-talked about since the outbreak of Covid-19, but almost no progress has been made so far.