Canal dies of plastic menace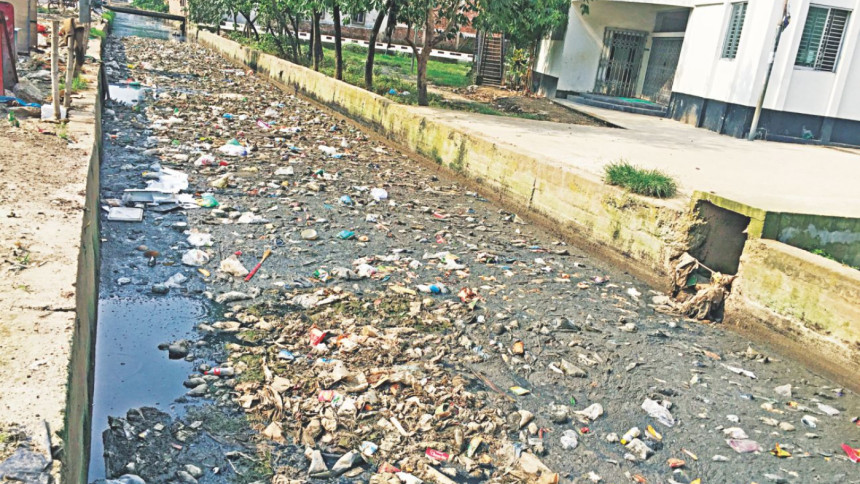 If you visit the Kalsi canal in Mirpur, you are bound to mistake the canal for a landfill owing to it being chock-a-block with a thick layer of plastic waste.
Where the water can be seen, it appears to be black in colour and contaminated with waste. A fetid odour permeates around the area, making it hard for a passerby to walk without a face mask.
"What you see is nothing but a canal that was once wide and used as a channel to drain water. Now it is being choked with waste and plastics," sixty-year-old Siraj Mia, a local, said, spitting on the ground.
15 years ago, the area had no incidents of water-logging. "Now a little rain submerges the whole area and it is all because of indiscriminate dumping of household wastes and plastic in the water body. It has become the breeding ground for mosquitoes," Siraj said.
As more products wrapped in plastic are being sold, the use of the synthetic has increased. 
And the major impact of plastic bags in Bangladesh is seen in the storm water drainage systems. Due to the unchecked and improper disposal of plastic, drains and sewerage systems have become blocked and resulted in increase incidences of mosquito-borne diseases such as dengue and malaria.
"Due to huge accumulation of polythene in the water beds, the whole drainage system of Dhaka collapses frequently. The situation is so bad that frequent cleaning up of the drainages and canals could not bring any respite for us," Iqbal Habib, joint secretary of Bangladesh Poribesh Andolon (BAPA), told The Daily Star.
He said the most dangerous result of indiscriminate dumping of plastic was the heavy accumulation of polythene in the soil which has created a false layer acting as a barrier between the soil and water.
"If any earthquake happens, the lower part of the Dhaka city will collapse."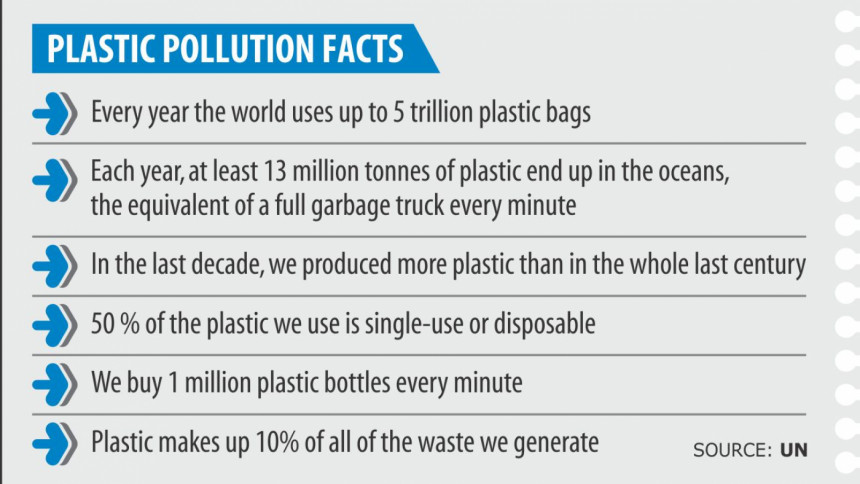 Durability, flexibility, lightweight nature and a cheaper price have attracted consumers in buying more plastic products. Plastic is also suitable for creating a container for almost any item. Once the product is consumed, the plastic container is discarded improperly, harming the environment.   
According to the non-governmental organisation, Environment and Social Development Organization-ESDO, in 1989 almost 70 percent of the country and more than 90 percent of Dhaka was submerged during the monsoon season due to plastic bags clogging drains and waterways.
"Drainage systems blocked  by  plastic  bags  have  been  identified  as  a  major  cause of flooding in Bangladesh during monsoon season. Following the 1998 flood, it was estimated that up to 80% of the city's water logging was caused by polythene blocking the drains," Shahriar Hossain, Secretary General of ESDO, said.
Different raw materials were used in producing different kinds of plastic products with all becoming sources for plastic waste.
And plastic--the synthetic material--has left harmful imprints on the environment and human health.
Currently, Bangladesh generates around 381.36 tonnes of plastic waste every day while around 249.86 tonnes is going to the landfill, according to a report of the NGO Waste Concern, the largest waste management and recycling company in Bangladesh.
Iftekhar Enayetullah, director of Waste Concern, said usage of plastics was increasing in Bangladesh but the recycling industry was not yet interested in recycling plastic waste as it was not fiscally attractive for them.
"The government should take steps to ensure source separation and incentives for recyclers while private organisations should be encouraged to come forward to resolve the crisis," he said, adding that green products should be promoted.
Visiting the Rupnagar canal in Mirpur, it was seen that it had almost vanished and a thin layer of blackish polluted water could be seen. Locals said indiscriminate dumping of huge quantity of waste resulted in severe waterlogging.
"During monsoon, almost all the roads go under water as most of the canal and its branches are clogged with wastes. Water-logging is now a common scenario in the area," Abdul Hakim, a 50-year old businessman, told this correspondent.
He said the slow death of the canal began in 1991 and now it was almost dead.
The canal gives a passage to wastewater as well as rainwater from West Shewrapara, Kazipara, Monipur, Mirpur, Rupnagar, Duaripara and Alokdi into the Turag River.
Visiting the Mohammadpur area, it was found that Ramchandrapur canal turns into a regular garbage dumping ground for the locals residents. Water is stagnant due to accumulation of waste. The canal waste includes non-degradable materials like polyethylene, which deteriorates environmental condition.
Quazi Sarwar Imtiaz Hashmi, additional director general of the Department of Environment, said, "Human behavior is mainly responsible for polythene pollution. We regularly conduct drives against polythene but it is not possible to contain the use of polythene by launching drives."
He also said there was no alternative to generating mass awareness against use of polythene and its adverse impact the on environment.