A year of sacrificial patriotism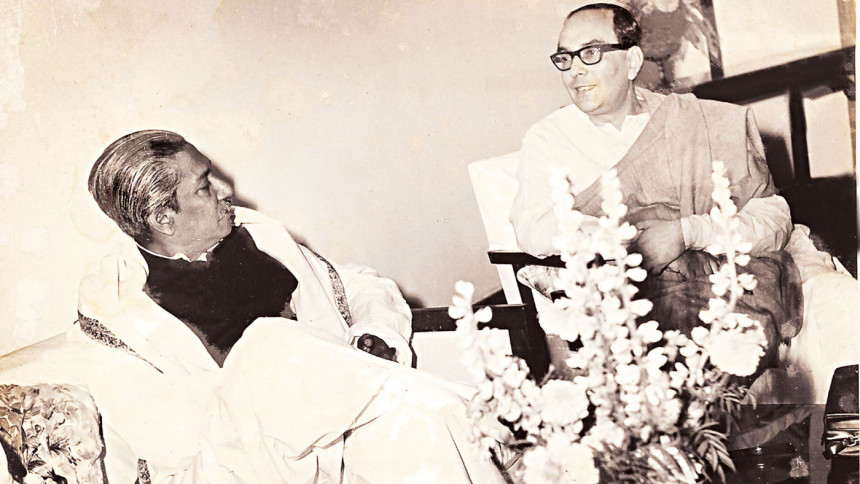 It was late afternoon on probably the last Sunday of November 1971. After finishing work for the day at the Netaji Field Hospital in Bakchara village, my father Dr. Sisir Kumar Bose suddenly decided to drive towards the Bongaon border. Our jeep sped along the road towards Jashore until it had to slow down at a culvert. Indian soldiers in camouflage fatigue emerged from the roadside to inform us that we had left no man's land far behind and advised us to turn back. That was my first visit to Bangladesh without passport or visa at the moment of the new country's birth.
Fifty years ago, I was a high school student. We keenly monitored the news of the Awami League's spectacular election victory in December 1970 and the tense political negotiations that followed in early 1971. We were thrilled to hear Bangabandhu Sheikh Mujibur Rahman's electrifying 7th March speech at Ramna Maidan on the radio. Then came the grim news of the military crackdown on the night of 25th March and the flood of refugees into India.
Growing up in Calcutta, I had witnessed grinding poverty, but not the depth of human misery that I encountered in the refugee camps near the border. On school holidays I used to accompany my pediatrician father who tried to provide medical care as best he could to children in these camps. He also set up the Netaji Field Hospital where wounded soldiers of the Mukti Bahini were operated upon by leading surgeons from Calcutta. That is the only time in my life that I have seen surgeries being performed in the most challenging conditions. Sometimes coconut water had to be used in place of saline. The bravery and dedication of these simple freedom fighters has remained for me a source of profound inspiration.
In Calcutta my father set up an office on the ground floor of Netaji Bhawan to support the cause of Bangladesh. My mother Krishna Bose was one of the women who worked there every evening under the leadership of the legendary revolutionary Bina Das Bhowmick. It was at Netaji Bhawan that Fazlul Huq had made a speech in 1954 that was cited as a reason for the dismissal of his United Front government. Many leaders and activists of the movement for Bangladeshi independence visited during 1971 and told us that they felt rejuvenated upon seeing the museum on Netaji's struggle for freedom. I had the opportunity to meet some of the field commanders of the Mukti Bahini. I especially remember Najmul Huda, an uncle of a close school friend of mine. He survived the war of independence but was killed along with Khaled Musharraf after Bangabandhu Sheikh Mujibur Rahman's assassination in 1975. The loss of Tajuddin Ahmed was another grievous blow that year to the fledgling state of Bangladesh.
While eagerly following the heroic resistance of the people of Bangladesh, including students and intellectuals, 1971 also afforded an opportunity to become more familiar in West Bengal with the literature and music that had flourished in East Pakistan. I still remember listening on 45 rpm records to Fahmida Khatun singing Rabindranath's "Ekhone tare chokhe dekhini shudhu banshi shunechhi" and Iffat Ara's rendering of "Prabhu balo balo kobe tomar pather dhular range range anchal rangin hobe".
My experience of trespassing across the border in late November 1971 had indicated that the crisis of 1971 was reaching a climax. I went to the Calcutta Maidan on 3rd December and was a bit disappointed to hear Indira Gandhi give a rather insipid speech. On returning home I learned that airfields in northern India had been bombed and close to midnight Indira Gandhi came on the air to say that the country had been put "on a war footing". We anxiously followed every twist and turn of the two-week war, especially the presence of the US nuclear carrier Enterprise of the Seventh Fleet in the Bay of Bengal, until Dhaka was liberated on 16th December.
The news of Bangabandhu Sheikh Mujibur Rahman's release from a Pakistani jail came as a great relief. We did not have television in Calcutta yet. We heard a running commentary on the radio of his triumphant return to Dhaka in January 1972. A week after Bangabandhu's return, my father drove from Calcutta to Dhaka in an ambulance carrying medical supplies to the war-torn capital of the newly independent country. On January 17, 1972, Sisir Kumar Bose had a memorable meeting with Sheikh Mujibur Rahman who wept as he said, "Amader aar kichhu nai". Having recently learned of the terrible repression unleashed on his people, he felt this sense of enormous loss. My father tried to reassure him saying, "Apnader sab aachhe" – nothing was lost to a people who had won freedom by shedding their blood. Phani Majumdar was present at this meeting. Bangabandhu spoke about Netaji as his inspiration and the movement in honour of Nawab Siraj-ud-Daula to remove the Holwell monument in 1940 that had united Hindus and Muslims. He also remembered Sarat Bose and told my father that Suhrawardy had been utterly sincere about the united Bengal plan in 1947.
Bangabandhu sent a tape-recorded message in his inimitable voice to be played at Netaji Research Bureau in Netaji Bhawan on 23rd January 1972. He said that Netaji's ideal of sacrifice and suffering (tyag o titikshar adarsha) would forever illuminate the path of freedom-fighters the world over. Nilima Ibrahim attended the traditional Netaji birthday assembly as his personal envoy and gave a stirring address.
When Bangabandhu Sheikh Mujibur Rahman came to Calcutta in February 1972, I attended the mammoth mass rally where both he and Indira Gandhi spoke. On the occasion of that visit, my parents decided to give Bangabandhu a special gift. In Mandalay Jail during the mid-1920s Subhas Chandra Bose had a "ganer khata" – a notebook in which he had written down his favourite songs in his own hand. A silk scroll was presented to Bangabandhu on which was printed in red a facsimile of Rabindranath's ode to Bengal in Subhas's handwriting – "Amaar Sonar Bangla Ami Tomay Bhalobasi".
Sugata Bose is the Gardiner Professor of Oceanic History and Affairs at Harvard University.