The Guerrillas of Dhaka in 1971
GHOSBAGH AMBUSH - TITO'S DEATH

14 DECEMBER 1971
On the morning of December 14, Tuni, Tito, Sabu, Ifu, Zami and I were sitting with others and eating breakfast when we noticed some villagers rushing into the camp. They had seen a large army of Pakistani soldiers moving towards our camp at Jirabo.
We were not anticipating any Pakistani soldiers to attack us from that particular direction. We were very confused. Were they moving in this direction because they were aware of our camp location? The camp commander sent out two men on bicycles to find out the location of the approaching troops. Till then, the soldiers had never come this far out into the village. After talking to the informers we found out that the Pakistani soldiers were fleeing from Tangail. It appeared that they wanted to reach Dhaka via Savar through the villages. They were fleeing without knowing of our presence in that area and were actually heading straight towards our hideout. The villagers informed us that the soldiers looked panic-stricken and were trying to find a safe escape route to Dhaka.
We wanted to exploit this situation and planned to lay an ambush on the fleeing Pakistani soldiers. They were moving on foot from the north towards Ghosbagh, through cultivation fields, heading towards Savar, and a razakar was guiding them. A quick reconnaissance was carried out and we selected Ghosbagh as the ambush sight. About forty freedom fighters took part in this ambush. Among the forty who took part in the ambush were Sabu, Ashraf, Zami, Mohammad Yusuf Iqbal, Reazuddin, Zaher Ali Mia, Nuru, Ashraf (EPR), Mohammad Mainuddin, Nana (EPR), Abdul Basek, Fazlu, Abdul Gani, Sona Mia, Tito, Tuni,  Bachchu Bhai and me. We had very little time and so detailed orders could not be given to us on our course of action.
The Pakistan Army was a very well trained force. Even when they were fleeing, they followed proper military tactics. The troops had two scouts leading the way on either side of the track. The scout on the left side was slightly behind the scout on the right side of the track. They had their rifles in ready position to fire at any unexpected attacks but their movement was slow as the tired soldiers dragged their feet along the way. About 75 yards behind the scouts was the point section (a group of soldiers walking in a single line horizontally spread out across about 75 yards) advancing in a linear formation with their guns ready to defend themselves. It was the point section's duty to clear the path for the main body of troops. They were moving forward with their guns poised as they followed the scouts in order to shoot any enemy they encountered. Behind them, the main body of soldiers followed. We were ordered to take up position along the track that they were following, at an angle from the track, behind a high mound. We waited patiently with our rifles aimed at the track ahead, waiting for the command to fire. As the scouts came close, one of us opened fire before the command was given, and all hell broke loose. The two scouts were shot and one died on the spot. The soldiers in the point section opened fire at us. A group of soldiers came from the rear and took up position opposite us on the right flank. They quickly set up two heavy machine guns and three LMGs, and began firing at us incessantly. We continued firing back at the soldiers nonstop. The exchange of bullets went on for more than two and a half hours. During this time, we took turns at our position, going back to rest and then coming back to fire some more rounds.
Meanwhile, we received news from our informers that the Indian Army was on the highway, moving towards Dhaka. They had come from Tangail using the Chandra link road to Savar. We quickly requested assistance from them but they were unable to spare any soldiers to comply with our request. They asked for our position and marked it on the map. Then they increased the number of troops on their left flank to protect their convoy. We were extremely disappointed as they turned down our request, not understanding that an army follows certain rules and never deviates from its aim. The Indian Army's aim was to capture Dhaka as soon as possible.
The heavy rounds of firing stopped after a while. Tito and I had moved behind the protective barrier to rest and replenished ourselves with some gur-muri (puffed rice and molasses). All of a sudden, Tito decided to go back and fire some more rounds at the soldiers. He smiled at me and said, "I am going to fire at them some more, want to join me?" I told him that I would join him in a little while. He said, "OK!" and crawled up to his position and waited for the soldiers to fire. Very soon he got restless and wondered why they were not firing anymore. He wanted to see where they were and tried to peek past the barrier to see if they were still there. In the meanwhile, the soldiers sat quietly out of sight, hidden among the tall sugarcane plants. Tito carelessly lifted his head to look beyond and since he did not notice anybody around, he stood up. Immediately, the machine guns roared and I looked up to see Tito collapse on to the ground. I called to him, "Tito come back. What are you doing? What happened?" Then I crawled up to him and found him bleeding. He had been shot in his stomach and was writhing in pain. Tuni, Jami and one of the locally trained freedom fighters crawled in to help me carry Tito to our camp. I took out our medicine box and prepared the injection to stop the bleeding. I held him down while someone administered the injection to him. I asked Tito to stay calm and not move as the bleeding increased each time he squirmed. Tito begged me to save him. He went on asking me desperately to stop the pain that seared through his body. He called me names and screamed at me to do something, but I was helpless as I could do nothing for him but just watch him suffer. We sent one of the men to get a doctor from Savar Dairy Farm. Tito was in terrible agony and for thirty-five minutes, I sat there watching him suffer in pain. He was bleeding profusely. He wanted to live to be able to see his motherland free from the Pakistanis. In his pain he cried out, "I want to see my country free. I want to live. Help me Towfic, please help me. I don't want to die." Even today, I can hear his voice calling out to me. I was helpless. I was unable to help my friend as he lay dying.
He had already lost both his brothers in this war and dreamed of the freedom of Bangladesh. I watched with pure anguish as Tito died in my arms. It was a huge blow for me. He had come with us from Montuli, India. Soon we became close friends since we were about the same age. I felt guilty for having failed to help my friend. His pleading cries to save him haunted me constantly. Tito was later buried at the gate of Savar Dairy Farm. I could not attend his funeral as I was extremely upset and disturbed at the thought that somehow I had failed my friend when he had needed me the most. All I could do was hold him close during his last few moments. I just sat there praying that he finds peace. 
After liberation, I went to visit Tito's grave at Savar Dairy Farm. He will always remain in my heart and my memories, and I salute him for his bravery and passion. He died for a noble cause, the freedom of Bangladesh, which he was not destined to see. Soon after Tito was shot, the Pakistani soldiers began to desert their positions and attempted to escape through the surrounding villages. When the soldier who had shot Tito looked around and saw that all the others had left, he too tried to escape. But he was caught by the villagers and they killed him. Many Pakistani soldiers tried to flee across a large water body behind us. Many were caught by the villagers and the Major in charge of the troops committed suicide by shooting himself.
We collected two Heavy Machine Guns and other weapons left behind by the soldiers. The Indian Army sent a messenger asking us to hand over the machine guns. These guns were the latest weapons from China, and the Indian Army did not possess these. They tried to persuade us to hand over the two prized weapons to them, but we were adamant not to part with them. They left when they realised that we would not hand over the weapons to them under any circumstances.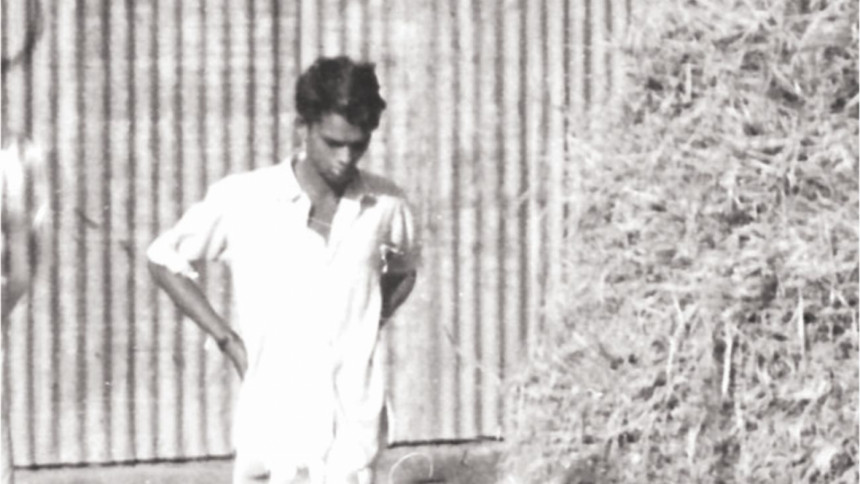 CAPTURING PAKISTANI SOLDIERS

15 December 1971
We had killed several soldiers in the Ghosbagh ambush on December 14 and held two as prisoners. One was a Punjabi soldier and the other was a Pathan.
The Punjabi was wounded in his left leg. We were about to give him first aid when we noticed that the pockets of his trousers were bulging out. Upon checking, we found that his pockets were full of wrist watches. When we questioned him, he told us that he had looted the watches from a shop in Tangail. Upon hearing this, the villagers got very agitated. They did not let us treat his wound. They tied a rope around his waist and dragged him out of the camp. We tried, in vain, to stop them but they would not listen. The villagers were so angry with the soldier that they beat him to death.
The Pathan soldier was comparatively quieter. He had surrendered to us by waving a white handkerchief as a flag. When we brought him to the camp, he simply sat there silently. He spoke in Urdu and we could not understand him very well but from what we could gather, he had no idea that he was brought here to kill fellow Muslims. He was told that they had been sent to the eastern wing to free the country from the hands of Hindus. He took out a picture of his daughter and a small copy of the Quran from his chest pocket, along with forty rupees. He gave these to us and asked us to inform his family and use the money for his funeral after we killed him. Hearing his story we empathised with him and realised that he was a victim of circumstances. After talking to him some more, we decided that it was relatively safe for us to let him move freely inside the camp, as the sentries were always on guard. The soldier was armed with a G3 rifle, which I had already seized from him. I did not know how to operate the weapon and asked him to show me. I disengaged the firing pin first, as directed by him, and then let him demonstrate. I kept that G3 rifle with me till I was ordered, after Liberation, to return all my weapons to the Bangladeshi authorities. We did not harm the Pathan soldier in any way as long as he remained in camp with us, except on the first day, when someone had kicked him as they brought him to the camp. But when we learned more about him, we decided not to harm him again. We planned to send him home to his family as soon as possible.
The Pathan would sit quietly under a tree and say his prayers regularly. He stayed with us for nearly 25 days, even after the war was over, because we wanted to be sure that he is properly treated until we could ensure his safe return to his family in Pakistan (later on we handed him over to the Red Cross and they sent him home). We enquired about his whereabouts and were informed that he had been sent back to Pakistan and was reunited with his family. We were all relieved by this news. During his stay with us he told us that his brigade was based in Tangail but they moved once they found out that the Indian Army had deployed paratroopers in Bangladesh. They had received the information on December 11. His Brigade Commander, in charge of the 93rd Brigade, had assumed that Chinese soldiers were coming as promised, to assist them in the war. However, very soon he realised that it was not the Chinese; rather the Indian Army were sending in their troops. He had then ordered his brigade to move towards Dhaka on the Kaliakor Road. They headed out on their vehicles but one of the vehicles of their convoy was blown up by a land mine set by the Mukti Bahini of that area. They came under fire and exchanged bullets with the Mukti Bahini. The Brigade Commander told his troops to disperse but the soldiers were terrified since they thought the Indian Army had placed the road-blocks, not the Mukti Bahini. The soldiers deserted the brigade and the commander lost all control over his troops. Groups of soldiers started walking through the villages towards the south, trying to escape from the region in any which way they could. Confused and lost, the soldiers had walked without food or respite and were in fear of their lives. They were following a razakar who was their guide and he was taking them through the villages so that they would not cross paths with the Mukti Bahini. The Pathan's company had been moving on foot from Kashempur towards Savar, when they were attacked by us at Ghosbagh. The Pakistanis were aware of our presence in and around Savar and Dhamrai and they knew that if they used the roads, they would be ambushed by us. The fact that they were heading towards our camp was just a coincidence. When we ambushed them, they were taken completely by surprise. That is why most of them deserted their posts and were trying to find ways to escape.
We learnt from the villagers that they had captured many soldiers and had killed them. They found the body of the Major who had committed suicide by shooting himself rather than getting caught by the villagers. Later we heard that the Brigade Commander, along with nine of his officers, was found hiding among the trees on the Chandra-Mirpur link road. They were extremely hungry and exhausted from walking for three days and surrendered to the Indian Army without any resistance.
A JOYOUS MOMENT

17 December 1971
On December 16 we received news that the Pakistanis had surrendered to the Mitro Bahini (Allied Forces) in Dhaka. Bachchu Bhai and I, along with several others, took a vehicle and set off for Dhaka. The Indian Army convoy was moving slowly forward on the narrow Dhaka-Aricha Highway. The road was barely wide for two vehicles to pass each other. We drove past the convoy by driving along the shoulder of the highway, with one wheel on the tarmac and the other on the dirt. It was nearly dusk and as we drove towards Dhaka, we could see the city skyline glittering with tiny specks of light from the houses and buildings. To us, it served us as a bright beacon beckoning us to come home. All these days, the city had remained in darkness due to blackout as there were strikes by the Indian Air Force. Jubilantly, we hurried back home. We all wanted reunion with our families as soon as possible.
I was dropped off near Chankarpul crossing before the others drove off to their homes. The roads and streets of Dhaka were crowded with people rejoicing at the victory. I went home and this time I walked straight up to the front door without fear. I knocked loudly. Amma knew intuitively that I had returned. She came running to the door, shouting loudly, "Pasha is here! Pasha is here!" Her voice rang throughout the house informing everyone that I had returned home. My two brothers came running to see me. It felt so good to hear her voice calling out my name! My father, who was sitting in his recliner by the window listening to BBC news on the radio, got up and came rushing to the door as Amma opened it. They all stood there, looking at me and smiling, glad to see me back home safe and unharmed. I was wearing a shirt and a lungi, and was carrying over my shoulder the G3 rifle of the Pathan soldier. I entered home proudly and greeted my family. Everyone started asking questions all at once but I could barely respond to them. Amma quickly went to the kitchen to get a pan of hot water she always kept prepared on the stove. She poured it into a large bucket in the washroom, and got me a fresh set of towel and clothes. She shooed me into the bathroom to take a hot bath and went hurriedly back into the kitchen to prepare food for me.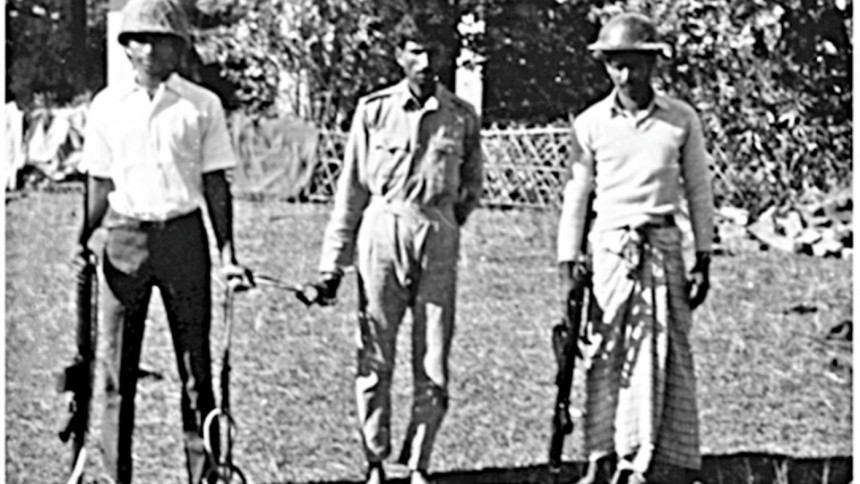 My father went back to his recliner and just nodded his head. He had a habit of shaking his legs whenever he was excited. He was glad that it was all over, but felt nervous about the rifle I was carrying. He kept looking at it and told me to keep it safe and out of reach of my younger brothers. He told me to make sure it was not loaded. I left the weapon beside him and went into take a nice warm bath.
I was extremely tired and all the exhaustion seeped into my bones. I literally melted away at having the luxury of taking a hot bath. After having a delicious and hearty meal, I simply wanted to go to bed. As my head hit the pillow, I fell fast asleep. When I woke up in the morning, the sun was already quite high in the sky. It must have been nearly ten in the morning. I jumped out of bed and freshened up. My mother was always bustling about in the kitchen and she eagerly served me breakfast. It was my favorite meal: paratha, beef curry, and fried eggs. She had also made some semolina halwa (sweet dessert), which I loved to eat hot. Not having eaten properly for months, I devoured my breakfast. After a cup of hot tea, I went out of the house to look around.The boys on the street were jubilantly firing the guns in the air and were shouting "Joy Bangla!" I went back in and looked at my G3 rifle and reflected on the fact that a real Muktijoddha would never boast in public. "It does not matter, let them enjoy," my father said. He asked me to sit beside him and tell him how I had been since the last time he saw me. We talked for an hour about the different missions that we carried out while in Savar. I could see my father's proud eyes as he gazed at me unblinkingly, listening to my narration of the war and the different missions which I had taken part in. Beneath the pride, I saw the stark relief he felt at having me sit by him safe and healthy.
Manik Bhai did not return home, neither did Tito and Zakir Bhai. So many wonderful and courageous men had given their lives so that we could live as a free nation. Their dreams must live on. They were not able to see Bangladesh as a free country. It was now our duty to build the country of their dreams so that their sacrifices would not go in vain. 
I could not stay long at home as we had been told to report at Purana Paltan. We were to return to the camp and bring back all the weapons and ammunition to the new camp in Dhaka. A house had already been selected at Purana Paltan where we were to set up our new camp. The building belonged to Jahurul Islam (Founder Chairperson of Eastern Housing Ltd.) at 21 Purana Paltan Lane. There were four apartments in the building. We selected the apartment on the outer corner. On the left side of the building was a small alley. The location of the apartment was good. We would be able to set up sentry posts around it without trouble. After making all the arrangements for our new camp in Dhaka, we went back to our camp at Jirabo. Zahidul and Arif joined us from Dhaka on December 17. Bachchu Bhai quickly arranged for transportation to be used by us as our convoy. Within a few hours, we managed to collect a Jeep from the Savar Dairy Farm and several pick-up trucks from Savar Bazaar. Asad also brought some vehicles from the Rajarbag Police Lines for us to use. We loaded up the trucks with the weapons and ammunition that we had collected from the raids and ambushes we had conducted during the war. It took us nearly four hours to pack up and move. The Muktijoddhas loaded on to the back of the trucks and we got into the Jeep. Our convoy was led by our Jeep. Arif drove the Jeep and Zahidul sat in the seat next to him, while Bachchu Bhai stood up waving to the people as we entered Dhaka. I stood at the back with Jami and Ifu Bhai, while Asad sat just behind Bachchu Bhai. Our convoy of 15 trucks moved slowly towards Dhaka on the Aricha Highway. We, 450 Muktijoddhas in the convoy, were jubilant at the thrill of entering Dhaka. With smiles on our faces and proud hearts, we moved towards the capital of our new nation. Triumphantly we entered Dhaka, freed of all our enemies. 
---
Manik Bhai did not return home, neither did Tito and Zakir Bhai. So many wonderful and courageous men had given their lives so that we could live as a free nation. Their dreams must live on. They were not able to see Bangladesh as a free country. It was now our duty to build the country of their dreams so that their sacrifices would not go in vain. 
---
Our convoy moved slowly up through Amin Bazaar towards Dhanmondi. As we came near Dhanmondi Road 1, just before Elephant Road, someone shot at us from the window of one of the houses. It was a well-developed residential area and there were many two- or three-storied houses all around, making it extremely difficult to see where the gun was being fired from. We quickly took up position and fired back in the direction of the gun fire. After a couple of shots, the sniper stopped firing at us. We waited for a while to check whether it was safe before our commander sent some fighters to look for the sniper who had fired the shot. They searched each and every house on the street, but the sniper could not be found. He must have disappeared from the area through the back door of one of the houses he had been hiding in. After an hour of searching, Bachchu Bhai told us to start moving the convoy again. We took our convoy down Elephant Road past Hotel Shahbag and then, after passing the Race Course, we turned left at the intersection where currently Matsha Bhaban is located. Then we turned right towards Kakrail, at the corner of Ramna Park. Finally, we plied down to Purana Paltan - our new camp. As we passed through the roads of Dhaka, we were cheered at and greeted by excited crowds calling out slogans of "Joy Bangla". We were greeted in a city of celebration and festivity, not the somber city we had left behind a few months ago. Men, women, children, and people from all walks of life were unanimously celebrating the historic independence. It was not an easy feat for us to reclaim our land. We had lost several courageous friends in the process and had suffered great loss and pain. But then, life is a moving feast, life is a celebration of joy, and the whole city was jubilant as patriotic songs played loudly on speakers mounted on the streets. Elated by the victory achieved by the Mukti Bahini and the Bangladesh Army, people ran up to our Jeep to shake our hands. The brave hearts who had achieved freedom after a long and difficult war, we held our heads high as we drove into Dhaka, victorious!
Even today, I am optimistic that we will build a country of which we can all be proud of and that Bangladesh will inevitably surge ahead. I see Bangladesh as a spirit of liberation, a spirit that can only be matched by the blue sky yonder and the infinity beyond. In order to do this, we must infuse into the new generation the passion of patriotism that the Muktijoddhas were imbued with in 1971 - the passion that can only be the true spirit of Independence.
This is an excerpt taken from Colonel (Retd.) Towficur Rahman's recent book The Guerillas of Dhaka in 1971.