Stories that drove the news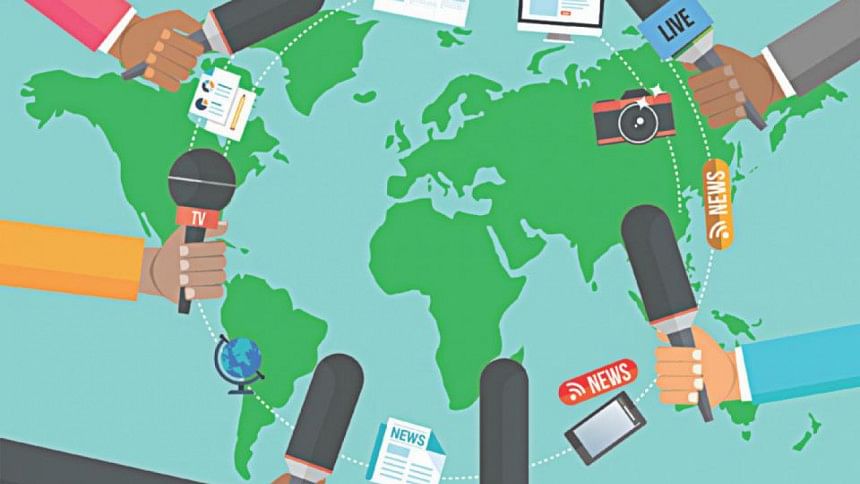 The goal of a New Year is not only that we should have a new year. It is that we should have a new way of looking at and doing things—new hands to help others, new feet to hasten to the needy, new eyes to see misery and want and new ears to hear the sigh and sorrow of our fellow human beings. And we look back because remembrance, like all acts, must have some application to the future. If we do not deeply feel the wrongs we are apparently powerless to prevent, how would we be alert to the wrongs we might put an end to? If we do not take the time to reflect on what we did well, how can we aspire to do better? Following is a list of stories that were frequently in the news throughout the year. They are all worth pondering. We don't always grasp the significance of something while it's happening, but we recognise it in hindsight.
RAMPAL POWER PLANT
The proposed 1320 megawatt coal-fired Rampal power plant is probably the most talked about issue of 2016. A joint partnership between India's state-owned National Thermal Power Corporation and Bangladesh power Development Board, the proposed project, on an area of over 1834 acres of land, is situated only 14 kilometres north of the Sundarbans, the world's largest mangrove forest and a UNESCO world heritage site. Activists and experts fear that the coal will slowly destroy the site - already under threat from forest fragmentation and overpopulation - due to air and water pollution, changes in water quality and increased traffic. Expressing concern over the potential damages to the Sundarbans, the Unesco in September requested the government to conduct a revised Environment Impact Assessment (EIA) before going ahead with the Rampal Power Plant.
THE HOLEY ATTACK
In the worst terrorist attack in the history of Bangladesh, on July 1, a gang of about seven militants, armed with semi-automatic rifles and improvised grenades, attacked the Holey Artisan Bakery in Gulshan—an affluent area that hosts several embassies. The assailants entered the bakery with crude bombs, machetes, pistols, and took several dozen hostages (foreigners and locals). Twenty hostages were brutally murdered, most of them foreigners—nine Italians, seven Japanese, an Indian national and a US citizen of Bangladeshi origin, along with two Bangladeshis. Accounts from survivors confirm that the attackers sought out the foreigners sparing most of the Bangladeshis trapped inside the restaurant. In the immediate response, while Dhaka Metropolitan Police tried to regain control of the bakery, two police officers were shot dead by the assailants. The Bangladesh Army launched Operation Thunderbolt early morning on July 2 during which all the attackers were reportedly killed in a gunfight with the commandos. ISIS claimed responsibility for the attack but Home Minister Asaduzzaman Khan stated that the perpetrators belonged to JMB and were not affiliated with ISIS. The prospect of any imminent terrorist activities following attacks in Gulshan prompted the government to beef up security measures across Dhaka city by several folds. Following the attack several anti-militancy drives were conducted by law enforcement agencies. On July 26, nine alleged militants were killed during a special drive of the joint forces in Dhaka's Kalyanpur. On August 27, three militants including Tamim Ahmed Chowdhury, a mastermind of Gulshan café attack, were killed during a joint forces' raid at a house in Narayanganj Sadar upazila. And on December 24, counterterrorism officials conducted a raid on a militant hideout in the capital's Ashkona during which a woman militant blew herself up. 
The carnage at the Holey Artisan Bakery turned the world's attention on rising extremist violence in the country, raising tough questions for the government. Some countries issued travel advisory warning citizens travelling to Bangladesh. The violence left the country in a state of utter shock. A sense of fear and confusion prevailed for months to follow. Restaurants became less crowded, parents were more watchful of what their children were up to. After a long hiatus of fear and panic things are slowly coming back to normal with shopping malls, restaurants and cafés buzzing with customers again. These include foreigners too though not in great numbers.
AYNABAJI
The crime thriller directed by Amitabh Reza, starring Chanchal Chowdhury, Masuma Rahman Nabila and Partha Barua in lead roles altered the way commercial movies made in this country have been perceived by the mainstream audience. With a solid storyline, melodious songs, powerful acting and superb directing, the movie attracted audiences from all walks of life who lined up in front of movie theatres all across the country reviving the term "House Full." 
At a time when movies and film songs from across the border define entertainment for a large section of the population, Aynabaji proves that there is always demand for a well-made local movie and people do not necessarily flock towards all things foreign when it comes to entertainment.
BANGLADESH BANK HEIST
In one of the most spectacular robberies in modern times, in February, $101 million was hacked from the BB's reserve account with the Federal Reserve Bank of New York. Of the sum, $81 million was siphoned off to the Philippines and $20 million to Sri Lanka. Two theories have been suggested to explain how the thieves managed to send the New York Fed 35 properly authenticated SWIFT transfer orders. The first holds that it was possible to hack into the SWIFT systems at Bangladesh Bank and issue transfer orders without the physical presence of a person inside the central bank. Few find this credible. The other theory—not favoured by the finance ministry or Bangladesh Bank—holds that physical presence at the SWIFT terminals within Bangladesh Bank was required to issue the transfer orders and that the heist must therefore have been at least partly an inside job: a collaboration of hackers and central bank employees or other individuals who had access to the central bank's terminals. A three-member committee formed by the government and led by former Bangladesh Bank Governor Mohammed Farashuddin submitted a probe report to the finance ministry on May 30. The government deferred the release of the probe report.  Bangladesh officials have clawed back the money laundered to Sri Lanka.  Of the $81 million, the Philippines court gave an order to return $15 million to Bangladesh. Some Bangladesh central bank officials deliberately exposed its computer systems and enabled hackers to steal $81 million from its account at the Federal Reserve Bank of New York in February, a top investigator in Dhaka told Reuters on December 12.
ENGLAND IN TIGERS' CLAWS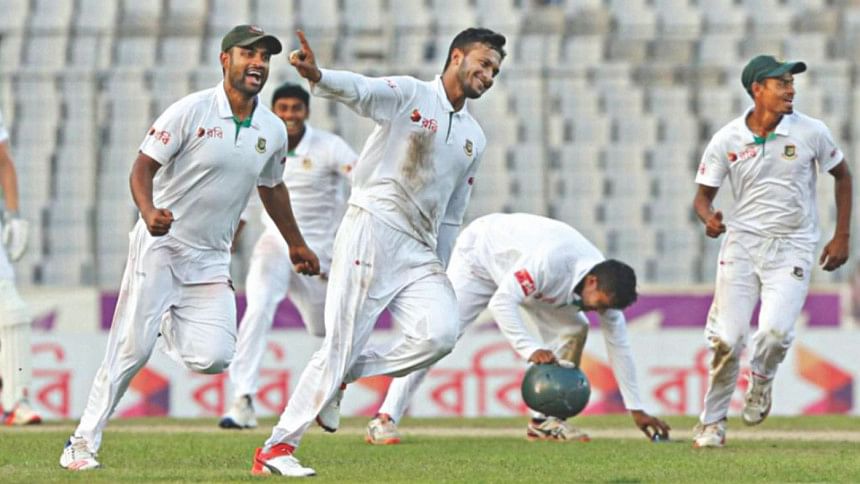 In October Bangladesh secured a historic test win against England elating millions of Bangladeshis. The margin of victory was 108 runs, not unusual in Test matches, but the manner of it was astounding. The England side was mesmerised by a 19-year-old off-spinner whose name would not have rung any bells among their batsmen before the series kicked off in Bangladesh. Mehedi Hasan grabbed another five-wicket haul – his third in four innings, which meant he ended the series with 19 wickets, demonstrably the best spinner on parade. In the end the historic win led Tigers to a draw in the series.
GIRL POWER
In September, the under-16 women's team brought about one of the most glorious moments of Bangladesh's sporting history. Bangladesh ended their brilliant AFC U-16 Championship Qualifiers campaign with a hundred percent record with a 3-0 win against Iran, a 5-0 victory over Singapore, a 10-0 thrashing of Kyrgyzstan, a 4-2 win against Chinese Taipei followed by 4-0 triumph over UAE, placing them among the eight best Asian teams. What's remarkable about their achievement is that almost all the girls come from underprivileged backgrounds in remote villages.
PANAMA PAPERS
A huge leak of documents lifted the lid on how the rich and powerful use tax havens to hide their wealth. The files were leaked from one of the world's most secretive companies, a Panamanian law firm called Mossack Fonseca. The files show how Mossack Fonseca clients were able to launder money, dodge sanctions and avoid tax. It is the biggest leak in history, dwarfing the data released by the Wikileaks organisation in 2010. There are links to 12 current or former heads of state and government in the data, including dictators accused of looting their own countries. More than 60 relatives and associates of heads of state and other politicians are also implicated. The files also reveal a suspected billion-dollar money laundering ring involving close associates of Russia's President Vladimir Putin. Also mentioned are the brother-in-law of China's President Xi Jinping; Ukraine President Petro Poroshenko; Argentina President Mauricio Macri; the late father of UK Prime Minister David Cameron and three of the four children of Pakistan's Prime Minister Nawaz Sharif.
CONTINUED VIOLENCE AGAINST THE ROHINGYAS
The Myanmar security forces unleashed a fresh reign of terror against the Rohingya population in the Rakhaine State - shooting unarmed civilians, raping women and torching homes since more than a dozen soldiers and police were killed in October by armed men whom the UN described as "ethnic armed organisations." The recent surge in hostility sent some of them fleeing to the border of Bangladesh which already hosts thousands of Rohingyas, putting a stress on the overpopulated country and raising concerns over its security. The Rohingyas were made stateless by a controversial 1982 law denying them freedom of movement, education and employment and land rights and ownership.
AMERICA GETS A NEW PRESIDENT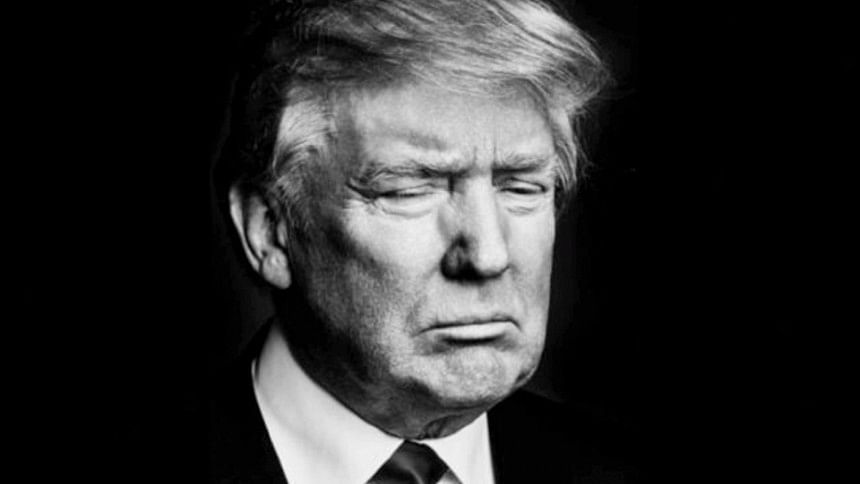 Donald Trump, a billionaire businessman with no prior experience in politics won the US presidential election on November 8, 2016, defeating Hillary Clinton, a former First Lady, a US Senator and a Secretary of State. During the campaign Mr. Trump promised to build a wall alongside Mexico, deport illegal aliens in the US, proposed a progamme to register all Muslims entering the US, "renegotiate" business deals with China, and said his support to the Baltic members of NATO 
would be "conditional". After the election results were published, protests broke out in major cities all over the US. Mr. Trump is expected to take office as the 45th President of the United States on January 20, 2017. His country remains deeply divided.
XI'S VISIT
In October, Chinese President Xi Jinping visited Bangladesh on a historic two-day visit, the first by a Chinese president in three decades—and one that is expected to usher in a new era of Bangladesh-China relations. Bangladesh received Xi with an exceptionally warm welcome. During Xi's stay Bangladesh and China signed 27 deals and memorandum of understanding (MoUs), totalling $13.6 billion. They span financing infrastructure, energy, information and communication projects, and the two countries have agreed on enhancing counterterrorism partnership as well. China is Bangladesh's largest trading partner, so the country is eager to increase trade even further.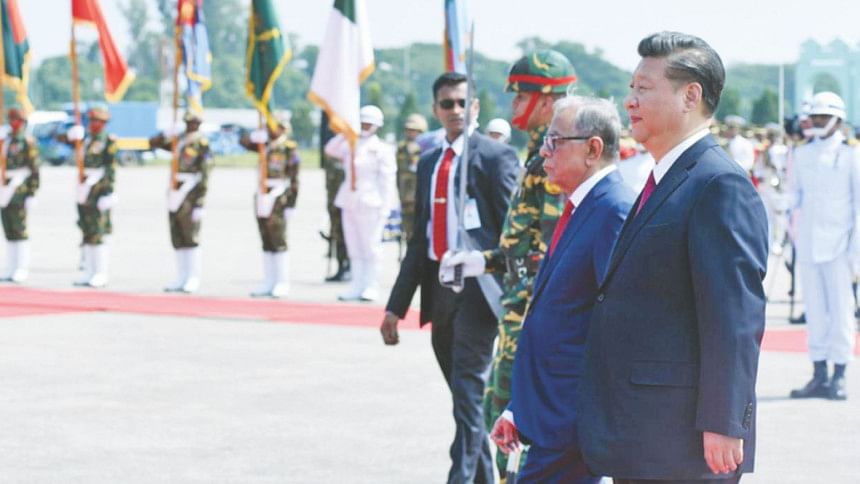 During the two presidents' meeting in Dhaka, Abdul Hamid, the president of Bangladesh sought a tariff-free access for all Bangladeshi products to the Chinese market. Xi has assured to look into this issue, but an immediate outcome is unlikely. Bangladesh needs Chinese capital and know-how to develop the country's infrastructure, a must for Bangladesh to attract more foreign direct investments and businesses. China sees Bangladesh as an important player in implementing its One Belt, One Road Initiative as well as Bangladesh-China-India-Myanmar (BCIM) economic corridor. Xi's trip is a strategic move to ensure Dhaka does not slip away, given that Bangladesh's close ally, India has already expressed her reservation for the China-led grand project.
MAYHEM IN NASIRNAGAR
On October 30, hundreds of religious zealots launched a synchronised attack on six Hindu villages in Brahmanbaria's Nasirnagar upazila and vandalised 100 houses and 17 temples. They also looted whatever valuables they could find. Before the attack, they spread communal hatred for two days using a Facebook post on the wall of a Hindu fisherman. To instigate and mobilise people, the post was shared among the locals via phone and hard copies. Unidentified criminals set fire to at least six more houses of Hindus at different villages in Nasirnagar upazila on November 5 and torched another Hindu house at Changapur village in the same upazila on November 13. Three government investigations could not find out the motive behind the attack on the Hindus in Nasirnagar and its masterminds. But interestingly, locals seem to know it all. According to a report published in this newspaper, the attacks were instigated for political gains and the issue of religious sentiment was only secondary. Locals reportedly said that the plan for the October 30 mayhem stemmed from bitter rivalry between two Awami League stalwarts in Brahmanbaria politics.
ATTACK ON SANTALS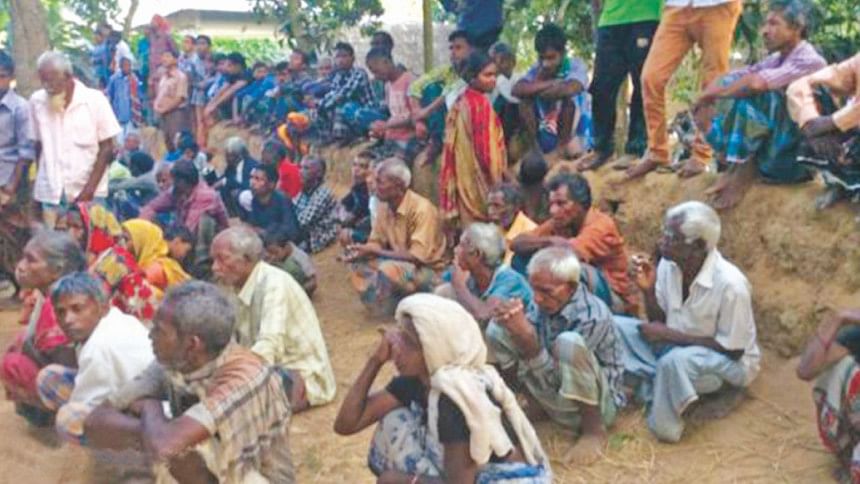 In November, a clash between Santals and workers of Rangpur Sugar Mills in Shahebganj broke out which resulted in the death of a Santal. Following the incident 20 houses of the Santals were looted and vandalised by local people. During the Pakistan period the government acquired the land from the Santals for a sugar cane farm. It was agreed that the land would be returned to the original owners if it were used for farming any other crops. However, the agreement was violated and the mill authority leased out the land for farming other crops. According to local upazila land office, only 92-97 acres of 1842.3 acres of the land were being used for farming sugarcane in the 2014-15 fiscal year. The local Santals had complained about this infringement of the contract but no action was taken. The recent clash erupted when the Santals resisted illegal harvesting by mill workers.
BAJRANGI BHAIJAAN
Much like the magnanimous protagonist played by Salman Khan in Bollywood blockbuster Bajrangi Bhaijaan who took a mute six-year-old Pakistani girl back to her homeland to reunite with her family, a middle-aged Bangladeshi man from Barguna named Jamal Ibne Musa sacrificed almost everything he had to reunite an Indian boy, allegedly trafficked, with his family. In December 2015, Musa ran into Sonu on the Barguna court premises. He then took the boy under his custody and brought him to Dhaka, and spoke with police officials and rights activists about sending the boy back home. On their advice, he took the boy to Barguna. There, with the help of the wife of a local lawmaker, he produced Sonu before a court on December 22. But ironically, as he entered the court premises police detained him for "abducting the boy". He was, however, released upon intervention by the court police who were aware of the matter. Later that day, the court sent the boy to Jessore Kishore Unnayan Kendra. Meanwhile, family members filed four cases against Musa and 13 members of his family on charges of abducting Sonu which landed him in jail and caused him to lose his job. On May 14, Musa went to India to trace Sonu's family. The mission was extremely difficult as Sonu had only given him a vague address. Musa somehow managed to track his family in Seema Puri of Delhi. The rest is history. On June 30, Sonu was reunited with his parents followed by a long legal and diplomatic fiasco.
DIGITAL SECURITY ACT 2016
The draft Digital Security Act 2016, intended to address the need for cyber-crime legislation, according to the authorities, was approved on August 22, 2016, by the Cabinet. Rights activists have expressed serious concern that the proposed law does not have enough procedural safeguards for human rights protection. Nor does it make any reference to Bangladesh's obligation to international human rights instruments.
ANTI-CHILD MARRIAGE LAW
The proposed child marriage prevention bill 2016 was placed in parliament on December 8 suggesting strict punitive actions against marriage between boys and girls who are below 21 and 18 years respectively. However, the proposed law has a provision for "special circumstances" under which girls below the age can tie the knot. Women and rights bodies demanded cancellation of the provision terming it contrary to the very law that has been proposed. They said it would encourage child marriage. "The law has been enacted taking the reality of our socio-economic and problems of families in rural areas into consideration," Prime Minister Sheikh Hasina said while replying to lawmakers' queries in the parliament in December.
DEMONETISATION IN INDIA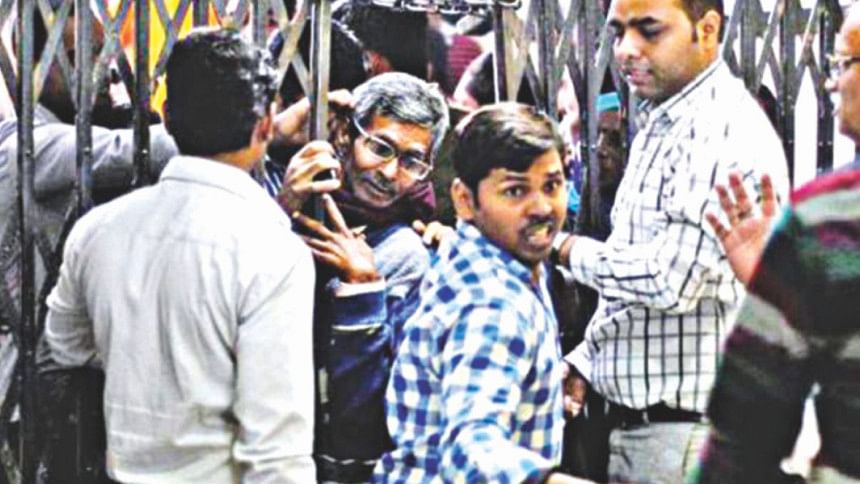 In a surprise televised address on the evening of November 8, Narendra Modi, the prime minister of India, delivered a bombshell: most of the money in Indians' wallets would cease to be accepted in shops at midnight. The two most valuable notes, of 500 and 1000 rupees ($7.50 and $15), were to be "demonetised", economist slang for taken out of circulation. Indians had until the end of 2016 to visit banks to either exchange their cash against newly printed notes or deposit it in their accounts. After that, their notes will become mere pieces of printed paper with no value at all. The sudden move sparked scenes of chaos outside banks and ATMs. Low-income Indians, traders, ordinary savers and tourists thronged banks to deposit expired money and withdraw lower denominations. Leading economists such as Kaushik Basu criticised the move saying that the "collateral damage" is likely to outstrip its benefits. Others said the move would have a limited impact as people will simply begin to accumulate money in new currency as soon as that becomes available.
BRITAIN'S EXIT FROM EU
A referendum was held in June, to decide whether the UK should leave or remain in the European Union. Leave won by 52 percent to 48 percent. After the referendum Britain got a new Prime Minister - Theresa May who took over from David Cameron, who resigned on the day after losing the referendum.  Like Mr Cameron, Mrs May was against Britain leaving the EU but she says she will respect the will of the people. She has said "Brexit means Brexit" but there is still a lot of debate about what that will mean in practice especially on the two key issues of how British firms do business in the European Union and what curbs are brought in on the rights of European Union nationals to live and work in the UK. The UK economy appears to have weathered the initial shock of the Brexit vote, although the value of the pound remains near a 30-year low, but opinion is sharply divided over the long-term effects of leaving the EU. Britain also lost its top AAA credit rating, meaning the cost of government borrowing will be higher. But share prices have recovered from a dramatic slump in value.
FORMATION OF A NEW ELECTION COMMISSION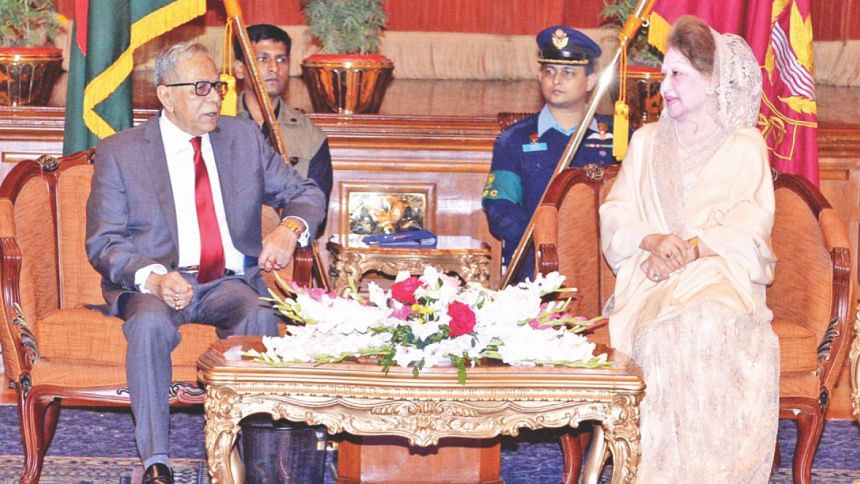 A new EC is due in the next two months and a national election in the next two years. There is a provision for a law in the constitution on the formation of the EC, which successive governments have failed to legislate. In a welcome move in December, the President invited all major political parties to hold talks with them in regards to forming the next election commission. The dialogue on December 18 between the President and the BNP Chairperson and other stalwarts of the party seemed to have gone well, a pleasant change in an otherwise acrimonious political environment.
JUSTICE FOR TONU
The Tonu murder case took social media by storm after the body of 19-year-old college student was recovered from Mainamati Cantonment area in Comilla on the night of March 20. The second year student of History at Victoria College was brutally raped and then murdered. Despite countrywide protests in social media and the streets demanding justice for Tonu, her family is yet to receive justice.
KHADIJA
On October 3, Khadija Akter Nargis, 23, a student of Sylhet Government Mohila College and a resident of Hausa village in Sadar upazila, was stopped on her way to home from college by Badrul Alam, 30, assistant secretary of SUST unit of BCL. At one stage, Badrul started stabbing Khadija indiscriminately, leaving her critically injured. Khadija was initially admitted in Sylhet Osmani Medical College where she underwent the first surgery. Later she was transferred to Square Hospital in Dhaka. On October 4, the university authorities suspended Badrul Alam for brutally attacking Khadija. On October 5, Badrul made a confessional statement before police admitting his guilt and was sent to jail. After fighting a long battle, Khadija is now out of danger. 2016 in fact saw innumerable cases of violence against women and children. These include rape, gang rape and maiming or killing over dowry demands.
PRO-POOR FOOD PROGRAMME
In September, the government launched a programme targeted at the extreme poor and people with disabilities under which 5 million families were supposed to be able to purchase 30 kgs of rice per month at the rate of Tk. 10 per kg. It was a laudable move and everyone appreciated it. But there were reports of the rice ending up in the market due to corruption by officials, dealers and local inflential people. Names of affluent people were allegedly included in the list of the poor. It was a classic example of how the benefits of a well-intentioned government programme could be hijacked by mismanagement.
HUMILIATION OF A TEACHER
In the second week of May, a video clip went viral on social media showing Shyamal Kanti Bhakta, the headmaster of Piyar Sattar Latif High School in Narayanganj being humiliated and forced to squat holding his ears in the presence of local Jatiya Party lawmaker AKM Salim Osman. Shyamal told police that somebody on May 13 announced through a microphone, that he had made an objectionable comment about religion, at a school's managing committee a meeting. Within minutes, angry locals thronged the school. Osman claimed he actually 'saved' the teacher from an angry mob through the said act of public humiliation. In a symbolic gesture, students across the country protested doing sit-ups holding their ears. Students from various universities also started a Facebook campaign called "Sorry Sir" to show solidarity with Shyamal. On August 7, Police submitted a probe report to the HC saying that they had found out the public humiliation of Shyamal Kanti was an "unexpected situation" which resulted from a rumour. The HC directed the chief metropolitan magistrate in Dhaka to hold a fresh inquiry with a view to unearth the offence and identify the perpetrators and submit the report to the High Court on November 3.
THE WOES OF HABIGANJ TEA WORKERS
In August a severe food crisis gripped more than 350 tea garden workers along with around 2,400 family members as authorities of Boikunthapur Tea Estate in Madhabpur upazila of Habiganj stopped paying them wages and ration. They were reportedly living on liquid extract from boiled rice and mashed tea leaves and chillies while the authorities continued receiving their labour. On August 22, they went on a strike demanding due wages and ration. "Give me food or shoot me," said Jamuna Sawtal, an 80-year-old blind woman in the tea garden area.
DHAKA'S MAYORS
Throughout the year Annisul Huq and Sayeed Khokon, mayor of Dhaka North City Corporation and Dhaka South City Corporation respectively, made headlines for drastic measures such as freeing vital public spaces from illegal occupation, removing illegally placed billboards, setting up waste transfer stations and building public toilets to make Dhaka a cleaner and livable city.
THE SYRIAN WAR
More than 300,000 Syrians have lost their lives in four-and-a-half years of armed conflict, which began with anti-government protests before escalating into a full-scale civil war. More than 11 million others have become refugees as forces loyal to President Bashar al-Assad and those opposed to his rule battle each other. A UN commission of inquiry has evidence that all parties to the conflict have committed war crimes. They have also been accused of using civilian suffering - such as blocking access to food, water and health services through sieges - as a method of war. More than 4.5 million people have fled Syria since the start of the conflict, most of them women and children. Neighbouring Lebanon, Jordan and Turkey have struggled to cope with one of the largest refugee exoduses in recent history. About 10 percent of Syrian refugees have sought safety in Europe, sowing political divisions as countries argue over sharing the burden. A further 6.5 million people are internally displaced inside Syria, 1.2 million were driven from their homes in 2015 alone.
The UN Security Council has called for the implementation of the 2012 Geneva Communique, which envisages a transitional governing body with full executive powers "formed on the basis of mutual consent". What began as another Arab Spring uprising against an autocratic ruler has mushroomed into a brutal proxy war that has drawn in regional and world powers. The US and Russia led efforts to get representatives of the government and the opposition to attend "proximity talks" in Geneva in January 2016 to discuss a Security Council-endorsed road map for peace, including a ceasefire and a transitional period ending with elections. Iran and Russia have propped up the Alawite-led government of President Assad and gradually increased their support. Tehran is believed to be spending billions of dollars a year to bolster Assad, providing military advisers and subsidised weapons, as well as lines of credit and oil transfers. Russia has meanwhile launched an air campaign against Assad's opponents. The Sunni-dominated opposition has attracted varying degrees of support from its international backers - Turkey, Saudi Arabia, Qatar and Jordan, along with the US, UK and France. In mid December, an evacuation operation, brokered by Russia and Turkey, of the last opposition-held areas of the Syrian city of Aleppo, was suspended only a day after it had started, amid recriminations from the government forces and the opposition.
THE BATTLE OF NARAYANGANJ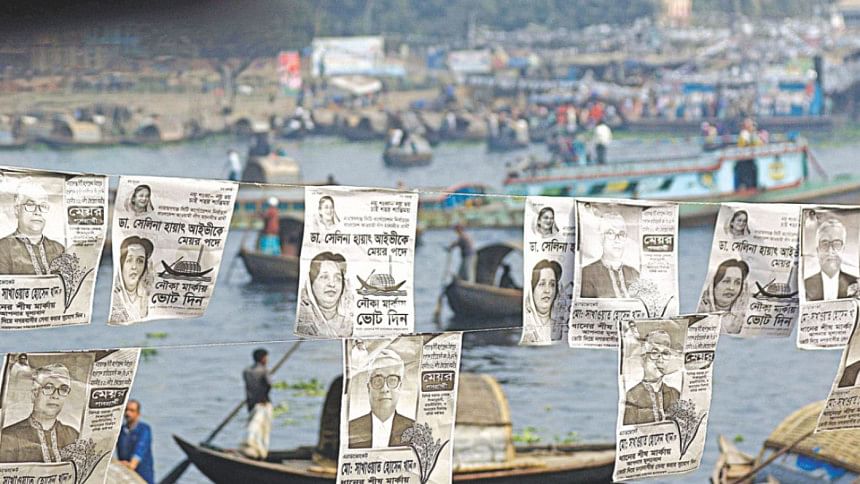 The Narayanganj City Corporation polls attracted a lot of attention in what was seen as a popularity test of the two major political parties of the country. The manner in which the candidates - Awami League's Selina Hayat Ivy and BNP's Sakhawat Hossain Khan - conducted their campaigns, free from mudslinging, raised hopes among the city dwellers and the country at large for a civilised political environment. Tight security measures were put in place by the administration to ensure a peaceful atmosphere for the polls. Voting at Narayanganj was held peacefully without any untoward incident. AL candidate Dr. Selina Hayat Ivy won by a landslide.
The writer is a member of the Editorial Team at The Daily Star.