Remarkable feats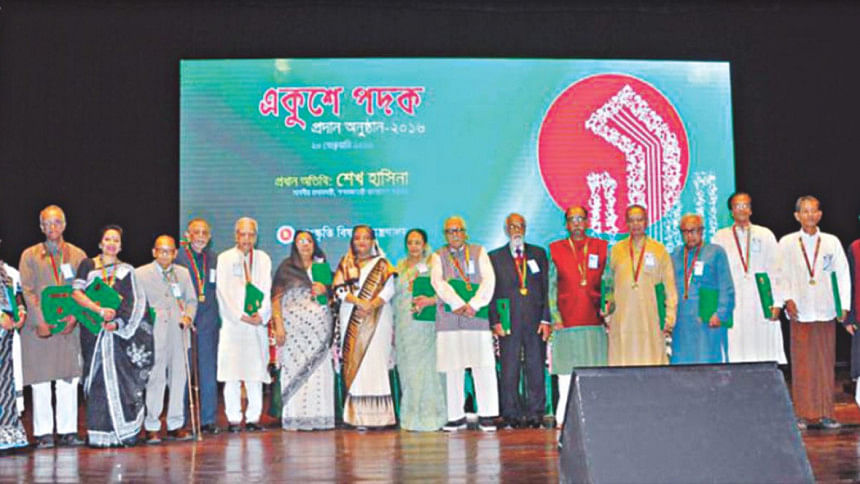 16 eminent personalities awarded Ekushey Padak 2016 in recognition of their outstanding contributions in their respective fields. The recipients are: Justice Kazi Ebadul Haque, Dr Sayed Haider, late Syed Golam Kibria, Dr Jashimuddin Ahmed for their contribution to the Language Movement; Begum Jahanara Ahmed for arts-television and film; Pandit Amaresh Roy Chowdhury for arts-classical music; Begum Shaheen Samad for arts-music; Amanul Haque for arts-dance; late Kazi Anwar Hossain for arts-painting; Mafidul Haque for contribution to the Liberation War; Toab Khan for journalism; Prof Dr ABM Abdullah and Mongsen Ching Monsin for research; Joityprakash Dutt, Prof Dr Hayat Mahmud and Habibullah Siraji for language and literature.
---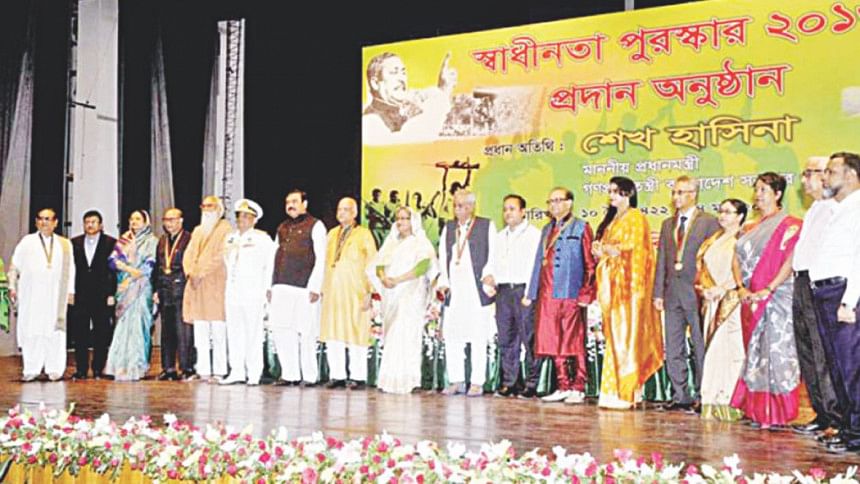 15 distinguished personalities and the Bangladesh Navy honoured with Swadhinata Padak for their great contributions in their respective fields. The recipients are: Finance Minister Abul Maal Abdul Muhith, Jute and Textiles Minister M Imazuddin Pramanik, poet Nirmalendu Goon, late Moulvi Asmat Ali Khan, Squadron Leader (retd) Badrul Alam (Bir Uttam), Shaheed (martyr) Shah Abdul Mazid, Shaheed (martyr) Abdul Ali, late AKM Abdur Rouf, late KM Shihab Uddin, Syed Hasan Imam, late Rafiqul Islam, Abdus Salam, late Prof Maksudul Alam, late Mohammad Rafi Khan (MR Khan), Rezwana Chowdhury Banya and Bangladesh Navy.
---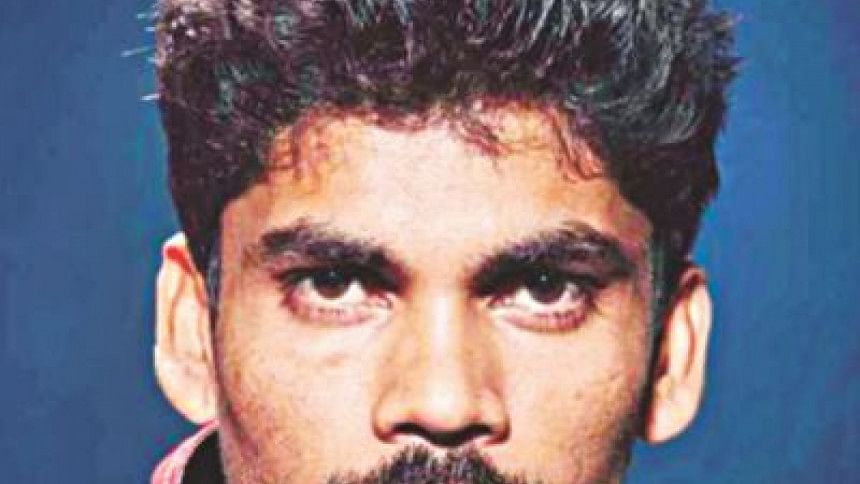 Samsul Alam Helal selected for the prestigious international platform for young photographers, Joop Swart Masterclass 2016 organised by World Press Photo.
---
A team of scientists led by Bangladeshi astrophysicist Rubab Khan of Nasa Goddard Space Flight Centre has discovered five supersize stars in other galaxies on a par with the monstrous stellar system in our own Milky Way.
---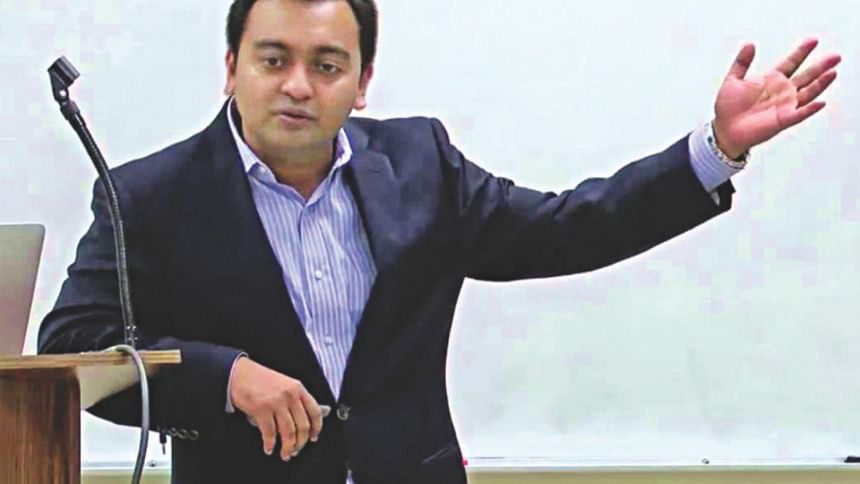 Sayeef Salahuddin, a Bangladeshi scientist, received the US Presidential Early Career Awards for Scientists and Engineers, the highest honour bestowed by the US government on science and engineering professionals in the early stages of their independent research careers.
---
After 12 years of arduous breeding process, Bangladeshi scientists have succeeded in developing two modern varieties of rice suitable for cultivation in the tidal floodplain ecosystem of the southern delta region.
---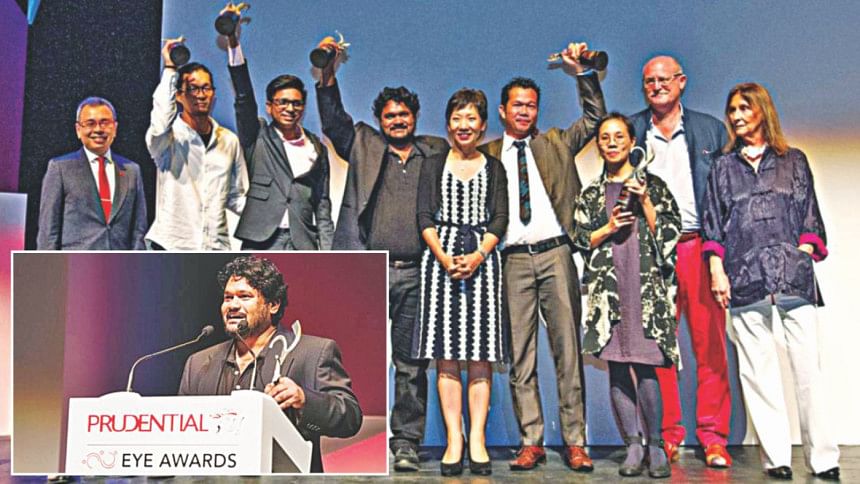 Bangladeshi photographer Shumon Ahmed bagged the photography award of the prestigious Prudential Eye Awards 2016.
---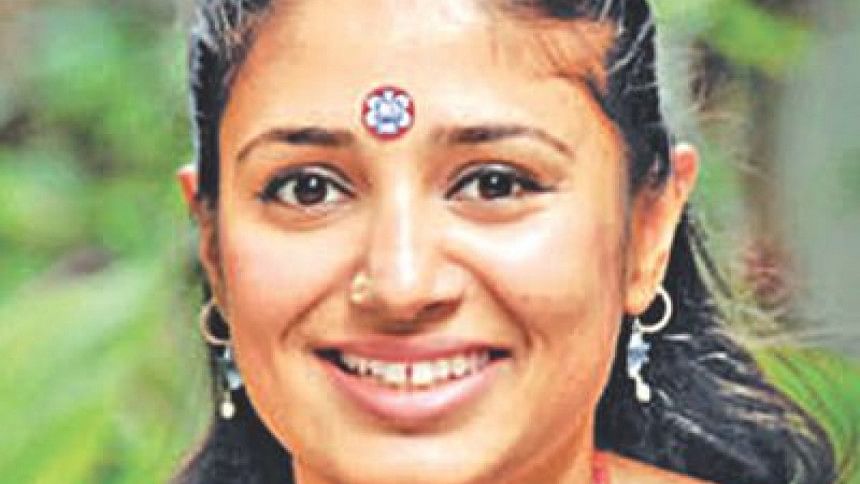 Wasfia Nazreen, the first Bangladeshi to have climbed the Seven Summits, awarded by National Geographic Society with its Emerging Explorer award for her commitment to empowering women and girls through outdoor education and adventure. She is the first female to hold both the National Geographic Adventurer and Emerging Explorer designations.
---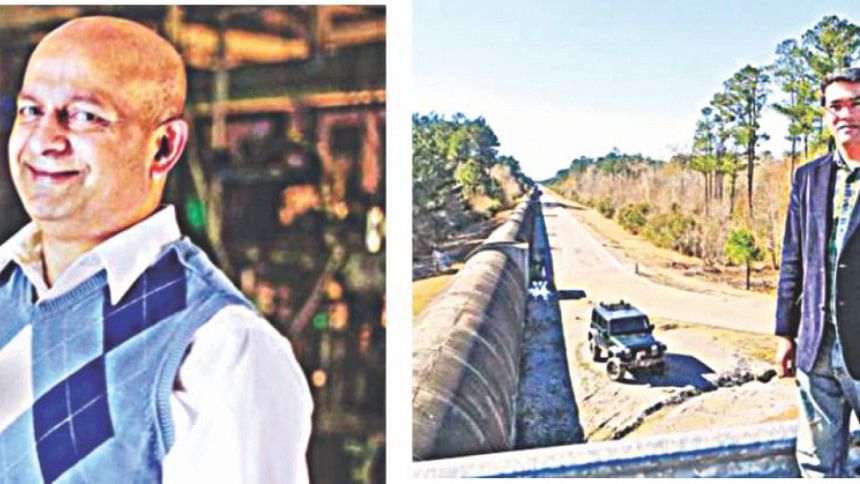 Dipankar Talukdar and Selim Shahriar are among a team of scientists and engineers who received the Special Breakthrough Prize in Fundamental Physics for their contribution to the detection of gravitational waves.
---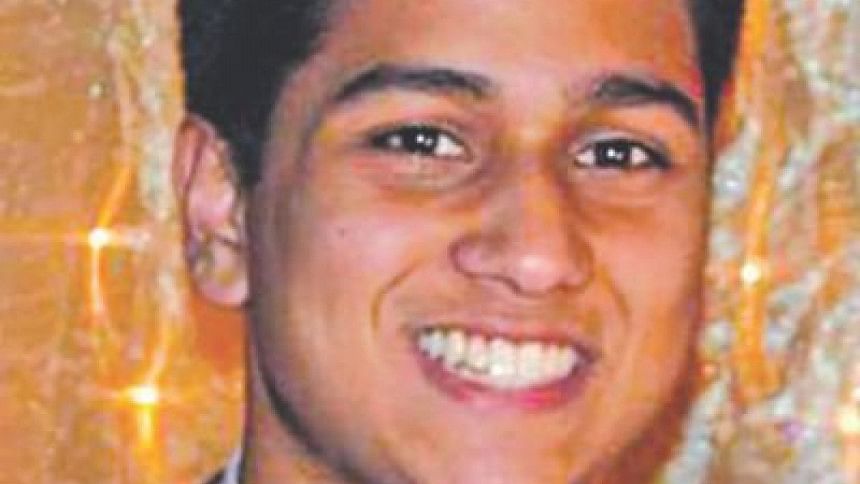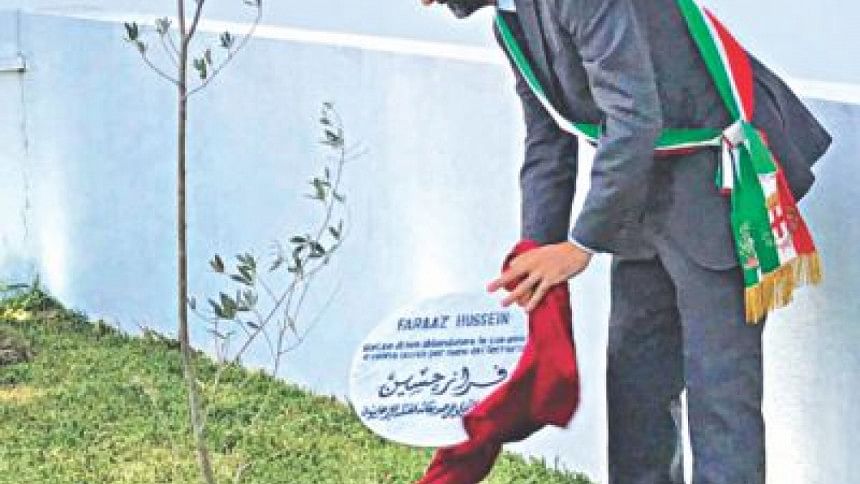 Faraaz and four other righteous Arab and Muslim individuals of the past and present times, who struggled against persecution and terrorism and for human rights, have been honoured with the setting up of a "Garden of the Righteous" at the Italian embassy in the Tunisian capital of Tunis.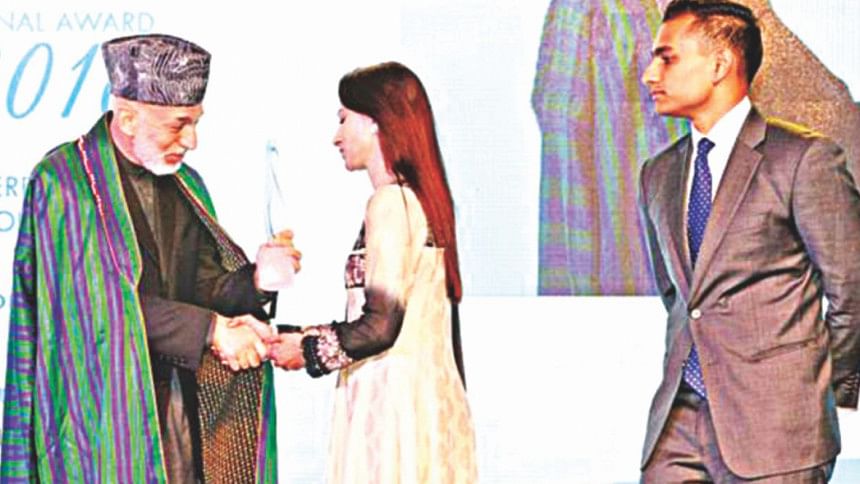 Faraaz Ayaaz Hossain, the young man who refused to desert his friends during the July 1 terror attack at the Holey Artisan Bakery, awarded the Mother Teresa Memorial International Award for Social Justice posthumously.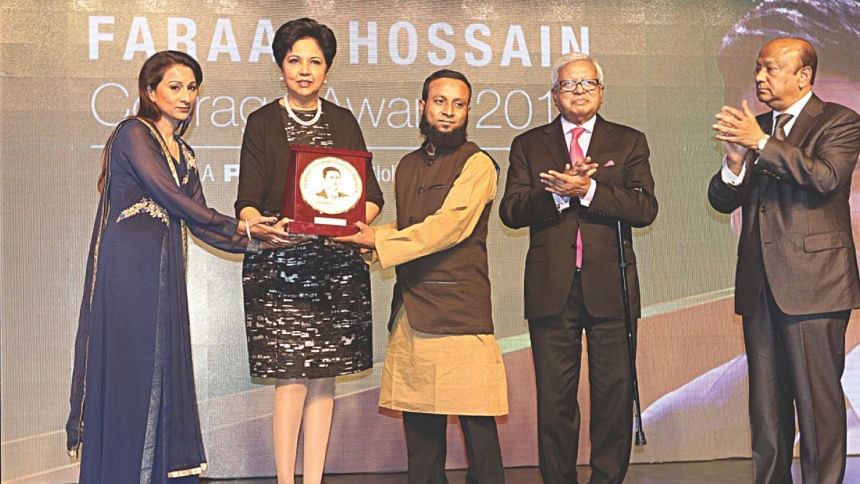 Md Miraz Sarder, who caught one of the attackers of Madaripur college teacher red-handed in June, was conferred with the first "Faraaz Hossain Courage Award 2016". He was conferred with the prize for his courage and for standing up to protect a fellow human being.
---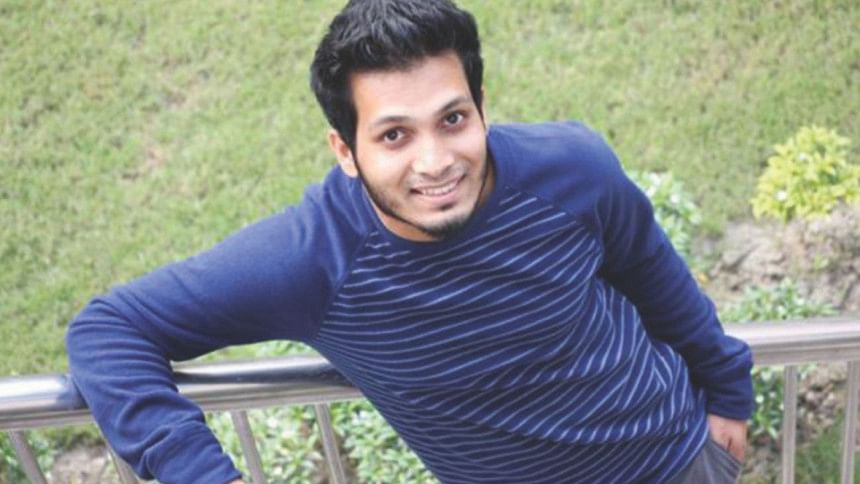 Osama Bin Noor was honoured with a Queen's Young Leaders Award 2016 for his leading role in transforming the lives of others and making a lasting difference in his community. He is the co-founder of Youth Opportunities, an online platform which advertises scholarships, internships and conferences. He is also the resource co-ordinator of Volunteer for Bangladesh Dhaka District, which offers young people the chance to take part in community service programmes.
---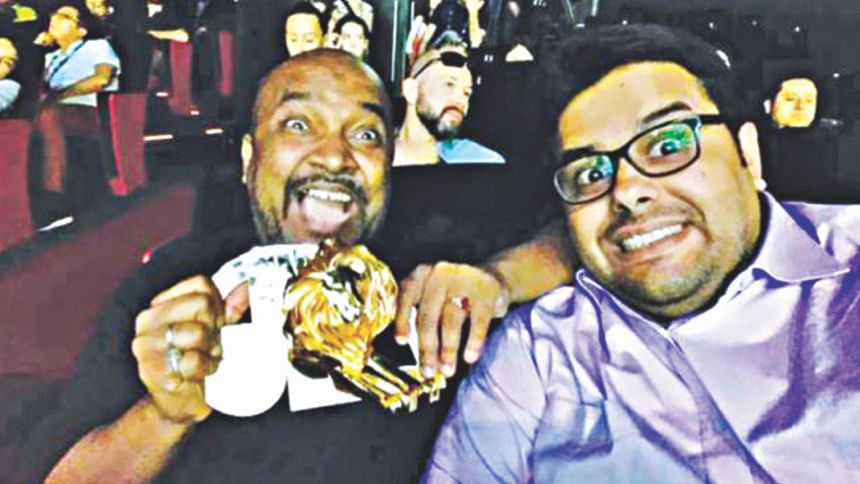 Advertising agency Grey Dhaka's zero-electricity air cooler made from plastic bottles won the prestigious Gold Lion award in the Cannes advertising festival in 2016. This is the first Cannes award for any Bangladeshi advertisement firm.
---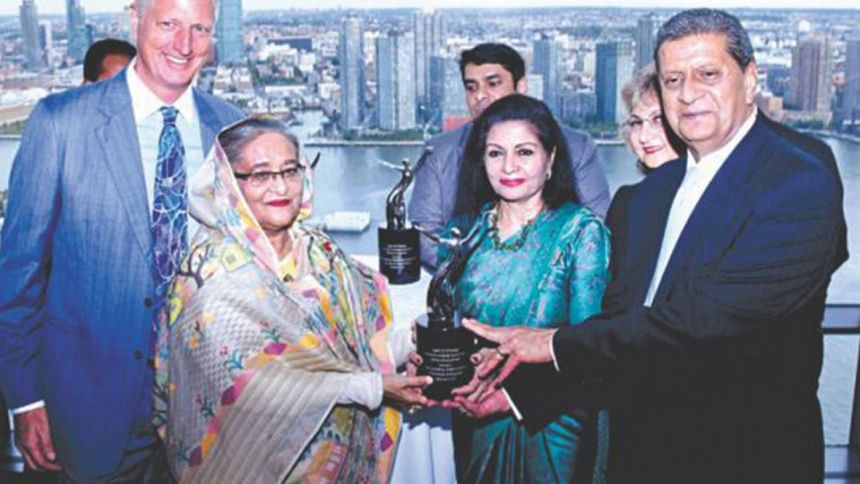 Prime Minister Sheikh Hasina conferred with the "Agent of Change" award and "Planet 50-50 Champion" honour for her outstanding contributions to women empowerment. The UN Women recognised the PM as Planet 50-50 Champion, while the Global Partnership Forum honoured her with the award at a reception at the UN headquarters.
---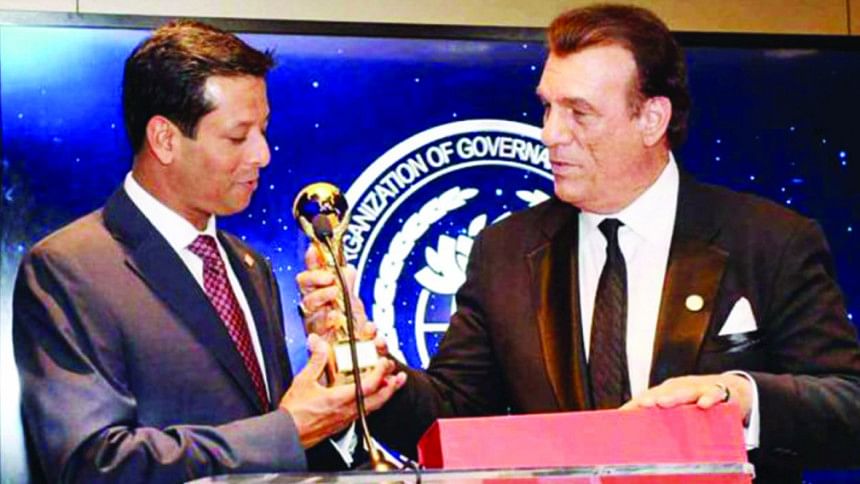 Prime Minister's ICT Affairs Adviser Sajeeb Ahmed Wazed Joy awarded "ICT for Development Award" in New York. Joy, the only son of Prime Minister Sheikh Hasina, had been nominated for the award in recognition of his contributions to empowerment of the people of Bangladesh through the implementation of "Digital Bangladesh" initiative.
---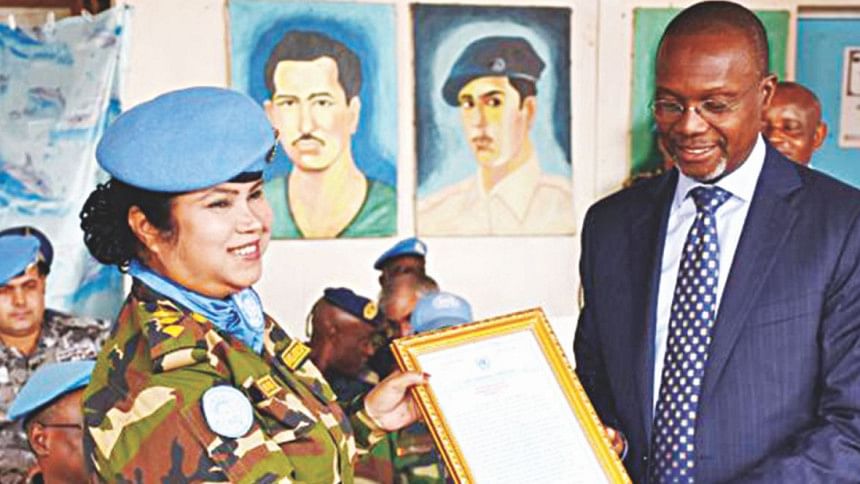 Bangladesh Army Colonel Nazma Begum given the UN special award for her outstanding leadership in the United Nations Operation in Côte d'Ivoire (UNOCI).
---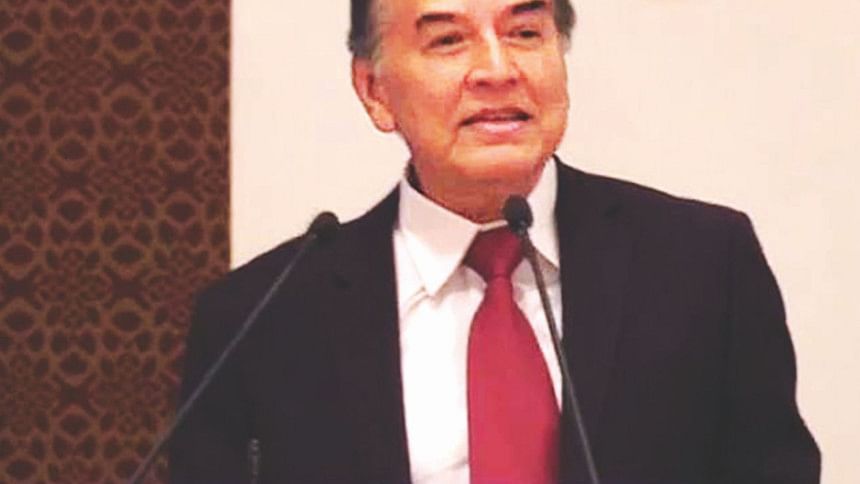 Mahfuz Anam, editor and publisher of The Daily Star, was honoured by East West Center for his courage and determination in journalism by the US-based organisation along with five other journalists from India, Afghanistan, the Philippines, and Sri Lanka.
---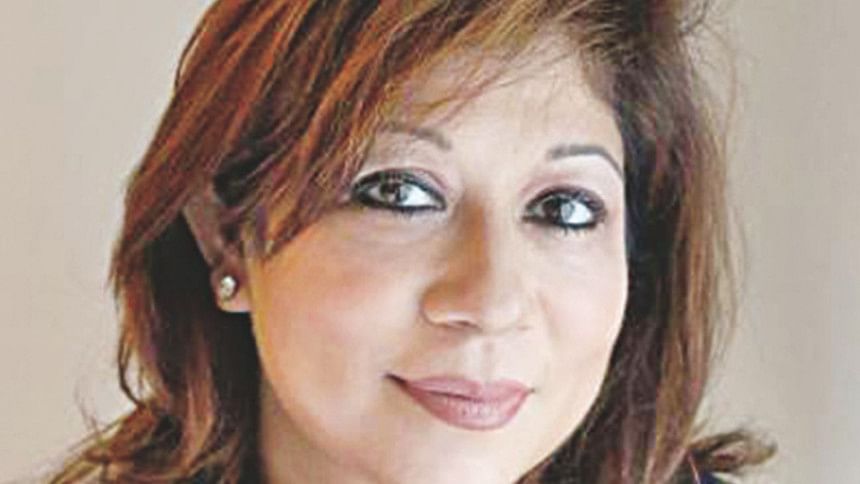 Sonia Bashir Kabir, Managing Director of Microsoft Bangladesh, won the highly prestigious Microsoft Founder Award given by Bill Gates. This award is the highest honour any Microsoft employee can win and 15 people among 100,000 employees of Microsoft won it in 2016.
---
Sixteen more Birangonas (war heroines) have been recognised as freedom fighters for their sacrifice in the country's Liberation War in 1971. The Ministry of Liberation War Affairs issued a gazette in this regard on September 1, 2016. With these 16, a total of 146 women have been honoured as freedom fighters in phases by the government.
---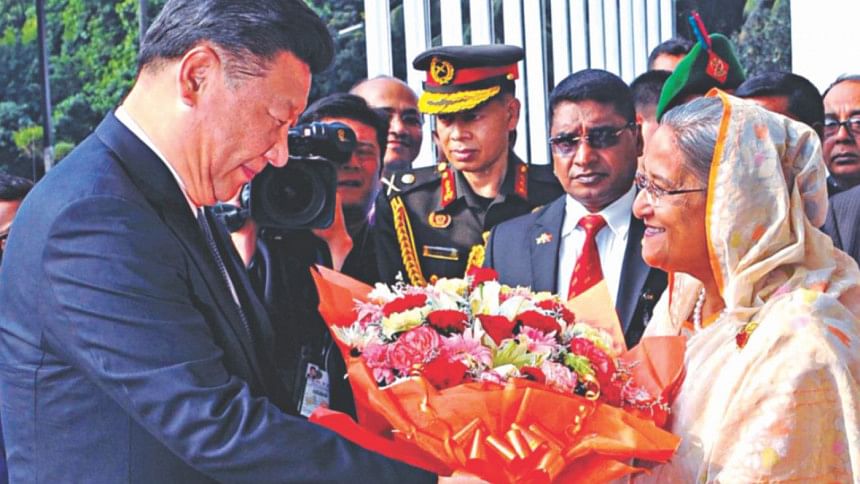 Dhaka and Beijing upgraded ties and agreed on the Silk Road initiative as China inked with Bangladesh 27 deals worth $24.45 billion in soft loan for various key development projects. "China-Bangladesh relationship is now at a new historical starting point and heading towards a promising future," said Xi in a statement at the signing ceremony at the PMO.
---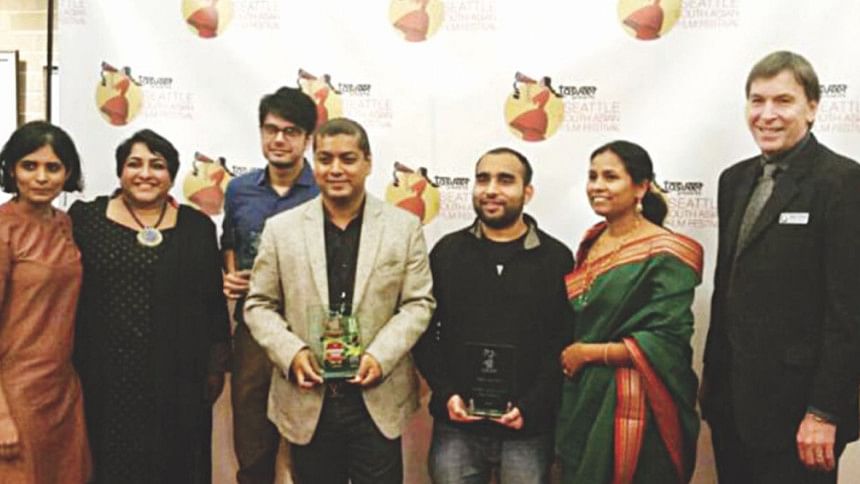 Amitabh Reza Chowdhury's "Aynabaji" won the award of best film at the USA's 11th Seattle South Asian Film Festival.
---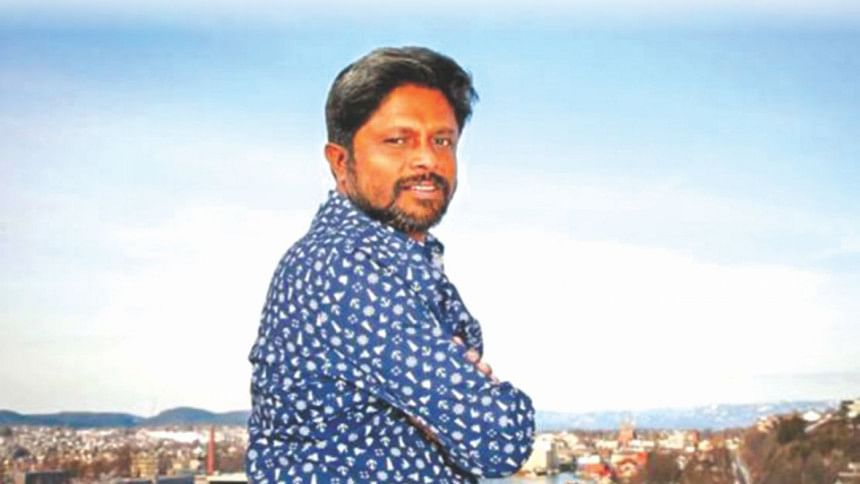 Bangladeshi publisher and writer Ahmedur Rashid Chowdhury Tutul, who survived a militant attack in 2015, was named winner of PEN International Writer of Courage award in 2016 for his bravery in upholding free speech.
---
Kashef Mahboob Chowdhury, architect and Principal of URBANA, received First Prize in the International Baku Architecture Award in Baku, Republic of Azerbaijan making him the first Bangladeshi architect to get the award. The award was given in the category of Best Implemented Project in the architecture of public buildings.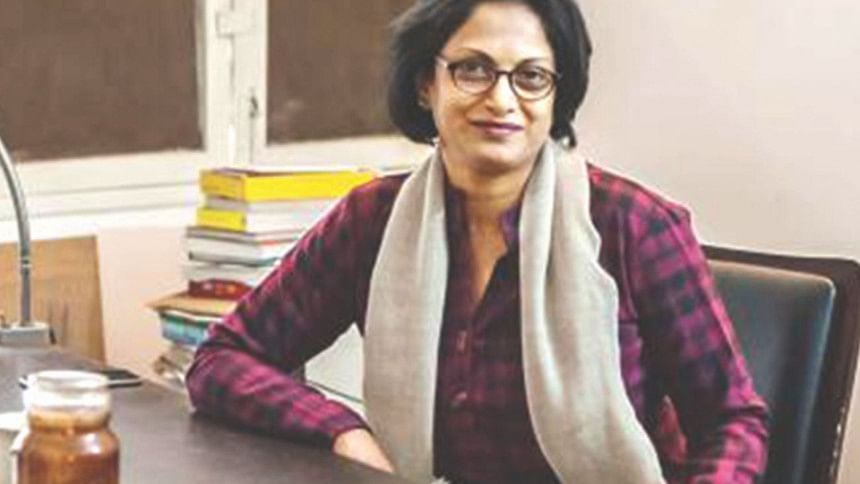 Two Bangladeshis were awarded the 2016 Aga Khan Award for Architecture for designing Bait Ur Rouf Mosque in Dhaka and the Friendship Centre in Gaibandha. Marina Tabassum won the award for the mosque and Kashef Mahboob Chowdhury (pictured above) for the community centre.
---
A ground-breaking project based in Bangladesh, which allows villagers to earn by selling excess solar energy to neighbours, was one of the 13 winners of the United Nations climate change awards. Founded in 2014 as a German-Bangladeshi spin-off of MicroEnergy International GmbH, ME SOLshare has successfully piloted the world's first swarm grid, an ICT-enabled peer-to-peer electricity trading network for rural households with and without solar home systems in Shariatpur of Bangladesh.
---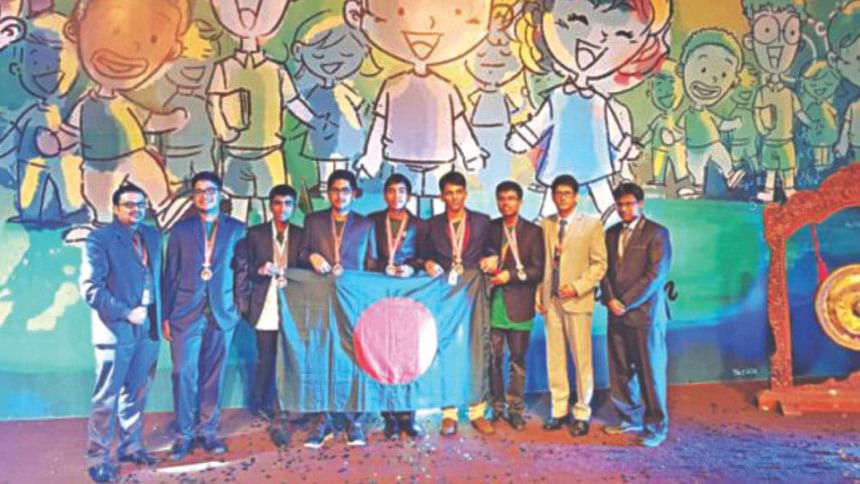 Six Bangladeshi students won three silver and three bronze medals in the 13th International Junior Science Olympiad (IJSO) held in Bali, Indonesia. Tahmid Mosaddek of Notre Dame College and Fardim Munir of Sir John Wilson School in Dhaka and AKM Sadman Mahmud Abir of Pabna Zilla School won the silver medals. The bronze medalists are Ahmed Nafis Farhan of Nasirabad Govt High School, Chittagong, Nihal Zuhaer Parosh Miaji of Comilla Zilla School, and Miraz Ahmed Saadi of BAF Shaheen School, Dhaka.
---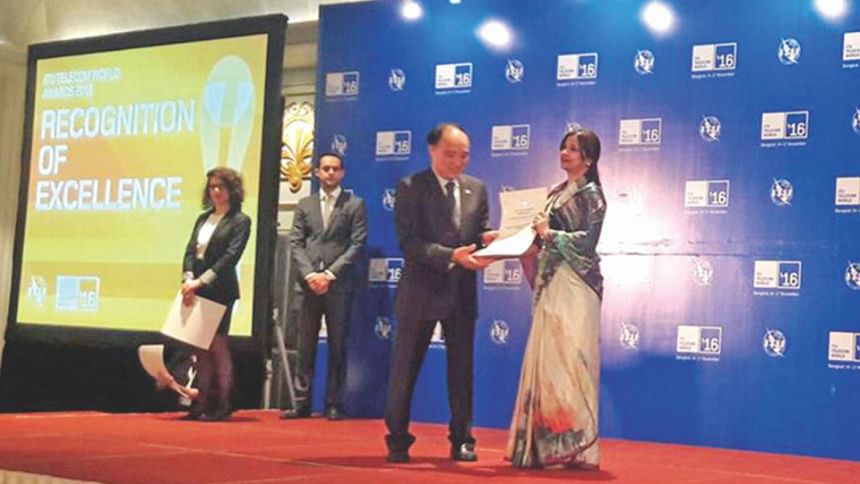 Bangabandhu Satellite Project received the prestigious "Recognition of Excellence" award from the International Telecommunication Union (ITU) for its excellence in providing and promoting innovative ICT solutions. The Bangabandhu-1 Satellite is scheduled to be launched in December 2017.
---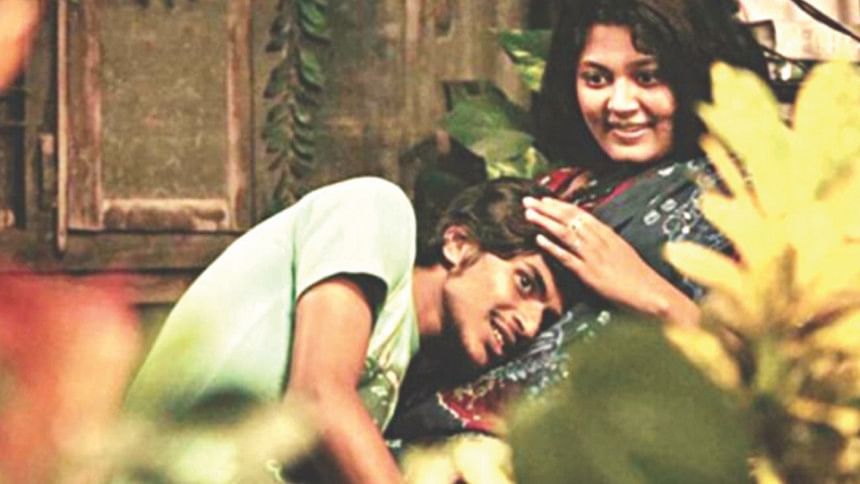 Abu Shahed's Emon's directorial debut "Jalaler Golpo" continued its run of critical success at the SAARC Film Festival in Colombo, Sri Lanka, winning two technical awards.  The film won Barkaat Hossain a best cinematographer award, while band Chirkutt nabbed the best original score award.
---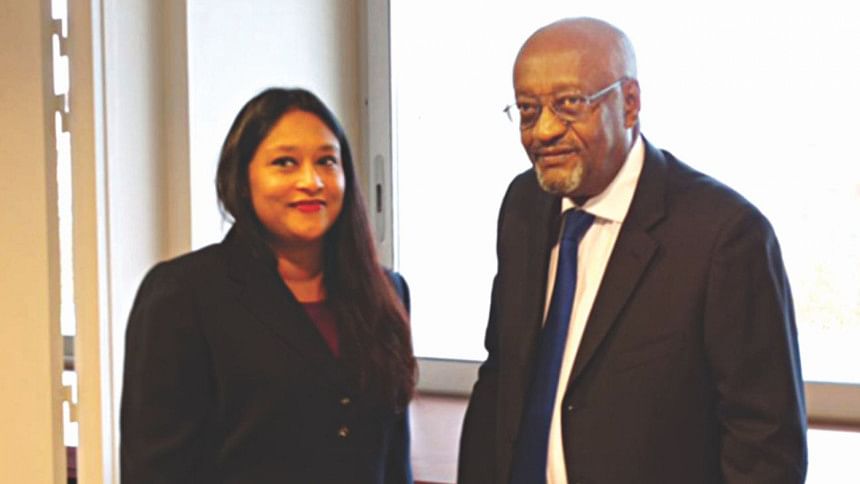 Saima Wazed Putul, daughter of Prime Minister Sheikh Hasina, has been elected Chairperson of the International Jury Board of UNESCO-Emir Jaber  al-Ahmad al-Jaber al-Sabah Prize for Digital Empowerment of Persons with Disabilities.
---
The Information Communication Technology (ICT) division of Bangladesh government received an international award for digitising its services at the remotest areas of the country. Asian-Oceanian Computing Industry Organisation (ASOCIO) awarded the ICT division with 'Digital Government Award 2016' in a ceremony at Yangon in Myanmar.
---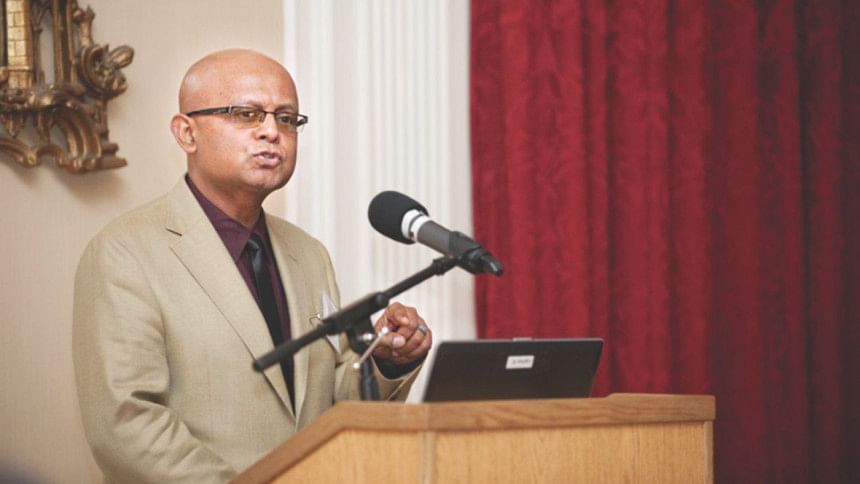 The team of Dr Rita Colwell of University of Maryland and Dr Shafiqul Islam of Tufts University, USA won the prestigious creativity prize of the Prince Sultan Bin Abdulaziz International Prize for Water (PSIPW) for developing and testing a model that uses chlorophyll information from satellite data to predict cholera outbreaks at least three to six months in advance.