Streetlights a big step for ensuring safety in Rohingya camps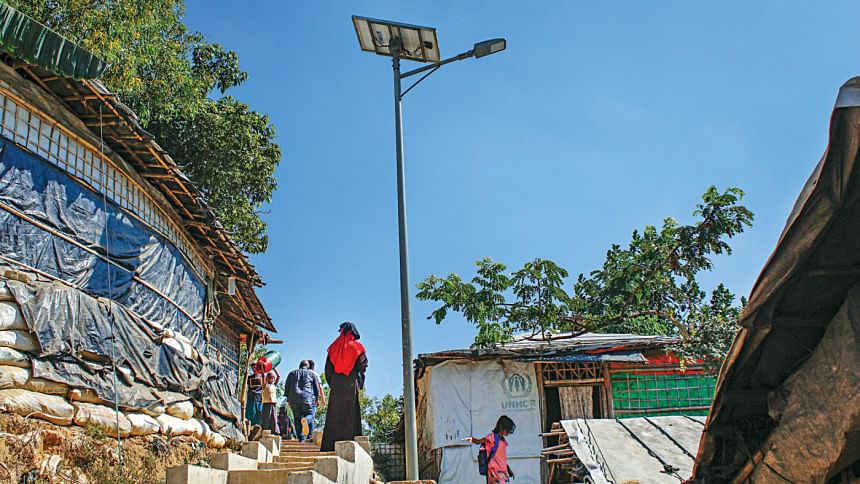 Just one-and-a-half months ago, a streetlight in camp-22 of the Rohingya refugee camp in Teknaf was switched off for difficulties in connection.
But taking advantage of the darkness, a group of youths picked up a girl aged around 16 when she went out for a walk.
The group took the girl to a nearby hill and confined her in a room. Luckily, she managed to escape and return to her family.
This is not an isolated incident though as it has become a common scenario in the refugee camps, where a working streetlight means a lot to Rohingya women.
Talking with The Daily Star on November 20, thirty-five-year-old Khodiza Begum (pseudonym), a resident of camp-22, elaborated on the necessity of streetlights while narrating the abduction incident.
The congested camps of Cox's Bazar, which accommodate around one million Rohingyas are notoriously difficult to navigate. Steep, narrow paths link thousands of shelters to the main thorough fares, intersected by ditches and muddy ravines.
But it becomes even more treacherous when the whole hilly terrain goes dark at night. More specifically, the night has become a nightmare for women, children, and elderly people in the camp area.
As most of the Rohingyas are women and children are at risk of theft, sexual assault, or rape when they go out at night.
Khodiza was narrating another incident of a kidnapping, where a 12-year-old girl was taken when she was on her way to the toilet.
"There was no light. Three to four people from another camp kidnapped the girl and she was rescued after paying a ransom," she said.
It is not the issue of kidnapping only, her two-year-old child Md Shifayet slipped on her way out of the house at night and broke his leg due to the darkness.
"Going to the toilet at night was the most horrifying job for women. The toilets were a bit away from our home and there was no light at night. So, to avoid the toilet, we used to not drink water after the afternoon," Khodiza added.
When Oxfam consulted with the Rohingya community about their pressing problems, the issue of night time lighting came to the fore.
Then, Oxfam started installing solar lamp posts in the camp area.
"We always consult with the community before taking on any project. We got very strong feedback from the Rohingya community that light should be ensured to reduce gender-based violence and safety for women, children, and elderly people," said Jubaida Akhter, protection coordinator of Oxfam.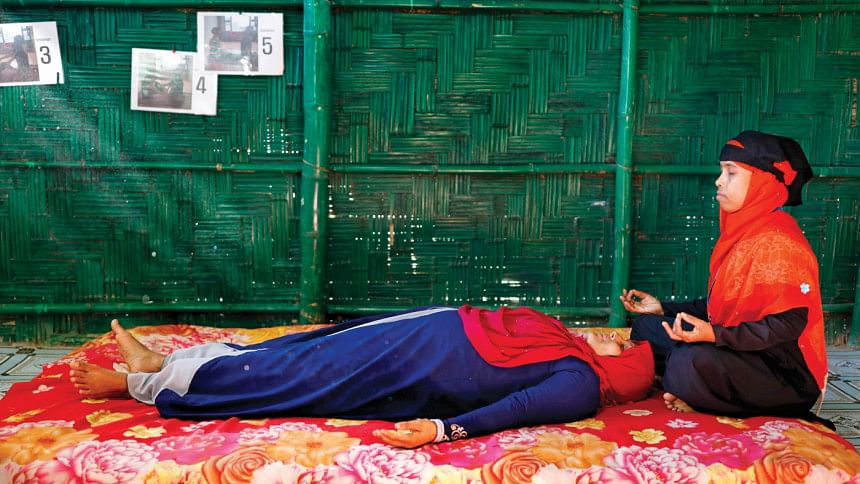 She then said they set up a total of 102 solar lamp posts in different camps.
"But then another challenge came up as the lamps often went out of order. To keep the lamps functional, we trained the community people. Now, they monitor and maintain the lamps if needed," she added.
A total of 54 Rohingya women and men were trained in maintaining the street lamps.
Ali Johr, a Rohingya community-based volunteer who worked for Oxfam, said they regularly monitor the street lamps and repair those out-of-ordered.
"The teams are comprised of one male and one female. If we find any lamp out of order or any fault in the solar circuit, we work on it together," he added.
Romida Begum, a maintenance worker, said she never thought she would be repairing street lamps as she is illiterate and has no knowledge about electricity.
"But I got two days of training and started working," she added.
Asked why she is doing it voluntarily, Romida said they do it for their own safety as well as that of the community.
SHANTI KHANA
Aysha Khatun (pseudonym) came to Bangladesh and took shelter in the refugee camp in August 2017.
She said that her husband was killed by the Myanmar military.
"Since then, the days have been a nightmare. I was not even able to sleep at night as the incident came to mind as a flashback," Aysha said.
"In 2018, I came to know about the Shanti Khana. Then I started visiting and they used to provide me counselling and somatic therapy," she added. "It started giving me peace of mind and now I can sleep peacefully."
She further said that she is not the only woman to get the treatment from the facility.
"I used to visit the other refugee camps and spread the information about the place and many women are now taking therapy," Aysha added.
Razia Sultana, chairman of the Rohingya Women Welfare Society (RWWS), started Shanti Khana in 2018. Since 2020, Oxfam has been providing support to RWWS to run the activities.
Besides providing counselling and somatic therapy, Rohingya women are also learning catering services and handicrafts from the Shanti Khana, said Razia Sultana.
Around 4000 Rohingya women have taken support so far in the first 11 months of the year, according to the organiser.
Shanti Khana has also managed to train around 34 Rohingya women, who are now capable of giving somatic therapy and counselling to others.