How handicrafts training enhanced the livelihoods of women in Cox's Bazar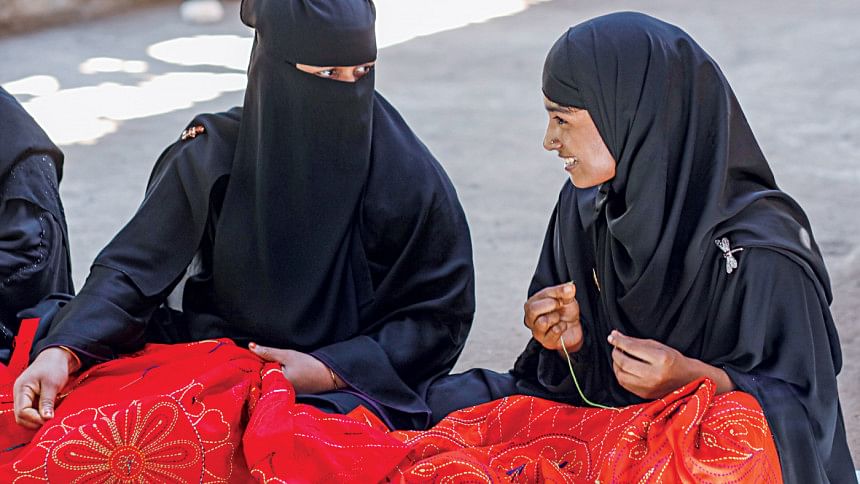 Thirty-five-year-old Rokeya Begum (pseudonym) was struggling to meet her family's demands four years ago when her intellectually disabled husband became physically ill all of a sudden due to a stroke.
Rokeya, mother of three daughters and a son, started sewing and farming to meet the treatment costs of her husband. Unfortunately, those efforts were not enough.When the Covid-19 pandemic hit, the situation worsened.
The situation was tough even before the pandemic hit in Ukhiya and Teknaf, since the local job market was under severe pressure due to the one million Rohingyas who have been staying there since 2017.
Despite the fact that the local community of Cox's Bazar first came forward to embrace the Rohingya people who crossed the Naf River to save their lives in 2017, tension between the Rohingya people and the local community was rising since the job market was shrinking for the local people.
Apart from supporting the Rohingya community, international and local organisations came forward to support the local community too.
Rokeya shared that when she was struggling and her back was against the wall, Oxfam came as a relief for her as she received training from the organisation on how to sew sanitary napkins and face masks.
"It was like a blessing. I used to earn Tk 10,000 to Tk 15,000 each month," she told The Daily Star, standing in front of her yard in Najirpara of Teknaf in Cox's Bazar.
In one and a half years, she earned around Tk 1, 50, 000, with which she treated her husband, bore the education costs of her kids and bought two goats.
"I am the only earning member of the family, and I am happy with my earnings," she said with a broad smile on her face.
Remembering the struggling days, she added, "If I did not get support from Oxfam, I would have had to work as a househelp. My kids would have starved."
Rokeya is not the only successful beneficiary. Take the example of Asma Begum (pseudonym).
She shared that, before her marriage, she used to sew but after her marriage she had to stop for various family reasons.
"When my husband went to jail, I had to start sewing again, but I didn't have any machine or capital. Oxfam then came to me as a life-saver," said Asma.
She had some knowledge of sewing but did not know about the colours and designs that the market demands.
"After taking training on handicrafts from Oxfam, I started to sell those items in the local markets," she said, adding that she is now planning to expand her business.
Asma was able to repair her house and buy a sewing machine with the money she earned.
Like Rokeya and Asma, a total of 460 women took the training from Oxfam under a project titled, "Emergency food security and vulnerable livelihood project," which aims to empower women through livelihood activities.
Initially,the participants were given training and also some capital to start their business.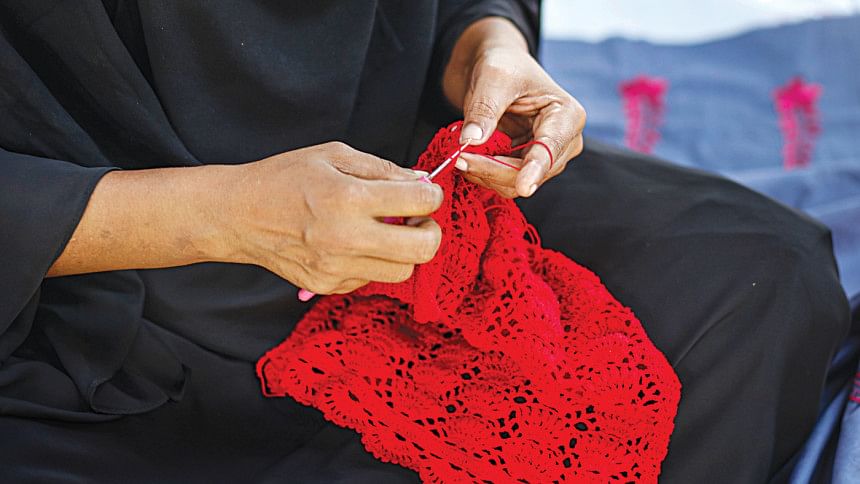 "We regularly monitor their activities and also link the products with the local market," said Aktarun Nahar, a volunteer of the project.
Those who had basic knowledge of sewing were chosen for the programme, and then training was given to increase their expertise and knowledge on colour and design.
Md. Mostofa Ali, Project Manager of Emergency, Oxfam, mentioned that, considering the local context, livelihood improvement and reduced vulnerability as per participants' needs, Oxfam transferred skills, assets, and technology for the development and economic empowerment of women and the youth.
"With the proper guidance and technical support of Oxfam, targeted participants have enhanced their skills and resources to increase income to contribute to their families, play an active role in family decision-making and create the opportunity of entrepreneurship development," he said.
Asma and Rokeya shared that now they are disseminating their knowledge to other women as the demand for handicraft products is increasing.