BusinessPerson of the Year
An entrepreneur to emulate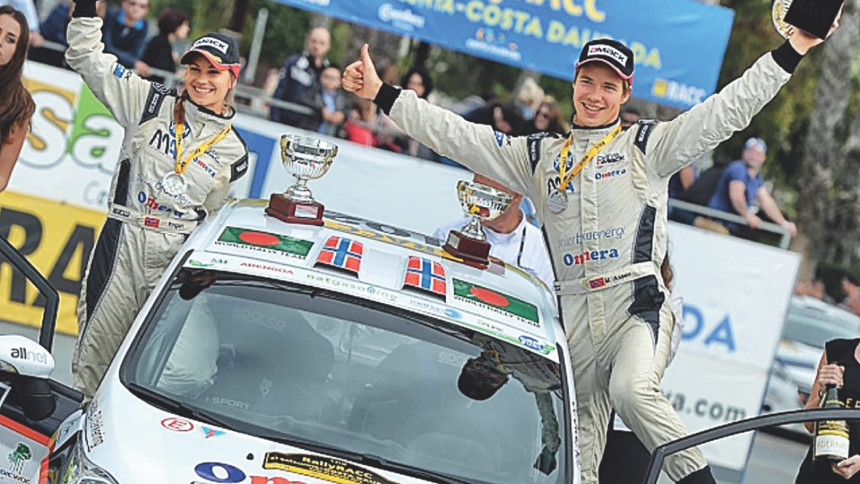 When university graduates of his time considered civil service a prestigious job, Azam J Chowdhury, 65, thought differently.
After attaining a Master's degree in English literature from the University of Dhaka in late 1970s, he decided to become an entrepreneur despite strong opposition from his family.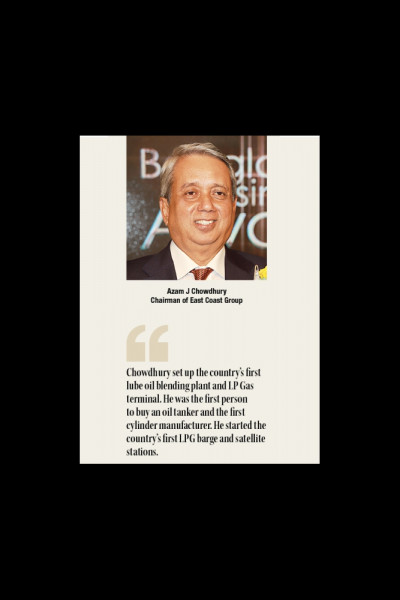 "My family was very upset as they wanted me to join the civil service. Also, business was perceived a very bad thing at that time," Chowdhury recalled.
But he was adamant. By a stroke of good fortune he met SM Kabir, who had a small office at 21 Motijheel, from where he came to know some people in the global oil market.
International oil companies at that time had sold their products through some agents in Bangladesh.
Later in March 1977, he set up East Coast Trading Private Limited that got engaged in trading various commodities and power station equipment. But the big breakthrough came four years later.
"Fortunately, one day I got two cargos (oil) in 1981 and that was a big breakthrough for me. I had got $150,000 as commission from the contract, which was a lot of money at that time."
However, most of this amount went behind repaying money he had borrowed from personal sources to get his business idea running.
But the successful discharge and delivery of oil had given him a huge confidence boost and he started getting more orders from companies like British Petroleum Corporation and Abu Dhabi National Oil Company.
His confidence though was hurt in 1982 by a comment of a foreign national working in the Bank of Indosuez in Dhaka.
Chowdhury had wanted a diary that has many phone numbers from the banker. In response the banker asked, "How much money do you have in your account?"
"At the moment I felt he was being so mean to me and that changed my life. I told myself that I will do something and I will show him."
The rest is history. His East Coast Group now has over 30 units and its asset value is about $4 billion.
From humble beginnings, the group has diversified to power generation, shipping, renewable energy, plastics and ceramics manufacturing, real estate, wood treatment, corporate finance, banking, insurance, tea production, logistics and distribution.
Chowdhury set up the country's first lube oil blending plant and LP Gas terminal. He was the first person to buy an oil tanker and the first cylinder manufacturer. He started the country's first LPG barge and satellite stations.
This performance has earned him this year's prestigious Business Person of the Year at Bangladesh Business Awards.
Sincerity, integrity and commitment have paid off. His business with multinational companies has helped him learn about quality and compliance, which he still maintains with utmost priority.
"I always try to be compliant and whatever I have earned, I never spoilt any penny."
Even then, he had to lose for investment in a textile, finishing and dyeing factory in 1983, when the garment industry was taking off.
People from his factory were jumping ship, so he had to abandon the venture and convert it into a plastic manufacturing unit.
Since then, he never looked back.
East Coast got engaged in shipping business, oil tankers and terminals, blending world renowned lubricant Exxon Mobil, bank, insurance and finance company and many more.
But the group's main focus remains on the energy sector, where Chowdhury has the competitive advantage.
"I was quite known in the international market as an oil expert in Bangladesh," Chowdhury recalled his memories of the 1980s and 1990s.
ExxonMobil has never appointed a local as the managing director of its local operations. But it made an exception in case of Bangladesh by making Chowdhury its managing director, a post he held for many years until he bought out the shares when ExxonMobil left the country.
His success in energy sector gave him the guts to think big. He bought two bulk ships -- Omera Queen and Omera Legacy – each with over one lakh DWT (Dead Weight Tonnage) capacity, which no other business have in Bangladesh.
He never invested in a venture he does not understand.
"I am not like those people who invest money but don't know what is going to happen."
Chowdhury said any product produced by him has to be the finest. For example, he said Omera engine oil was approved by BMW and it was used by a racer in a junior world rally in 2015.
He also spoke on the necessity of scaling up a business in line with the pace of economic growth.
"When you start a business, mapping out the plan is important. You will have to think that when you start a business, 10 years down the line there will be 50 operators, trying to produce and sell the same product. But if you scale up and have large volume, your cost will go down and you will be competitive."
The 65-year-old says he does not believe in retirement. "If you think you are retired, you will end up bedridden."
He says every individual has hunger and it has nothing to do with the age of the person. Some people like to read books, some like music and some like to travel.
"This hunger should continue and you will not get old."
Many people may wonder what they will do when they get old or retire from jobs.
"But these elderly people have lots of experience. That experience is very important."  
He plans to make his group even bigger and take up projects that are nationally important and have huge economic impact.
His plan also includes turning East Coast Group into a $10 billion company.