Best Financial Institution
A bright spot in financial sector
IPDC Finance has become a model both for weak and strong banks and non-bank financial institutions (NBFIs) on the virtues of having strong corporate governance, banking on it to jumpstart its flailing business.
Established in 1981, when NBFIs were unheard of in Bangladesh, IPDC soon cornered a solid share of the market. By the 1990s it was extending finance to big business groups.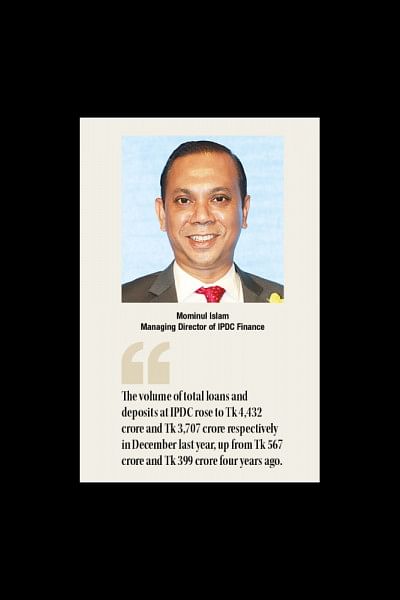 But things took a turn for the worse in the 2000s, when sprightly lenders entered the fray, appropriating IPDC's share of the market.
Out of desperation it had lent to questionable clients, and in 2006, its default loans accounted for 37 percent of its outstanding loans.
This was the turning point for the NBFI as soon the IPDC board recruited a set of go-getting individuals, who set about fixing the corporate governance and risk management framework off the bat.
They also came up with a technological module and dedicated loan recovery unit.
The initiatives paid off, and today the NBFI is a beacon of sound lending -- enough to compel the jury board of this year's Bangladesh Business Awards to choose IPDC as the 'Best Financial Institution'.
"It was not an easy task to recruit good employees during that period as no one usually shows interest in joining an organisation whose financial health is on the wane," said Mominul Islam, managing director of IPDC. He joined IPDC in 2006 as its head of operations.
The new management gave importance to recovering default loans and prepared essential models ranging from corporate governance-related polices to innovative business frameworks.
During its recuperation, the NBFI had put a pause on any new business expansion, devoting all its faculties to bringing discipline in its lending practices and replenishing its financial health.
The plan succeeded, enough to attract the likes of Brac, which joined the IPDC board in 2015.
As of March, IPDC's classified loan ratio stands at just 1.26 percent, much lower than the industry's average over 11 percent.
It has concentrated on rolling out a range of attractive credit products eyeing the low and middle-income groups, which appears to have paid off.
In 2018, IPDC's net profits stood at Tk 45 crore, up 34.16 percent year-on-year and 172 percent from four years earlier. 
Today, both the loan assessment and recovery department of the institution gets huge importance from the management.
"We have learned the techniques of corporate governance on how to contain default loans and choose good clients." 
The NBFI has its sight on the housing sector: it wants to provide loans to those living outside of Dhaka and Chattogram.
For this end, it has introduced a nationwide affordable home loan product titled "Bhalo Basha" in February this year.
IPDC has targeted to increase its home loan portfolio to Tk 3,500 crore within the next three years. As of March, it has disbursed about Tk 700 crore in home loans.
As per its roadmap, people from the lower and lower middle-income group such as school teachers, nurses and security guards will turn into IPDC's core clients.
The NBFI will also organise a competition for students of architecture departments of universities. They will display three types of cost-effective home, Islam said.
The construction cost of the homes will range from Tk 2 lakh to Tk 50 lakh and it will help the NBFI to roll out innovative credit products for the lower and lower middle-income groups.
The competition will layout a blueprint for marginalised people to build their dreamt home.
The lender is also giving special attention to developing new women entrepreneurs as only 3 percent of the SME loans usually go to them.
Last year, IPDC launched a dedicated credit product for women entrepreneurs named 'Joyi', which offers a maximum finance of Tk 50 lakh at an interest rate of 8 percent with a repayment period of one to five years.
The NBFI wants to disburse 30 percent of its total loans to women entrepreneurs by 2030 and it has already taken several initiatives to materialise the plan.
IPDC is still focusing on the SME sector given its great role in generating new jobs and 30 percent of its total outstanding loans have so far been given out to the small and medium entrepreneurs.
Under the SME credit programme, it rolled out a digital supply chain financing product titled 'Orjon', enabling entrepreneurs to get a variety of short-term loans in the field of factoring, reverse factoring, work order and distributor financing.
The volume of total loans and deposits at IPDC rose to Tk 4,432 crore and Tk 3,707 crore respectively in December last year, up from Tk 567 crore and Tk 399 crore four years ago.
But, IPDC is not satisfied at all with its latest performance: it wants more.
As per its roadmap, it wants to increase its credit volume at least fivefold to Tk 25,000 crore within the next five years.
"It is quite possible as our credit volume grew 10 times in the three and a half year to 2018," Islam said.
The NBFI will also take a plan to create a sound gender-friendly work environment.
It will increase the ratio of male and female employees to 30 percent within the next three years and 50 percent by 2030, up from the present ratio of 21 percent.
The NBFI also wants to create an outstanding organisational model for the country's business houses.
IPDC has already appointed females in top posts of some of its departments such as human resource, brand and communication, corporate business and so on.