ENVIRONMENT
Paris Agreement and the Bangladesh Perspective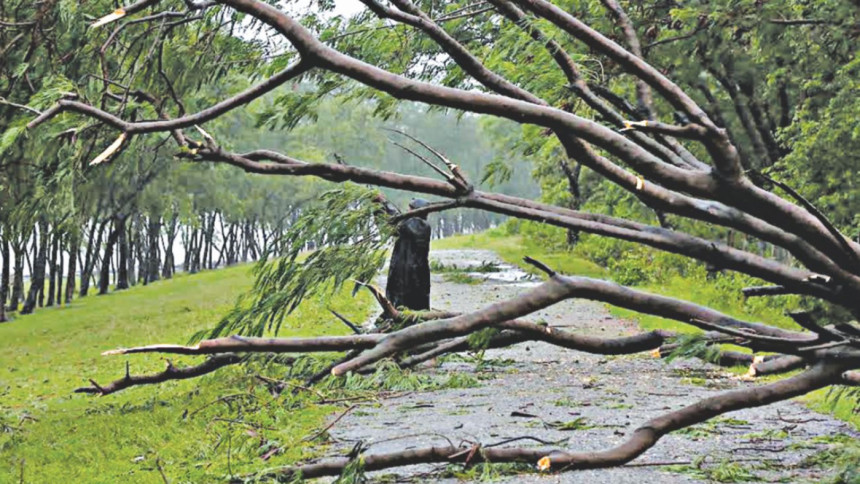 The twenty-first Conference of Parties or CoP21 of the United Nations Framework Convention on Climate Change (UNFCCC) came to an end with all the 195 member countries of the planet agreeing to the "Paris Agreement" after a long session from November 29 to
December 11, 2015 at Le Bourget in Paris. As the gavel came down on the last and extended session of CoP21, all the countries and citizens of the world breathed a sigh of relief. Because CoP21 came against the backdrop of two great failures - the Kyoto Protocol (KP) and the CoP15 at Copenhagen in 2009, during which the parties in question could not come to an agreement. This enhanced the risks for rapid increase in climate change as evidenced from accelerating extreme weather-related events across the world. The KP had agreed in 1997 on a 5 percent reduction of greenhouse gases (GHG) with the reference baseline of 1990 by the industrialised countries. Unfortunately, the KP also met with a total failure as, led by US, several other major emitters including Russia, Canada, Japan and Australia walked out of the KP causing the collapse of the only GHG reducing global agreement. From the early implementation of KP, the widely heralded three Kyoto instruments and the emergence of a carbon market resulted in a drastic and disastrous collapse. 
Thus, there was a lot of skepticism about whether Paris would get an agreement at all. If there was no agreement in Paris, the planet was destined to experience temperature above 3 degrees centigrade by 2100. This would challenge the planetary human civilisations, its food, water and livelihood securities as well as increase the likelihood of a drastic reduction in the number of species and greater acidification of the oceans. All the countries would experience dramatic rise in extreme environmental conditions and also threaten the possibilities of poverty reduction and the newly emerging SDGs. Hence the global risks were too high for the economy, development and environment. 
US President, within minutes of the conclusion and adoption of the Paris Agreement, congratulated everyone and termed the success as 'huge'. The  US and the umbrella group China, Russia, India, developing country grouping G-77, the Least Developed Country (LDCs) group, the Alliance of Small Island States (AOSIS) and Africa group- all seemed to be happy with the outcome. When probed, it appeared that each group found that their issues of concern were included though their nuances may have been modified. 
Secretary General of the UN Ban Ki moon termed the Paris Agreement as "a health insurance policy for the planet" and "a great success."
Leaders upfront 
It is the first time that all the key heads of states and government came up in front in the beginning of the conference. They laid out their positive expectations and high hopes for the agreement and the need for success. This had created an atmosphere of a positive outcome.
Focus on the science and risks 
All countries and groups realised that the science was very bold and clear. Missing this opportunity would force the different planetary systems (atmosphere, oceans, biodiversity, social, institutional and human systems) beyond recovery and everyone would suffer, despite the levels and differences in technological advancement. Furthermore, some technologies and management systems have already evolved to give several solutions. No country or group wanted to be held responsible for the failure of the negotiations as the stakes were too high for everyone. 
Focus on agreement
The Ministerial (backed by experts and bureaucrats) high level session in the last days had decision makers engaged and it included many of their respective concerns and issues. There were "fudges and compromises" but an agreement and a positive outcome were ensured albeit devoid of the many details and specifics. 
Ambitious and purposeful
The focus of innovation was to make the agreement look ambitious and purposeful. Here the key decision makers using the science and sense of urgency emphasised the key issues of rapid mitigation needs for all countries. 
The discussion in the early days was confined within 2 degree centigrade. Soon 2 degree centigrade was made the ceiling and a more serious and ambitious floor was asserted at 1.5 degree centigrade. It may be noted that in Copenhagen Bangladesh had placed 1.5 degree centigrade as the preferred objective on behalf of the LDCs and most vulnerable states.    
Wider inclusion 
Wider ranging progressive issues were  incorporated to include concerns of various groups of Parties. An example was to include text such as "Acknowledging that climate change is a common concern of humankind, Parties should, when taking action to address climate change, respect, promote and consider their respective obligations on human rights, the right to health, the rights of indigenous peoples,  local communities, migrants, children, persons with disabilities and people in vulnerable situations and the right to development, as well as gender equality, empowerment of women and intergenerational equity". 
The Agreement, moreover, in other sections included issues of poverty reduction, universal access to sustainable energy to developing countries and also greater participation of all partners. The agreement also included all the stakeholders of party and non-party actor with text, such as "Agreeing to uphold and promote regional and international cooperation in order to mobilize stronger and more ambitious climate action by all Parties and non-Party stakeholders, including civil society, the private sector, financial institutions, cities and other sub national authorities, local communities and indigenous peoples".
Finance - the bottom line 
The Paris Agreement was bold on quantum of finance beyond 2020, where 100 billion US dollars was given as a floor and to build on it. This was appreciated by developing countries. Though Green Climate Fund was the established mechanism, how the allocation of fund will be distributed amongst industrialised country parties was not clarified, who will contribute how much was not decided either.
In the corridors after the agreement, industrialised countries were hoping for funds to come from rich or rapidly emerging industrialising countries. So who will receive funds was not made specific. Future follow-up was thus left to future negotiations.
Flexibility, complexity and challenges 
This approach was also appealing to many parties to support the Paris Agreement. Obviously such an over-arching and all encompassing document will need to have enormous flexibility which the critics may even call contradictory. 
Role of Bangladesh
In Cop21, Bangladesh had a team led by the Minister of Environment and Forests which included a team of parliamentarians. A team of senior government officials and experts worked hard and closely under the leadership of the Secretary, Environment and Forests. Dr. Q. K. Ahmed was the coordinator of the expert group for the negotiators. There was also a large presence of scientists, think tanks, civil society organisations, NGOs, private sector and media from Bangladesh in Paris. Government of Bangladesh had a country booth and the civil society networks had their own booth. Both these areas became useful meeting places as well as areas of rapid exchange of ideas, information and documents.
The Bangladesh delegates worked well together focusing on issues of their concerns and interacted well within G77, LDC, and the Climate Vulnerable Forum (CVF) groups. Besides, both the Government and civil societies were well engaged in several side events and many bilateral meetings and negotiations.
The Bangladesh civil society groups presented side events on Bangladesh grassroots people's perceptions and expectations from Paris, loss and damage research, migration issues, health services to vulnerable groups, arranging press conferences as well as interacting with the Climate Action Network (CAN) and its regional groups and contributed to "ECO", the conference journal. Government of Bangladesh also organised well attended press conferences and explained their positions on issues and approaches.
One question often asked is "What did Bangladesh get out of Paris?" Unfortunately, that is the wrong question as these are global negotiations undertaken in groups. The general interest of the planet predominates and group interests are attended to. The countries or parties have to ensure their interests are protected and respective issues get the best outcome the global decisions can accommodate. 
It is for sure, that there is tremendous goodwill for Bangladesh across the board because of the intense and multiple vulnerabilities of Bangladesh, its efforts during and outside the CoP process, its leadership and innovative roles in various Government and non-Government groups, its scientific research and output and its institutional mechanisms and actions at home. Bangladesh has been mentioned in several seminars as the "Adaptation Capital of the world". Its mitigation actions, particularly millions of poor households with solar home systems have also been well recognised. Bangladesh leadership in adaptation, particularly community based adaptation is well known to many participating delegates, practitioners and scientists. These were evident in different forums in CoP21.
Follow-up on Paris Agreement
The Paris agreement will give rise to a large number of activities in many sectors such as finance, mitigation, adaptation, capacity building, disaster management, governance, planning monitoring  and evaluation, agriculture and food, energy, water, forestry, infrastructure, health, fisheries, coastal, ecosystem services, transport, land, local government, human rights, gender integration, regional cooperation, to mention a few. It will need a huge amount of expertise as well as a specific institution and dedicated human resources. Many of these issues are going to be long-term activities (5-15 years and more), while initially some short-term activities (1-2 years) may emerge as follow-up to the Paris Agreement. 
Several senior officers have emerged as experts in the Ministries of Environment and Forest, disaster management, foreign affairs and starting to develop expertise in finance (ERD) and planning and integrating in infrastructural and social issues. Recent training and capacity building initiatives in the country have exposed another large group of government officials and experts to climate change issues. Beyond that and often in collaboration with the government, a few independent thinks tanks, research organisations and individuals have developed a reputation of being world leaders. 
But there is a need to develop a much larger number of experts and disciplines of expertise to address the forthcoming challenges. Climate change is no more a sub-set of environment. It encompasses many issues of environment, development, foreign affairs, energy, social science, law, technologies and private sector delivery systems. There has long been a discussion in some government, civil society and planning sectors to set up a new Ministry of Climate Change in Bangladesh. This would follow many other countries which have already developed such initiatives. This would attend to the large and emerging issues of climate change and also enable the country to prepare itself for much of the new finances coming under climate change. Further, this would address many technology and market issues that emanate out of Paris Agreement initiatives. 
As a start, the officials and experts who have already been trained and exposed to climate change issues could be brought together to be the core of such a new Ministry of Climate Change.
If a softer approach is preferred by the policy makers, a high powered National Climate Change Commission could be set up under the leadership of the Prime Minister to consider the right approach, time frame and integration of agencies to enable the formation of a Ministry of Climate Change or any other name it deems appropriate.
Achieving Bangladesh 2021 vision and SDGs
To achieve the vision of becoming a middle income country by 2021 and rich country by 2041, it is crucial that Bangladesh is capable of integrating all aspects of climate change into its planning and delivery of services to the citizens and ecosystems. In an emerging SDG world, this would be a progressive and major step for Bangladesh to achieve its sustainable development goals. 
For this to be efficient there is an absolute need to strengthen the Ministry of Environment and Forests with appropriate expertise to address the red (high pollution and industrial management, legal and implementation issues, etc.) brown (medium pollution, agriculture, land, social management, etc.) green (conservation, afforestation, ecosystem services, etc.) and blue (water: internal and marine, static and flow, quality and safety issues). 
Climate change initiatives
To take leadership role in a post-Paris Agreement world Bangladesh could and should take a number of activities that will build capacity, prepare for significant fund mobilisation and move rapidly forward to the sustainable development pathway with reduction of climate risks. There is a need for an exercise regarding what individual agencies of the government, research community, civil society and private sector can do. But we can always start with a few key activities. Let us remember that Bangladesh has very little obligation. Bangladesh must choose the path which meets its development aspirations as well as the need for climate impact reduction and/or contribute to low carbon growth pathways. A set of actions that can be immediately activated as a priority is given below. These are only a set of examples that can be initiated urgently on a priority basis. These include activities on both adaptation and mitigation. 
Implementing BCCSAP 
Set up task forces to stimulate the Bangladesh Climate Change Strategies and Action Plan (BCCSAP) on each of the six pillars.
(1) Food Security, Social Protection and Health; 
(2) Comprehensive Disaster Management; 
(3) Infrastructure Development; 
(4) Research and Knowledge Management; 
(5) Mitigation and low-carbon development; and 
(6) Capacity Building and Institutional Development
Light for all by Photovoltaic Lanterns: With the advancement of the Solar Home Systems, now it is urgent to ensure that every household in Bangladesh can be provided with solar lanterns. The social transformation potential of this is enormous and is also cost-effective. It is definitely cheaper than the subsidies given to urban electricity users. Thus "light for all" initiative can bring light and cell phone charging facilities to reach all remote areas and households of the country. This would be the greatest contribution to safety net, poverty alleviation and literacy for all as priotised in the Seventh Five-Year Plan.
Safe drinking water and sanitation for all climate affected population: This is a major challenge but will reach a key objective for sustainable development and public health of the affected population in vulnerable areas impacted by climate change including cyclones, floods and droughts.
Improved cooking stoves for all: A campaign and programme can be launched with the support of local government, NGOs, schools and educational institutions to provide improved cooking stoves for all. This will reduce GHG, improve health, particularly of women, and reduce deforestation simultaneously. 
Pilot phase for Local Adaptation Programme of Action (LAPA): Following the National Adaptation Programme of Action (NAPA), Local level (upazila or union level) Adaptation Programme of Action (LAPA) can be initiated in selected climate affected ecosystems. Once generic lessons have been learned this could be used for country-wide programme on adaptation. 
Responding to Paris Agreement, SDGs and sustainable development 
As we enter the SDG world the demand on both the Ministry of Environment and Forests and a future Ministry of Climate Change will be enormous and most essential for the sustainable development of Bangladesh. Paris Agreement, however weak, is likely to generate new activities and significant finances. Bangladesh must be prepared institutionally and methodologically. The capacity to deliver must be developed for the new and global standards and opportunities as they emerge. There is no question that in terms of the future resource mobilisation, climate change will be one of the most important global instruments for major investment portfolio. For Bangladesh to achieve its vision, it must demonstrate both intention and capacity to mainstream and integrate climate change in its sustainable development path where poverty alleviation, delivery of climate services at the local level and integrating climate concerns in all infrastructural and social issues would be central. We must catch this bus and lead it to a progressive journey for sustainable development pathway for Bangladesh and demonstrate leadership in achieving the SDGs and the vision for Bangladesh. 
The writer is Executive Director of Bangladesh Centre for Advanced Studies (BCAS), Recipient of the Nobel Peace Prize 2007 for IPCC and Champion of the Earth Award 2008.