All you need to know about Swiss music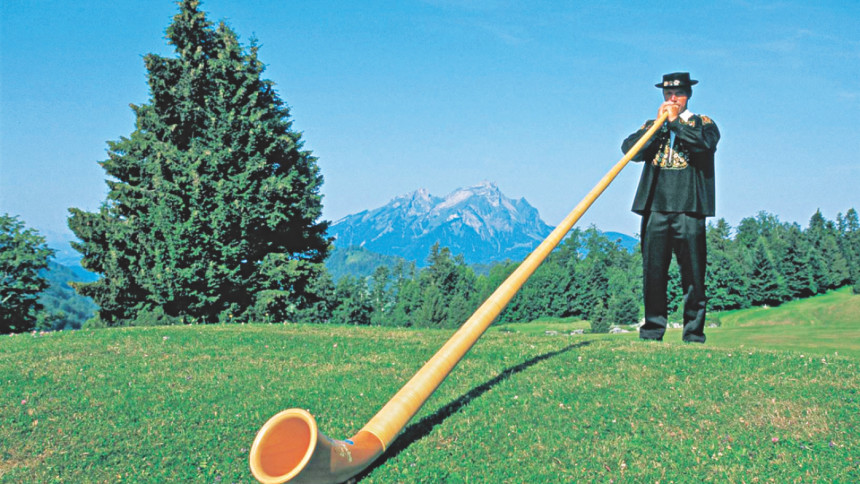 While traditional music remains very popular in rural areas, different kinds of contemporary music have a sizeable audience in Switzerland, as borne out by the phenomenal rise in music festivals over the last few decades. Two out of three people in Switzerland go to a concert or a musical performance during the year, and one in five play a musical instrument.
Traditional music:
Swiss traditional music has its roots in mountain farming communities. Typical instruments are the Alphorn, the "Schwyzerörgeli", a special type of accordion, and the "Hackbrett" (hammered dulcimer). Yodelling is a form of singing, which was originally used to call the cows home and to communicate from one alpine farm to the next. It is also the centrepiece of Swiss traditional music. Every region of Switzerland has countless ensembles, brass bands, choirs and traditional music groups foster this tradition and regularly perform at traditional music festivals.
Classical music and opera:
Switzerland's most famous composers and conductors include Joachim Raff (1822–1882), Ernest Bloch (1880–1959), Ernest Ansermet (1883–1969), Othmar Schoeck (1886–1957) and Arthur Honegger (1892–1955). The leading orchestras in Switzerland today are the Orchestre de la Suisse romande in Geneva and the Tonhalle-Orchester Zürich. Many Swiss towns and cities have their own opera house, with those of Geneva and Zurich enjoying international acclaim.
Modern day music:
Many Swiss performers have an international following and have helped write Swiss musical history – names like Mani Matter (1936–1972), whose songs in the Bernese dialect have provided the soundtrack for several generations, or the Zurich duo Yello, who were at the avant-garde of the electronic music scene in the 1980s. The Lausanne group, Sens Unik, were pioneers of French-language hip hop and the Basel native George Gruntz (1932–2013) was one of the most respected jazz musicians of recent times.
The current crop of musicians and groups which have enjoyed considerable success both in Switzerland and elsewhere include Stephan Eicher, Gotthard, Krokus, Michael von der Heide, Andreas Vollenweider, DJ Bobo, DJ Antoine, Erik Truffaz, Stress, Heidi Happy, Sophie Hunger and Bastian Baker. In March every year the Swiss Music Awards celebrates the successes of home-grown musical talent.