The timeless appeal of folk music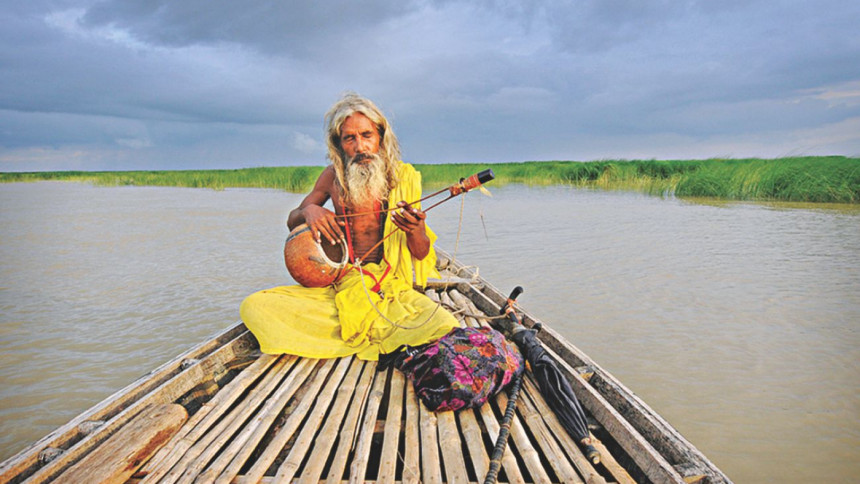 The diverse culture of Bangladesh has evolved over the centuries. During the Bengal Renaissance of the 19th and early 20th centuries, noted Bengali writers, saints, authors, scientists, researchers, thinkers, music composers, painters, and filmmakers played a significant role in the development of Bangali culture. The culture of Bangladesh is composite and manifests itself in various creative forms, including music, dance, drama; art and craft; folklore and folktale; languages and literature; philosophy and religion; distinct cuisine and culinary tradition; and of course festivals and celebrations. 
Pahela Baishakh, the first day of the Bengali calendar, is the largest secular festival of the country. Every year, the Bangalis living around the world shake off the previous year's gloom and hail the New Year with renewed vigour. Baishakh brings with it a whole new flurry of festivities and celebrations, the biggest of which are Chhayanaut's Borshoboron at Ramna Botomul and Charukala's Mongol Shobhajatra. 
Bangladesh is known as a land of music. The folk music of Bangladesh, in particular, is deeply connected with the psyche of the country and resonates through the villages of Bengal. Bangladeshi folk songs play a pivotal role in celebrating time-honoured festivals like Chaitra Sankranti, Pahela Baishakh, Baishaki fair, Nabanna, Paush Parban, Halkhata, Pahela Fulgun and more.
Apart from Tagore classic "Esho Hey Baishakh Esho Esho", folk melodies like "Ailo Ailo Ailore Ronge Bhora Baishakh Abar Ailore", "Baje re Baje Dhol ar Dhak", "Abar Jombe Mela Bottola Haatkhola", "Tomra Ektara Bajaio Na" and "Melaye Jaire" reign supreme during Baishakh celebrations throughout Bangladesh and the world at large.
Bangladesh has a rich tradition of folk songs, with lyrics rooted in the vibrant tradition of spirituality, mysticism, and devotion. Such folk songs also revolve around several other themes, including love and melancholy. 
Folk music may be described as that type of ancient music, which springs from the heart of a community, based on their natural style of expression, uninfluenced by the rules of classical music and modern popular songs. Any mode or form created through the combination of tune, voice and dance may be described as music. Thus, the combination of folk song, folk dance, and folk tune may be called folk music.
Generations of rural poets and composers have enriched the tradition of Bangla folk music, of which Baul songs are the most remarkable. Baul songs, predominantly composed by Fakir Lalon Shai, are a mixture of Vaishnaism and Sufism. Enlisted in UNESCO's Representative List of the Intangible Cultural Heritage of Humanity, Baul songs originated from the Bauls — a mystical and unorthodox community of mostly itinerant singers and musicians whose music and way of life have a significant influence on Bangali culture. The simple yet deeply philosophical lyrics, tunes and natural rhythm of Bangladeshi folk music contain a strong emotive expression and eternal appeal of love, joy and sorrows.
In Bangladesh, folk music showcases a great variety, with songs being composed on the culture, festivals, view of life, nature, and social issues. This genre is different from other music genres not only because of its distinctive mode but also because of the richness of its seventh note. Folk music has a basic style of composition and can be classified into four groups -- firstly, tunes consisting of: 'Sa Re Ma Pa', secondly: 'Sa Ga Ma Pa', thirdly: 'Sa Re Ga Pa' and finally: 'Sa Re Ga Ma Pa'. 
Folk music abides by this pattern, as does classical music – the latter originates from folk music. All folk songs in the world usually involve the pentatonic scale, which is found in Bangla folk songs as well as in Santal and Garo-Hajang songs.
Folk music has a very strong base and popularity, thanks to the immense contributions by great mystic bards of our country such as Fakir Lalan Shai, Siraj Shai, Hason Raja, Abbasuddin, Khursheed Nurali (Sheerazi), Radharaman Dutta, Durbin Shah, Arkum Shah, Shah Abdul Karim, Bijoy Sarkar, Pagla Kanai, Ramesh Shil, Kangal Harinath, Kangalini Sufia, Miraz Ali, Ukil Munshi, Rashid Uddin, Jalal Khan, Jang Bahadur, Umed Ali, Shah Alam, and many other unsung composers. 
Folk has come to occupy the lives of Bangladeshis almost more than any other genre of Bangla music. The music and dance styles of Bangladesh may be divided into three broad categories: classical, folk, and modern. The entire folk music can be divided into six genres: regional, functional, humourous, work, love and Baromashi. "Porthom Baishakh Maash/Na Purey Romonir Aash/Bondhu Jani Roilo Kon Desh-e Re Shyamachanda/Tumi Ar Na Ashila Desh-e" is an excerpt from popular Baromashi, composed by Shyamachanda while "Baishakh Mashete Sadhu Phute Nana Phul/Modhupaney Lobh-e Motto Oli Beyakul" is another Baromashi, composed by Roshpoti. 
Folk music can also be classified into several subgenres like Baul, Bhandari, Bhatiali, Bhawaiya, Dhamail, Gombhira, Jari, Pala, Gajir Gaan, Pot-er Gaan, Kirtan, Kobigaan, Sari, Murshidi, Roof-beating songs, wedding songs, pastoral songs and more.
Baishakhi fairs are arranged in many parts of the country providing entertainment, with singers, dancers and traditional plays and songs. Horse races, bull races, bullfights, cockfights, flying pigeons, and boat racing are other popular forms of Pahela Baishakh celebrations. 
Very few poets of Bangla Literature wrote poems on Baishakh. We can prominently mention some poems that focus on the facets of the month. "Baishakh" by Rabindranath Tagore; "Proloyollash" by Kazi Nazrul Islam; "Nakshi Kanthar Maath" by Jasimuddin; "Baishakh" by Farrukh Ahmed; "Baishakhi Gaan" by Sukanta Bhattacharya; "Baishekh" by Al Mahmud; "Paila Baishakh" by Alauddin Al Azad; "Baishakhe Rochito Pongtimala" by Syed Shamsul Haq and "Noboborsho", "Hey Baishakh" and "Asho Borsho-Noboborsho" by Ashraf Siddiqui are such examples. 
There are some important Khonar Bochons (folk proverbs on nature and agriculture) themed on Baishakh. "Botshorer prothom ishane boy/Shey botshor borsha hobe Khonaye koy", "Poushe goromi baishakhe jhara/poyla ashare bhorbe gara", "Chaitre khar khar/Baishakhete Jhar-Pathor/Jaishthe tara phute/Tobe janbe borsha bote", "Baishakher prothom jol-e/ Ashudhan dwigun phol-e", "Magh-e mukhi/Falgun-e chukhi/Chaitre Lata/Baishakh-e Pata", "Choite lagaile Ada/Baishakh-e lagaile adha", "Baishakh Mash-e Holud Ro/Daba pasha felia tho", "Choite Baishakhe lagaiya jhal/Sukh-e kataye Borshakal", "Baishakh-Jaishther Brishtipaat-e/Bansh-er chara dibo pute" are some striking examples.        
Before the advent of radio, entertainment in the rural areas relied to a large extent on stage performances by folk singers. With the arrival of new communication technologies and digital media, many folk songs were modernised. Urban folk and mingling of western melodies with our folk music have given it a new dimension. Several bands including Joler Gaan, with a vision of disseminating Bangladeshi folk music among the masses, are immensely popular in Bangladesh.    
Bangladesh has a good number of folk musical instrument including, Ektara, Dotara, Dhol, Banshi, Mandira, Khanjani, Sarinda, Khamak, Dugdugi, Hari, Kumkum, Juri, Jhunjhuni and cymbals. The instrumentalists are not properly nurtured and, thus, we hardly find any sarinda or khamak players in Bangladesh. 
A number of artists, including Kangalini Sufiya, Rathindranath Roy, Indra Mohan Rajbongshi, Fakir Alamgir, Bari Siddiqui, Kuddus Boyati, Momtaz and Firoz Shai, have taken it upon themselves to bring new life to folk music in Bangladesh. Westernisation of music has crept into the Bangla music industry, but folk music is still widely popular, and now young musicians are beginning to follow by the example set by these musicians to bring folk music back as a popular music genre.
Musical organisations and schools like Bangladesh Shilpakala Academy and Chhayanaut play significant roles to flourish Bangla folk music. Holding regular folk music festivals and concerts; creating interests about the opulent heritage of our folk music among the young generation; increasing sponsorship to nourish folk music; founding permanent academies for folk music and preserving all sorts of folk music can bring back the golden past of our folk music legacy. 
The writer is staff reporter, Arts & Entertainment, The Daily Star.