Energy of the Future
"LPG is not just an option but the best solution to our energy crisis"
In conversation with Tanzeem Chowdhury, Director, East Coast Group & DGM, Corporate Planning & Business Development, Omera Petroleum Limited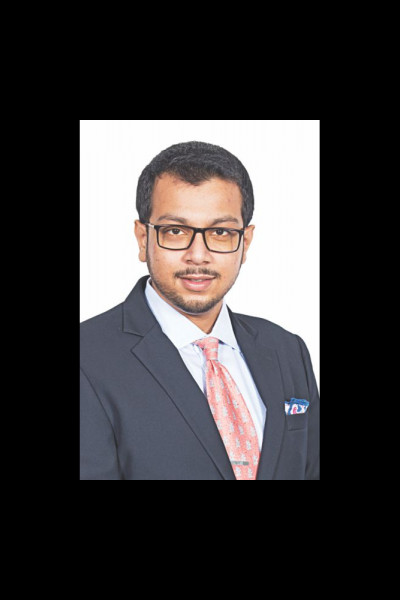 Bangladesh is going through a growth momentum. To sustain the growth the country needs reliable and quality supply of energy at an affordable rate. The traditional sources of energy such as natural gas and coal are not adequately reliable and have negative implications for the environment. Therefore it is crucial for Bangladesh to go for fuel diversification strategies and find a clean and affordable energy mix. Globally, liquefied petroleum gas (LPG) and solar energy have become essential parts of the energy mix. In Bangladesh too the demand of these two alternative and renewable sources of energy has greatly peaked in recent times. In fact, Bangladesh is now a pioneer in the solar energy sector. In this supplement we have delved into the present status of these two sectors and featured their leading practitioners including operators and research organisations. 
What is the present status of the LPG industry in Bangladesh? 
Liquefied natural gas (LPG) is a green and clean hydrocarbon fuel. LPG emits the lowest carbon footprint compared to traditional fuels (e.g. wood, teak, kerosene) when burned for energy. The demand for LPG in Bangladesh is growing exponentially. The current demand of LPG in the country is around 600,000 MT which will be more than 1,400,000 MT by 2022.
The growth in the local LPG industry has been driven by the increasing use of LPG in household, industry and real estate sectors. Semi-urban and rural households have already moved away from traditional fuels (wood/ teak) and are rapidly adopting LPG. It offers portability and convenience which traditional fuels cannot deliver. Burning of wood causes serious health hazards such as pneumonia, emphysema, lung cancer, bronchitis, cardiovascular diseases, etc., which can be prevented through the use of LPG.
The Energy and Mineral Resources Division of the Government of Bangladesh have already announced to shift supply of natural gas to productive sectors only (Power plants, Economic Zones etc.) & offer LPG to households. In addition, newly developed townships such as Dia Bari & Uttara Third Phase do not have connection with the national gas grid. LPG offers the best cooking gas solutions for these residential areas.
Due to dwindling reserve of natural gas local industries are gradually shifting towards LPG for uninterrupted gas supply. LPG also enables expansion of industries in the areas where there is no access or poor access to natural gas.
We are seeing rapid growth in LPG demand. It has transformed from being a choice to a need for Bangladesh. Currently, there are ten LPG operators in Bangladesh .By retail market share the top three operators are Bashundhara LP Gas Limited, Omera Petroleum Ltd (OPL) and Jamuna Spacetech Joint Venture Ltd (JSJVL).
What are the unique aspects of Omera as an LPG operator?
Omera Petroleum Ltd is a joint venture between MJL Bangladesh Limited, FMO (DFI of the Dutch government) and BB Energy (a global oil and gas trading company). In 2016¬¬-2017, Omera catered to around 20 to 22 percent of the total LPG import demand in the country.
Omera owns and operates the largest and most sophisticated LPG infrastructure in Bangladesh. We have four satellite terminals across the country (Mongla, Dhaka, Chittagong and Sherpur) and our annual supply capacity currently exceeds 150,000 MT.
We also operate the country's first marine vessel to move bulk LPG across the nation. This helps Omera to make LPG available to our trade partners & clients all round the year regardless of season and infrastructure constraints.
Omera offers LPG cylinders in small and medium sizes (5.5kg and 12kg) for cooking, and large sizes (35kg and 45kg) for commercial and industrial usage. To ensure the highest quality of our cylinders, Omera Cylinders Ltd, our sister concern, manufactures LPG cylinders with Dot4BA and Dot4BW standards using fully automated European machineries.
Omera has also joined hands with Japanese LPG giant Saisan Co Ltd in Omera Gas One Ltd (OGL). OGL specializes in supplying industrial LPG solutions, LPG storage tanks, LPG auto-gas stations and reticulated systems following Japanese standards known to be the most compliant and sophisticated LPG market in the world. OGL is supplying bulk LPG to local industries such as Fu-Wang Ceramics, ACI Ltd etc.
Omera is specialized to be the single point LPG Solution Provider to Bangladesh catering to all segments of the market with customized SKUs & highest level of customer service.
In recognition of our contribution to the development of best practices and marketing innovation in the LPG industry, Omera was awarded as the Best Private Company in National Energy Sector by Hon'ble Prime Minister in 2016.
What is your future investment plan?
We have already invested more than USD 100 million in Omera LPG infrastructure and continue to invest further USD 100 million in its LPG ecosystem. Over the last three years, the LPG market recorded compound annual growth rate (CAGR) of 60 percent while Omera's CAGR is 114 percent. Such growth is backed up by our continuous investment in Omera's state of the art machinery and capacity.
We continue to expand our storage to make Omera the largest LPG operator in the region. By 2019 our annual supply capacity will be exceed 300,000 MT. On the logistics side, Omera is investing in additional barge fleets and mobile logistics to ensure uninterrupted supply of LPG to our trade, retail, automotive and B2B universe. We follow international SHE standards and encourage/ educate our trade partners & users to follow the best safety practices and compliance regulations.
What are the things that need to be improved in the LPG industry? What kind of support should the government provide to the industry?
LPG is a thrust sector. It is creating employment, bolstering technology transfer and catering to energy needs of the Nation. The Government of Bangladesh should give incentives to this growth industry through fiscal measures such as lower corporate tax rate, duties, and VAT.
LPG operators face challenges to bring large size LPG cargoes to Bangladesh. The port areas do not have navigability for large LPG vessels; moreover we have to go for costly maintenance dredging even for importing small LPG cargoes. Government should help this thrust sector with regular dredging of the port rivers and ensure navigability so we can import larger size cargoes and better serve the market.
For day-to-day operations LPG operators require almost 45 clearances/certificates from various government departments. The licensing policies of the government departments should be made clear and bought under one umbrella as a one-stop solution center for LPG licensing. This will help  the LPG industry to be more compliant and efficient.
Some dishonest traders are engaged in the illegal cross-filling of gas cylinders which is very risky and they do not follow any safety standards. To facilitate the healthy progress of this industry and safety of the customers, the LPG Operators Association of Bangladesh (LOAB) has taken the decision to stop bulk sales to these companies. The government should enforce measures against such illegal activities by crackdown and allow bulk sale from BPC to LPG Operators meeting Ministry Guidelines of 2017 only.
The eligibility and selection procedure for granting terminal licenses to new LPG operators should also be made more robust and criteria-based. This will encourage best practices and safety across the industry. Last but not the least, the existing regulations regarding inspection of old cylinders should be enforced strictly.
How can LPG products be made more affordable?
International LPG prices are very stable compared to its benchmark crude oil (Brent/WTI). Every month, Saudi Aramco, the largest producer of LPG, sets and publicizes the international prices of LPG. Until this year the world was enjoying historic low prices of LPG due to abundant supply.
Bangladesh LPG operators have to bear high shipping costs (30-35 percent of the total cost of the product) due to our draft restrictions. East Coast Group & Omera are investing in innovation and development international LPG supply chains to bring down the shipping cost which will make LPG products more affordable.  
Also, India is a good example of how LPG can be made affordable. Under Indian PM Modi's Ujjwala scheme more than 31 million free LPG connections and kits have been provided across the country. This scheme has already shown tremendous success and signals a great future for the common people of India. The Bangladesh government can take up similar initiatives to help rural populations migrate from the unhealthy traditional fuels to LPG. The government can provide subsidy to residential LPG users for the next three years.