"The future of healthcare lies in finding the right balance between technology and traditional care delivery models"
In conversation with Sylvana Q. Sinha, Founder, Chair and CEO of Praava Health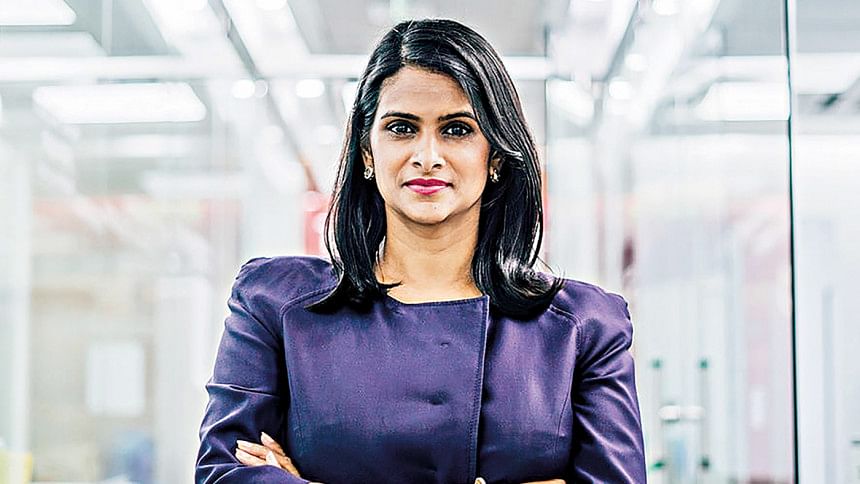 The Daily Star (TDS): What inspired you to work in the healthcare sector and launch Praava Health in Bangladesh?
Sylvana Q. Sinha (SQS): I became obsessed with the issue of healthcare in Bangladesh after a jarring experience with my mother at a top private hospital in Dhaka. The experience highlighted the need for high-quality and affordable healthcare in the country, and I realized that there was an opportunity to create a solution that could impact many people's lives.
Despite the significant progress in Bangladesh's economy, accessing high-quality healthcare in the country remains challenging. As a result, thousands of Bangladeshis seek healthcare abroad every day, and billions of dollars are spent on this each year. I believe that access to affordable and trustworthy healthcare is a fundamental human right, and patients in the country need more options for accessing such care. To achieve this, there needs to be more competition in the market, as well as increased regulation to monitor the quality of healthcare.
Healthcare in Bangladesh is heavily centered on hospitals, and patients often wait until they are very sick before seeking medical care. However, we can have a more significant impact by intervening earlier and meeting patients where they are before their conditions become acute. By managing patients' conditions outside of the hospital setting through family doctors or outpatient specialists, we can make it easier for patients to heal and improve their health at home, reducing healthcare costs for households and the country as a whole. This approach also reduces the burden on the healthcare system, allowing hospital care to be reserved for patients who truly need it.
TDS: Did you face any challenges in this journey? How did you overcome them?
SQS: Being an entrepreneur and building something from scratch comes with a myriad of challenges. Attracting foreign capital into Bangladesh is one of the biggest challenges that I have faced, despite the country's massive potential for growth and progress in the economy. Although we improved our business economics several years ago, raising funds has remained challenging. The pandemic and the current global financial crisis are some of the macro factors that have contributed to this challenge. As a female entrepreneur, the challenges have been even more significant, given that women entrepreneurs globally receive less than 2% of venture capital. This disparity is even worse in emerging and frontier markets. Despite these challenges, I have learned that they make us better leaders as we improve ourselves, build networks, and access loans.
The pandemic brought unprecedented challenges that were unpredictable and, operationally, managing staff became challenging. During the Omicron surge, our patient volume doubled, and 35% of our staff contracted COVID. Raising awareness was also challenging, but we tried to play a role in it. Despite being a new company, I am grateful that the public trusted us with their healthcare during this time of need, and we had the opportunity to serve our community.
TDS: Can you share how Praava Health is contributing to the healthcare economy of Bangladesh?
SQS: We pride ourselves on being the only healthcare provider in the market that offers an integrated solution that combines cutting-edge technology with comprehensive clinical care. Our services range from telemedicine and home delivery of pharmaceutical products to in-person consultations at our state-of-the-art clinics. We like to call this a 'click-and-brick' model, where we leverage both technology and infrastructure to provide seamless care to our patients.
In my opinion, the future of healthcare lies in finding the right balance between technology and traditional care delivery models. While technology can facilitate remote care management and the delivery of medication, patients often require in-person medical attention. By offering a truly end-to-end outpatient care model, we are able to meet the diverse needs of our patients, and I believe this is what sets us apart from other healthcare providers.
TDS:  What is your greatest achievement?
SQS: While I believe that my greatest achievement is yet to come, I am proud of what we have accomplished so far. Our ability to establish a high-quality healthcare brand in Bangladesh and grow it rapidly is something I am particularly proud of.
However, there is still much work to be done. According to reports from The Lancet and WHO, many people in lower-middle-income countries are dying due to a lack of access to quality healthcare. It's not just a matter of access; quality is equally important.
To address this issue, we have established one of the six international standard labs in the country. While this is a positive development, we recognize that much more needs to be done for a country with a population of 170 million. By expanding access to quality healthcare options, we hope to make a significant impact on the health and wellbeing of the people of Bangladesh.
TDS: What are your aspirations and goals for Praava Health?
SQS: I have big ambitions for this business - I want to scale it across Bangladesh and eventually to other emerging markets. We have already achieved some significant milestones, such as launching Bangladesh's first fully integrated hospital information system and patient app back in 2018. We are now working on a new version of the app which will go live in Q2 of this year. The app enables patients to scan and store all their medical documents in one place, which is a huge opportunity for both patients and healthcare providers. Additionally, we are currently developing some remote care management tools to further enhance our offering.
Interviewed by Sarah Shakhawat, The Daily Star