WE Hope to reshape the local insurance industry
Sheikh Rakibul Karim, Chief executive officer of Guardian Life Insurance Limited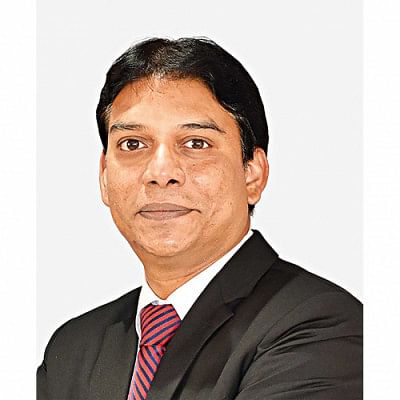 The Daily Star (TDS): What is the current state of the insurance industry in Bangladesh?
Sheikh Rakibul Karim: Bangladesh's insurance industry isn't too far behind the rest of the world. While the industry's situation is not bad, there is a lot of room for growth. There is an opportunity, in terms of market penetration and digitalisation, to take the industry to an even better place.
TDS: What steps should the government take to support the insurance industry?
Sheikh Rakibul Karim: The regulator can play an important role here by pushing for the advancement of digitalisation and Insurtech. The government needs to remove the barriers. We have been working closely with the Insurance Development and Regulatory Authority, Bangladesh Insurance Academy and Bangladesh Bank to launch Bancassurance Service which will enable companies to adapt to the changing market even faster and render better quality services to customers by utilizing the banking channel for insurance service distribution.
TDS: Are there any unique insurance products that your company offers?
Sheikh Rakibul Karim: Our motto is "Insurance for all", and with that in mind, we have created several unique products. One that I would particularly like to highlight is our Ajibon Pension Plan, which not only gives a lifetime pension to the policyholder but also a lifetime pension to the policyholder's spouse as well upon expiry of the policyholder. The product is a first-of-its-kind and only one in Bangladesh so far. Alongside this, we are also proud to serve garment workers jointly with bkash with our Digital Insurance Platform "EasyLife". Guardian Life Insurance has launched a specialised insurance policy scheme that includes health, savings and life coverage facilities through bKash at five garment factories so far and we hope to ramp up the project significantly very soon.  
TDS: What are your future plans?
Sheikh Rakibul Karim: Going forward, Guardian Life Insurance's long-term vision is to become the number one local insurance company in Bangladesh. We want to focus on making our customers' journey as smooth and seamless as possible. By providing faster claim settlement durations and providing excellent customer service, we will increase customer loyalty. Currently, we serve 50 percent of the insured population in Bangladesh, around one crore people. Currently 1 out of every 17 people in Bangladesh is under Guardian Life's coverage and we want to increase it to 2 out of every 17 and consequently, we hope to reshape the insurance industry in Bangladesh.