Bangladesh Towards fulfilling the Dream of the Martyrs
The irregular forces of Bangladesh Liberation War
When the Bangladesh Government was busy in mastering resources to organise the sectors and brigades, many irregular forces often emerged in the far-flung areas, and took the names of their leaders or the regions from where they originated. These small indigenous and non-political forces which operated independently under self-declared leaders without much control of Bangladesh forces HQ, have been considered as irregular forces. The background and courage of the leaders played an important role in their rise.
"There had been other dynamics also; like so many people were willing to fight for the country, but there was no structured procedure for enrolment. As Air Vice Martial (retired) AKM Khandakar recalled, "When the Government in exile restricted the non-Awami Leaguers from joining in the war, this caused the rise of many indigenous forces at the discretion of their leaders". Besides, Indian control over the Mukti Bahini had also partly contributed to the creation of these forces. The geographical condition was suitable for employment of indigenous forces of such category. The daring, well-planned guerrilla operations conducted by these troops incapacitated the Pakistani soldiers including their accomplices known as Razakar, Al-Badr and Al-Shams. However, to reduce the chances of misunderstanding and other complications, the Government circulated a general policy in respect of these forces so that all elements could function unhindered without jeopardizing the operational objectives. Heroic operations carried out by the irregular forces greatly helped Bangladesh forces in achieving their operational goals and often made up the deficits. This article will focus on the significant irregular forces highlighting their leadership, structure, methods of operations and other salient aspects. However, intending to offer a comprehensive picture, operational activities covering the entire war have been highlighted, which would otherwise have come later based on the timeline. Again, the actions of 2,367 left-leaning guerrilla fighters have not been included here since the issue of their recognition as Freedom Fighter remained subjudice during the time of research. [The general area of operation of various irregular forces is shown in Fig. 6.1.]
Kaderia Bahini: One of the most significant private armies, named Kaderia Bahini, was organised in Tangail under the leadership of the then student leader Abdul Kader Siddique. He had joined Pakistan Army as a soldier but voluntarily retired from the job before 1971. After returning to Bangladesh, he got admitted to Kartia College and joined Bangladesh Chhatra League. When Pakistani forces entered Tangail city on 3 April, Kader Siddique, like other local leaders left the town in anticipation of arrest. On April 19, when a column of Pakistan Army moved towards Mymensingh, an EPR led force put up resistance near Kalihati.
Kader, who had participated in the Kalihati battle with some of the youths, then walked around in rural areas and began to collect arms and later on organised a resistance force. Revolutionary youths, labourers, students and professionals, wholeheartedly joined Kaderia Bahini and it formally started operating from 21 April. It became a large force of 17,000 fighters and was divided into five local sectors which were further subdivided into ninety-seven companies. Their operational area was spread over 1,500 square kilometres including parts of Tangail, Jamalpur, Mymensingh and Sirajganj districts (see Fig. 6.1). For useful employment, this force had several branches that included military division, civilian division, radio division, telephone division, food & health division and medical division. Kaderia Bahini undertook its first mission in Kalihati Charan village on 22 May 1971 relying solely on own strength. Their great victory in this battle elevated their self-esteem and enthusiasm among the general people. Other significant battles were the battles of Patharghata, Makrai, Dholapara and Kashtar. Kaderia Bahini fought a total of 73 battles with the Pakistani Army. They were victorious in every single battle. Of all the operations, Matikata ambush was the most successful one where Kaderia Bahini destroyed some ships and watercrafts including large amount of armaments that caused massive losses to the Pakistani forces (see Fig. 6.2). With their bravery, power and strength the Kaderia Bahini became a source of a constant headache for the Pakistani forces. Towards the latter part of the war, Kaderia Bahini earned great respect by offering local support to the Allied para-troopers of 2 Commando Battalion in Tangail area. A magazine named Rananggon used to be regularly published to raise the morale of this force. Several cultural programmes were also arranged during the war for the amusement of Kaderia Bahini members.
Approximately 31 members of this force were killed in various battles. A total of 17 members of the force were awarded gallantry medals of which one received Bir Uttom, two Bir Bikram and 14 Bir Protik. The presence of Kader Siddique at the surrender ceremony of Lt Gen Niazi at the Ramna Race Course on 16 December demonstrated his deep involvement with the 1971 war.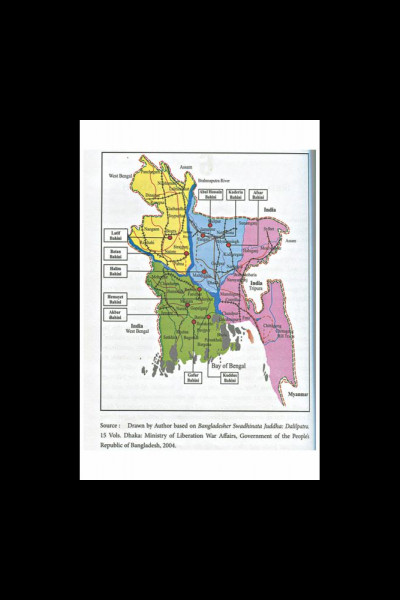 Mujib Bahini (Bangladesh Liberation Forces-BLF): In the context of a prolonged war, how Bangladesh Government would retain its control over the war including other matters had been a serious concern for the Indian authorities. Lack of trust and cohesiveness within and beyond the Government had also acted as a trigger behind the creation of Mujib Bahini. This force was also known as Bangladesh Liberation Force (BLF). Of all the irregular forces, the Mujib Bahini had been an exceptional one as it enjoyed the support of the Indian secret service, RAW. The Chief of Counter Insurgency Operations against the Indian Mizo and Naga rebels, Maj Gen Uban, was asked to provide special training to the members of Mujib Bahini.
Maj. Gen. Uban was inextricably involved in the evolution of this force and named it 'Mujib Bahini'. It was around June 1971, when there was a gossip about the creation of C-in-C's Special Force. It might have been circulated deliberately and named as such to obtain C-in-C's consent in support of creating this elite force about which Col. Osmani was neither critical nor aware that this force would later become Mujib Bahini. The secretive nature of this force kept everyone in grave confusion. Maj Jalil also was critical about the formation of this force including the role of RAW in his book Orokkhito Swadhinatai Poradhinota. The DG, Youth Camp Wg Comd (retired) S.R. Mirza also did not have any idea regarding the recruitment and induction process of Mujib Bahini and remained in the dark.
 The Indian authorities trained, armed and launched them for operations at their discretion. The Bangladesh Forces HQ came to know about the activities of this force much later from different sectors, again not in much details. The Indian Army deliberately concealed the movements of Mujib Bahini from the Bangladesh forces. Not a single senior-level Awami League leader opposed the formation of this force as Sheikh Fazlul Haque Moni, a student leader and a nephew of Bangabandhu Sheikh Mujibur Rahman was directly involved with the creation of this force. With him he had Sirajul Alam Khan, Abdur Razzaque and Tofayel Ahmed in other key positions.
As per initial information, the strength of Mujib Bahini was estimated to be roughly four thousand. According to Maj Gen Uban, the Indians trained nearly 10,000 Mujib Bahini members under different categories with an aim to prepare 100,000 members. This force had strong political motivation based on complete trust and allegiance to Bangabandhu Sheikh Mujibur Rahman. They were expected to facilitate the installation of a pro-Mujib Government in the post-independent Bangladesh. To Uban, many anti-Mujib elements entered the Mukti Bahini who were not loyal, and the Mujib Bahini members would mostly compensate for these flaws in recruitment.
Mujib Bahini was also to contain and restrain the leftists from assuming power. For all these reasons, the relationship between the Mujib Bahini and the Government in Exile, including Mukti Bahini, had been one of confrontation rather than of cooperation. Even Maj Gen Uban has mentioned about the bitter relationship between the Government in Exile and the Mujib Bahini. However, on certain occasions, Mujib Bahini and Mukti Bahini had been seen to cooperate with each other. For example, the Pakistani defence at Bhatia Para of Gopalgonj district did not surrender even after 16 December 1971. The Mukti Bahini, Hemayet Bahini and Mujib Bahini jointly launched an operation on the Pakistani positions at Bhatia Para and forced them to surrender. There had been a lot of criticism about the design of BLF which later came to be known as Mujib Bahini. This force had propagated negatively against the Government in Exile terming it illegal since it was not formed with the approval of Bangabandhu Sheikh Mujibur Rahman. Such propaganda created confusions amongst the freedom fighters. Bangladesh Forces HQ and various sectors handled those situations very prudently without jeopardizing the overall aim of the war.
Mirza Abdul Latif Bahini: The politically conscious Mirza Abdul Latif had been keenly following the events preceding March 1971. To meet any eventualities, he planned to raise a force in the Vodroghat village under Kamarkhand PS of Sirajganj district. Initially, he organised a team of youths and named it as 'Polashdanga Youth Camp' with only seven rifles and fifteen members. Later on, this force came to be known as Latif Bahini. Gradually, Latif Bahini turned out to be a strong fighting squad of more than 8-10 thousand members. Despite various constraints, this force fought against the Pakistani troops in the vast areas of North Bengal districts that included Bogra, Natore, Rajshahi, Pabna and Sirajganj (see Fig. 6.1).
The focus of the Latif Bahini activities revolved around 'Chalanbeel'. In addition to military training branch, the force had political, training, intelligence and reconnaissance branches. Among their operations, the battle of Kashinathpur Bhab Bagan, the battle of Ghatna, attacks on Faridpur, Tarash, Sathia and Gurudaspur Police Stations (PS), Kachikata Razakar camp, Rayerganj Brahammagacha and Sirajganj Boraitola Pakistani camps and the battle of Ullapara are remarkable. In the latter part of the war, Latif Bahini conducted a raid on Tarash PS (Sirajganj). They killed many members of Pakistani Army including Razakars and captured a Pakistani officer, Capt Halim and 12 soldiers alive without any casualty on our side.
Afsar Battalion: Afsar Uddin hailed from Bhaluka and had served in the then British-Indian Army. After the partition of 1947, he joined Pakistan Army at the outbreak of war, he was a retired Lance Naik. People of his locality used to address him as 'Major'. On the request of the locals, he joined the war and started organising a force at Mallikbari village of Bhaluka PS located in Mymensingh district. He gradually increased the strength of his force to 4,500 Freedom Fighters. Afsar organised his forces in line with typical military units and divided them into five battalions comprising twenty-five companies which were further subdivided into three platoons each. He inspired and encouraged his fighters by publishing a weekly magazine called Jagroto Bangla. Afsar Battalion's area of operation extended to the southern part of Mymensingh district and some parts of Dhaka and Gazipur districts (see Fig. 6.1). By adopting guerrilla techniques, Afsar Battalion used to capture weapons and munitions from the Pakistani troops. This force also maintained cooperation with other Irregular forces in and around their area of operations. The fighters of Afsar Battalion and Kaderia Bahini fought together at Dholla in Tangail district. Their activities in different regions such as Bhaluka, Gaforgaon, Trishal, Sreepur near Joydebpur, Mirzapur, Muktagacha were remarkable. Afsar Battalion kept its area free of the enemy till the end of the liberation war.
Halim Bahini: When Manikganj city came under Pakistani control, retired Capt Abdul Halim Chowdhury was living there. After retirement, he became active in politics and was a member of National Awami Party (NAP-Muzaffar). He felt morally obliged to defend the motherland and quickly moved towards the rural area carrying only thirty-six 303 rifles with him. He started organising his force by collecting and training the students and youths from various places. He established a training camp near the bank of the Padma River at Harirampur. His area of operation included the outskirts of Manikganj, Munsiganj and Dhaka (see Fig. 6.1). From the first week of July, they began to develop a strong defence against the Pakistani forces. In August, they raided several examination centres to impede the ongoing Secondary School Certificate examination to undermine the authority of the Government in power. In September, Halim Bahini was divided into four companies to conduct a systematic war against the enemy. Harunur Rashid commanded A Company, Abul Bashar who came from airforce commanded B Company, C Company was under retired army person Abdul Hakim, and Sukkur Chowdhury commanded D Company. These companies carried out extensive operations in and around Manikganj. On 13 October; they seized the Pakistani camp set up in the office of Harirampur Circle Officer. Among the operations, defence of Sutalakkhi village, the battle of Gulaidanaga, the ambush of Paturia PS, Sewta Bridge and Narchikura village, the raid in Bayonlipur, and operation of Manikganj district were noteworthy.
Hemayet Bahini: Havildar Hemayet Uddin was a brave soldier with a very sound professional background. He was a drill instructor at Pakistan Military Academy, Abbottabad and a Band Master. During the war, he was serving in 2 East Bengal at Joydebpur. While this unit was moving out of Joydebpur, Hemayet was away with a patrol and had failed to catch up with the unit. On return to the unit location, he found some Punjabi soldiers left on the unit premises. Hemayet disposed of them, and with the assistance of local people managed to get hold of some weapons. He moved out with his forces to Faridpur via Kapashia. After making a long journey on 14 May, Hemayet attacked Kotalipara PS. He was able to organise a sizable force with the weapons collected from Kotalipara operation.
Hemayet Bahini officially began its operation on 29 May at Batra Bazar near the Gauro River. He enlisted around 5,000 Freedom Fighters in this group. This team also had 45 female Freedom Fighters who had actively contributed to the war. After he defended Rajapur camp against a Pakistani attack, the local support rose to the peak. Inspired by the achievement of this group, many youths voluntarily joined it. He conducted a successful mission against the Pakistani soldiers at Tungipara on 11 July. Hemayet Uddin was shot in his leg in the battle of Ramshil village. After necessary healing, on 15 September, Hemayet attacked the Kotalipara PS for the second time. Throughout the liberation war, this group of guerrilla fighters made it difficult and dangerous for the Pakistani forces to operate in the areas of Gopalganj, Barisal, Faridpur and Madaripur districts (see Fig. 6.1). It destroyed the Pakistani camps stationed in the warehouse of Jessore, Kurpana Community Centre and Gopalganj Madrasa.
Akbar Bahini: In 1971, Akbar Hossain Miah was the Chairman of Srikul Union in Sreepur PS of Magura. Immediately after the outbreak of war, Akbar Hossain devoted himself in organising a group of fighters. The majority of the members of Akbar Bahini were extracted from amongst the locals of Sreepur area (see Fig. 6.1).
Hence, most of the people knew this force as Sreepur Bahini also. Local leaders of Magura, the people and the volunteers wholeheartedly helped Akbar to organise his fighters. Akbar Bahini started operating with only six rifles and some ammunition. As time passed, it eventually became a strong team of 800 Freedom Fighters. In the early days of the war, on 17 April, he attacked Sreepur PS at around 2300 hours and achieved a spectacular result.
Subsequently, by undertaking many operations, he caused immense damage to the Pakistan Army. Among the pitched battles, he conducted the battles of Alkapur and Sreepur, launched an attack on Isakhada Razakar camp, Magura Ansar camp, led the battles of Mashlia, Boroipara, Khamarpara, Bakol, Magura etc. which were noteworthy. Though the Akbar Bahini fought independently, yet they had good coordination with officers of Sector 8. They remained in contact with Sector 8 commander, Maj. Manjur, who used to advise them on operational planning and sometimes supplied them with arms and ammunition collected from India.
Forces of Engineer Abul Hossain: Engineer Abul Hossain is a well-known Freedom Fighter who performed an admirable role during the liberation war of 1971. He will be remembered for his heroic role as a frontline fighter and also as a dedicated organiser. By mid-April 1971, Engineer Abul Hossain left for India with 175 youths from the Char areas of Tangail and received military training under Brig Sansingh Babaji in Raushon Ara Camp of Tura. Eventually, the strength of his force rose to 1250. After successful completion of training, Abul Hossain and his men joined the war with Sector 11 under Maj Taher. He participated in some successful battles in Sherpur, Jamalpur, Haluaghat and Mymensingh areas (see Fig. 6.1) He led his men from the front in around 17 or 18 battles of which quite a few were very crucial. The leading Freedom Fighters of his group were Md Shahjahan Miah of Thana Para, Ali of Dighulia, Korban Ali of Anahola, Moyez of Pathrail, Abdul Jalil of Kuchia, Mokaddes Al Mamun of Kakua, Sanwar Hossain of Delduar, Selim of Rupshijatra and Rafiqul Islam Rafique of Chak Gopal. Of all the battles, Kamalpur, VayaDanga and Haluaghat battles were very significant. In Vaya Danga village of Sribordi PS under Sherpur district, a bloody battle took place between the Freedom Fighters and the Pakistani forces. Freedom Fighter Abu Taher fought gallantly and stopped the advancing Pakistani forces with his LMG which ensured safe withdrawal of the others. During the battle, Abu Taher and Abdul Gani tried to rescue an injured comrade carrying him on their shoulders. As they entered a house for safety. They  unfortunately, confronted some Pakistani collaborators. The Freedom Fighters got trapped and were killed by the Pakistani forces. As the Pakistani forces abandoned the place, the locals buried the dead bodies as per ritual. Later on, the Freedom Fighters picked those Razakars and Al Badar members and meted out severest punishment to them. Much later a monument was constructed in honour of these martyrs in Sribordi area commemorating their sacrifice.
Engineer Abul Hossain performed remarkably well in the Battle of Kamalpur. It was one of the fiercest battles of the entire liberation war. This battle raged for a couple of days, and both sides suffered massive loss of lives. Lt Col Taher was injured in this battle. As preparatory work, Taher, including his small reconnaissance team, was confirming the enemy locations from the Indian side of the border. While entering Bangladesh, suddenly he was hit by a 2-inch mortar shell that took off his leg. Freedom Fighter Jahurul Haque Munshi and others immediately carried him to a safer place. Engineer Abul Hossain was operating in the same battle zone, and he readily came to Taher's aid. He instantly contacted Indian Brig Sant Singh and arranged for Taher's treatment. For advanced treatment, he was evacuated to an Indian hospital by helicopter under the arrangement of Brig. Sant Singh.
Engineer Abul Hossain was tasked to attack the Pakistani location at Haluaghat from the Kamalpur area. Abul Hossain and his force developed the route for 6 Bihar Battalion from Valur Hills of India up to Bangladesh. His force also cleared the mines and secured the road for the Indian forces and on December 5-6 facilitated the attack on Pakistani forces in Haluaghat. Initially, the enemy repulsed the attack, but in the face of massive Indian air strafing, they had to withdraw. Abul Hossain and his team fought vigorously alongside Indian 6 Bihar Battalion and played a significant role in this battle. After liberating Haluaghat, Engineer Abul Hossain and his group advanced with the Indian forces towards Mymensingh. After capturing Phulpur, a fierce battle was fought between the Pakistanis and the Allied forces in Mymensingh. Pakistani side conceded heavy casualties in this battle where one colonel and a few officers were killed. A total of 551 Pakistani troops surrendered after this battle. After liberating Mymensingh, Brig Sant Singh tasked Engineer Abul Hossain to maintain law and order in this area which he efficiently performed. Col Osmani also acknowledged the outstanding contribution of Engineer Abul Hossain both for his leadership and organising skills.
Baten Bahini :The Baten Bahini was formed under the leadership of Khondokar Abdul Baten Chowdhury centering on the Kolora village of south Tangail. Initially, Baten Bahini was a part of Kaderia Bahini. However, due to ideological differences and conflicts over leadership issues, Khondokar Abdul Baten Chowdhury left Kaderia Bahini along with his followers and formed a new force. The operational area of this team covered the entire south Tangail, some parts of Dhaka and Gazipur area, southern areas of Manikganj and a vast area of Pabna and Sirajganj (see Fig. 6.1). Divided into twenty-one companies, Baten Bahini had around 3,500 members. This force was well organised in its different divisions that included military training, civil administration, security, food, finance, justice, public relations and political training. Only four rifles were the first collection of weapons of Baten Bahini. In due course of time, every member of this group had his own weapon which was collected from the enemy. The remarkable operations of this group were, the attack on Daulatpur PS on 17 May, Chowhani PS of Sirajganj and Ghior PS of Manikganj at the end of May, Paturia PS on 14 August, Ragabpur PS and the Dholla Bridge operation of Mirzapur in November 1971. T1is force also contributed to a great extent by neutralizing numerous Razakars. To circulate the news of operations in different areas of the country, they used to publish a magazine named Agnishikha.
Kuddus Bahini: The Kuddus Bahini was formed under the leadership of Abdul Kuddus. He was a brave man from Muladi, Barisal. When the liberation war started, he quickly organised a small force with some volunteers and a few retired military personnel. They began with small-scale guerrilla operations against the Pakistanis and used to snatch weapons from the enemy. Thereby, slowly and gradually his force gained strength and became a terror to the Pakistani forces. His force was divided into several small groups and conducted many raids and ambushes on the Pakistani locations and convoys. They operated in Mehendiganj, Muladi, Hizla and other parts of greater Barisal (see Fig. 6.1).
Capt Shahjahan helped this force with arms and ammunition. He also used to guide them in planning including the conduct of operations. Abdul Kuddus was awarded the gallantry award Bir Protik for his courageous role in the war.
Gafur Bahini: This force was formed at the very beginning of our liberation war. The first initiative was taken by Abdul Gafur, Mohiuddin Manik and Benilal Das Gupta in organising a group of Freedom Fighters to resist the Pakistani forces south of Barisal. However, this Bahini was popularly known as Gafur Bahini. The Bahini used to conduct guerrilla operations in different areas of Banaripara, Jhalakathi, Pirojpur, Swarupkathi, and in the neighbouring regions (see Fig. 6.1). When Capt Shahjahan established his sub-sector in the southwestern part of Bangladesh, the Gafur Bahini merged with the force of Capt Shahjahan and conducted many successful operations. This force also had coordination with Mujib Bahini. Notably, they used to get arms and ammunition support from Abul Hasnat Abdullah, Camp Comd. of Kodaldoa Camp (Agailjhara, Barisal).The courage and dedication of Gafur Bahini was praiseworthy, and Abdul Gafur and Mohiuddin Manik, each was awarded Bir Protik for their invaluable contribution.
ANALYSIS
When the war broke out, there was no dearth of volunteers to fight for the nation. Among them, we had retired military personnel, student leaders and courageous bands of youths. Due to lack of structured process and conducive environment, not everyone could join Bangladesh forces. Besides, supervision of the Indian authorities and lack of trust within and beyond the Government also worked as triggers and inspired many to assume leadership at local level. It was understandable that owing to the young demographic profile; the Mujib Bahini members would be relatively more radical in their orientation. There would have been no criticism at all had the Government in Exile, Mujib Bahini and the Indian Secret force took steps to reduce their differences. However, the overall geographical condition favoured the active employment and functioning of the small-scale guerrilla  operations. Utilising the advantages of small unit operations, these irregular forces made  full use of the terrain and contributed significantly to the overall war efforts of Bangladesh forces.
The writer is Military Secretary to the President, People's Republic of Bangladesh.
The article is an excerpt from the book by the writer titled '1971 Resistance, Resilience and Redemption'.