Southeast University
The ways we are meeting the challenges of our time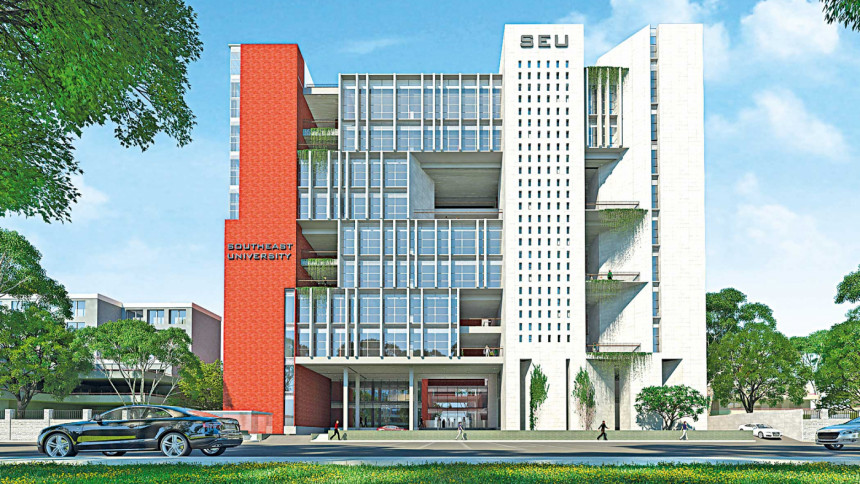 Southeast University (SEU) began its journey in June 2002. Dedicated educationists and philanthropists established SEU with the goal to impart quality education at affordable prices.
The increasing demand for quality higher education in Bangladesh was also, in part, a reason behind the creation of SEU. In the SCImago Institutions Rankings 2022, SEU was ranked the number one university in Bangladesh.
The School of Science and Engineering, School of Business, and School of Arts and Social Sciences comprise of 10 departments, offering more than 15 programmes. Students may design their own pathways by selecting a unique set of courses to complete degree programmes. Courses are updated once every four years as per the University Grants Commission (UGC) guideline. Mandatory general education courses are offered according to recently published Bangladesh National Qualifications Framework (BNQF) guidelines. SEU's philosophy is to develop human capital by fostering creative thinking in their students.
Many of SEU's faculty members are foreign degree holders, and they are retrained regularly to ensure that their skills are always up-to-date. Seminars and workshops are organised regularly to bring on board the latest teaching techniques for the faculty members. Additionally, research funds are allocated to faculty members to carry out independent research. SEU's research institute is called the Institute of Research and Training where departments and schools of SEU carry out their research independently. A few faculty members are also presently conducting externally-funded research, and in the future, SEU hopes to establish even more exceptional teaching and research centres.
Two-way communication, PowerPoint presentations, case studies and on-the-spot training are some of the learning methods applied by teachers in the classrooms. Student feedback is also carefully observed through end-of-semester evaluations. At the same time, students can file complaints if necessary.
At present, SEU's laboratories are equipped with modern facilities. As prescribed by accreditation bodies and the UGC, the laboratories are frequently upgraded to stay on the cutting edge. The Textile, EEE, CSE and Pharmacy laboratories are equipped with modern technologies and machinery. Computer laboratories are also available for students, through which they can access the internet for academic purposes.
The central library is where students can access the computers and the internet, and it is linked with an international consortium called INASP/PERI and also with UGC e-resources. Some of SEU's academic departments have their own libraries as well.
Currently, SEU is developing an integrated software system for the overall management of the university. Once implemented, students will be able to exchange messages and access relevant information regarding pre-registration, registration, payments, academic materials, academic performance and other issues through this platform. In the future, SEU plans to digitise their library completely so that students can access library resources from any location. Moreover, plans are in place to digitise classrooms in the near future.
SEU views extra-curricular activities as fundamental to the physical and intellectual development and growth of its students. SEU's 18 central clubs include the Debate Club, Games and Sports Club, Movie and Drama Club, Tourism and Photography Club, Language and Literature Club, Social Services Club and many more. Department-based clubs are also active.
Departments and clubs regularly arrange workshops and seminars for students. The topics of these workshops and seminars usually encompass current issues, taking into account suggestions from the students and faculties. These programmes also facilitate the opportunity to bring experts from different fields as guests or judges.
One of SEU's objectives has been to address the rising cost of higher education in Bangladesh over the last decade. Due to limited number of seats in public universities, private universities are now acting as the alternative. While many students in our country have to forego attending private universities due to financial restrictions, SEU has tried its best to ensure that its fees are reasonable. At the same time, facilities such as instalments are also available to reduce the financial burden.
SEU provides annual scholarships and tuition waivers to the children of freedom fighters, meritorious students, and underprivileged students. In this regard, approximately BDT 12 crore is spent each year. Recently, an MoU was signed between SEU and a local bank which will pave the way for the provision of student loans.
SEU aims to adhere to gender-specific approaches. Hostel facilities are readily available for female students. Also, SEU employs physicians for students' healthcare. A doctor is always available on campus and is prepared to help students.
The Centre for Professional Development Services (CPDS) is responsible for arranging internships and job placements for students. The Centre nurtures soft skills, technical skills, and computer literacy skills of final semester students. On special occasions, job fairs are organised, which gives SEU students access to job opportunities.
It is SEU's stance that they provide cost-effective, world class, higher education to the students of Bangladesh. The objective of SEU is to equip its students with the required competencies necessary for the 21st century. With Bangladesh on its quest for development, SEU hopes to aid the country through its students in the future.