Notre Dame University Bangladesh
The courage to see and the competence to act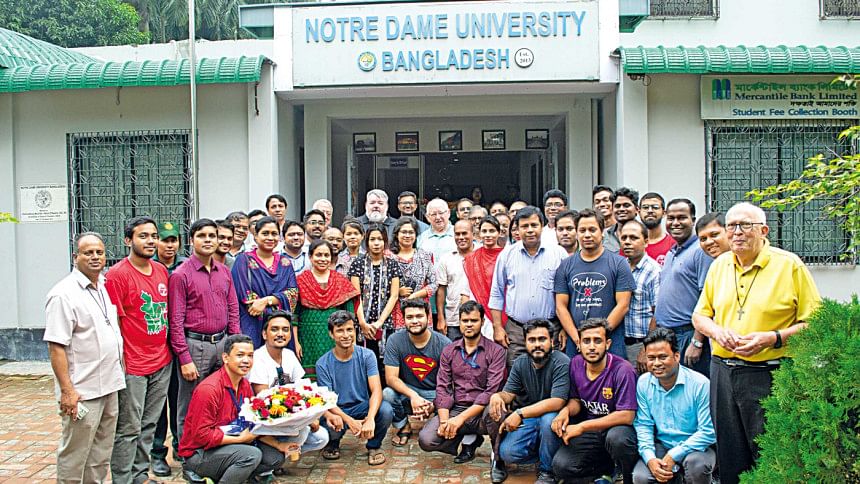 With its motto "The Courage to see and the competence to act", as a non-profit institution, Notre Dame University Bangladesh (NDUB) has been an advocate for globalisation.  Inspired by this vision, the university opened its doors, aspiring to offer English as one of their prime academic streams since its inception in 2014.
Alongside offering a Bachelors programme in English, NDUB also offers undergraduate programmes in various other streams including Business Administration, Economics, Law, and Computer Science and Engineering (CSE). Master's programmes in the streams of Business, English and Law are also underway at the institution. The university's library provides resources for all these fields.
Under the guidance of Professor Golam Sarwar Chowdhury, the chair of the Department of English, the faculty of English is currently looking forward to integrating the Outcome-based Education (OBE) scheme for its students. "This way, we can ensure that our students are well equipped to utilise their gathered knowledge from class into their professional career," he shared.
Their undergraduate programme, leading to a Bachelor of Arts in English Language and Literature, consists of 129 credits and gives students the opportunity to select a major in their desired stream (applied linguistics, English language teaching or literature). The credit hours are smartly distributed to include general education courses, core courses, and major courses, with an internship or thesis designed to complete the four-year programme.
A Master's programme, comprising 36 credits is also offered regularly in both the streams.
Aiming to reach the global standards, the department of English has been formulating certain upskilling programmes for their faculty members as well as students especially through collaboration with the University of Notre Dame, Indiana, USA (UND).
A special feature of this collaboration allows NDUB to send one faculty member from the English Department to the United States each year for a 10-month training programme.  This fellowship at UND's Center for the Study of Languages and Culture (CSLC) requires the visiting professor to actively participate in language teaching seminars, as well as to upgrade their technological skills
So far, four professors have already finished the training and returned to NDUB in Bangladesh where they are currently serving in the department of English.
"While visiting the States, I was exposed to a lot of opportunities, especially in the field of education technology which I found to be interesting, creative and rewarding," shares Assistant Professor Habiba Akter from the department of English, the first teacher to spend a year at the CSLC.
Upon returning, she joined with another faculty member, Fr Thomas McDermott, CSC, to establish the NDUB Language Center (NDUB LC). The NDUB Language Center looks to fill in the gaps to assist students when it comes to their English proficiency. Alongside academic counselling, the NDUB LC also provides a listening lab, peer-tutoring, remedial courses, and workshops on specific topics related to language use.
"While we look to maximise the utility of our own resources, we are also very enthusiastic to make collaborations with professors, institutions, or any other organisations which share our purpose," adds Habiba Akter who also serves as the programme director of the NDUB LC.
Drawing upon its strong bond with CSLC in the USA, some junior staff members of the NDUB LC also had the opportunity to visit the CSLC for a fully funded training programme lasting four weeks. These staff members, who recently graduated from the English department after completing their Bachelor's degree, are currently pursuing their Master's course at the same institution.
"The university has very keen interest in facilitating the bright students with full-time job opportunities on the campus. This tradition particularly helps to motivate any student to secure a workplace in the same institute," according to Shahrear Amin, an associate at the NDUB LC. While Shahrear actively participates in the activities of the NDUB LC, he also works as a teaching assistant under various professors teaching undergraduates.
In addition to working at the language centre, current students of NDUB may find work in other campus part-time opportunities, between their classes, in exchange for tuition fee reduction and hands-on experience. Service projects and club activities are included among the extra-curricular activities. 
Another notable programme that has been introduced involves a weekend seminar at an off-campus site where students and faculty meet in a casual setting to discuss important questions of contemporary importance.  Called "Fullness of Life" sessions, these have proven to be a high point for many participants.
Waivers in twelve categories, including special discounts for meritorious students, persons with disabilities, and underprivileged individuals, are also available for students of NDUB. 
"We are currently redesigning our curriculum to fit the international standards," notes Dr Fr Patrick Gaffney, CSC, Vice Chancellor of NDUB, who is also an active faculty in the department of English. NDUB is currently looking forward to move to their new, and much larger permanent building located on its campus at Motijheel, by the end of this year.
"Once we have the space, we will look to expand several academic programmes in existing departments as well as bring in some new departments and add new resources.  We seek to live up to the reputation that Notre Dame has gained in the country and around the world as we strive to achieve excellence in learning while building character and enhancing the humane values of our students," he concluded.