A glimpse into the domestic cable industry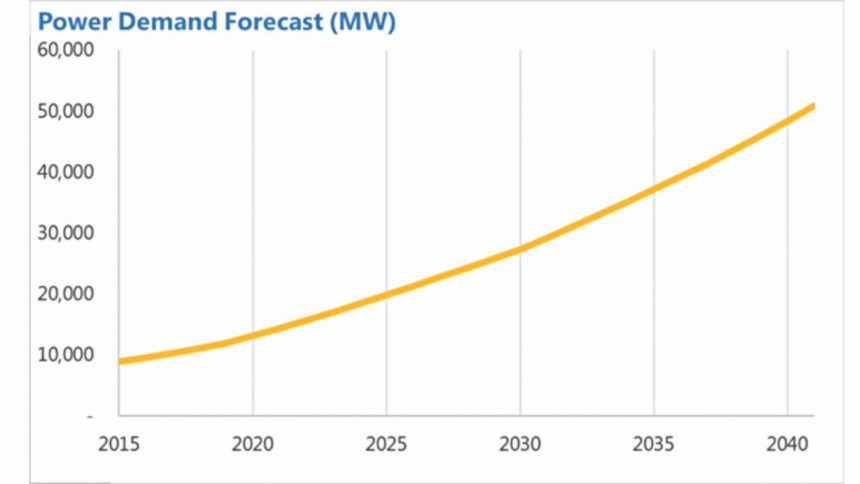 The government's push for increased power generation and rapid urbanisation and industrialisation, buoys demand for cable, ushering hopes of business among manufacturers in the next couple of decades.
"A large number of people still do not have access to electricity. We believe demand for cable will remain high in the next fifty years. Today, electricity has become one of our basic needs like rice and pulse," says Md Rafiqul Islam Rony, head of marketing of BRB Cable Industries Ltd, the country's biggest cable manufacturer.
According to industry executives, demand for cable is growing by up to 20-25 percent a year and the buoyancy will facilitate the industry—worth Tk 4,000–5,000 crore—to expand further.
Nearly a decade ago, the market was worth Tk 1,500–2,000 crore when the country had about 5,000MW of electricity generation capacity.
Power generation capacity increased to 15,379MW in February 2017 from 5,245MW in fiscal 2005-06. Electricity transmission has also expanded to 10,376 circuit kilometres as of February this year, according to Bangladesh Economic Review (BER) 2017 published by the finance ministry.
Operators say this expansion buoyed demand not only for power cables but also for domestic cables.
Mr Rony says that only 10–15 percent of the population had access to electricity when BRB began its journey in 1978.  Now, 80 percent of the 16 crore population have access to electricity, including renewable energy, according to BER 2017.
The government aims to ensure electricity to all by 2021 by generating 24,000MW of electricity and installing 12,000 circuit kilometres of transmission line, according to BER 2017.
Prior to the entry of BRB, a few firms, including state-run Eastern Cables Ltd, were engaged in cable manufacturing. Later, more manufacturers such as Paradise Cables Ltd (PCL) made their foray into the cable industry to secure a slice of the growing market.
Recently, Partex Cables Ltd hit the market. Among others, RFL Electronics, a concern of PRAN-RFL Group, and BBS Cables entered the market in 2012 and 2009, respectively.
And increasing entry of local manufacturers has facilitated the industry to become self-sufficient and reduce import dependence.
Industry executives say power sector and industrial units are the two major consumers of locally-produced cables followed by households.
Currently, there are 120 cable manufacturers and a dozen of them dominate the market, namely BRB, Paradise and state-run Eastern Cables, according to Mr Rony of BRB Cable.
Kamruzzaman Kamal, director of marketing of PRAN-RFL Group, states that rising urbanisation increases the prospects of the cable industry. Cable is an essential construction material, he says.
At present, one-third of the population of Bangladesh live in urban areas and urban population grew by 2.4 percent annually between 2010 and 2015, according to World Urbanization Prospects 2014 released by the United Nations.
The urban population will rise to 11.24 crore of the population by 2050 from 5.31 crore in 2014, according to the UN.
 "High-rise buildings will replace today's small buildings, concrete houses will replace tin-shed houses," says Mr Rony.
However, the sector has to rely on the international market for raw materials, mainly copper and aluminium. Manufacturers also have to buy raw materials to make insulators.
The sector faces the problem of duplicate or counterfeit cables of popular companies such as BRB and Eastern Cables. 
Mr Rony says that BRB has opened showrooms in districts so that buyers are not deceived. He urges the government to take steps to eliminate the factories that make counterfeit cables.
Substandard cables are risky. They can lead to short circuits and create other problems. Their use should be stopped to ensure safety, states Mr Rony.
"If we can improve quality, we can save electricity, reduce costs, and increase the longevity of cables," he adds.
Mohammed Farhan Mosharraf, director of PCL, says that quality cables ensure low electricity consumption unlike substandard cables. Users of quality cables can save up to 20-25 percent in their electricity bills, he claims.
Another problem is import of cables through under-invoicing, which hurts domestic manufacturers.
According to Mr Rony, huge investment in the cable industry is necessary. And quality is the key to do well in the sector, he adds.  
"No one will be able to sustain in the long run if they compromise quality. At the end of the day, faulty cables will only result in companies losing credibility. We can only survive by ensuring quality," he concludes.