The Key to a Happy Fridge: Expert Maintenance Tips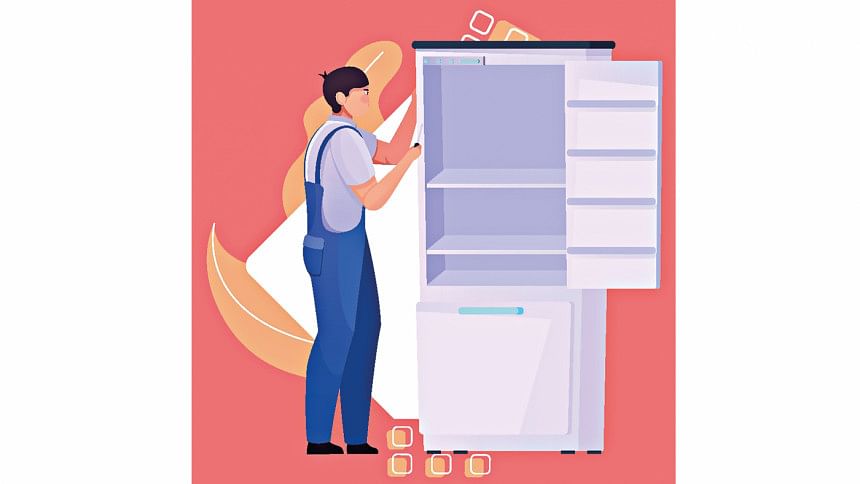 As Eid-ul-Azha approaches, households buzz with preparations for the joyous occasion. Amidst the anticipation of delightful feasts and sharing in the spirit of generosity, one often overlooked but vital aspect is the proper maintenance of our refrigerators during this festive season. With an abundance of fresh meat and ingredients being stored, it becomes crucial to ensure that our fridge is in optimal condition to handle the load.
Let's explore the expert tips that will help you maintain a happy fridge, allowing you to store and preserve your Eid-ul-Azha provisions with confidence, ensuring a seamless and enjoyable celebration.
Regular Cleaning
To maintain a clean and hygienic fridge during the festive season of Eid-ul-Azha, it is important to perform regular cleaning both inside and outside. Wipe down shelves, walls, and door seals with a mild detergent and warm water to remove any spills, food residues, and sticky substances.
Follow the advice of Md Nurul Afser, the Deputy Managing Director of Electromart Ltd, who suggests placing a small bowl filled with lime and vinegar in your refrigerator for a full day to eliminate odors and keep it smelling fresh. Additionally, for cleaning the freezer, begin by unplugging the refrigerator and removing all items. Use baking soda to wipe the freezer, then rinse with clean water and a cloth.
Defrosting
To ensure optimum chilling performance, prevent ice and frost build-up, and extend the lifespan of your manual defrost refrigerator, it is essential to routinely defrost it. Follow the defrosting schedule and instructions provided by the manufacturer. Prioritize finding alternative storage for perishable foods and discard any items that may spoil. Switch off the refrigerator and set up trays or cloths to catch the melting ice, allowing it to naturally defrost. Once defrosting is complete, clean the inside surfaces with a light detergent and a clean cloth, ensuring they are thoroughly dry. These comprehensive defrosting procedures will keep your food fresh, preserve efficiency, and ensure that your refrigerator operates at its peak performance level.
Temperature Setting
By setting your fridge and deep fridge at the optimal temperature settings, you can achieve the dual benefits of maximizing food preservation and energy efficiency. Tofail Ahmed, Chief Business Officer of Walton Refrigerator, advises keeping your refrigerator temperature between 35.6°F (2°C) and 41°F (5°C) to ensure food safety. For the freezer, it should be set to 0°F (-18°C) or below.
Ahmed emphasizes the importance of minimizing temperature fluctuations by reducing the duration and frequency of door openings, as this helps maintain a stable temperature inside the refrigerator.
Proper Food Organization
To ensure food safety and maintain freshness, it is important to organize your refrigerator and deep refrigerator strategically. Prevent cross-contamination by storing raw fish, meat, and poultry in sealed containers or separate drawers. For optimal cooling, place perishable foods in the coldest areas of the fridge, such as the back or lower shelves.
According to Rokonuzzaman, ASM of Transcom Electronics Limited, it is recommended to use the upper shelves of the refrigerator for storing leftovers, drinks, and ready-to-eat foods like yogurt and cheese. On the other hand, the lower shelves should be reserved for raw ingredients that will be used in cooked dishes. Keep in mind that the refrigerator door tends to be the warmest area, so it is best utilized for storing condiments.
Avoid overloading your refrigerator and deep fridge to get the most out of the cooling process.
Check Door Seals
Regularly inspecting the door seals (gaskets) of your refrigerator and deep refrigerator is crucial for maintaining maximum cooling effectiveness. Damaged or worn-out seals can lead to temperature fluctuations, air leakage, and energy loss. It is essential to ensure a tight seal when the door is closed by regularly cleaning the seals. Any broken seals should be promptly replaced to ensure optimal cooling efficiency.
When it comes to cleaning the door seals, Rokonuzzaman suggests using a vinegar solution that effectively removes bacteria without being too harsh on the gasket. He recommends a mixture of one part vinegar to two parts of water for cleaning the gasket.
Power Backup Arrangements
Protect your freezer and refrigerator during power outages by using voltage stabilizers or UPS systems. The advancements in technology have introduced improved power backup solutions, which contribute to longer appliance lifespan.
Regular Servicing
Arrange for skilled professionals to perform routine maintenance and servicing on your refrigerator and deep fridge. Early inspections can identify potential issues and address them before they escalate into more serious problems. When seeking maintenance services, look for competent experts or authorized service providers who have experience with your specific appliance brand.
Timely maintenance is crucial, as emphasized by Md Nurul Afser. He highlights that neglecting maintenance can turn your refrigerator into a breeding ground for bacteria, posing a risk to food safety and the health of everyone in the household. Nurul Afser suggests giving it a quick wipe regularly and scheduling a thorough cleaning at least once a month.
With these above-mentioned practices in place, you can enjoy the benefits of a well-maintained appliance, keeping your food fresh, minimizing energy consumption, and contributing to a healthier and more enjoyable Eid-ul-Azha celebration and beyond. Remember, a little effort in maintaining your fridge goes a long way in enhancing its functionality and extending its lifespan.