Celebrate Eid-ul-Azha in Style with the Best Refrigerator Features in Bangladesh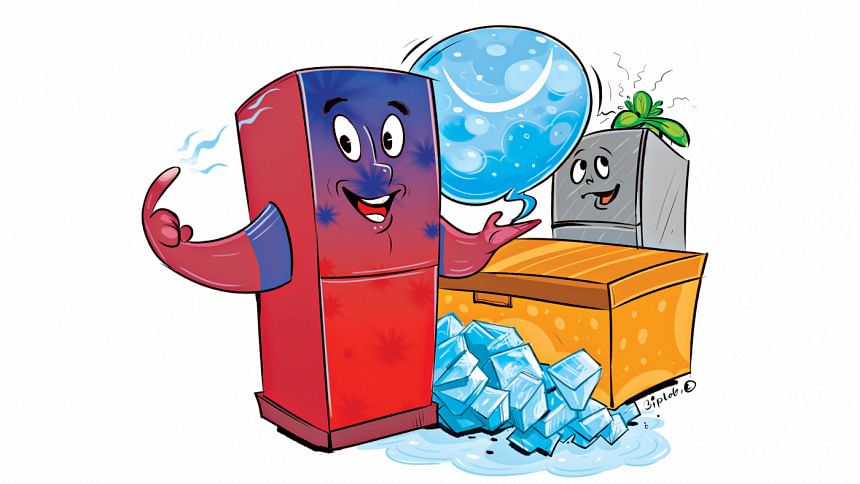 Eid-ul-Azha, also known as the Festival of Sacrifice, is a joyous occasion that brings families and friends together to commemorate the spirit of sacrifice and sharing. As you prepare for this special festival, it is essential to have a well-equipped kitchen that can cater to your culinary needs. In this article, we will explore a range of refrigerator features specifically designed to enhance your Eid-ul-Azha celebrations. From advanced cooling technologies to spacious storage options, we will delve into the top-notch features that will simplify your cooking, preserve your delicious creations, and elevate your Eid experience.
One of the key features that can greatly enhance your Eid-ul-Azha cooking experience is the availability of adjustable shelves and compartments in modern refrigerators.
Abdullah Al-Mamun, Deputy Director of PR Media & Branding at Walton, highlights the advantages of this feature, stating, "Walton refrigerators have flexible compartments that can be reconfigured or removed to create additional storage space. This flexibility allows you to optimize the storage layout and easily accommodate items of varying sizes and shapes." With the ability to adjust the shelves and compartments, you can seamlessly organize your groceries, marinated meats, and other ingredients for the upcoming festive preparations.
In addition to adjustable storage, modern fridges have embraced frost-free technology, which significantly reduces the hassle of defrosting. Gone are the days of manually scraping off ice buildup inside the fridge. Now, with frost-free technology, such as the Hitachi French bottom freezer available at Transcom Limited, you can say goodbye to the tedious task of defrosting. Hitachi's Selectable Zone feature even allows you to keep meat and fish fresh with its Soft Freeze settings, enabling you to cook instantly without the need for defrosting.
Furthermore, the inclusion of separate temperature zones in modern refrigerators offers added convenience and preservation for different types of food. These separate zones maintain optimal storage conditions, ensuring that each food item stays fresh and flavorsome, while also preventing the mingling of odors and flavors. Al-Mamun explains, "Single-door fridges have a chilled zone to maintain freezing temperatures for foods. In non-frost refrigerators, Walton offers a Fresh Zone dedicated to preserving non-frozen items, while frost refrigerators feature a Vegetable zone to keep vegetables fresh with controlled humidity." This feature allows you to store your groceries with confidence, knowing that they will be maintained at their ideal temperature and humidity levels.
Additionally, Vision refrigerators take it a step further with separate drawers that provide higher air circulation compared to other compartments. Mohit Chakraborty, Head of Marketing at Vision Refrigerators, emphasizes the advantages, stating, "Vision fridges have separate drawers with higher air circulation than the other compartments, making the storage space cooler."
This feature ensures that specific items requiring cooler temperatures, such as dairy products or delicate desserts, can be stored in an optimal environment. When it comes to preparing for Eid-ul-Azha, refrigerators with quick cooling and freezing features prove to be indispensable. With the festival just around the corner, these cutting-edge innovations are your best options to ensure food quality and minimize temperature fluctuations, guaranteeing that your ingredients remain safe and fresh. For instance, Konka freezers offer supreme freezing capacity, allowing you to freeze meat and food items efficiently. On the other hand, Hitachi refrigerators from Transcom Limited feature a Quick Cooling mode that rapidly cools your fridge, enabling you to freeze your meat or food quickly.
In Bangladesh's scorching summers, refrigerators with integrated water and ice dispensers become particularly valuable. Transcom Limited's Hitachi French Bottom Freezer goes the extra mile by automatically and continuously producing ice cubes when you fill the water tank. This eliminates the need for manual ice tray filling. Mohit, the Head of Marketing at Vision Refrigerators, adds, "Vision fridges have external water dispensers that facilitate convenience in people's lives. It eliminates the repetitive activity of putting bottles to store chilled water." With these refrigerators, you can enjoy cold water and ice cubes at your convenience, saving you time and effort.
Modern refrigerators have embraced sleek styles with digital displays, adding a touch of elegance to your kitchen. These displays not only enhance the aesthetics but also provide a user-friendly interface for temperature control. Mohit shares an example, stating, "Vision Double Door fridge displays the temperature and helps set the optimal temperature for the food items." This feature allows you to easily adjust the temperature settings with a simple touch, ensuring that your food stays fresh for longer durations. Additionally, digital displays and temperature controls are available in fridges from other reputable companies as well, providing you with intuitive control over the storage conditions of your food.
Taking it a step further, Jamuna Refrigerator is introducing temperature control by app along with digital touch display. "No matter where you are, you can check the temperature inside your fridge and change it just by a click on your phone screen", adds Salim Ullah Salim, Director of Marketing at Jamuna Electronics and Automobiles Ltd. They also have built-in Bluetooth music that can be operated through the app as well.
One common challenge in refrigerators is food odor and cross-contamination. With a variety of food items stored in the fridge, from leftovers to fish, meat, and vegetables, the flavors can mix, and odors can build up over time. To combat this issue, Konka fridges incorporate an activated carbon deodorizer that maintains food quality by deactivating up to 99.9% of bacteria. Nurul Afser highlights the benefits, stating, "It does not allow the flavor of one food to be mixed with another food." Similarly, Hitachi fridges employ a triple power filter that removes bacteria and odors, ensuring your fridge remains fresh and clean.
In a country like Bangladesh, where energy consumption is a growing concern, refrigerator manufacturers have introduced new technologies to increase energy efficiency. Transcom Digital has incorporated Vacuum Insulation Panel (VIP) Technology into their Hitachi fridges. This technology utilizes a thin panel with a fine glass fiber vacuum inside, providing high heat insulation performance. By preventing external heat from escaping, the VIP Technology ensures energy savings, making these fridges more efficient in their energy consumption.
Recognizing the voltage fluctuation issues that occur in many areas, Md Nurul Afser, Deputy Managing Director of Electro Mart Ltd, addresses the problem by introducing wide voltage range functionality in Konka fridges. This feature allows the fridges to operate smoothly even when the electricity voltage fluctuates between 125 to 265 volts, eliminating the need for a separate voltage stabilizer in such cases. This innovation not only enhances convenience but also helps overcome challenges related to voltage irregularities.
As you prepare to celebrate Eid-ul-Azha, the best refrigerator features in Bangladesh offer a wide range of functionalities that elevate convenience and efficiency. With these remarkable features, your kitchen becomes a hub of culinary excellence, enabling you to create delightful feasts and share the joy with your loved ones.