Best Financial Institution
City Bank transforms through innovations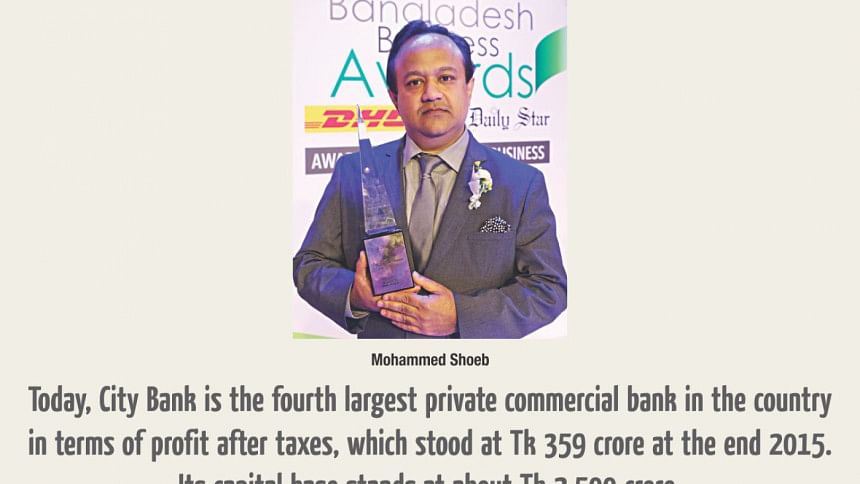 Merely four private banks were in operation in Bangladesh in 1983, when 13 visionary entrepreneurs jointly set up a commercial bank with paid-up capital of Tk 3.4 crore.
The bank, which was christened City Bank, ran up losses of about Tk 1 lakh in its first year of operation.
The losses did not continue for long, with the bank logging in profit of Tk 1.2 crore the very next year. There was no looking back since.
Today, City Bank is the fourth largest private commercial bank in the country in terms of profit after taxes, which stood at Tk 359 crore at the end 2015 -- the last available data. Its capital base stands at about Tk 2,500 crore.
In its journey, the bank underwent two major transformations. The first change took place in the 2000s, when the second generation of sponsors entered the scene.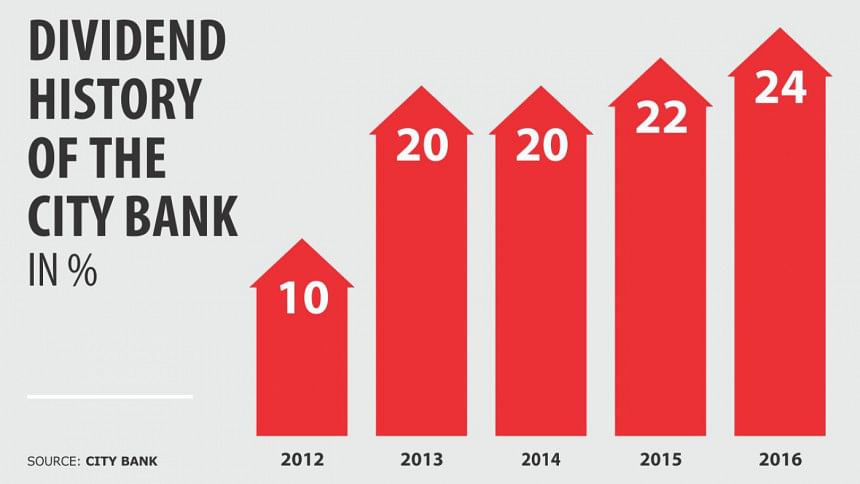 "The bank's progress got pace after the second generation of sponsors took charge," said Sohail RK Hussain, managing director of City Bank.
The sponsors are well-educated and appreciated the use of technology in providing financial solutions.
"Better technology, better practices and better services started coming in during their time," Hussain said.
For instance, City Bank was the first private sector bank to introduce an international system -- core online banking platform -- in 2001.
"It was a major shift," Hussain said, adding that the move ushered in a regime of compliance, data management, customer services and transparency.
Going forward too, the bank wants to focus on technology to better serve its customers and shareholders.
"We have a digital agenda in our mind. We want to be able to grow very fast as the most IT-driven financial institution. We also want to maintain transparency," said Mohammed Shoeb, chairman of the bank.
Its modern banking facilities, superior customer services and excellence in management banking facilities led to its recognition as the 'Best Financial Institution' at this year's Bangladesh Business Awards.
"We are proud to have received this award. It's a much sought-after reward in the banking industry," said Hussain, who began his banking career in 1990.
The bank witnessed another transformation in 2007, when it took a step in changing the management and organisational structure, segmenting its businesses.
The first-generation bank now provides a wide range of financial products, including large corporate banking, commercial banking for mid-size corporations, consumer banking, trade services, priority banking, investment banking, merchant banking, portfolio management, SME, and stock broking and dealing.
Moreover, it is one of the major channels for sending in remittance by the millions of migrant workers thanks to its established relationships with major exchange companies in the Middle East, Europe, the Far East and the US. One of the most popular products of City Bank is the American Express credit card and American Express Gold credit card.
City Bank manages the operations of the brand in Bangladesh by issuing new cards, billing, credit management and marketing. Through the bank, consumers can enjoy savings on retail and dining and other facilities in Bangladesh and across the globe.
It is the top player in the credit card segment, holding a 30 percent market share.
Although City Bank is one of the oldest banks in the country, it undoubtedly has the most modern outlook in terms of product innovation, technology and management style.
It is one of the few banks that do not follow the traditional and geographically managed branches.
Instead, it runs its business and operations vertically from the head office through five strategic units on business, branch banking, risk, operations and support.
It uses a real-time online banking platform and the five distinct units are based on the foundation of a smart IT backbone, robust service delivery and operations. This model has enabled the bank to ensure specialised service to its different customer segments.
The bank currently operates 120 branches that include 99 online branches, an Islamic banking branch, an SME service centre and 11 SME and agri branches across the country.
City Bank is driven by results. Its return on equity stood at 17 percent at the end of last year, while the return on assets grew 2 percent, credit 22 percent, deposits 22 percent, e-commerce transaction 545 percent and earnings per share 9.75 percent.
The bank spent Tk 5 crore in 2016 as part of its corporate social responsibility, up from Tk 3 crore a year earlier.
Hussain said when City Bank first began its journey, the nationalised banks had a market share of 75 percent, private banks around 20 percent and foreign banks the rest.
Now, private banks account for 70 percent of total market share, which depicts the sector's contribution to the development of the country.
"We are one of the oldest banks, and we will lead the market with innovations."
Listed on the stockmarket in 1986, City Bank's net profits more than doubled from a year earlier to Tk 359.31 crore. It is one of the two banks in Bangladesh that is rated BA3 by global credit rating agency Moody's.
Sponsors hold a 30.91 percent stake in City Bank, institutions 18.79 percent, foreign investors 8.08 percent and general public 42.23 percent, according to data from the Dhaka Stock Exchange.