Disabled boy gets a helping hand
Balukhali camp: Few would dispute that life has treated eight-year old Mohammed Junaid harshly. Born with deformities in both legs, his mother died of a sudden illness in their native Myanmar. His father was shot and killed when the family joined the mass exodus of Rohingya refugees to Bangladesh last year.
Junaid survived the journey, and now lives in Balukhali camp with his aunt, two sisters, four brothers and three first cousins.
Junaid's disability makes getting around the hilly terrain of the camp difficult. And getting to the nearest Child-Friendly Space (CFS) run by CODEC, a UNICEF partner, would be impossible were it not for the help he gets from his friend, Omer Farooq, who accompanies him on the 10-minute journey to and from his home.
"I try to walk unaided but it's not easy," Junaid says. "Yet I consider myself to be lucky. If I fall down the other children help me get to my feet."
Omer Farooq is usually the first to provide help.
"He is my best friend," Omer says. "It is my duty to lend my shoulder whenever I can."
The CFS has been a key part of UNICEF's response since the earliest days of the Rohingya refugee crisis. Five days a week, Junaid and other children play games and take part in other activities designed to help them heal from the traumatic experiences most have been through.
"I love playing Ludo and pinball with my friends," he says.
But behind his positive outlook, Junaid fears his disability will cause him problems in future.
"There is no hospital here that can help me," he says. "How will I be able to survive in a camp like this when I find it so hard to walk?"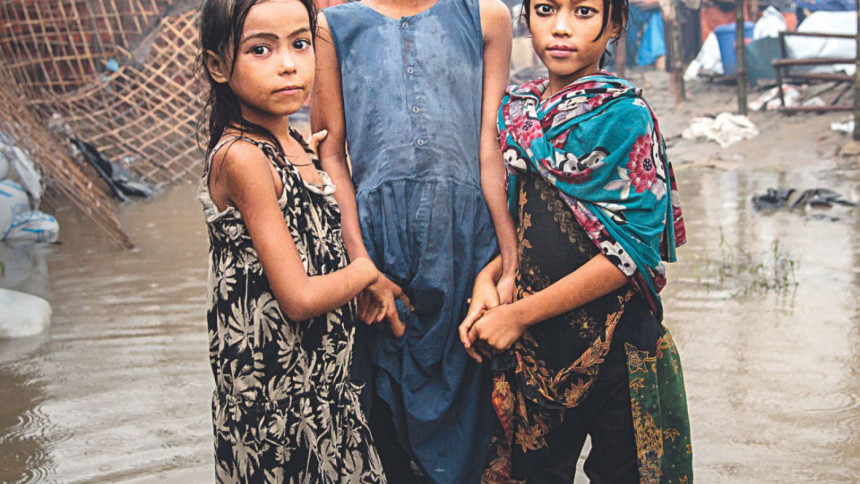 UNICEF and partners support 426 CFS in Rohingya refugee camps and host communities. The spaces provide a safe environment for children to heal, grow and play.
Inside the camp, high levels of gender-based violence and domestic violence have been reported. While beyond the camp perimeter, Rohingya children (and girls in particular) are at risk of sexual exploitation, trafficking, and child labour –illegal practices that have long been prevalent in Cox's Bazar.
In response, UNICEF and its protection partners are working to expand their case management work, focusing on adolescent girls, including many who participate in adolescents' clubs. Around 60,000 adolescent girls and boys have joined the clubs in refugee camps and local communities, which offer them access to life-skills, and knowledge about child rights, alternatives to marriage, under-age hazardous labour, sexual and reproductive health, psychosocial support and other issues.
Rohingya community members sometimes take steps of their own to protect those they deem most at risk – especially adolescent girls who are commonly confined to their homes as soon as they experience their first period (see page 13).
The practice of girls marrying in their early teens is another that the Rohingya – a deeply conservative society – have brought with them to Bangladesh. According to Child Protection Specialist, Shaila Parveen Luna, trying to convince Rohingya families to allow their daughters to mature physically and emotionally before marriage is difficult.
"We discuss it with the mothers but they are not convinced," says Luna. "But at least we are breaking the silence on such issues."