Centre for Energy Research, UIU
The Centre for Energy Research (CER) of United International University has become one of the leading renewable energy research and consultancy centres in Bangladesh. So far it has successfully conducted about 100 renewable energy related projects.
Professor Dr. M Rezwan Khan, the immediate past vice chancellor of the university, shares his experience of establishing the energy research centre with The Daily Star. He has been involved with Infrastructure Development Company Limited (IDCOL), a leading financier in the renewable energy sector in Bangladesh, since its inception. Back in 2010 -11, he visited a solar-based mini-grid project in Sandwip. Since the area was not under electricity coverage and it was too distant to be connected to the national grid, the idea of setting up a stand-alone mini-grid seemed like a possible effective solution. This mini-grid was designed by a foreign company. Dr. Khan observed that the technology used in the grid was not very complex but there was serious shortage of manpower for running and up-scaling these projects. With the idea of building human resource for the renewable energy sector the Centre for Energy Research (CER) was established in September 2010 in United International University under the Department of Electrical and Electronic Engineering.
The centre was established with the aim of enhancing research in the fields of renewable and sustainable energy, ensuring efficient management and utilisation of solar energy and formulation of relevant policy guidelines through research and development, shares Shahriar Ahmed Chowdhury, founding director of research centre.  A state-of-the-art research laboratory is being developed at the centre to carry out test and research in the field of renewable energy.
Under the leadership of Shahriar Chowdhury, the CER team has developed solar PV-based workable mini-grids of different voltage levels. Out of the eleven existing running mini-grids in the rural off grid areas of Bangladesh, ten have been designed by Shahriar Chowdhury. Each mini-grid is a success story of how people who had been living in darkness without access to electricity have been brought to light.
The first ever utility scale grid connected solar PV project of Bangladesh is also designed by Shahriar. The Engreen 3.28 MWp grid connected solar PV project at Sarishabari, Jamalpur has started commercial operation in August, 2017. He is now drafting the net energy metering guideline in Bangladesh for integrating distributed renewable energy systems into the national grid.
Shahriar Ahmed Chowdhury shares that  one of their major research proejcts was the development of solar PV peer-to-peer smart village grid with ME SOLshare Ltd. It includes energy trading among the connected households with or without a solar home system (SHS). The first one was established in Shariatpur which is also the world's first peer-to-peer electricity trading network that interconnects existing solar home systems.
This research pilot project was co-funded by IDCOL and is operated by UBOMUS NGO. The project won the prestigious "InterSolar Award 2016" in the category of "Outstanding Solar Projects" in Munich, Germany. The project also won the United Nation's Momentum for Change Award, 2016" in CoP 22 in Marrakesh, Morocco.
Shahriar Chowdhury explains that the idea is to transform the traditional consumer model where power is distributed from a central generation point into a prosumer model where everyone is a producer as well as a consumer. Each producer of solar energy will share the excess amount of energy with others including those who do not have SHS. SOLshare has the plan to take this project to commercial production. He adds that in the future the present network of houses will be expanded to a whole village, then between villages and finally to the national grid.
Another outstanding ongoing research project of CER is the smart irrigation project. In our existing irrigation practice a lot of water is wasted in consumption process which is putting serious pressure on the reserve of groundwater. Shahriar Chowdhury elucidates that smart irrigation will ensure optimum usage of water in irrigation by measuring the moisture content of soil and water level with prepayment and remote control and monitoring system. A weather forecast system will be added to this project which will indicate the suitable time for irrigation. This smart irrigation system will reduce the current water usage by one-third. Again, they are planning to replace diesel with solar PVs for running the irrigation pumps. Currently, Bangladesh requires 100 crore litres of diesel and around 2000 MW of electric power in peak irrigation season every year for irrigation purposes of which a significant amount of diesel import can be reduced by the introduction of solar-driven irrigation pumps, opines Shahriar Chowdhury.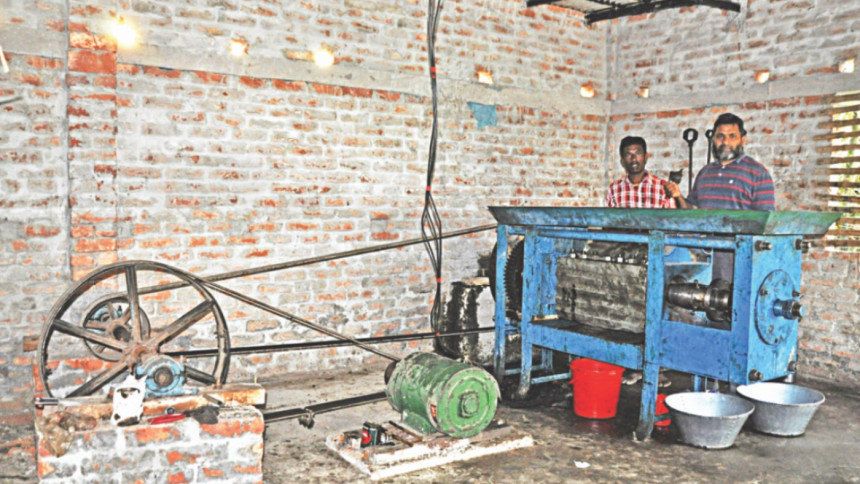 Besides conducting research, CER trains engineers and technicians on solar PV technologies. So far 1,500 engineers and technicians have been trained in this centre. CER is also one of the testing institutions of SHS equipments in Bangladesh for the certification of such equipment according to Bangladesh's SHS standards, informs the director of the centre.
Dr Intekhab Alam, Associate Professor of the EEE Department of UIU, is currently developing solar PV-diesel hybrid mini cold storage for rural off-grid areas. He shares that a cold storage consumes a huge amount of electricity and the challenge is to run cold storages in the off-grid areas. His solution is to establish small cold storages run by solar PV. The cold storage he has developed can store around 4,000kg of vegetables for two to three months. The storage cost will be around Tk 4/kg for one month. This is very affordable and farmers will get enough time to find a suitable market to sell his produce at a good price, anticipates Dr. Alam.
In Bangladesh there is a wide gap between research institutions and industries. When asked about how CER is addressing this issue, Professor Rezwan Khan shares that the centre runs on its own income through various kinds of training, testing and consultancy for the renewable energy industry. It has also been successful in attracting considerable amount of research grants from both national and international donors such as IDCOL, World Bank, DAAD, GIZ, EPSRC, DFID and so on. They have plans to approach prospective industries and entrepreneurs to take up their research outputs for mass production and commercialization. He concludes with the hope that a strong collaboration between renewable energy related research organizations and industries will be a game-changer for the energy sector of Bangladesh.