Better days ahead for the construction sector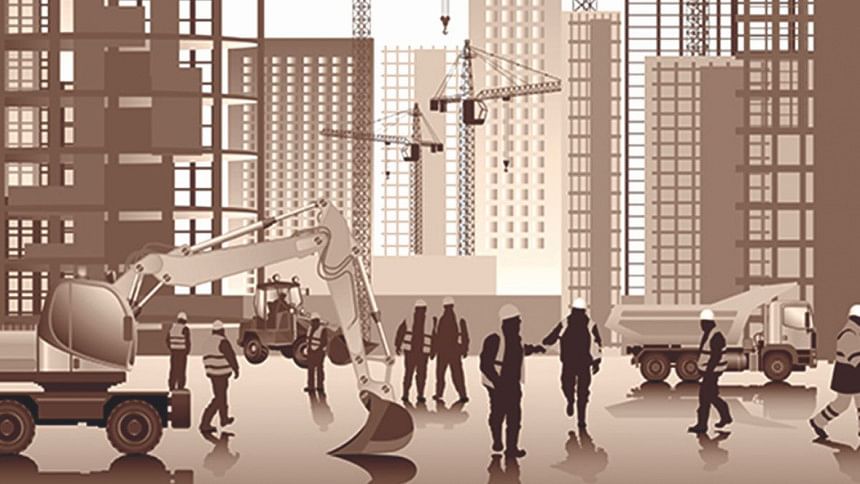 Consumption of cement and steel, the two major ingredients for the construction industry, will record a dramatic growth in the coming years, riding on large infrastructure projects and increasing demand for the materials across the country.
Positive macroeconomic fundamentals, including the impressive economic growth, government infrastructure projects including Padma Bridge and Payra Port, development of special economic zones, housing construction both in urban and rural areas, led by remittance inflow, and setting up of new industries indicate a "boom" in the construction material manufacturing sector.
With regard to the steel industry, Bangladesh is one of the few countries that have performed extremely well when the global steel industry is going through a slowdown.
The steel sector in Bangladesh has recorded a 15 percent growth in 2015 riding on infrastructure projects, including housing and public utilities, and the country is going to continue the growth exceeding 15 percent in the coming years.
The steel industry witnessed a major growth especially during the last two years, as the political atmosphere and business environment were favourable, said SK Masadul Alam Masud, Chairman of Bangladesh Auto Re-rolling and Steel Mills Association.
The local steel production was almost stagnant at 25-30 lakh tonnes per annum from 2008 to 2014. "But now the production capacity rose to around 80 lakh tonnes per year, and we are producing 50-55 lakh tonnes," he said.
The country relies on local manufacturing to meet the demand for steel, as local producers have developed the capacity of producing high quality steel products. The consumption will continue to go up in the coming years too as the country carries out its unfinished development works, he said.
"Only 30 percent of development works have been completed, and 70 percent is yet to be done. It will take at least 20 more years to finish all these development projects throughout the country; so the industry will grow for the next 20 years," he said.
Manwar Hossain, Managing Director of Anwar Group, said the industry is booming. "Bangladesh is one of Asia's emerging steel markets and has a growing need for raw materials and steelmaking technologies."
The building materials division of Anwar Group has been dominating the construction industry for the last four decades with a diversified product mix, ranging from cement and cement sheet to mild steel bars, high strength deformed bars, galvanised sheet, uPVC pipe and fittings, and furniture and home decor.
Hossain said the whole industry is undergoing a huge change as local manufacturers are replacing old technologies with new ones to ratchet up production. "Some companies have doubled or tripled their production capacity to cater to the rising local demand."
Steelmakers will invest about Tk 5,000 crores in the next two years, he said.
The Anwar Group is also carrying out massive expansion in its building material manufacturing units to meet the growing demand for quality construction products.
According to the World Bank's Bangladesh Development Update 2016, published in October, the construction sub-sector performed better in FY16, growing at 8.9 percent compared to 8.6 percent the previous year.
Real estate, renting and business activities have also performed better, expanding by 4.5 percent in FY16 compared to 4.4 percent in FY15.
In spite of the tremendous potential of the construction and real estate sectors, various factors adversely affected its development: land value distortions, absence of secondary property markets, limited asset securitisation and sale of mortgages, and weak backward linkage industries such as cement, ceramic, and brick manufacturing industries.
The real estate business recently recovered due to property price corrections, falling interest rates on home loans and sustained political stability. The number of unsold ready apartments declined to 8,000 from 22,000 a couple of years back. The recent decline in lending rates is expected to further boost apartment sales.
However, the terror attack in Gulshan has dampened the prospect of a faster revival. The construction sector now accounts for about 8.9 percent of GDP, employing around 3 million people, and accounting for 5.1 percent of the employed labour force in 2015, according to the World Bank report.
Bangladesh's per capita steel consumption is only around 35 kg, which is 65-70 kg in India and 200-250 kg in Thailand, and the world average per capita steel consumption is over 200 kg.
On the other hand, the per capita cement consumption is only around 120 kg, which is 220 kg in India, 310 kg in Sri Lanka, 170 kg in Pakistan, 320 kg in Malaysia and 1,700 kg in China.
"The low consumption showed that the potential is huge," said Mohammed Jahangir Alam, Chairman of GPH Ispat Group as well as Crown Cement Group.
Apart from the ongoing infrastructure developments such as Padma Bridge and Payra Port, the government needs to carry on its development works across the country to retain the present economic growth, he said.
"The private sector is also vibrant now in the backdrop of a stable political atmosphere and a favourable business environment. Many individual entrepreneurs are setting up new industrial units," he said.
"We also have the opportunity of reaping the benefits of our demographic dividend at least for the next 20-25 years. So the construction industry will obviously grow, as Bangladesh is on its way to completing its unfinished development works," he added.
Bangladesh has an installed production capacity of 4 crore tonnes of cement a year while the utilised production capacity is 3.2 crore tonnes of cement per annum.
The country is capable enough to meet the local requirements of steel and cement.
The writer is senior correspondent, The Daily Star.