The Daily Star - IPAG Dialogue
Bangladesh-India relations: Progress made and the challenges ahead
A day long dialogue on "Bangladesh-India Relations: Progress made and the Challenges ahead" was jointly organized by The Daily Star and IPAG on September 17, 2016 in Dhaka. Ministers, diplomats government officials, civil society representatives, academicians, and journalists from both Bangladesh and India participated in the programme. Here we publish a summary of the discussions.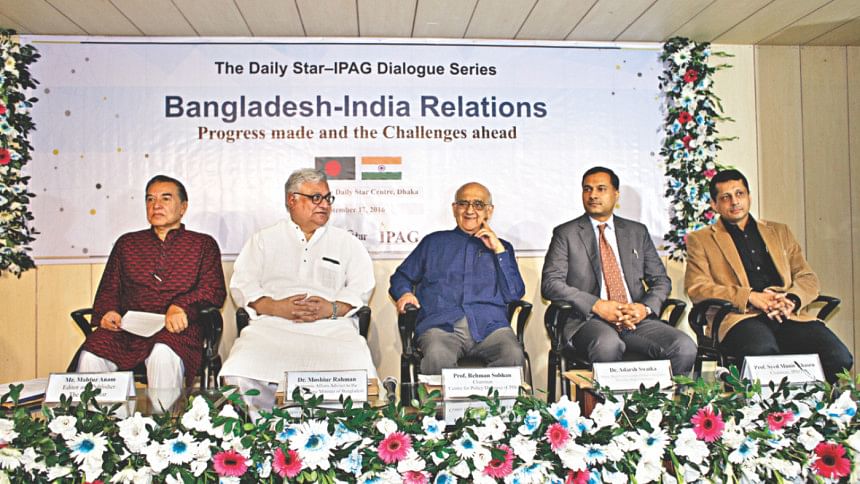 Mahfuz Anam, Editor and Publisher, The Daily Star
Long time ago I wrote an article for my newspaper stating that for India, there are only two neighbours – China and Pakistan. The rest of us are mere geographic entities, to be praised, cajoled, reprimanded, and even punished as the situation would call for. Given the present situation Bangladesh appears to have graduated to the level of a neighbour in the Indian scheme of things. What is important perhaps is that there has been a significant shift of the political will on both sides. How much of that political will we have been able to translate in terms of concrete efforts to improve Bangladesh-India ties is something we hope to examine here.
The recent visits by prime ministers of both countries have added to the structure of bilateral relations and I believe that a win-win Bangladesh-India relation is a must for both these countries. However geographically small we are compared to huge India, I think India is realising more and more  that Bangladesh is a vital, important and crucial partner in the growth of the region.
The primary concern of India regarding Bangladesh is security in the east. The other major concern is terrorism. While terrorism is also a major concern for Bangladesh, our other concerns include water sharing and imbalanced trade between these two countries. It is our view that of all these problems, the security issue has been addressed significantly by our side. Bangladesh has particularly tried its best to respond to the concerns of our neighbour. However, it is something we have to continuously work on.
The problem which I believe will be most challenging is water sharing. The reason for it is that the demand on both sides is on the rise and there is a limited supply of it. And it is the water sharing issues – Teesta on one side, and other rivers as well – that will, I think, test our friendship.
What I'd like to underscore here is that raising tough issues on both sides is not a sign of lack of friendship or goodwill. In fact, the stronger the friendship, the more should be the frankness of our dialogue.
Dr Adarsh Swaika, Deputy High  Commissioner of India to Bangladesh
Today India and Bangladesh are partners of progress and development, and our destinies are, in a sense, becoming increasingly intertwined. This is also a manifestation of India's 'Neighbours First' policy that stems from the realisation that for India's continued growth and development, the entire region needs to prosper.
The visit of our honourable Prime Minister to Bangladesh last year could easily be counted among one of his very successful visits abroad. As many as 77 decisions were listed in the joint declaration - Notun Projonmo-Nayi Disha – which laid down the road map of future cooperation, and 22 bilateral agreements were signed in areas as diverse as blue economy, energy, connectivity, security cooperation, economy and trade, infrastructure and transportation, people to people contact, etc.
In many ways, the year 2015 was a watershed year in our bilateral relations, where not only did we solve the issue of Land Boundary Agreement but also the maritime boundary issue.
In the area of trade and investment, I agree that there has been imbalance but you will recall that India has provided Bangladesh full access to its market of 1.3 billion people, while extending duty free facilities on its export items. As a result, Bangladesh's exports to India have increased in the recent years, around 30 percent more in the last financial year, whereas the Indian exports have decreased in the last two years.
Our bilateral cooperation is based on a win-win formula for both countries, based on a mutuality of interests. We believe that peace and security in the region, which is essential for economic growth and development, is our shared responsibility. Settling maritime and land boundary issues will facilitate effective border management.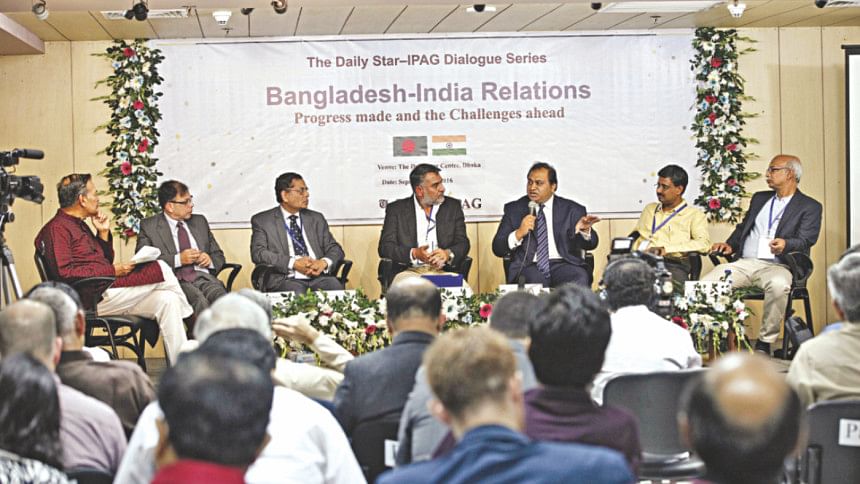 Professor Rehman Sobhan, Chairman, Centre for Policy Dialogue
Indo-Bangladesh dialogue, as much as Indo-Bangladesh relations, must be a multi-party, multi-stakeholder affair. Because at the end of the day, a consensual vision of this particular tie has to be created for a relationship with such a principal neighbour. This means that one must always remember that the opposition of today may become the government of tomorrow. Therefore, it is always necessary to ensure that when the opposition is not in office, they are brought in whatever discussion is going on with the incumbent government. Beyond this, we have to bring in members of different cross-sections of stakeholders and civil society.
The political context in which these dialogues are held is also very important. If governments are not actively interacting with each other, the productivity is reduced. In contrast to Indo-Pakistan dialogues, we always premise our dialogue process on the belief that whatever problem existed and were carried over from one regime to another between India and Bangladesh, including the water sharing problem, were inherently soluble problems.
The issue of trade cooperation is exceedingly important. During his tenure as prime minister, Dr Manmohan Singh offered duty-free access to begin with, which was a first step. But that was never sufficient, as there was a long list of 'sensitive' items where many important items were kept off the shelves. However, after his visit to Dhaka, he reduced the 'sensitive' list to 25 items which were of a more non-economic nature – a great breakthrough for us. Now the question is, what use has Bangladesh been able to make of this significant gain? Currently, Bangladesh accounts only 0.2 percent of Indian imports. Countries like Sri Lanka, Malaysia, Indonesia, even Myanmar have larger exports to India than Bangladesh. None of these countries have free trade agreements with India. The question of Bangladesh needing to access that level of trade is very critical. From the Bangladesh side, we have to be a good deal more enterprising in identifying the export and business opportunities as we have duty-free access to our immediate neighbour.
In contrast, China is today a much bigger trading partner to Bangladesh than India. However, our trade deficit with China is USD 13.6 billion when compared to the deficit with India of USD 5.6 billion. Value chains have been created in trade between China and its neighbours. Bangladesh, India and other regional neighbours have failed to create similar value chains and this has become one of the major constraints to stimulating exports from Bangladesh to India.
Today, money is being invested to promote regional connectivity but the process is moving very slowly. Connectivity, at least on the part of Indo-Bangladesh, is now going through Ashuganj. Most of the carriage - the river transport and the transport from Ashuganj to North East - is being carried by Bangladeshi carriers. One of the main goals of promoting transit was that they should become an opportunity for the transport sector of Bangladesh, and they should become the principal carriers of whatever goods come from India or go across Bangladesh to other parts of India. But to do so, investment is needed. Unfortunately, the Ashuganj Port is still somewhat in the primitive stage. Similarly, the road connection between Ashuganj and the Tripura border is still in an unfit condition to carry the intense traffic.
Dr Moshiur Rahman, Economic Affairs Adviser to the Prime Minister
The Joint Communiqué, the Framework Agreement, and Naya Disha constitute the basic legal instrument for bilateral cooperation between India and Bangladesh. I would point to the Framework Agreement for Cooperation because it is very flexible and at the same time, carries the promise for being very comprehensive. Hopefully, other countries within the region, especially Nepal and Bhutan, can also be invited to join the framework. In the case of Nepal and Bhutan, whenever we talk about power sector projects, we ought to look at how region based projects can be set up in these two countries which can meet the local needs of power for the people there.
If two countries cooperate, the relatively smaller country can benefit more, because it has access to a larger market. However, we do not have any kind of special trade relations with India, which could give us much better access to the Indian market.
If the cost of transportation across Bangladesh is higher than transportation cost through Siliguri chicken neck corridor, India would prefer to move their goods through the chicken neck. We had an arrangement with India to allow food grains movement for a while, but the charges were so high that for about one and half year, nothing moved because it was cheaper to use the chicken neck corridor. When the charges were brought down, movement started.
One of the major problems of transit is that the responsibility is divided among three or four departments but we (India and Bangladesh) do not have an effective mechanism of coordination. Traders thus have to face a lot of hassle.
Bangladesh is entitled to the global GSP that India has extended to others. So there is no distinctive feature in our trade relationship. If the trade agreement between Bangladesh and India is not renewed after five years, I don't see any substance in the trade agreement that we have.
Energy and power are very important sectors of cooperation. There is an argument that asks if we should be dependent on Indian supply for power. I believe that this is a useless argument. We are short of primary resources. If we want to import gas or fossil fuel from another country, you need to build up a transport pipeline. This is not viable unless there is high demand. If Bangladesh joins India in building a pipeline from Myanmar or elsewhere, both will benefit from the project.
The Rampal coal power plant initiative is stuck on the question of interest rate. If the tariff can absorb the cost, then the interest rate is not a major problem. Instead of looking at whether the energy price has been rightly fixed, we are looking at whether the subsidy should be determined at a certain level. It is a wrong approach to determining a policy.
Items sold in border haats are limited. Thus, we push these traders to impoverishment. My suggestion is that India should consider revising the eligible list of products sold at border haats; anything that India can import should be available at this market. This would encourage a more open trade regime.
Prof Syed Munir Khasru, Chairman, IPAG
Bangladesh needs to improve investment facilitation by providing a more investment friendly climate. Land has continuously been a major issue. While Reliance has proposed a 3000MW power plant, there is only land to generate 750MW of electricity in Bangladesh.
Technical synchronisation is a challenge in energy cooperation. In 2014, due to a breakdown of generation transmission in India, our whole country was forced to suffer a blackout. We need to look into it more carefully, as this has security implications as well. Moreover, we haven't been able to reach an acceptable tariff in importing gas from India.
In terms of connectivity, the Coastal Shipping Agreement has been signed between the two countries alongside the renewal of the Protocol for Inland Water Transit Trade. The mutli-modal transport agreement is currently in the feasibility stage.
There is a need to simplify the customs immigration process as well as easier access to Chittagong-Mongla ports.
Challenges regarding transit and transhipment include failure to complete projects and infrastructure development. We need to also focus on the quality of roads being built alongside peripheral security concerns.
Border security has always been a contentious issue between the two countries. The Land Boundary Agreement was a first major breakthrough in this regard, but let us also remember that it took more than four decades to sign this agreement. The good news is that PMs of both the countries have pledged to tackle human trafficking on both ends, while promising to boost border relations. There have been initiatives to standardise operating procedures, thereby allowing Bangladesh border guards permission to use Indian roads. A sensitive concern for Bangladesh is to bring border deaths to zero.
What is noteworthy is that from the highest level of political leadership and bureaucracy, there has been more cooperation and coordination even at the grassroots level. However, challenges remain. We need to translate this political cooperation into practical action.
SESSION I
Economic Aspects : Trade, Investment, Connectivity and Energy 
moderator:
Mahfuz Anam 
Rajeet Mitter, former Indian High Commissioner to Bangladesh
Opening various trade facilities measures was a good initiative in improving trade relations between the two countries. BBIN Motor Vehicles Agreement is a very far reaching agreement where Bangladeshi trucks are going all the way to Delhi without any apparent hindrance. This will add a lot to business confidence. Even the agreement on coastal treaty opens up a lot of cost saving prospects.
We must have a sustainable growing stake in each other's economic development. Our future task is to analyse why this is not happening.  Indian garment manufacturers were apprehensive that the Indian apparel market would be flooded out by Bangladeshi garments, but that also has not happened yet. Bangladesh has a vibrant market in the US and EU, but they have not really focused on the Indian market.
Non-tariff barriers are a hindrance to bilateral trade. It could be good for both countries to have an expert level taskforce to identify the barriers and solutions.
Professor Mustafizur Rahman, Executive Director, Centre for Policy Dialogue
Ninety percent of the trade between India and Bangladesh is done through land customs and according to our investigation, land customs is somewhat different from the sea ports. Officers who are posted at Land Customs are not that efficient while their infrastructure seem to be from the 19th century. After the trade facilitation agreement, some of the border facilities have improved. To make the BBIN motor vehicles agreement work, we need to have a single window that we see in ASEAN countries. It's a hassle-free system where standardisation and harmonisation of the standard operating protocol are actively practiced. 
We need to have an electronic data exchange between the customs of the two countries. We need to have a comprehensive SPS (Sanitary and Phytosanitary) agreement, along with other mutual recognition agreements with India apart from strengthening the BSTI so that we can comply with the laboratory testing and other requirements from the Indian side. Many of these non-tariff barriers are connected with standard and certification requirements.
There should have been a comprehensive transit connectivity agreement with all the fees and charges under one single umbrella.
Bangladeshi infrastructure is not ready for our own transport load. We need dedicated lanes. There is a need for transparency as we need to improve the infrastructure which is needed to make it operational.
We think the progress has been made through the BBIN agreement and eventually it will become SAARC agreement. So the infrastructure is there. The good thing is that India has given us USD1 billion of line of credit and another USD 2 billion is on the way. We also have to keep in mind that it is not only an India Bangladesh agreement, Bangladesh should also have some interest in sending our trucks to Nepal and Bhutan. The charges as well as the agreement have to be comprehensive. Pankaj Tandon, Member, Confederation of Indian Industry and Vice President, KEC International Limited
Bangladesh and India are not very different. For example, tele-density is almost the same between these two countries. Disparity of size and resources of any country should not be considered as a constraint. Within that geography, the biggest potential should be harnessed.
We need to focus on access to market and its network, which also improves production networks. Market expansion, relative cost efficiency, and perception development are key. We have many successful stories within Bangladesh by Indian investors, so we need to think about why they should not be inspired to attract others.
Dr. Arif Dowla, Managing Director, ACI Limited
We should not look at only two countries but all the interlinkage with respect to the world. Instead of optimising each bilateral relationship, we need to try to optimise global opportunities. This requires a high level of connectivity which we don't have now. India, Bangladesh and this region have to realise that we are far behind in terms of per capita global trade participation. Other regions (ASEAN or the Americas) are going beyond their geographical border to increase competitiveness. By being myopic, we lose out. We have to align our incentives according to that global logic of being more competitive. For example, an important product like fish feed that Northeast India needs come from South India, travelling thousands of miles. Instead of doing that, Bangladesh could easily export it to them, but we aren't being able to do so because of the 30 percent duty imposed on us. By doing so, India and the whole region is losing out on the benefit of the product and overall competitiveness.
The labs that check the quality of products are not situated on the land ports, so all the products and samples have to be taken from there to the respective labs in Khulna and other places. During that time, trucks will be waiting for 7-15 days. The products that are coming through land are bulky products and not high margin businesses. So at the end of the day, you have 4 percent profitability. This delay increases cost of doing business by 2 percent.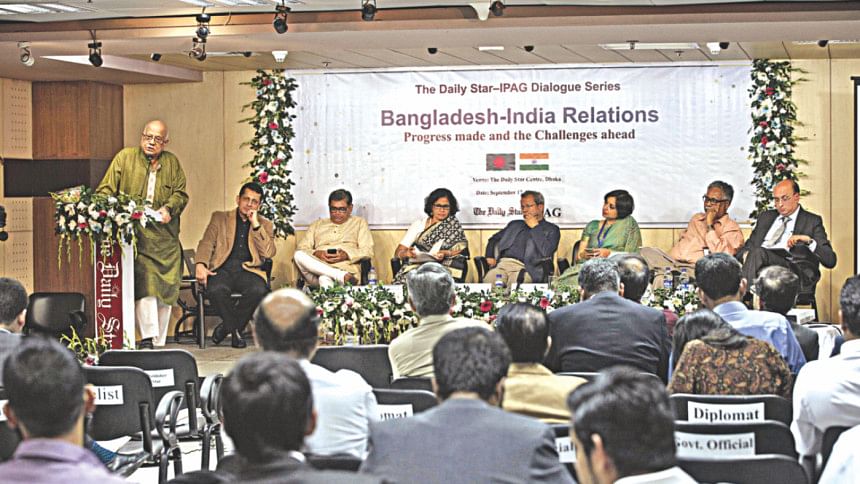 Nitya Nanda, Fellow, The Energy and Resources Institute, India
Domestic reforms in the energy sector are important to promote cooperation. Cooperation happens when you have total grid integration. Previously, India did not have any national grids, we had regional grids. If Bangladesh is integrated with more number of regional grids and can develop different types of demand profiles, efficiency will be improved. Also BBIN grid is possible. One more option is to connect to Myanmar and South East Asia, not only in terms of electricity, but also with the ambition of a gas grid in South East Asia.
Prof. M. Tamim, Dept. of Petroleum and Mineral Resources Engineering,  BUET
We had to wait for 30 years for India and Bangladesh to exchange electricity. In this region, political unwillingness has been a major barrier, but this has changed over the last ten years. We have seen developments. But the mistrust is to some extent there. The common problem between India and Bangladesh is primary energy requirement. This whole region is a net importer of energy, but regional balance and equilibrium can easily be achieved through regional cooperation.
There is a gasline from Assam to Pragatipur which requires 130 km pipeline of diesel import, but the issue of pipeline handling charge is also there. These are the commercial aspects that need to be resolved. Any deal that is not commercially viable will not work.
Mahfuz Anam
Another example of India Bangladesh cooperation is Rampal Power Plant. However, there has been criticism against that from the civil society because of environmental effects. What are your views on that?
M Tamim
We need to understand that if we put in all the control measures demanded by the environmentalists, including the cost of production of electricity, the cost of production might increase to 10 taka per kwh. Coal has been chosen taken into account the concern for sustainable, affordable power for people. Having said that, it definitely is sad that the site selected for the power plant is Sundarbans.
Mustafizur Rahman
Since the power plant is near the Sundarbans, people are sensitive to that being a UNESCO heritage site. There undoubtedly are concerns about the effects it will have on the Sundarbans. People are concerned not because India is investing in this project, but because it will be situated in the Sundarbans. The second thing that we have been hearing from the policy makers is that there will be some control system there. The middle way should be that there will be an independent committee who will monitor the implementation, to determine whether it is harmful or not and to ensure quality.
OPEN DISCUSSION
Ishfaq Ilahi Choudhury, Strategic Analyst
Just 15 days back Rajdhani Express started a new express train from Silchar to Calcutta to Delhi. If we have Silchar connected to Dhaka and Khulna, and if we can build the Padma Bridge, it will further reduce the distance and will offer a new dimension.
Dr Ainun Nishat
My worry is not if the coal comes from Poland or India. My worry is the quality of the coal.If it is high sulphur coal, then we have a lot to worry. The second issue is the technology that is used in the Rampal project is dirty technology. Many of the issues have not been clarified by the government, for example the transportation of coal. Exactly what is happening should be monitored by a neutral commission who will certify the government's claims and inspect the mechanism and technology used by the government.
Rehman Sobhan
I am referring to the comment made by Mr. Dowla. If India is bringing fish feed from 1500 miles to the North East, then presumably the company could supply across the border. Surely this is opening up a new logic for location and investment. But at the end of the day, the issue of transit through Bangladesh to Northeast India is itself very bad economics. If you have good connectivity and open trading regime between India and Bangladesh, Bangladeshi and Indian investors who are interested in serving the Northeastern market should be locating their plants in areas like Comilla and Chittagong, instead of bringing their products from all the way from the remote regions of India. Considering the business proposition where you are interested in maximising your profit, would it not make sense to Indian businessmen to rethink the location and supply strategy? So that the real integration of markets should be between Northeast India and the eastern region of Bangladesh. There is a need for both sides to have a complete change on perspective on the whole debate of transit into one optimising location and economic cooperation.
I would like to endorse the comment about Silchar because this is one access that has not been looked at very carefully. Silchar has been emerging as a major road and rail hub for India. The east-west highway which stretches from East to Gujrat starts at Silchar. Linking of Sylhet and Silchar, and the infrastructure on both sides of the borders should be prioritised. That should be a future focus area as this would help the northern valley of Bangladesh and will help address many other problems.
M Tamim
Regarding the coal issue, the Indian regulator recently put on a new regulatory restriction which says that only imported coal produced electricity could be sent to Bangladesh. That is why the additional 500 megawatt that we have waiting for is being deferred. Because Indian coal is relatively cheaper and imported coal is much more expensive. But there is a wholesale trading going on in India and eventually, we have to have an energy trading company in Bangladesh so that we can purchase our long term and short term power from there.
Session II
Strategic Affairs : Border & Security, Water & Environment, Regional & Multilateral Issues
moderator:
Syed Munir Khasru
Brig. Gen. (Retd.) Shahedul Anam, Associate Editor, The Daily Star
We need to manage the border rather than control it. Fencing of the Bangaldesh-India border started in 1987. More than 85% of the fencing has been completed and the remaining 15% involves riverine territory. However, illegal movement is still there. The movement across borders is not unidirectional. If people are moving from Bangladesh to India then there are people who are moving from India to Bangladesh as well. We need to facilitate movement across border legally. Let people behave in the manner that they are used to before the line was drawn, before the border fence was erected. Let normal lives go on, otherwise more problems are going to be created.
There is also the issue of smuggling of small arms and drugs from India to Bangladesh. A large number of small arms and phesedyl factories have cropped up in the border areas of India. 
Smruti S Pattanaik, Research Fellow, Institute of Defense Studies and Analyses (IDSA)
There are some vulnerable areas at the border that are prone to illegal migration and smuggling. These areas need to be patrolled more. There are also hilly areas where during the rainy season, landslides hamper roads and fences in such a way that it becomes really difficult to patrol. The border forces should identify these vulnerable areas through regular meetings and take patrolling measures accordingly. 
Unfortunately, the people who are killed at the border are usually carriers, not actual businessmen involved with cattle smuggling. But I am not justifying the type of killing that is happening. Therefore, if we want to avoid this kind of situation, joint patrolling should be increased.
Professor Imtiaz Ahmed, Dept. of International Relations, University of Dhaka
When it comes to regional understanding in South Asia, we need to understand why SAARC failed and EU succeeded, although they had France and Germany fighting three great wars. Immediately after the Second World War, EU leadership looked into something that was in abundance. They found out that they had coal and steel in abundance in Europe which contributed to the war machinery. So they brought France and Germany under a kind of framework and started coal and steel organisation. When we started SAARC, we did not look into this philosophy of abundance which Europeans followed during the formation of the EU. What do we have in abundance in South Asia? What we have in abundance is human beings - 1.5 billion of them. That should have been where we should have invested. I believe you need to invest on each and every person in South Asia.
In the eighteenth century, China was the largest economy in the world. Undivided India was the second largest economy in the world. We lost out in the nineteenth and the twentieth century. China could come up too fast because it is a continental country. On the other hand, we are a continental region; we got divided into nation states. If you want to go back to 18th century and become number two you need to go back to this kind of a formation, where you will not have a conflict zone. In the 21st Century, how do we do that? In the age of globalisation, you cannot territorialise yourself by thinking that problem is yours alone. We are very good when it comes to being a Bangladeshi, Indian or Sri-Lankan. But it is very difficult to be a South Asian. How can you pull SAARC unless you realise your South Asian identity? In order to make regionalism work, we need to get out of that narrow nationalism.
Suhasini Haidar, Diplomatic & Strategic Affairs Editor, The Hindu
The Hindu and The Centre for the Study of Developing Societies (CSDS) conducted a survey in India in 2003 where we asked, which is the country that you as an Indian trust the least in the region. We all expected them to say Pakistan, actually the result was Bangladesh. Ten years later in 2013, we did another survey. At this time, when asked which country India should trust, 48 percent chose Bangladesh. This was the highest figure, higher than the US or Russia. This is a result of a change in the governments' attitude on terrorism and rhetoric at a political level. Today the India-Bangladesh relationship is seen as a template for other countries in the region.
India is a constantly growing market that needs more labour; jobs are not being stolen from Indian citizens by Bangladeshi migrants. It is more important to cooperate for human rights of South Asians in the Gulf than competing against each other.
I also believe that the media in all SAARC countries, including India and Bangladesh in particular, need to have a lot more joint papers, joint writing in order to take this relationship forward.
Dr. Ainun Nishat, Professor Emeritus, Centre for Climate Change and Environmental Research, BRAC University
I will push for basin wide management of our joint rivers which is also the political instruction of the day. The river should be regarded as a party in the negotiation where we have to ensure minimum environmental flow of the river. 
Navigation is the cheapest mode of transport for non-perishable bulk good. Railway offers the next cheapest option but road transport is the most expensive mode of transport for any nation. It takes Tk. 6-7 to carry one tonne of goods over 1km by road, Tk. 2.75-3 by rail and Tk. 0.95 by water. India is developing a navigation route between central India to Calcutta and Haldia in the Ganges system. My proposition is why not consider this extension to bring Bangladesh in the network? Navigational facilities will also be the answer to many environmental concerns if properly maintained and designed.
Ashok Malik, Distinguished Fellow & Head of Neighbourhood Regional Studies Initiative, Observer Research Foundation (ORF)
Every water related project in Northeast India has a clear buy in from Bangladesh; these projects cannot be facilitated without cooperation with Bangladesh. The evacuation of hydro potential in North East India is only possible through Bangladesh. That's why there is little scope for India to neglect Bangladesh on the trans-boundary water sharing issue. On the Teesta River, Bangladesh should work closely with the West Bengal government. Since the election is over, Mamata Banerjee will be more conducive to a mutual solution of the problem.
Rather than focusing on the quantity of water being allocated, our focus should be on efficient use of water and value of the water. Efficiency of our water use is only 40%. That means more than half the water is wasted.  Lack of data on hydrology has caused this wastage. Sector wise allocation of water is necessary for use of water to be efficient.
Syed Munir Khasru
There is a general feeling in the public domain that given our size and resources and the extent we have gone out to reach our Indian friends on a reciprocal level, we receive a little less than what we deserve to get, whether it is water sharing or it is stopping killing at the border. How would you see this in terms of reciprocation from the Indian side?
Smruti S Pattanaik
I would say that cooperation between India and Bangladesh has improved over time, especially after 2011. I think frequent meetings and information sharing between the District Collectors of India and District Commissioners of Bangladesh have improved the situation at the border areas. Then you have an intelligence sharing. At the home secretary level, the human trafficking issue is also being taken care of. I think these are definitely significant developments. I really can't imagine this kind of situation ten years back.
Suhasini Haidar
The problem comes from the fact that perhaps it is a one sided view of things. And it is a government driven view of things. Our government speaks of what has happened at the border of India, we accept their version without even questioning it. With our boundaries with Bangladesh, the access is poor for a journalist. The communication channels like roads have not been developed, so it is quite difficult to get news from the border.
Syed Munir Khasru
We have a close relationship with India. Also China continues to be an important partner in our development. So how do we manage our relations with these two competing giants?
Dr. Imtiaz Ahmed
The Bangladesh government can organise a conference and bring China and India into a common platform to discuss various issues related to the development of the Northeast region of the subcontinent. 
Dr. Smruti Pattanaik
Robust academic exchange between India and China can be  a good starting point.
Dr. Ainun Nishat
The Joint River Commission was set up to discuss technical issues but now it has become a body where negotiations take place. Negotiations and decision making should be made at the political level, and technical people can be included there as advisers. 
Ashok Malik
We need to establish an institutional mechanism to discuss the water issues. It should include relevant members of the region. Greater Mekong sub-region mechanism can be a good example in this regard.
OPEN DISCUSSION
Nurul Huda, Former Inspector General of Police
If we can rear cattle inside Bangladesh in large numbers, cattle smuggling will go down automatically. It will also reduce the number of border killings.
Dr. Imtiaz Ahmed
Humans are not only political beings, but they are also cultural and psychological beings. In South Asia, we are already connected culturally, gastronomically and in so many other ways. We just need to stop emphasising too much on political divides.
Ashok Malik
There are people on both sides of the Bangladesh-India border who live on smuggling. If you put restrictions on cattle smuggling, they will find alternative products. The fact is that there are some gaps in the border through which smuggling happens. We need to address those gaps.
Shaheen Anam, Manusher Jonno Foundation
In Indian media, Bangladeshi migrants are often portrayed in a negative light. But there are thousands of Indians who work in Bangladesh in white collar jobs. We do not know whether they have work permit or not. In Indian newspapers, we have read that now Bangladesh is the third largest remittance earner for India. I think Indian media have a responsibility not to participate in the hype against poor Bangladeshi migrant workers.
Ashok Malik
The problem lies in the fact that there are many Bangladeshi migrant workers in India who remain unrecorded. Yes, I agree that Indian politicians and media exaggerate the numbers but the Bangladesh government also deny any undocumented migration. I think we need to sentisise people to stay legally in India and send their remittance in legal channels such as banks. It will help both the countries.
Suhasini Haidar
Our politicians need to stop using their neighbours as political tools inside their countries. In regards to migration, we need to come out of the security lens and find ways of cooperation where people can migrate from India to Bangladesh or vice versa and work legally. We need to exchange students, cultural groups and younger people among the regional countries so that a sense of belonging grows among our future generations.
Abul Maal Abdul Muhith, Minister, Ministry of Finance, Bangladesh
The bilateral relationship between Bangladesh and India is enjoying its best time ever in history. It has been translated into practical action, and various joint initiatives are going on that will benefit both the neighbours.  

Border trade, whether legally permitted or not, goes on in its own way. We took the initiative of establishing border haats to boost trade through formal channels. But it has not expanded in a big way. We need to emphasise on this initiative and establish more and more border haats. 
Bangladesh needs to bring China and India into a dialogue because both the countries have immense importance in the development of Bangladesh as well as that of the South Asian region. We have a plan to invite both these countries to take part in the development of the Paira Port, which has the potential of being one of the best ports in the region. Currently, construction of connecting roads between Dhaka and Paira Port is going on. 
The issue of access of Bangladeshi channels to India remains unresolved. The high tax rate imposed by the Indian authority indirectly discourages Bangladeshi channels to enter the Indian market. This barrier needs to be removed. 

Bangladesh does not enjoy the same weight in Indian foreign policy as China and Pakistan do. We need to showcase our progress and potential to India so that they can feel the importance of Bangladesh as an important neighbour. Recently, the Dutch government has taken an initiative to hold the Bangladesh Exhibition in their country to boost trade between these two countries. We can expect similar initiatives from our Indian counterparts.