BEST FINANCIAL INSTITUTION
Competent and compliant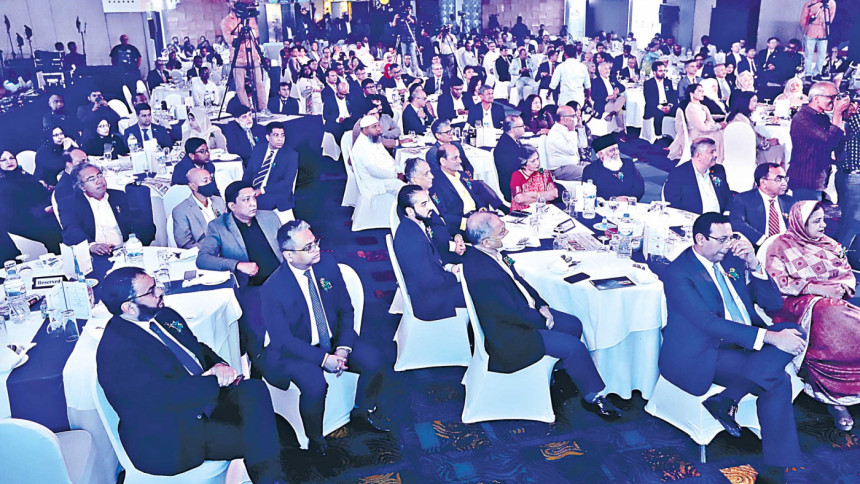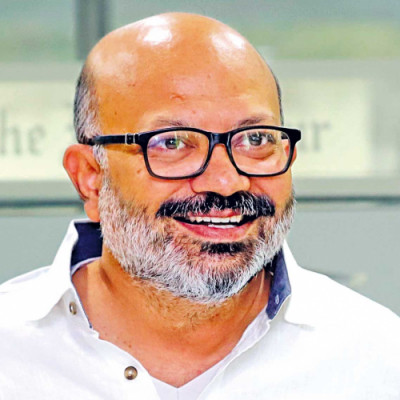 bKash never compromised with technology and of the teams comprising some 2,400 employees, the bKash tech team was the biggest
Over a decade ago, Kamal Quadir adorned the venue of the launching ceremony of bKash, a nascent mobile financial service provider that he just founded at that time, with some black and white pictures in big frames.
In one picture, a fish seller sits in the capital's Karwan Bazar with a small piece of paper bearing the bKash logo and a phone number, facilitating digital payments for the customers.
In other pictures, similar stickers were posted on the back of a rickshaw and an auto rickshaw and in front of a grocery shop, offering payments through mobile phone numbers. In another picture, the bKash logo can be seen at an ATM booth along with global payment behemoths VISA and Mastercard.
Some ridiculed the idea of how an unknown company like bKash would be able to serve the customers at an ATM booth alongside platforms like VISA and Mastercard. Some laughed off the notion that CNG fares or fish purchases can be paid through bKash.
After a decade, bKash has well surpassed its initial dreams, becoming a ubiquitous fintech company across the country with a broad range of services.
To reach this stage, bKash had to bring innovation, introduce cutting-edge technology and roll out new products and services.
But Quadir, the chief executive officer, attributed the success of bKash to it being a "textbook" company.
"We are a textbook company and I want to emphasise the word 'textbook'," he said in an interview with The Daily Star.
"What do I mean by the word textbook? It means that we followed all the laws, our audit gets completed in due time without any interferences and we pay taxes on time, which are examples of a textbook company's attributes," he said.
"One of the main goals of the company is to ensure the safety of the customer's money. From this I will not deviate even for a second," he said.
He said bKash has been serving millions of customers per day and the bKash team was doing so with the utmost sincerity.
"Any company should operate under compliance and regulatory supervision while ensuring the security of customer's money," he said.
From humble beginnings, the company now has a robust network of nearly 300,000 agents and more than 260,000 merchants across the country with over 63 million verified customers.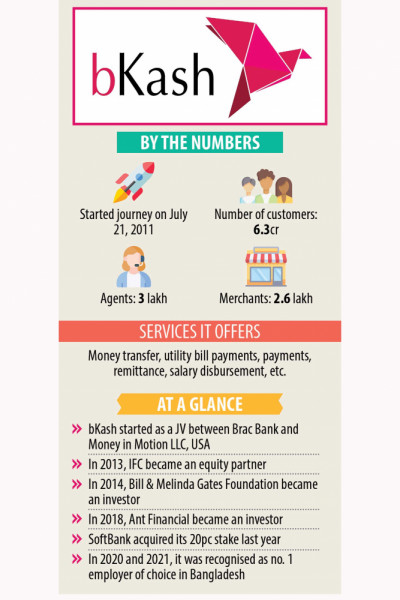 From the idea of bKash, Quadir envisioned its prospects.
"From the very beginning, we knew that bKash should be a national platform as it wouldn't be successful otherwise. I knew that it should be built as an institution without compromising anything," he said.
And thus, bKash required the backing of big companies and it was able to secure this, making it the largest recipient of foreign direct investment in Bangladesh among tech ventures.
bKash started out as a joint venture between BRAC Bank and Money in Motion LLC, USA.
In 2013, the International Finance Corporation became an equity partner and Bill & Melinda Gates Foundation became an investor in the company a year later.
In 2018, Ant Group (Ali Pay), an affiliate of Alibaba Group, became an investor in bKash. And last year came global tech investor SoftBank.
In the announcement of the investment in bKash, Softbank said it was exciting to partner with Kamal Quadir and the bKash team.
Asked about Softbank's exuberance surrounding him, he said whenever an investor decides to invest, it is very important to express trust in the entrepreneur who spearheads the startup.
But he also gives credit to the "world's best" board of directors of bKash, its "fantastic group of shareholders" and its "homegrown" team.
Asked if the investment of global companies in bKash helps it to thrive, he said it was benefiting bKash a lot.
"It's a fantastic arrangement. We have the capacity to see the best global practices and many of those reflections came into our work," he added.
"We brought technology from abroad and attracted foreign investment but bKash hasn't hired a single foreigner. All of the company's operations are being run by local talents," he added.
While some Bangladeshis who were working in global companies came to Bangladesh to join bKash, there were some who left bKash for top global tech companies.
Quadir also came back to Bangladesh after studying art and economics at Oberlin College in Ohio and a short stint at the New York Chamber of Commerce, in a pursuit to exhibit his arts in his home country.
He ended up joining an oil company for three years and moved to the US to do an MBA at the Massachusetts Institute of Technology's Sloan School of Management.
But his dormant entrepreneurial spirit sprouted in 2005 when he came back from the US once again and launched Bangladesh's first home-grown online marketplace Cellbazaar.
Cellbazaar was sold to Telenor.
While spearheading Cellbazaar, Kamal realised that many people have no access to banking services across the country.
In 2009, a new government was elected which aimed to, among others, build a "Digital Bangladesh" and the central bank was also planning to give a boost to digital transactions.
"After 2009, there was a political direction to digitalise the country and digitalisation of financial services was a priority," said Quadir.
"When the central bank took the initiative in this regard, bKash, as a practising entity, implemented digital financial services," he said.
Another venture that greatly influenced Quadir was M-Pesa, a mobile phone-based money transfer system, which was expanding in the African market since 2007.
He said bKash never compromised with the technology and of the teams comprising some 2,400 current employees, bKash tech team was the biggest.
Despite having tech supremacy, bKash is always cautious in rolling out a new service.
A service cannot be rolled out without building a certain ecology. For example, bKash was not permitted to introduce services involving remittance, utility bill payments and airtime. It takes time for each service to roll out, he added.
Asked about the future services of bKash, he said digital lending and savings portions for customers would rule the roost of the country's mobile financial service sector.
"Banks are rolling out saving schemes, but it turns out to be very difficult for banks to reach out to small customers in many cases. So, bKash is now working as a channel for people to make savings," he said.
Last year, IDLC Finance introduced digital saving schemes through bKash, enabling customers to open monthly savings accounts.
"They are making very small savings anytime from anywhere. I know a barber who is trying to save money through bKash for buying a revolving chair for his shop," he said.
More banks are joining hands with bKash to roll out savings products as it has drawn a good response.
In digital lending, bKash already proved its potential as a tool for dramatically increasing the access of finance to customers.
At the end of last year, City Bank joined hands with bKash to launch a "digital nano loan", enabling bKash users to avail of collateral-free small loans.
Asked if bKash is ready to launch its digital loan product, he said he believes bKash is still not ready for rolling out its digital lending products without collaborating with banks or non-bank financial institutions.
Besides, customers can take loans under the current mechanism. Already 50,000 bKash customers availed loans from City Bank, he added.
"Yes, it's possible for us conceptually and can be done very efficiently but let the legal procedure develop first because I never bought a tie before buying a shirt," he joked.
"We have a very limited role in many aspects and there are limitations. But I always tried to ensure how to develop a compliance service," he said.
"And bKash fully demonstrates that it's possible in Bangladesh," he added.