UK lifts direct air cargo ban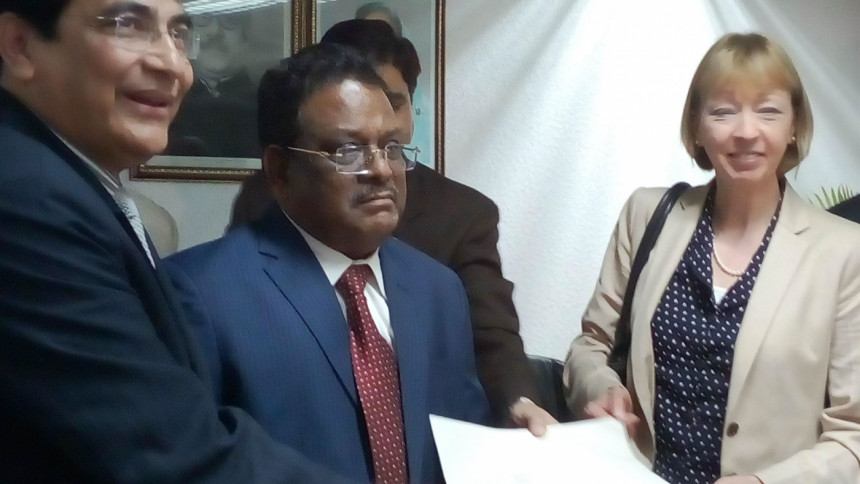 The UK government has withdrawn the ban on Dhaka-London direct air cargo, two years after the authorities imposed an embargo on it citing poor security at Hazrat Shahjalal International Airport.
The announcement was made this afternoon at a press conference jointly organised by the UK High Commission in Dhaka and Bangladesh's civil aviation ministry.
Civil Aviation Minister AKM Shahjahan Kamal and British High Commissioner in Bangladesh Alison Blake addressed the press conference at the Hazrat Shahjalal International Airport's (HSIA) conference room.
From today any airlines except Biman will be able to carry direct cargo flight to UK. But Biman will have to wait to get the certificate of "air cargo or main carrier operating into the union from a third country airport (ACC3)".
Biman Managing Director and CEO AM Mosaddique Ahmed, at the briefing, said it may take 15 to 20 days to get the certificate.
Suspension on the direct cargo flight was not a political matter, it was a technical thing, said British High Commissioner in Bangladesh Alison Blake.
"It's a major achievement that you have transformed in the cargo handling and created a condition that we are very satisfied with," she said.
The lifting of the suspension comes as a result of ongoing cooperation between the UK and Bangladesh and the joint assessment of Hazrat Shahjalal International Airport, she added.
On March 8, 2016, the UK government imposed the ban following a failure of Dhaka airport to meet some international security requirements.
The European Union, where more than 54 percent of Bangladesh's exports are headed, also declared the airport a "red zone" due to insufficient safety and security measures, following the lead of the UK, Australia and Germany.
Officials at the civil aviation ministry and Civil Aviation Authority of Bangladesh (Caab) hope that the EU, Australia and Germany would follow the UK's decision.
With the ban in place, the EU-bound cargo airlines from Bangladesh have to rescreen goods in a third country, preferably in Dubai, Qatar, Thailand or India.
The ban caused a huge loss for Bangladesh.
Biman Bangladesh Airlines incurred a loss of over Tk 100 crore last year due to the ban, Biman sources said.
Biman was the only carrier that operated direct cargo flights between Dhaka and London.
Before the ban, it used to earn Tk 40 lakh to Tk 50 lakh for each flight from carrying cargoes. Some 25 to 30 tonnes of goods, mostly apparel and vegetables, were shipped in each flight.
After the ban was imposed, the Bangladesh government appointed British company Redline Aviation Security Limited Seven to meet the safety requirements at the airport.
Bangladesh in the last two years made various other efforts to have the ban gone.