The battle of Beni Commander
An ordinary schoolteacher took up arms to become a guerrilla fighter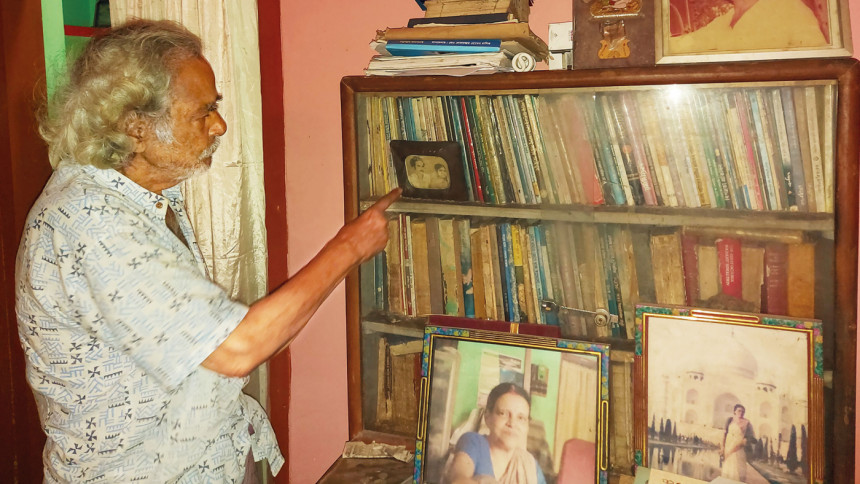 As a young bookworm, he loved studying and dreamed of being a school teacher.
But patriotism diverted Beni Lal Dasgupta from his chosen path and led him to emerge as a guerrilla fighter in the country's 1971 Liberation War.   
He, who had never touched a firearm before, became a skilled fighter and led a guerrilla force which helped liberate Barishal's Banaripara upazila on November 27, 1971.
Freedom fighters and veterans of the area estimate that the lives of around 50,000 people were saved due to the "Beni Bahini".
Beni, who completed his graduation from Dhaka University, had just joined as the head teacher at Gava High School in 1968 when the political situation started turning volatile.
"Subsequently, the Liberation War started. My students used to come to me regularly to get suggestions on what to do in such a situation," Beni told The Daily Star last month.
"I was thinking how we could fight against Pakistani forces as we did not have any firearms or training. Even I had never seen a firearm before," he added.
One an evening in April 1971, the teacher and his students managed to get their hands on a rifle from a local robber, popularly known as Mona Dakat, which they hid in a haystack.
"Then, I called my students and asked them to form a group and to fix a leader. They replied that they wanted me as their group leader."
This was how Beni got involved in the Liberation War and gradually became a commander in the battlefield.
A week after the Pakistan army entered Barishal on April 25, the biggest massacre by the occupation forces took place on May 2, 1971, when they came to the Banaripara-Gava-Swarupkathi-Jhalakathi areas.
With the help of local collaborators -- Akkas Ali Khan and Sarat Samaddar -- the villagers were herded to the banks of Narerkathi canal at Banaripara, told that the Pakistani forces would take their photographs.
"I was watching the incident hidden in a paddy field that was located just opposite the canal," said Beni.
The Pakistani forces kept around 200 people standing in rows on the banks of the canal and opened fire on them. Most of the dead bodies fell in the canal which instantly turned red with blood, Beni described.
What he saw that day shocked him, he said, "It injected in me the courage to take revenge."
Beni said they set up a temporary camp for freedom fighters at Banaripara's Burirbari area.
He described how, after an attack on their camp by the Pakistani forces, the guerrilla fighters escaped and ambushed a group of 50 policemen passing through a nearby area.
"The police forces were not prepared to fight against us as we launched the attack suddenly. So, they surrendered. They had 28 rifles with them, which we carried back to our Buribari freedom fighters' camp," Beni said.
Recalling his guerrilla life, Beni said his group attacked Pakistani gunboats, Banaripara police station, and the EPR [East Pakistan Rifles] camp several times.
"With the aim to strengthen our force and launch tough attacks on the Pakistani forces, we set up temporary camps in Billabari, Burirbari, Narerkathi Bepari Bari, and in Rani Kamala's house in Banaripara," he added.
 Over 150 freedom fighters, including several women, were in the guerrilla group locally known as "Beni Bahini". Some of them were martyred in battle.
 Mohiuddin Ahmed Bir Pratik, one of the members of the Beni Bahini, said the Pakistani forces did not dare enter Jhalakathi Sadar upazila, Banaripara, and Swarupkathi, fearing attacks by the guerrillas.
 Another member of the guerrilla group, Mujibul Haque said they employed hit and run tactics against the Pakistani forces.
 The valiant freedom fighters succeeded in freeing Banaripara and its adjacent areas from enemies on November 27, 1971.
 After the war, Beni was not able to return to teaching after independence, later engaging in agro-farming and other businesses.
 He lives alone at Banaripara upazila headquarters after his wife's passing, with their only son in Dhaka.
 Now 76, Beni expressed his frustration at the country's present situation.
 "We fought for Sonar Bangla. But our country is still far away from reaching that dream."