The rise of Chorki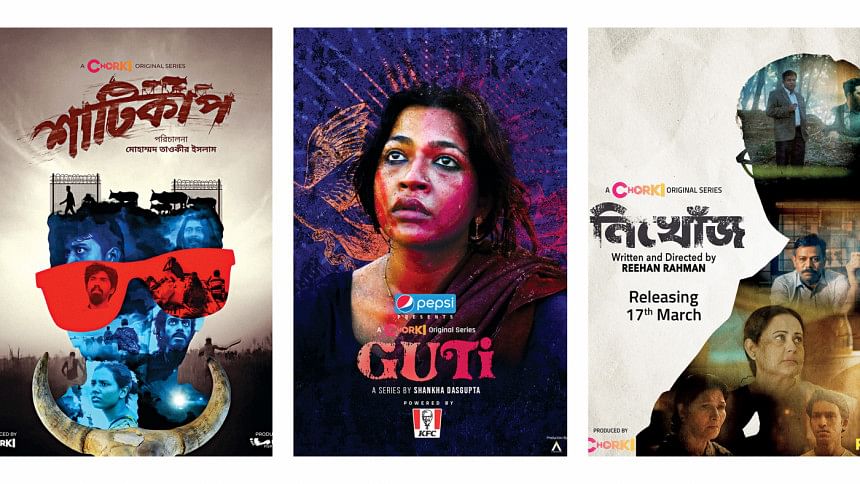 As the COVID-19 pandemic forced the world to adapt to the 'new normal', the entertainment industry experienced a breath of fresh air when Chorki, one of the most promising over-the-top (OTT) streaming platforms of recent times, began its journey on July 12, 2021.
It began with Shihab Shaheen's "Morichika", a Chorki original web-series that blessed Afran Nisho and rejuvenated his career. Another notable project at the beginning of Chorki's journey was Robiul Alam Robi's cherished anthology series "Unoloukik"—where acting genius Asaduzzaman Noor gave the audience a once in a lifetime encounter. Over time, Chorki raised its own bar as it had promised audiences.
Redoan Rony, who currently plays the role of Chief Executive Officer of the streaming platform, informed us that Chorki was not his first attempt in digitising entertainment.
"Being a filmmaker who comes from a CSE background, I have always wanted to merge my passion with my professional skill set. While Chorki was not my first attempt in bringing the two together, it was definitely my first success, one that inspires me to work against my failures whenever some new idea pops up in my restless mind," shared Rony, who made his first foray into the world of streaming with Popcorn Live—an extension of his production company of the same name—but had to close it down due to not having enough funds.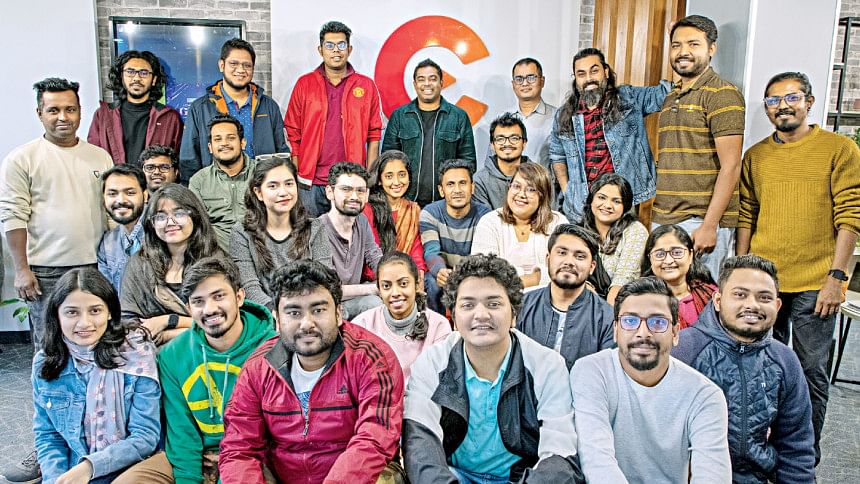 "For any new concept to flourish, it is essential for your investors to have faith in you. So, if I have to thank someone for Chorki's rise to success, that would be Matiur Rahman, the Director of Mediastar Limited—a concern of Transcom Group—and Simeen Rahman, CEO of Transcom Group, and Zaraif Ayaat Hossain. They believed in me and offered me more than I had asked for. Also Jabed Sultan Pias, CBO of Prothom Alo helped me a lot to develop the business strategy for Chorki," noted Rony. 
Though Rony's first attempt had failed, he decided to carry on with the most valuable lesson he had learned. "In this industry, you have to respect the fact that the audience is not just investing their money, but also their time. So, they will only stick with your platform if you promise premium content and consistency," added Rony.
What had sparked as an idea, needed to be manifested into existence and for it to work, a huge investment was necessary. Even though the prospect of streaming platforms in the global market was huge, it was a challenge to convince investors to pour their hard-earned money into an idea. That's where the Transcom group stepped in.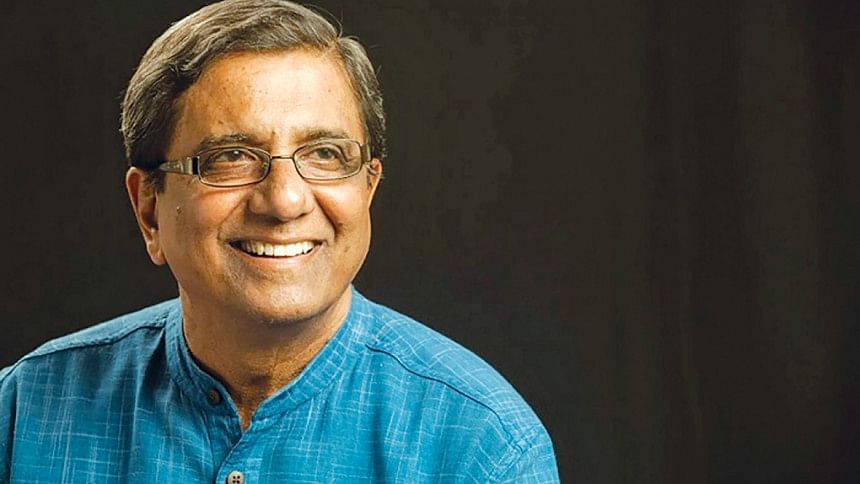 "There is no denying the fact that online streaming is the future of the showbiz industry. The manner in which Chorki is trying to globalise our local talent, while offering something new to the audience, is extremely commendable"
Asked about why Transcom considered Rony's idea as a good investment, Matiur Rahman said, "There is no denying the fact that online streaming is the future of the showbiz industry. The manner in which Chorki is trying to globalise our local talent, while offering something new to the audience, is extremely commendable."
"Chorki was expected to not only bring revenue for Transcom, but also to revive artistes, directors, and others associated with this line of work, during one of the toughest times this generation had seen, the COVID-19 pandemic. I simply wanted to support young minds who look to bring about positive change. This initiative turned out to be a blessing, not just for the audience, but also for the industry," he added.
With the financial side sorted, what came next, was ensuring that the promise of premium quality content was met.
At the time, a significant portion of the Bangladeshi audience had lost faith in local productions, and were turning to foreign OTT giants like Netflix and Amazon Prime Video. In an attempt to slowly reignite their faith in local OTT, Chorki prioritised the demands of the audience. However, it was easier said than done.
"Bangladesh is the land of stories. Growing up, stories have been a big part of our culture. We just wanted the world to see the power our tales have. Simultaneously, we wanted our stories to be narrated in our context. Thus, we still aspire to keep up with our ideology of Chorki being a platform that showcases local talent for a global audience," asserted Rony.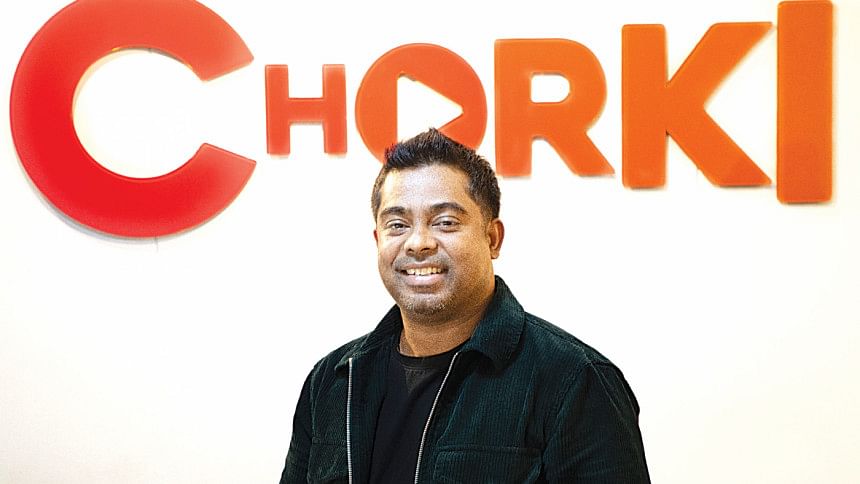 While Chorki was not my first attempt in bringing the two together, it was definitely my first success, one that inspires me to work against my failures whenever some new idea pops up in my restless mind
Asked about the content selection and curation process, Adar Rahman, Content Officer and Al-Amin Hasan Nirjhar, Creative Producer of Chorki mentioned how they insist on following their four-step process: pitching, screenplay development, shooting, and, finally, making necessary edits.
"Regardless of how big the creator might be in the industry, the process is the same for anyone who wants to work with Chorki," asserted Nirjhar.
"While we often see how artistes are picked on the basis of their existing fame, we prefer to give opportunities to the faces that have been underappreciated. However, that certainly does not mean we prioritise artistes that are outside of the limelight. We believe in picking the right artiste for the right project," added Adar.
Before beginning its initial journey, Chorki promised 12 new films in its first year. The fact that they were able to deliver on its promise, was an achievement that fuelled the platform's rapid rise. Not only did it release productions by established makers like Mizanur Rahman Aryan ("Networker Baire") and Raihan Rafi ("Khachar Bhitor Ochin Pakhi"), but they also invested in prominent aspiring directors like Nuhash Humayun ("Pett Kata Shaw"). Simultaneously, they were also scouting promising makers from the local scene, paving the way for productions like "Shaaticup", directed by Mohammad Touqir Islam and Reehan Rahman's "Nikhoj".
"When I first got a call from Chorki for "Nikhoj", I remember telling Rony and Reehan that I am not that same Mimi in my twenties, who left the big screen to work behind the scenes," said Afsana Mimi who was rather sceptical about her comeback. 
"However, I was forced to take on the production after the script was read to me. Being a director's actor, I didn't have any complaints from Reehan, as he was very clear about how he wanted to project each character," she added. Mimi is now looking forward to her film "Patal Ghar".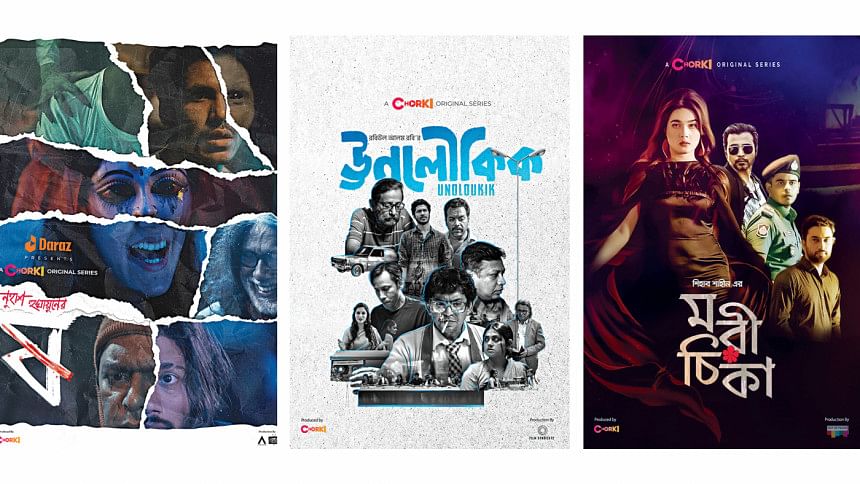 Terming his journey with Chorki as his 'second innings', Intekhab Dinar not only appreciated how the platform was empowering new makers and artistes, but he also lauded their treatment towards actors who previously could not become 'heroes' for mainstream entertainment productions.
"The rise of platforms like Chorki ensured that each creative professional in this industry was valued and paid, as per their work and also facilitated a budget that leads towards better production quality. This fuelled the positive reformation of the industry that we all are appreciating in recent times," shared Dinar who is now looking forward to the release of Mostofa Sarwar Farooki's much-awaited film "Saturday Afternoon", alongside two other silver screen releases.
Agreeing with Dinar's perception, Sharif Siraj—who garnered appreciation for his role of Jackson Bhai in Adnan Al Rajeev's "YouTumor"—said that Chorki was his doorway from theatre to mainstream entertainment.
"It has always been difficult for character artistes such as myself to find a spot in a production where the audience would feel my presence. Jackson Bhai was such a character and I am glad that Chorki offered me this project," asserted Siraj who is looking forward to a few more OTT projects this year." 
Speaking of the way Chorki deals with rising artistes, Sirin Akter Shela, who received praise for her portrayal of 'Mechobhoot' in "Pett Kata Shaw"—a production that was selected for for international premiere at Rotterdam Film Festival—told us how OTT gave her a big break and never made her feel like an outcast.
"Coming from a modelling background, we are generally thought to pull off only glamorous roles, but that is not at all true. Like all artistes, I also like challenges and am ready to take on roles that are not mainstream," she said.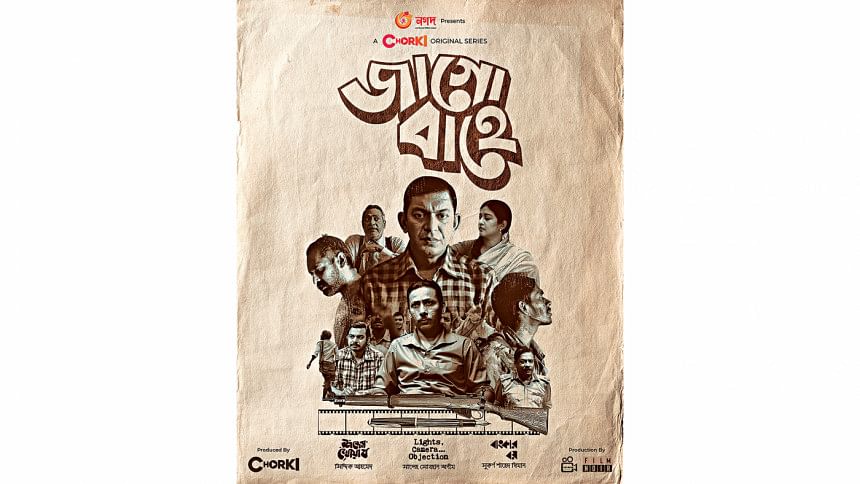 Asked about what Chorki has in store for its audience this year, Rony promised 12 new web-series, alongside original films for their subscribers.
"Following the hype of "Shaaticup", we have selected five other scripts presented to us by aspiring filmmakers from all around the country. We are now working on discussing what they need for their respective project, while making sure that they get a jumpstart to their career in this industry, just as Reehan and Touqir had," asserted Rony.
While Rony is not disrespectful towards television or movie theatres, he asserted the fact that OTT platforms enable subscribers to watch their preferred content at a time that is convenient to them. Subscribers do not have to worry about keeping up with fixed schedules, as is the case for TV and theatres.
After dropping hits like "Jaago Bahey", "Syndicate", "Taan", and "Redrum" last year, Chorki is now looking to raise its own bar, so that they can compete in the global arena.
Chorki's productions have already received numerous accolades in the Digital Media Awards 2021, Meril Prothom Alo Awards 2021, Global Media Awards 2022, Asian Academy Creative Awards 2021, Blenders Choice-The Daily Star OTT and Digital Content Awards, and Asian Academy Creative Awards 2021. In the future, Chorki wants to work with more new faces, alongside established ones.
Offering over 50 original productions, the platform is already off to a great start, with recent productions like "Guti" and "Jahan", paving the way for even better content in the coming days.