Six indomitable women: Success stories in STEM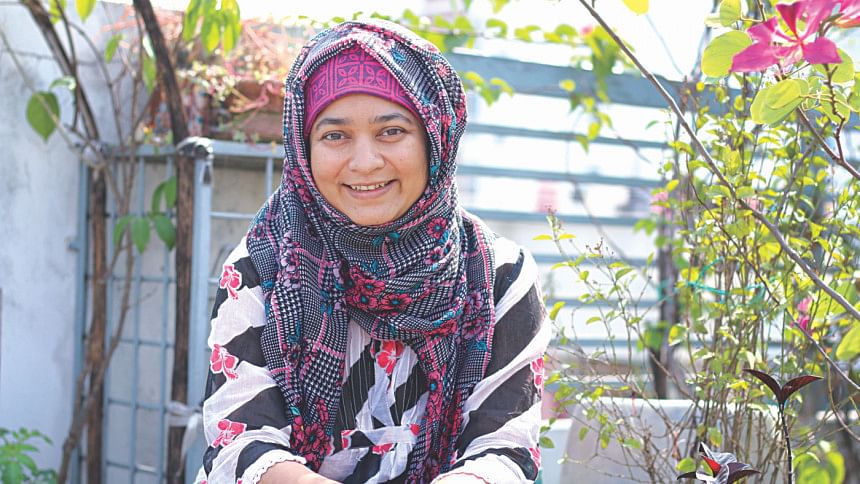 As we face a multitude of complex challenges—from climate change to global health epidemics to rising inequality—the role of science, technology, engineering and mathematics (STEM) has become instrumental in our technology-driven world, where some of the fastest growing, lucrative occupations are in STEM fields. Many women in STEM face several challenges every day. Lack of motivation, confidence, family issues, implicit bias, and a general underrepresentation of women and girls in leadership positions and higher education remain systemic problems. However, participation of women in STEM occupations is essential, because diversity is a key factor in innovation and development. Commemorating the International Day of Women and Girls in Science (February 11), here are the inspiring stories of six women who are thriving in STEM fields.
After passing her HSC from Holy Cross College, Dr Nova Ahmed earned her BSc in Computer Science from the University of Dhaka (DU). She served as a lecturer at DU right after her graduation, and earned her MSc and PhD in Computer Science from Georgia State University and the Georgia Institute of Technology, USA, respectively. Dr Nova joined the Department of Electrical and Computer Engineering (ECE) at North South University (NSU) in 2011. She was the only female faculty member in the department at the time. She is currently an associate professor at NSU.
Her research interests include computing for good, healthcare, education, cloud and distributed computing, sensors and systems, feminist human computer interaction, and ICT for privacy and social justice. She is fascinated with solving problems in Bangladesh in low-cost, feasible, and socially acceptable ways, through everything from sensor-based hardware systems to human-centered computing. To that end, she has worked on projects dealing with safe vehicle-driving, flash floods, and sexual harassment, among other things.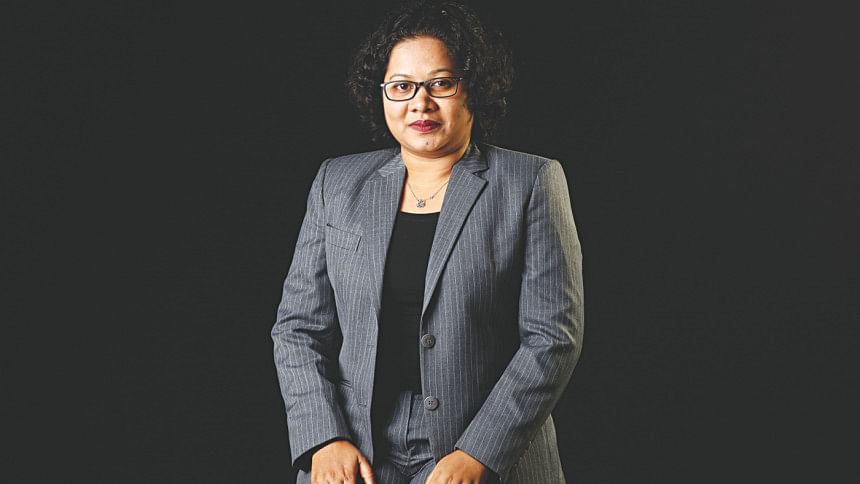 Dr Nova became a mother while she was pursuing her PhD. Continuously shifting her roles as a parent and a student and juggling her responsibilities effectively were tough for her. But thankfully her partner, who was also a PhD student at the time, and her peers helped her through all of it. 
"I cannot do this because I am a girl" is a statement Dr Nova, who has over 10 years of research and professional experience in computer science, dislikes to hear. She is passionate about engaging women and children in STEM disciplines.
She noted that female students are a minority in her department and some of the brightest girls in her classes do not show the same active participation in laboratory-based learning environments. She has organised the Ada Lovelace Celebration in Dhaka and the Women in Science Without Borders programme in South Africa and Egypt to open up conversations about the challenges that women scientists face.
"Many of my female students don't want proper jobs in computer science upon graduation. Despite having good grades and giving good interviews, they tend to fail in the psychology tests for industry jobs," she explains.  There are many societal pressures that limit women and girls from building careers in science. "Balancing full-time jobs and homemaking is one of the main challenges that women face in our society," adds Dr Nova. "Some girls don't want to work after marriage, because they are not confident enough. Providing psychological counselling and child care support for these women is important, so that they are motivated to continue their pursuits. We need to promote the enjoyable side of science to young women and girls."
Achia Khaleda Nila completed her BSc in Computer Science and Engineering (CSE) from United International University and MSc in CSE from Daffodil International University in Bangladesh. She started working as a junior software engineer at a multinational IT company when she was a second year undergraduate student. She was able to manage both her studies and office work effectively throughout her university years. However, Nila came across very few female students of CSE and often times, she was the only girl in the classroom.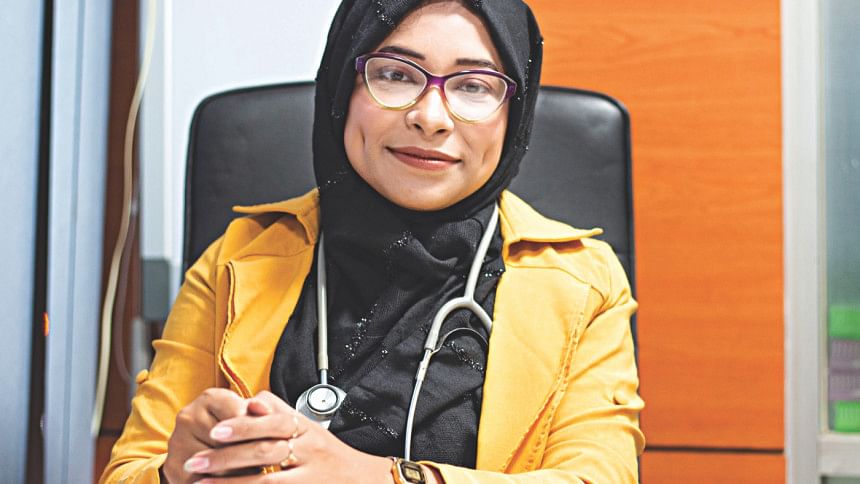 "Many of my female peers and juniors were not looking to take up industry jobs after graduation. Others opted out for jobs in completely different fields, despite studying CSE," she says.
Many deeply embedded societal perceptions lead women in Bangladesh to not opt for studying or working in STEM fields, despite being interested in such subjects. "Girls are discouraged from pursuing challenging jobs in computer science and programming because they believe that they are not good enough and that such jobs are only meant for boys. These perceptions need to change," asserts Nila.
The barriers that limit women from building careers in computer science and technology are even more prevalent in the professional space, according to Nila. "In my first job, I observed that women are preferred in the graphics department. Hardcore programming was a 'no-go' zone for them, which was shocking," she says. Nila feels that women are neglected in terms of recognition and promotion, even after doing exceptionally well. "There are many women in the entry-level CSE jobs, but hardly any in the higher-level positions," she explains, adding that women are more likely than men to take a few steps back—or leave the workforce entirely— once they have children.
Committed to empowering women and girls through computing and technology, Nila founded Women in Digital (WID), a social enterprise, in 2013. WID facilitates female creators who want to work in digital platforms to raise their profiles, reach their desired audience, and showcase their work. It aims to improve the design of products and services to better serve a more diverse population, and increase economic and social well-being by providing more women with stable and lucrative careers.
Today, the social enterprise operates an agency, tech schools, and an e-commerce initiative. Female engineers of the agency work on IT products for international clients, mainly in Australia and the USA. So far, they have developed more than 6,000 websites and more than 3,000 mobile applications. They recently developed a water billing software for Bangladesh.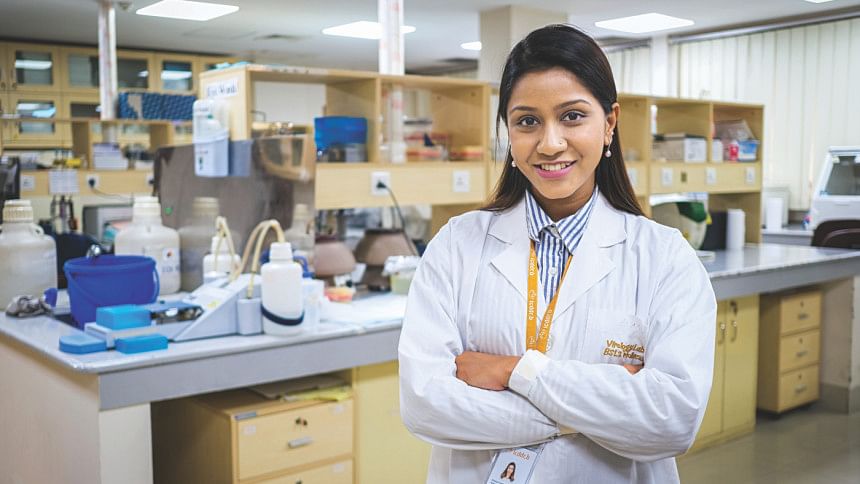 Young girls in Dhaka, Ramgonj, Kurigram, Mymensingh, and Nepal receive computer training at WID's tech schools. Their e-commerce initiative provides an international market for handicraft products made by rural women of Bangladesh. So far, WID has successfully trained over 5,000 women for jobs in computing and technology.
"The technology industry offers an abundance of opportunities to women in terms of flexibility and work-from-home options, among other things," adds Nila, who is one of the 23 Bangladeshi changemakers to be selected for the prestigious Acumen Fellowship 2020, an intensive leadership development programme for emerging leaders who are building solutions to tackle problems around poverty and social justice.
After earning her BSc and MSc from the Department of Food and Nutrition at the College of Home Economics (under the University of Dhaka), Samia Tasnim completed her clinical dietetic internship at Square Hospitals Ltd in 2013.  She went on to serve as a nutritionist and diet consultant at Kidz Care Bangladesh and RIAND Bangladesh.
"I provided nutritional therapy and counselling to children with special needs in particular, including those on the autism spectrum as well as those with cerebral palsy, Down syndrome, and other developmental disorders. I also trained health workers, parents, and teachers of the children on nutrition," explains Samia, who frequently goes to different educational institutions, NGOs, and television and radio programmes to talk about health and wellness. Besides child nutrition, her areas of expertise include obesity, malnutrition, pregnancy nutrition, and diet management for various diseases. Presently, she consults patients at Prescription Point, Banani, and Lab Aid, Mirpur.
Samia came into the nutrition and wellness profession because she likes to interact with people directly to solve their problems. "Working in nutrition and food science entails that you have to communicate with the masses and frequently visit remote areas, which can be difficult," she says. "However, as nutritionists, we get to work for the welfare of others."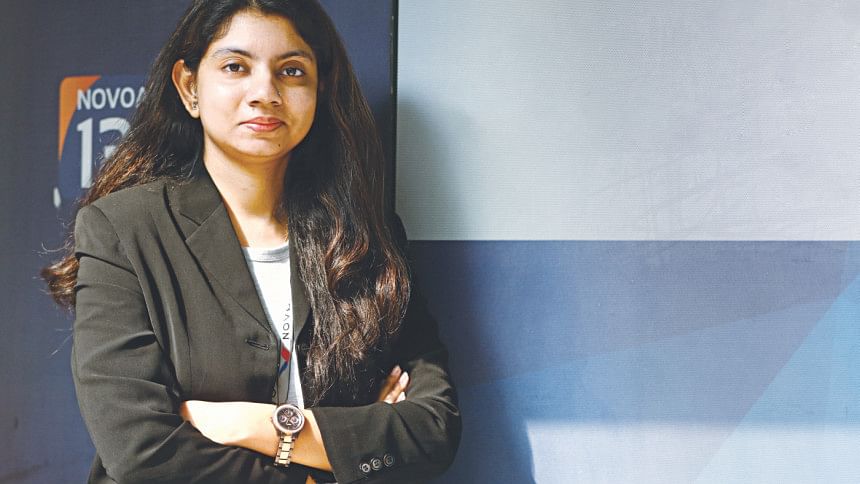 Samia feels that there is a shift happening in the public perceptions of nutrition today. "People in our country are more aware of nutrition generally. They are more open to making healthier food choices, but often times, they simply copy what others around them are doing for their health, without getting any expert help, which can have dire consequences," she says. "We must remember that everyone's nutritional requirements are different."
Furthermore, she explains that people who want to study or work in the nutrition and food science field need to have a strong mindset. "Once you have figured out your specific interests, the opportunities in this sector are vast," she says. Currently, Samia is pursuing her MPhil in Nutrition and Food Science from DU. She also aims to lead different research projects on nutrition.
Nazia Tajrian Amin earned her BSc in Avionics from the Department of Aeronautical Engineering at the Military Institute of Science and Technology in 2013. 
She joined the private airline company, Novo Air, in 2014, where she currently works as a senior CAMO engineer. Her main job responsibility is keeping aircrafts safe for flights, which involves but is not limited to aircraft maintenance data analysis, maintenance, repair and overhaul of aircrafts and aircraft components, managing aircrafts and aircraft components, and analysing various proposals to make sure that they are technically and financially feasible.
"I have always wanted a job that is unique and challenging over others. The fact that most of our population do not go for aeronautical engineering motivated me to choose this field," explains Nazia, who also has an MBA from Bangladesh University of Professionals. "My team at Novo Air is like a close-knit family. However, aeronautical engineering still remains a male-dominated area. We have only two female engineers, including myself, working in our company today."
She further spoke about the main reasons why Bangladeshi women shy away from studying or working in the engineering sciences. "The general stereotype is that women are fragile and cannot flourish in demanding jobs in engineering fields," she asserts. "But I believe that no work environment is too harsh for a woman, as long as she is passionate about her profession."
Based on her own experience and that of her classmates, Nazia explains that jobs in aeronautical engineering are incredibly challenging, as they require specific academic qualifications and training. She further adds that as a young mother, maintaining a balance between her familial and professional life is one of her biggest struggles. Nevertheless, she believes that more young women need to be enabled and encouraged to prosper as aeronautical engineers.
 "This career path is immensely rewarding and an excellent choice for women because it gives them an edge in the cutthroat competition across the globe. As long as women come into the job with a resilient mindset, commitment, and passion, they will thrive," adds Nazia.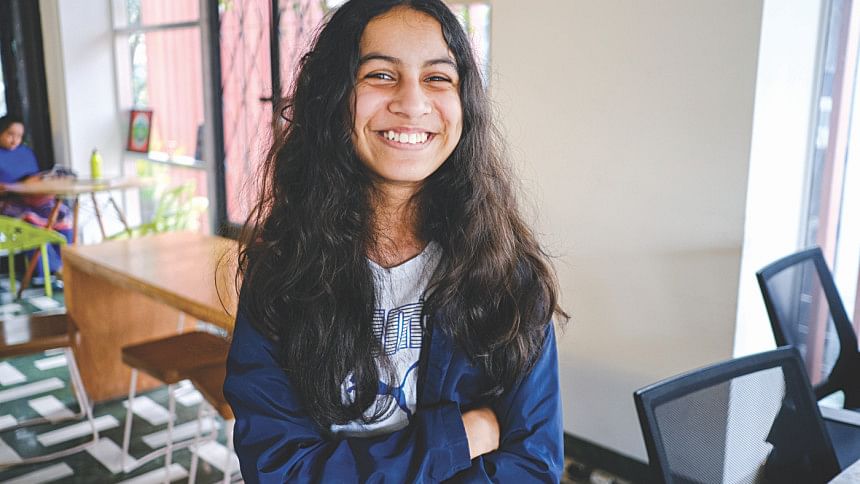 Born into a family of medical doctors, Ananya Ferdous Hoque had an inherent interest in the biological sciences from a young age. However, she wanted to branch out by basing her career on a subject more compatible with the world of modern research. The applications of microbiology in our daily life, be it in food, medicine, environment, or industry, inspired her immensely. Two-time recipient of The Daily Star O and A Level Award, Ananya earned her MRes in Biological Sciences from the Faculty of Biology, Medicine and Health at the University of Manchester after completing her BSc in Microbiology from NSU. As a postgraduate student, she was placed in top-class laboratories and acquired multidisciplinary training. This included studying dialysis in mice, whereby she injected dialysis fluids into mice abdomen and later visualised their tissues histologically under the microscope to detect physical changes. For another project, she isolated bacterial mutants that showed altered response to antibiotic treatment.
As an undergraduate student, she worked as a research intern under scientist Dr Mohammed Ziaur Rahman's supervision at the Virology Laboratory of the Programme for HIV and AIDS, under International Centre for Diarrheal Disease Research, Bangladesh (icddr,b). During that time, Ananya became familiar with viral genomic studies and collected data on the genotypes of respiratory syncytial virus circulating in Dhaka.
"Dr Ziaur was quite content with my lab performance and encouraged me for higher studies," she says. When she returned to Bangladesh from Manchester, Ananya joined icddr,b, where she currently works as a senior research assistant. She is a member of the molecular team at their Virology Laboratory, where her daily workload includes detecting the presence of viral pathogens in patient samples by extracting, amplifying, quantifying, and analysing certain marker genes.
"The viruses targeted are influenza virus, norovirus, Nipah virus, and other agents of febrile illnesses. At the same time, I guide the research interns in the laboratory with their experiments and thesis writing. I am also involved in scientific manuscript writing with my supervisor," Ananya adds.
Although she has personally not faced any issues in the workplace so far, Ananya notes that some factory-based scientific jobs are only available to men, as women may find the working conditions and commute difficult and unsafe. "Women in field work positions may also face social or physical obstacles, depending on the nature of the jobs. Staying after hours may be required for emergency tests, but women are rarely obliged," she asserts. "Other than that, gender or political biases may exist, but that varies between organisations."
She also spoke about the current opportunities for women in science-focused jobs in Bangladesh. "Women are thriving in the research and development, quality control, diagnostics, and science education sectors. The need for jobs will increase once more young girls enroll in science-related programmes," she says. "These changes will happen when families are more aware and supportive of such career paths for their girls." Ananya herself plans to enroll in a UK-based PhD programme soon. "I aim to be an example to young girls who are interested in science," she concludes.
Today, advanced robotics continues to surprise those of us who couldn't have fathomed the existence of AI bots like Sofia, Siri, Alexa, and Google Assistant. But thanks to tech giants like Amazon, Microsoft, Apple and others that continue to set the pace, this sector is something to marvel at. Robotics is gaining momentum in many schools worldwide. While it's important to note that teachers who administer courses in this area should have advanced knowledge in programming and other skills, students are reaping huge benefits, not just for the present, but also for the foreseeable future.
The Tech Academy, founded by Shams Jaber in 2013, is an institute in Banani where children can learn how to create robots, software, and even CGI animations. Students of the academy are also given the opportunity to create actual products for different companies, and for competitions as well. Kids from the academy also teach adults all they know about technology at events organised in Jatra Biroti every Friday. 
Eleven-year-old Tara Sobhan, a seventh grader at Grace International School, is one of the youngest and most promising students at The Tech Academy. A go-getter by nature, Tara does not let her age get in her way of learning new things. She has been learning robotics and animation at The Tech Academy for over two years. From working on LEDs, RGBs, Sonar, LDR to RC Car, Servo and Dot Matrix, Tara has been involved in a variety of class projects in robotics. In the animation classes, she learns building models, texturing, camera animation, soccer animation, and colouring materials in 3D, among other things.
"I am learning new ways of solving problems using technology. The teachers and staff are really supportive," says Tara, who aspires to be a scientist one day. "The animation and robotics classes encourage me to think creatively."
Tara's story showcases that when girls realise their ability to code and build robots, they can be empowered to have successful futures and create innovative technology.
Photos: Sheikh Mehedi Morshed, Shanto Lawrence Costa and Avipsu Das Gupta